Science
Science Oxford Trip and Shows - May 2022
The children in Years 2 and 3 spent Thursday 5th May at the Science Oxford Centre. They had a fun filled day watching a show, a classroom session making their own Rube Goldberg machines and also had an explore in the Exploartion Zone. They were able to use their science in each of these areas thinking about how different things work.
The children in Years 4, 5 and 6 watched a show in the school hall called 'The Science of Magic' where they were able to find out about some of the science behind different magic tricks. Reception and Year 1 children then watched a show called 'Inventing Isobel' where they were looking at the properties of different materials to help Isobel solve various problems.
Science Ideas to do at Home
Follow this link to find 75 different activities that you can do at home linked to science.
https://www.mkewithkids.com/post/here-are-two-weeks-worth-of-fun-and-easy-science-experiments/
There are also some experiments at the bottom of the page that can be tried at home.
PSQM AWARD
In May 2021 we were awarded the PSQM award in science. The MP Rob Butler visited the school in July 2021 to present the award.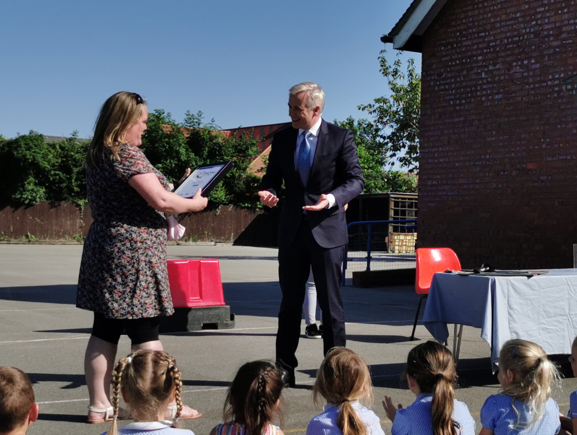 Science at Stoke Mandeville Combined School
Our Science Vision
All children will embed an enthusiasm for science, developing a sense of excitement and natural curiosity through hands on, inquiry based learning. They will communicate and explain their learning to others in a variety of forms, using relevant scientific vocabulary.
This is met through the following areas:
Collaboration
Hands On Experiences
Independence
Opportunities
Curiosity
We plan opportunities for different enquiry types.
Pattern Seeking

Observing Over Time

Identifying, Classifying and Grouping

Comparative and Fair Testing


Research Using Secondary Sources