What are we Learning?
Friday, 26th May 2023
This week in English we have finished our work on The Arrival. We have looked at the things that the main character has found hard and have written an information leaflet for how to survive in a new country. We have used formal language in this writing.
In maths we have looked at decimals. We have started to add and subtract decimals with up to 2 decimal places, and we have added and subtracted these. After half-term we will continue with this decimals unit of work.
This week has been the culmination of our DT unit on chocolate. We have all had a chance to make our chocolate bars using the recipes that we developed! This has been really good fun and the children all enjoyed tasting them! See the Year 5 photo gallery for photographs of the cooking.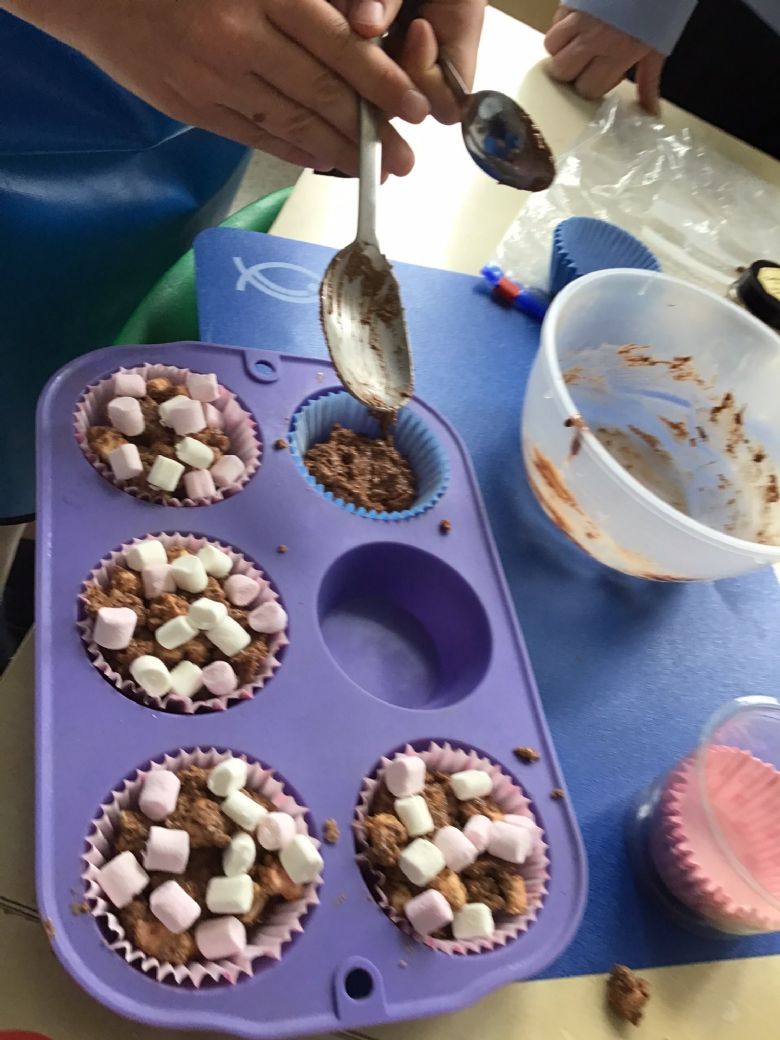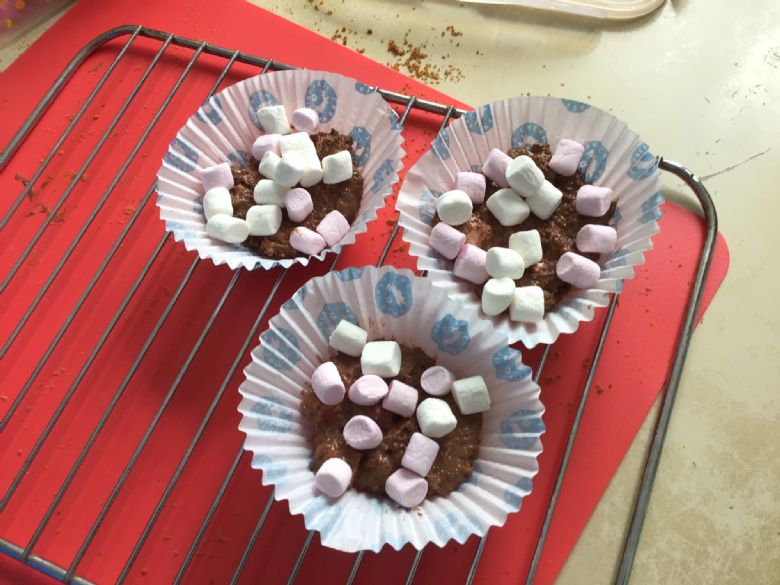 Friday, 19th May 2023
This week we have had our activity week. In this we have had different activities each day and been out of school on four of those days.
On Monday we had a day of PE activities led by GameOn. We played games that developed different skills for lots of games. The day was great fun and we were exhausted by the end!
On Tuesday we went into Aylesbury to complete an activity trail. We were supposed to go by train, but had to use a coach due to industrial action. The activity trail was really interesting and we learned lots about different old buildings in Aylesbury, and we walked in parts of Aylesbury we haven't been to before. We then went to Vale Park for lunch and had a visit to The Works for ice-cream before coming back to school!
On Wednesday we went to the cinema to see Puss In Boots: The Last Wish. This was a really good film, and we even had popcorn and a drink. We had lunch at Vale Park and then returned to school to do some Optical Illusion Art.
On Thursday we went to Wendover Woods for the day. This involved lots of walking, but also some den building and outdoor art. We used natural materials to create some fantastic pictures.
On Friday we went to Eskdale Park. We played some games that we created, and we had time to go on the new play equipment there.
Overall it has been a very enjoyable, but very exhausting week! Check out the photos on the school Photo Gallery page.
Stoke Mandeville Combined School - Year 5 & 6 Activity Week
Friday, 12th May 2023
In English this week we have been writing an explanation about an animal we have created based around the loyal pet from The Arrival. We have been writing with subheadings and thinking carefully about explaining how best to look after the new pet we have created.
In maths lessons we have been looking at translation of shapes and at symmetry. This has still involved working with co-ordinates. We have learnt that the shapes stay exactly the same when they are translated, and they are mirror images when they are reflected.
In RE this week we have looked at the Sikh Golden Rules. We have discussed how these are refected in our own lives and how relevant we think these are today. We have used our question of 'How does a Sikh show commitment to God?' to discuss how easy these tasks would be to complete every day.
Next week we are looking forward to having our activity week!
Friday, 5th May 2023
At last May has arrived, now all we need is the warm weather to go with it!
In English this week we have been thinking about using cohesive devices in our writing. We have started to plan an explanation text about one of the new animals in the arrival and will be writing this detailed explanation in school next week. This is linking very nicely to our science topic of Animals and their Habitats, so we will have lots of opportunities to use our scientific vocabulary!
In maths we have now moved on to position and direction. This is involving using co-ordinates grids so far, being able to read and plot co-ordinates in the first quadrant. This will soon develop into using more that one quadrant and plotting 2D shapes too.
In Skills for Life, our PSHE topic has been Aiming High this week. A big thank you to both Mr Schmidt and Mrs Radcliffe for coming into school and talking to the class about the jobs that they do. The children were all very inspired by what they heard and have had lots of interesting questions about jobs they could do in the future that they had not previously thought about.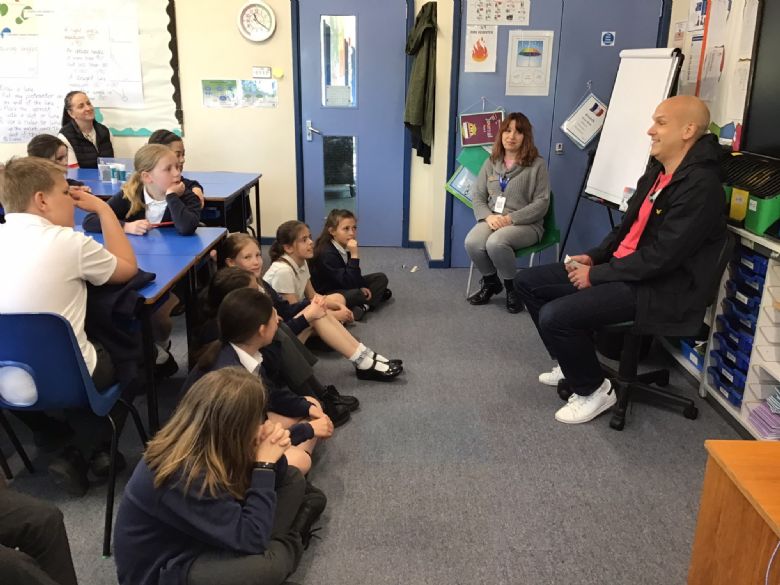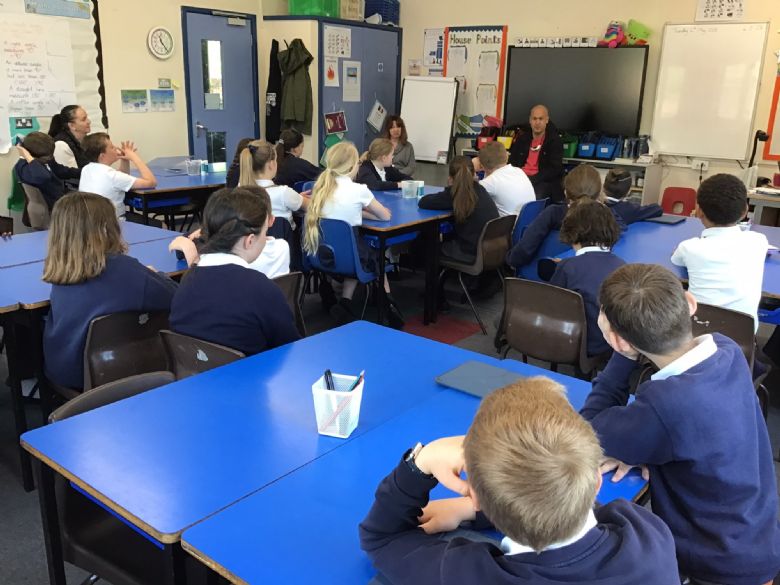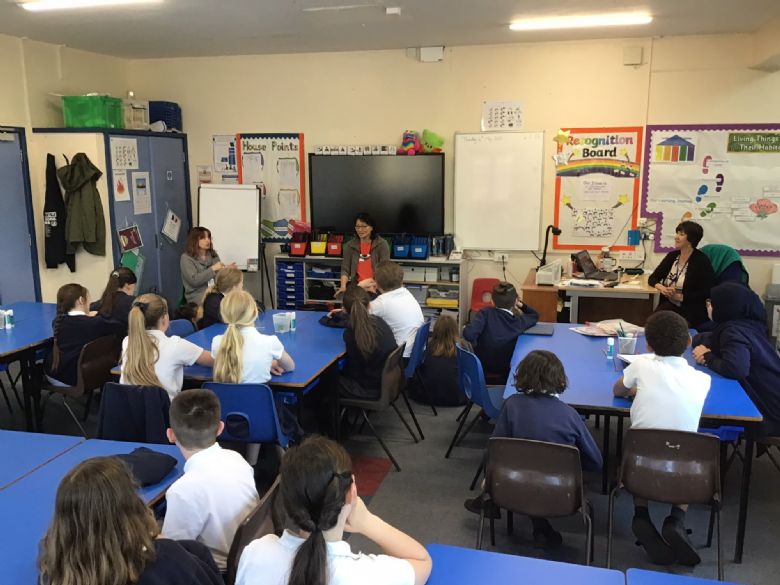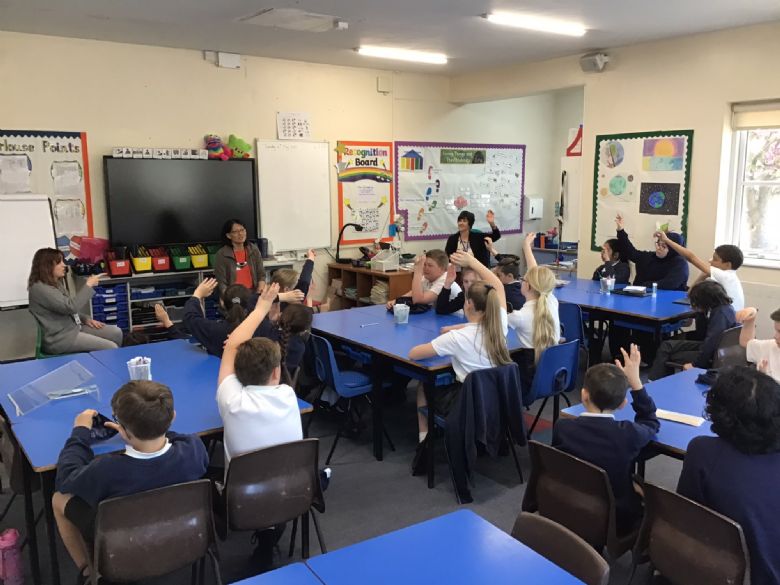 Friday, 28th April 2023
This week we have continued to look at The Arrival. We have focussed on using appropriate verbs and adverbial phrases to write about when the main character arrives in his new home country. We have written a diary entry about his arrival and all of the new things he has seen.
In Maths lessons we have practised using rulers and protractors to draw accurately. It has been a challenge to use the protractors correctly, but we are definitely improved this week! We have also been calculating with angles.
In music this term we are using Garage Band to learn how to compose music. We have started to learn about loops and have created some fantastic sounds by adding different lines of music - melody, bass, harmony. These are going very well so far. We have some very good budding composers amongst us!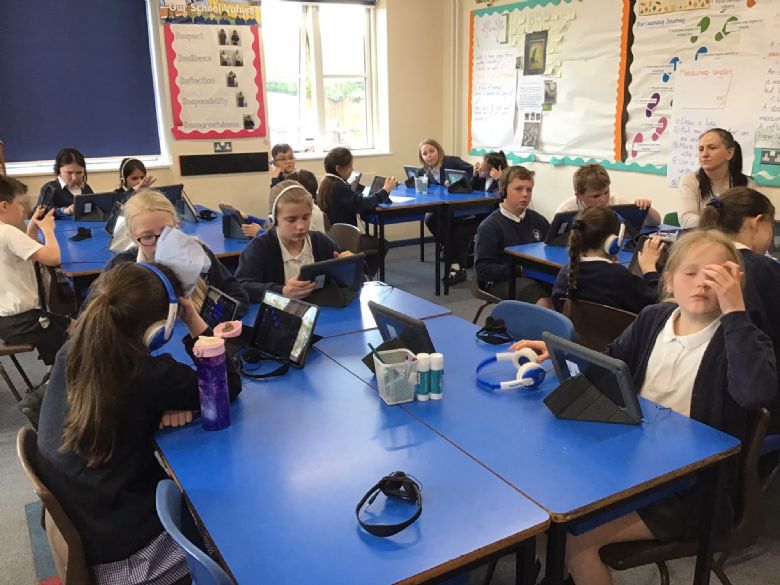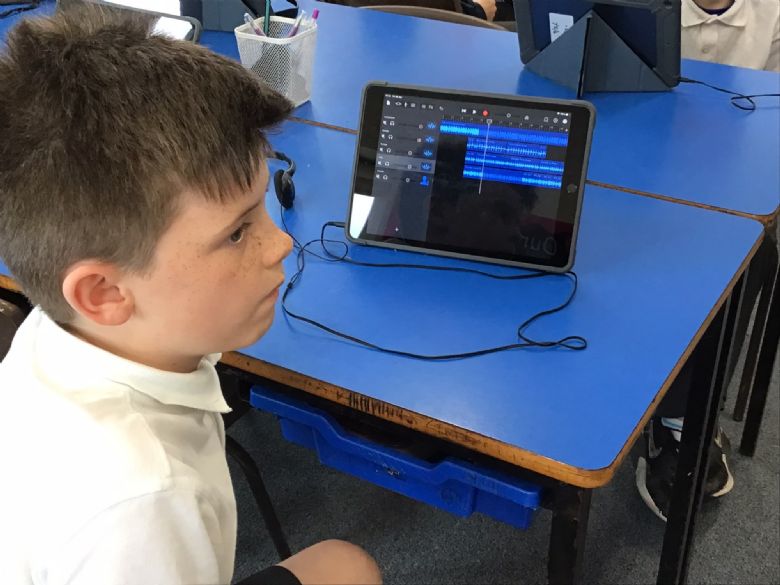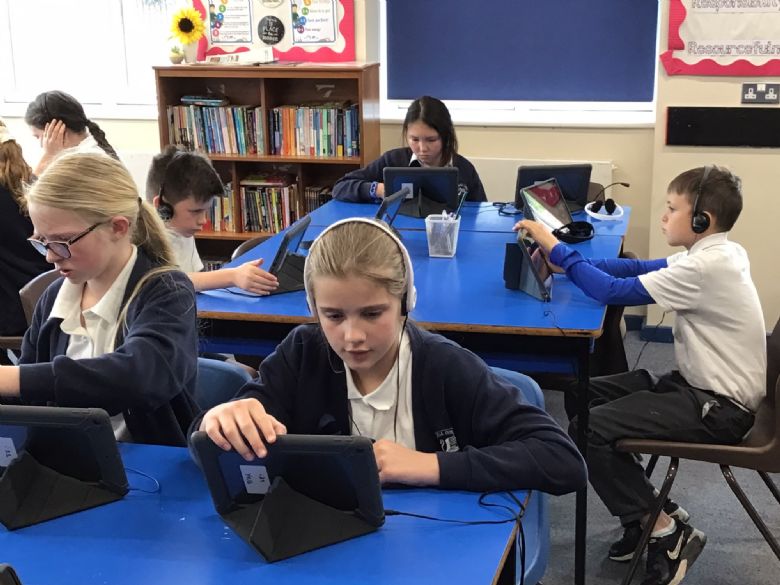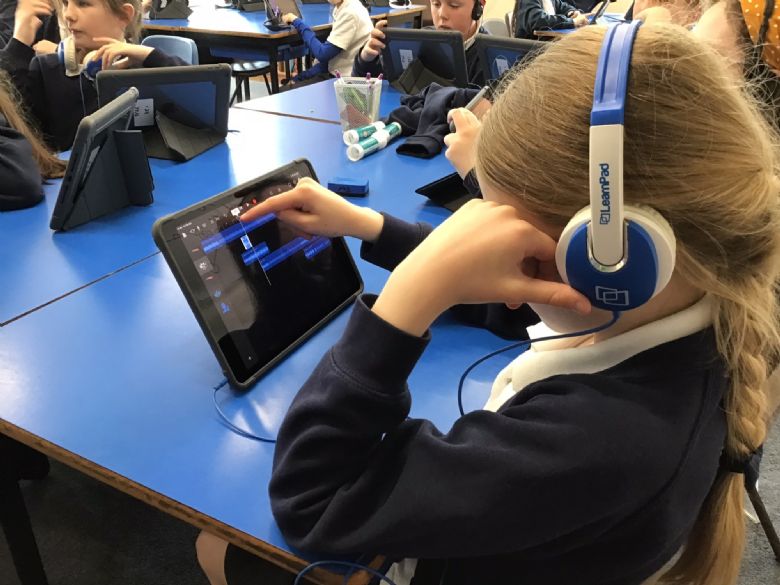 Friday, 21st April 2023
Welcome back to the summer term - let's hope the sun makes a long-lasting appearance soon!
In English this week we have started to look at the picture book The Arrival by Shaun Tan. We have been focussing on using verbs and adjectives to improve our sentences about the beginning of the book this week, and are excited to see what will happen! There are lots of things in the pictures that are raising questions with us at the moment.
In maths we have started our shape topic with looking at angles. We have classified angles as being acute, obtuse or reflex, and have started to use a protractor to measure angles. This will take a little bit of practice. If you do not have a protractor at home, it would be very useful for secondary school and to practice with now.
In our topic lessons this week we have looked at Maya writing. We have looked at what they wrote on and how the codices are made from either whole words like hieroglyphs, or individual sounds.
Friday 31st March 2023
In our English lessons this week we have looked at short stories. We have watched some clips of 'live lessons' from past BBC 500 words lessons and have focused on how to write a great beginning to a short story. We have then written our own short stories.
In Maths, we have worked on Area. It has been tricky to remember the different calculations between perimeter and area this week, and this is something that we will continue to revise throughout the rest of the year to ensure that the children have all remembered and understood these calculations.
In our DT lessons this term we have looked at Mayan art. This week we have finished our Maya masks. These are really colourful and have great repeating patterns in them. Check out the photos on our class gallery.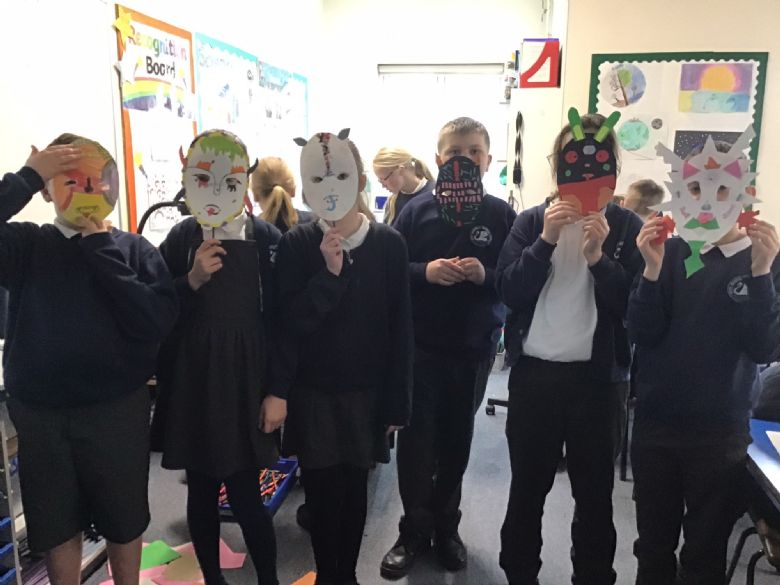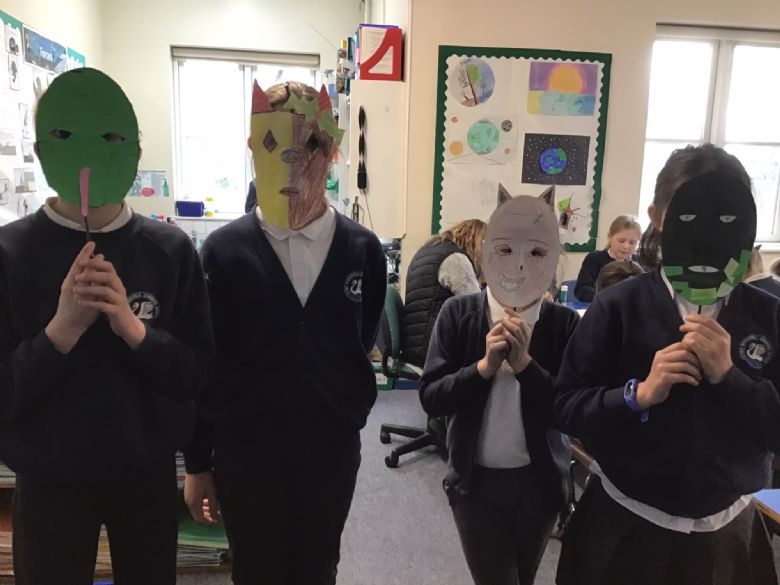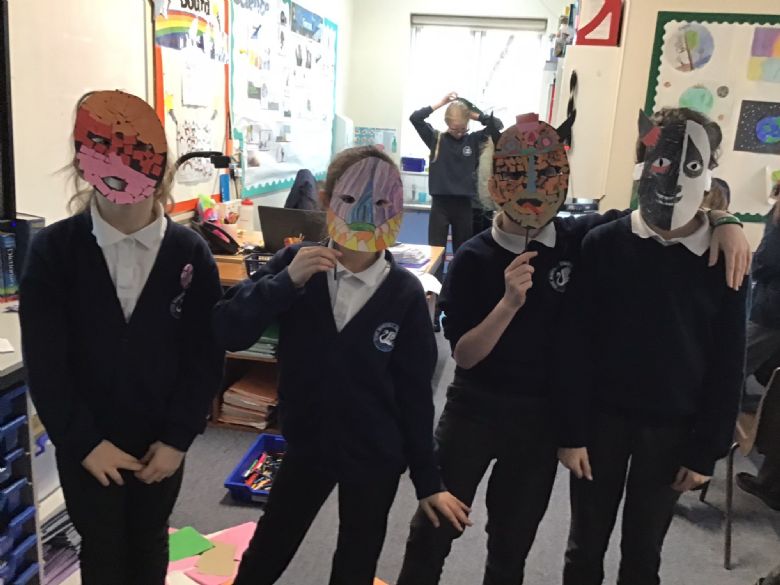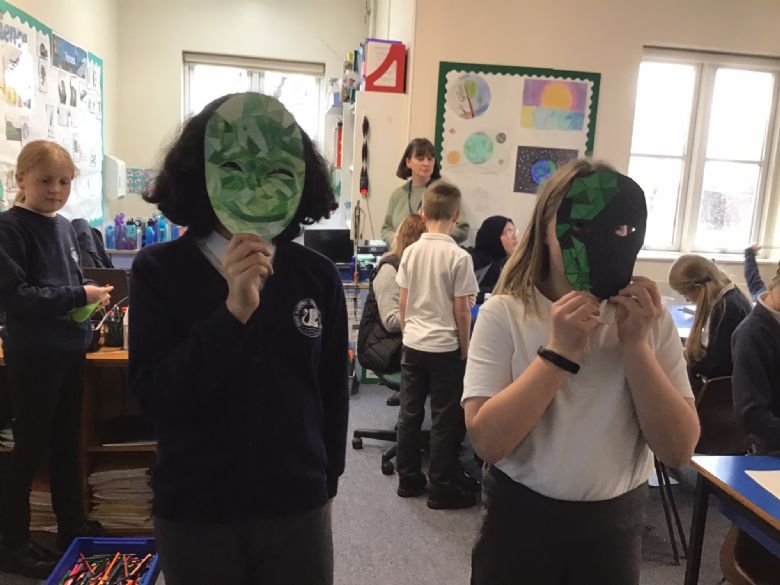 Friday 24th March 2023
We started our week with a trip to Hazard Alley. This is a safety centre in Milton Keynes and has a lot of different scenarios that we worked through in groups. These scenarios covered lots of different places that may pose a hazard for us in life and was a great way for us to learn how to deal with any of these hazards we may face in our future lives.
In our English lessons this week we have planned and written some poems about a pet that we have or would like. We have copied the style and rhyming patterns of T. S. Eliot, as we have studied these poems over the last few weeks.
In Maths we have moved on to looking at perimeter of shapes. We have revised what perimeter is, and looked at finding the perimeter of rectilinear shapes and regular polygons.
Finally, we had a chance to hold the chicks this week before they were taken on to their new homes. We were very lucky that none of us were used as a toilet this year! Photographs of this can be seen on the Photo Gallery page.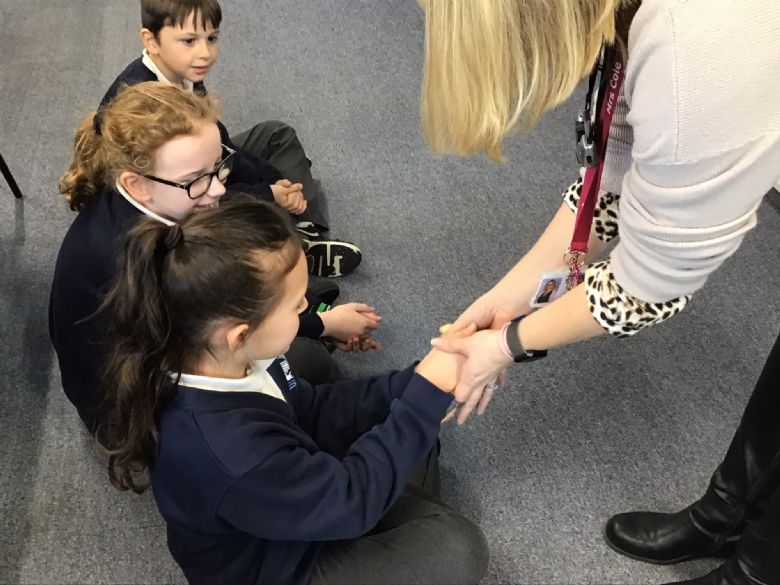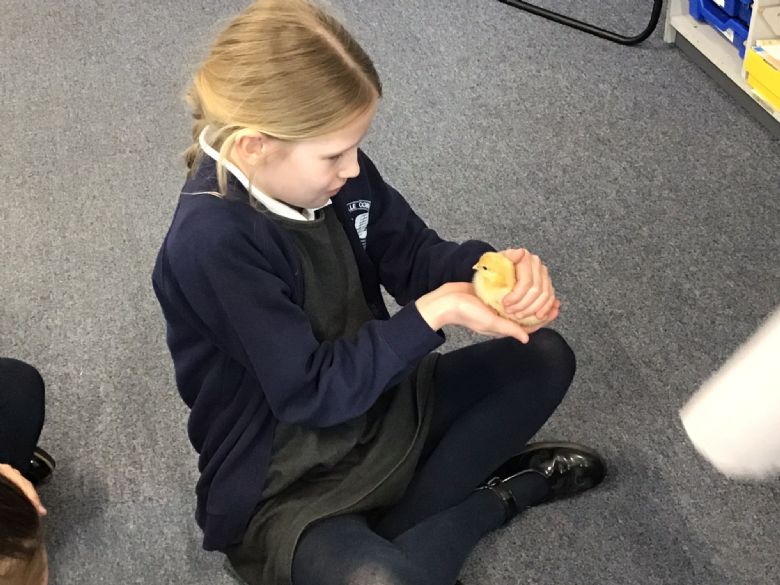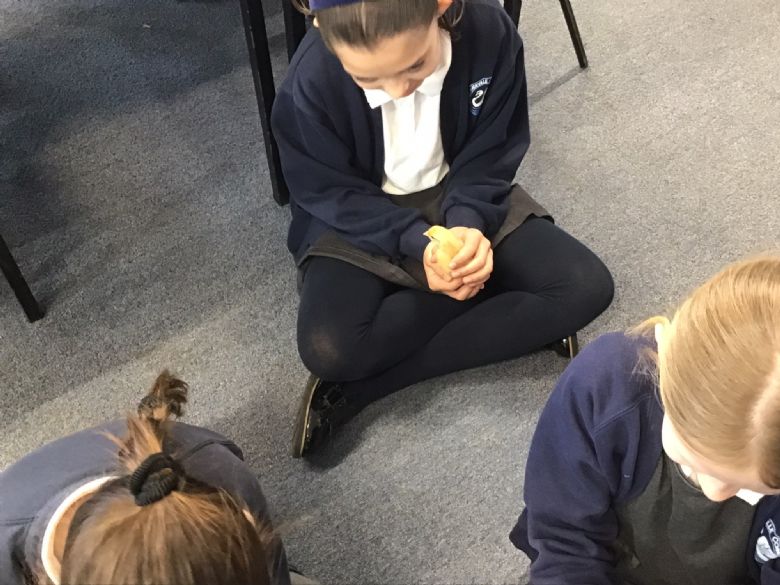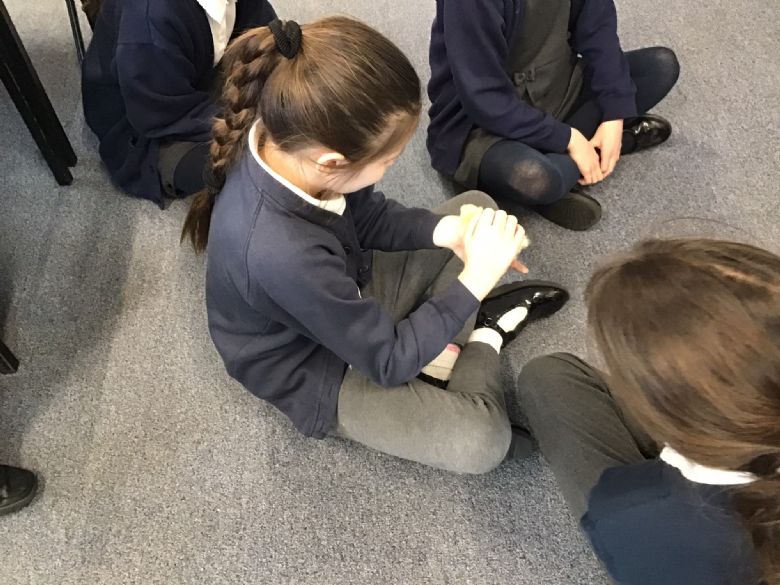 Friday 17th March 2023
This week we have had STEM week. This is for promoting a love of Science, Technology, Engineering and Maths and has meant we have had a very practical week of problem solving! This has been great and you can see photographs of our learning on the class Photo Gallery.
In English this week we have continued our poetry topic. We have read more of the poems from T.S.Eliot's Old Possum's Book of Practical Cats and have written some new verses to some of these poems. We have had a lot to think about when matching the rhyming patterns and rhythms!
In Maths this week we have finished our topic of fractions, decimals and percentages, as well as completing some problem-solving maths investigations. It has been challenging working with a partner to find the answers to the problems, but has also been enjoyable!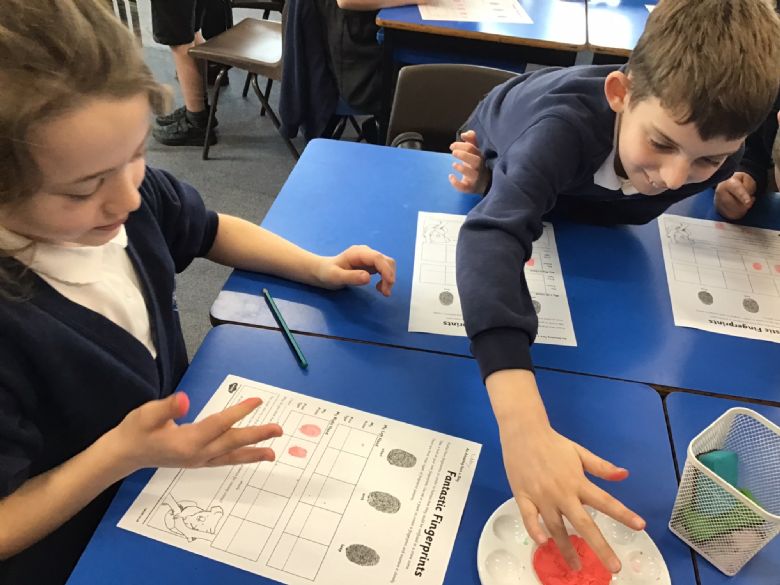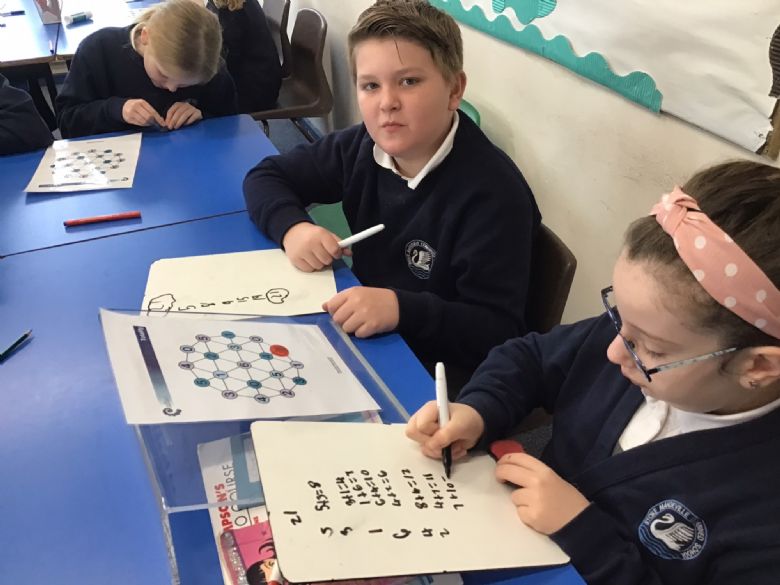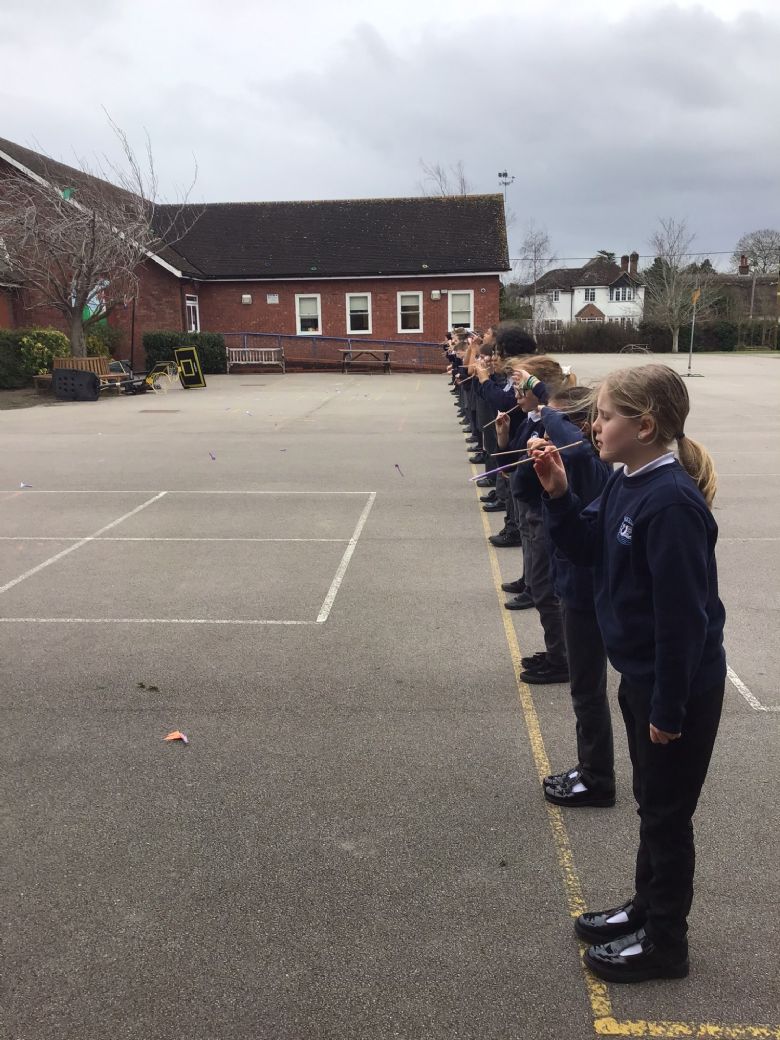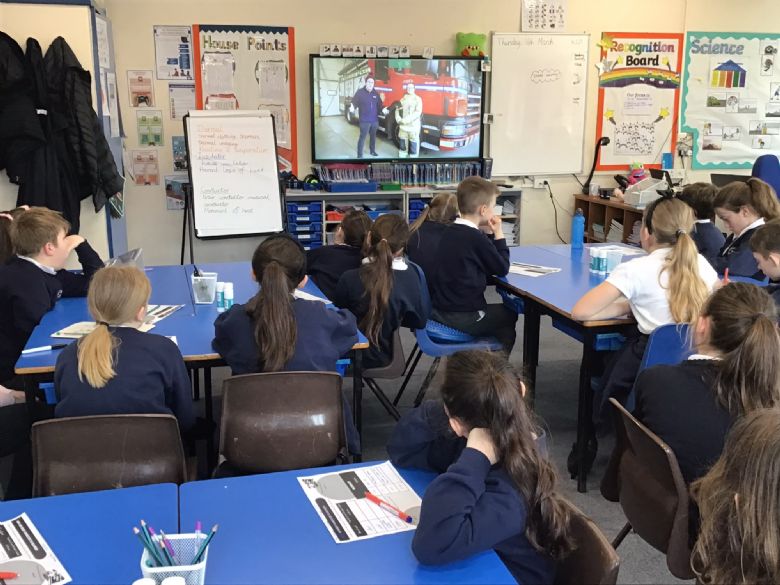 Friday, 10th March 2023
This week has, thankfully, been a quieter and calmer week which has allowed us to enjoy a normal timetable of lessons.
In English this week we have been looking at poetry. We have looked at poems from T.S.Eliot's 'Old Possum's Book of Practical Cats' and have looked at the language and repetition in the poem. We have enjoyed reading these poems and are looking forward to using similar styles in our own poems about a pet next week.
In Maths, we have introduced percentages. The children all know that percent means out of 100 and have linked percentages to fractions and decimals. We will continue to work on this next week, deepening our knowledge and finding the percentage for common fractions.
In Science this week we have completed experiments to find the best thermal insulators. We have discussed what this means and used ice and thermometers to find a material that will keep food cold for the longest time. This was great fun and really tested our knowledge of reading scales!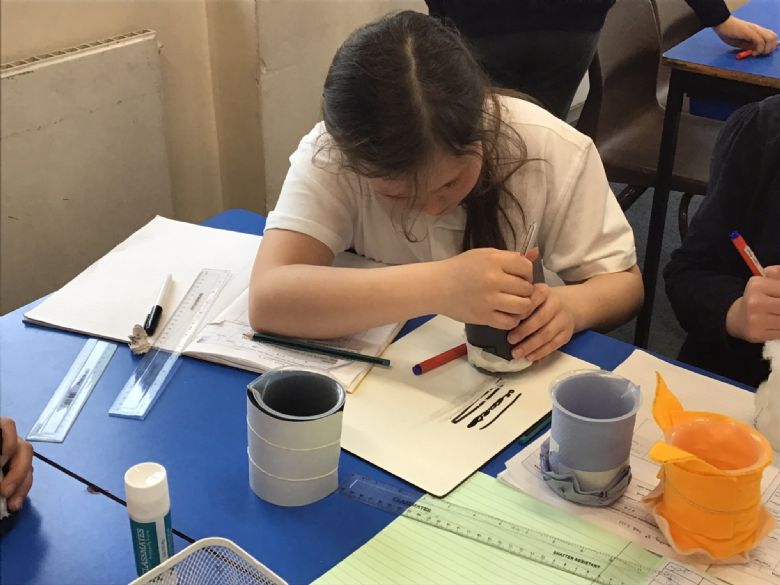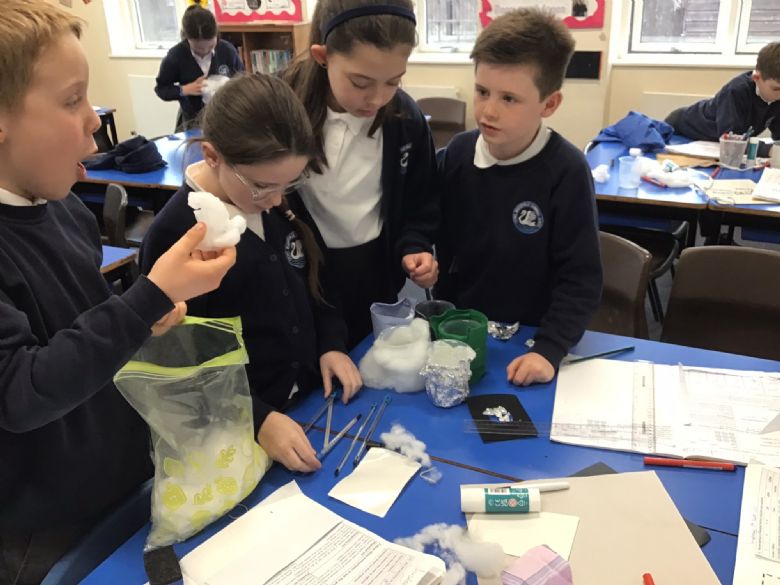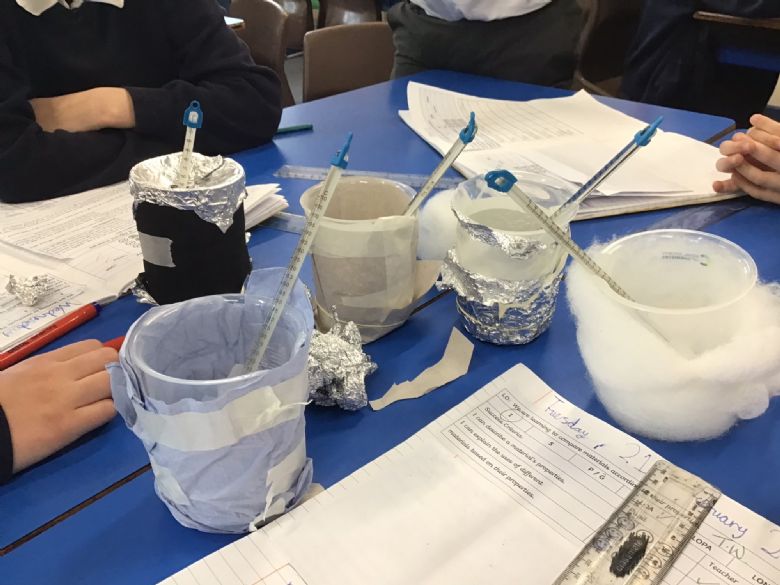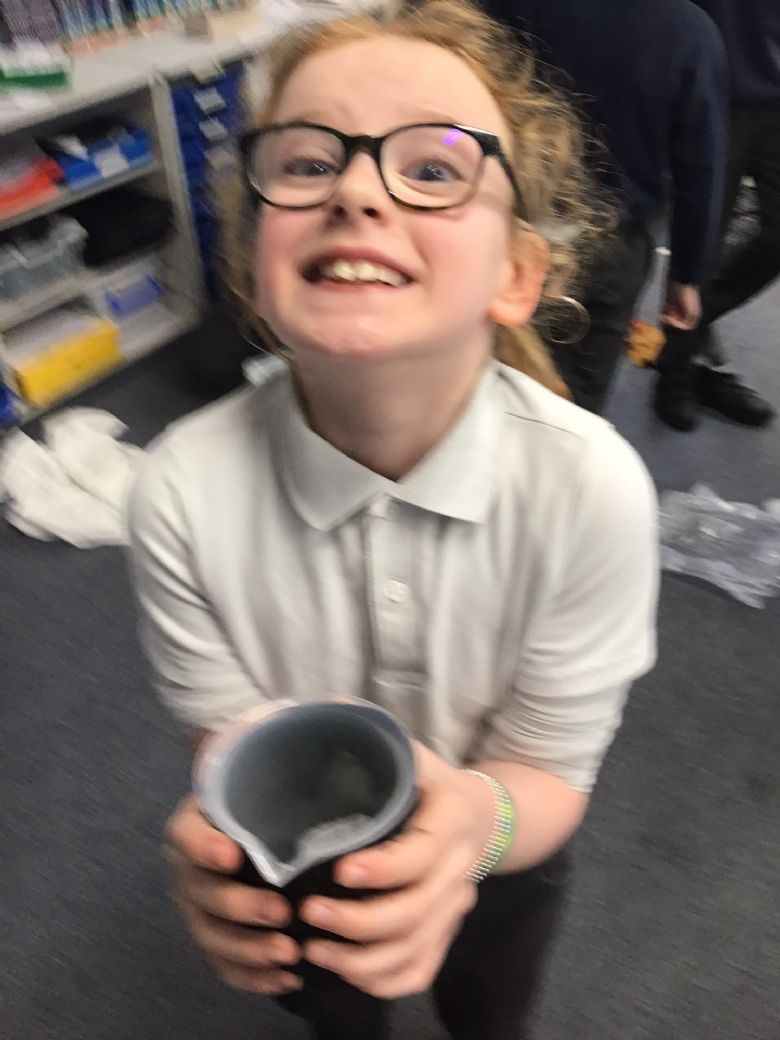 Friday, 3rd March 2023
We have really enjoyed World Book Day this week! The children and adults all dressed up and enjoyed working on Cogheart. This is a great book (and is the first in a four-book series) and I highly recommend all of the children read it! This week we read the prologue and Chapter 1, and then were able to choose our writing task based on it.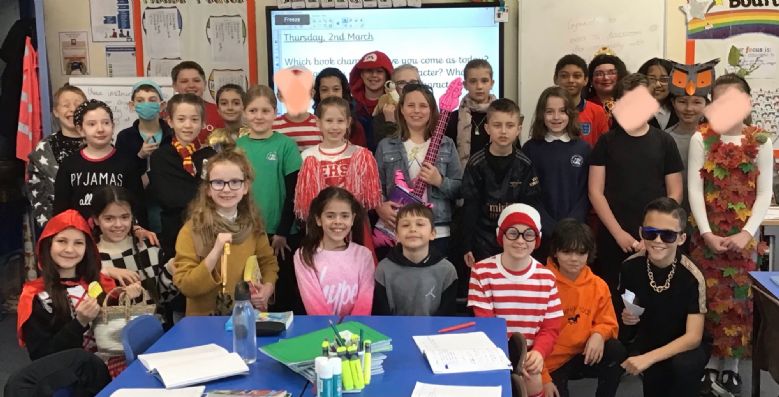 One of our activities was some shared reading with year 2. We all really enjoyed sharing a book that we have enjoyed with the younger children.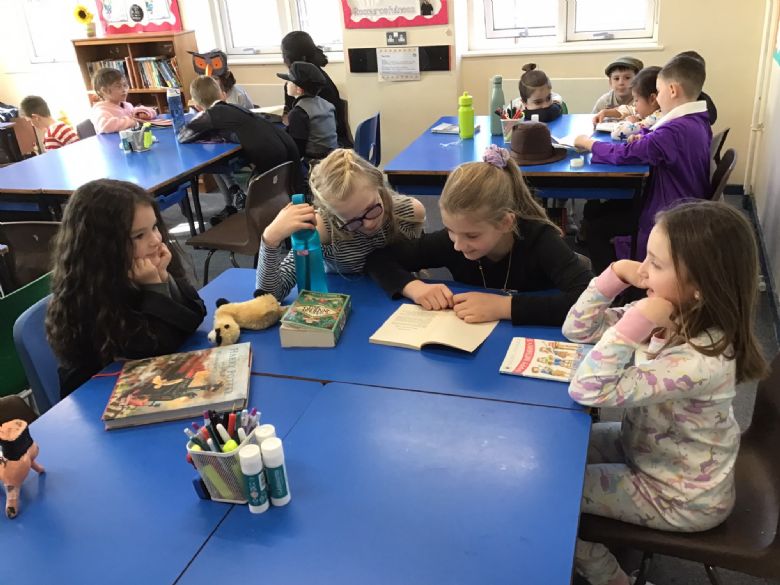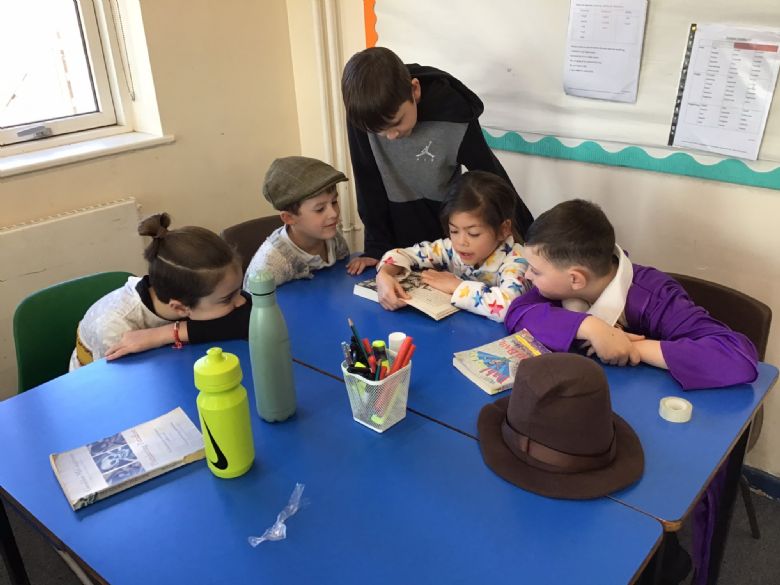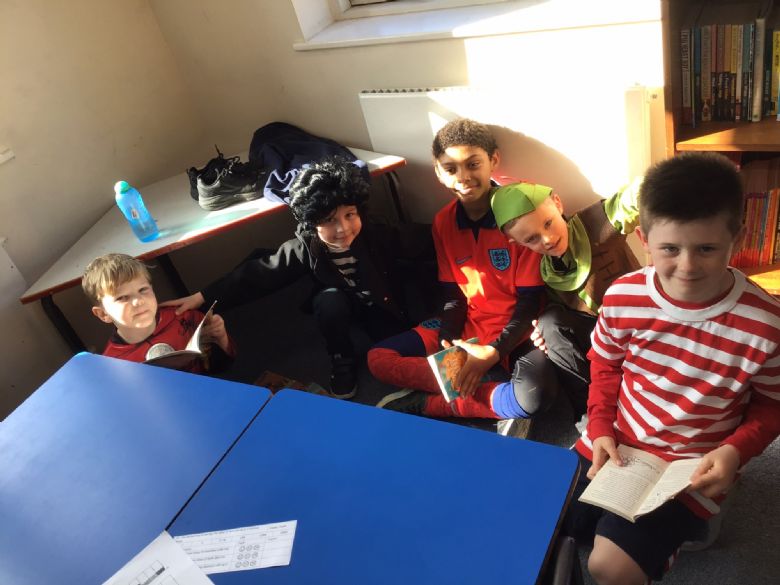 In maths this week we have continued learning about decimals. We have worked with thousandths in both fraction and decimal form and have been comparing them using the < and > symbols. This has really helped us to cement our place value knowledge.
We have continued our cricket coaching this week, by moving on to bowling. We have practised bowling to each other and have bowled to a set of stumps! Well done everyone!
Friday, 24th February 2023
This week the class have worked really well, and have coped brilliantly with some changes to our timetable.
In English this week we have been learning about instructions and explanations. We have revised the key features of instructional writing and have looked at how explanations compliment these. We have looked at some interesting instructions and explanations for using a toaster and have used these to inspire our own writing.
In Maths we have been looking at decimals. We have looked at tenths and hundredths and how these relate to each other. We have looked at the place value of these and have solved problems related to them. We have linked these to fractions too.
This week has seen the start of our cricket sessions. These are taking place on a Friday morning and this week was great fun. We started working on the vital skills of catching which are important in each part of cricket and are transferable to all other sports. We played a great game at the end and were very competitive (including Mrs Cole and Mrs Bushay)!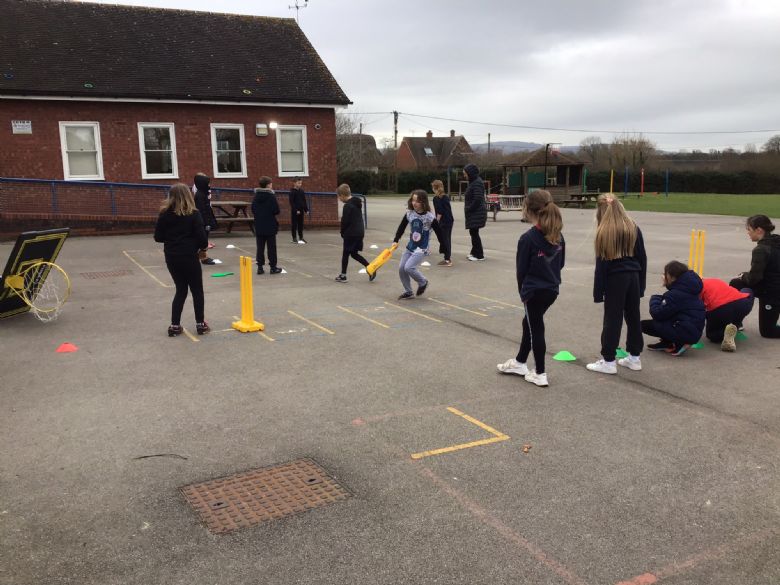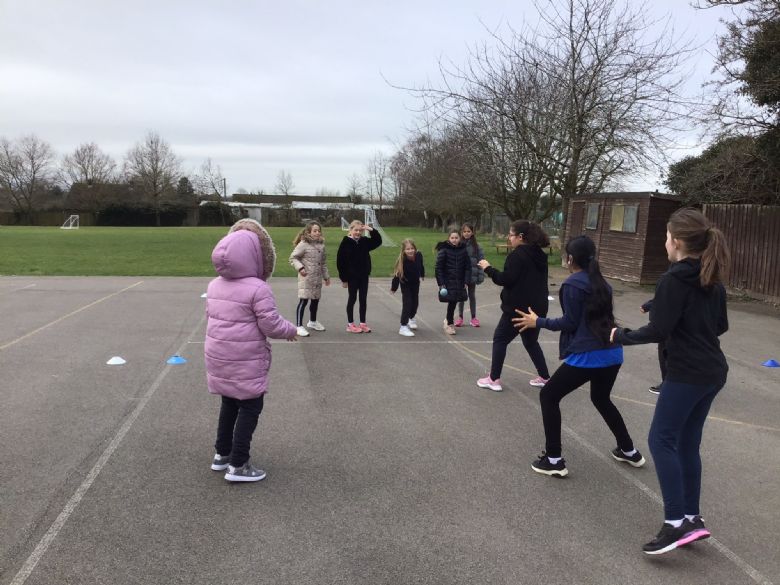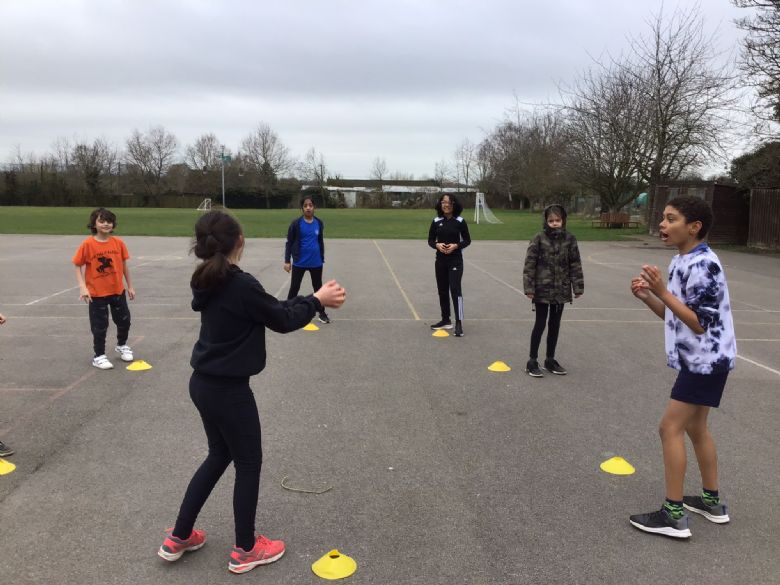 Friday, 10th February 2023
What another busy week! It was lovely meeting everyone again (virtually) for Parent's Evening this week. Thank you to everyone for making the effort to attend and for taking part in the Book Look to see the progress the children are all making in their books.
In English this week we have been planning and writing a new chapter for the story of Kensuke's Kingdom. This has been based on the prologue of the book - a letter from Kensuke's son to Michael and a promise of a visit! We have written about this first meeting between Michael and Michiya (Kensuke's son).
In Maths, we have been finishing off our unit of work about fractions. We have been 'finding the whole' based on a given fraction and amount. We have also looked at the similarities of finding a fraction of an amount, and a fraction x an amount. We have used bar models to help us do this.
This week has also been Children's Mental Health Week. The focus for CMHW this year is 'Let's Connect'. We have looked at different ways that we can connect, and have connected with others by having a joint PE lesson with Year 2 on Wednesday. In this we chose to either make up part of a dance (to 'Proud' by Heather Small) or to go outside and work together to make an obstacle course. This was very enjoyable, and the classes worked together really well. Luckily the sun was shining for the group that were outside!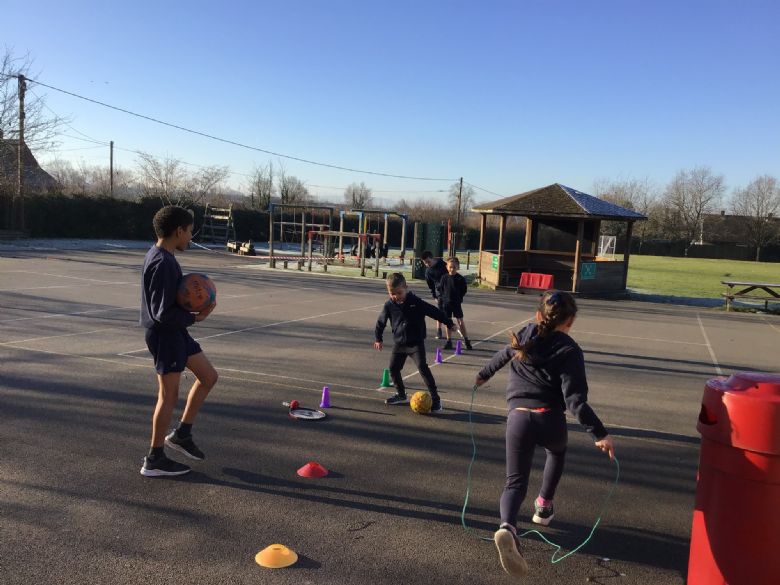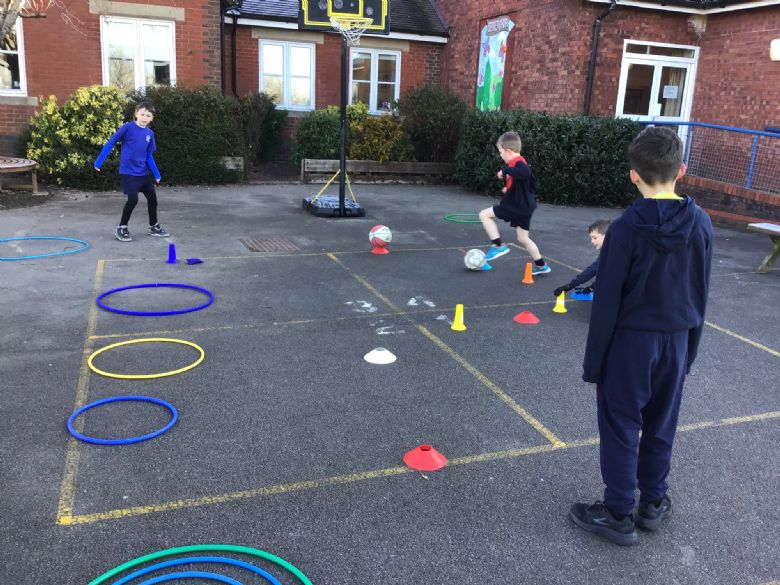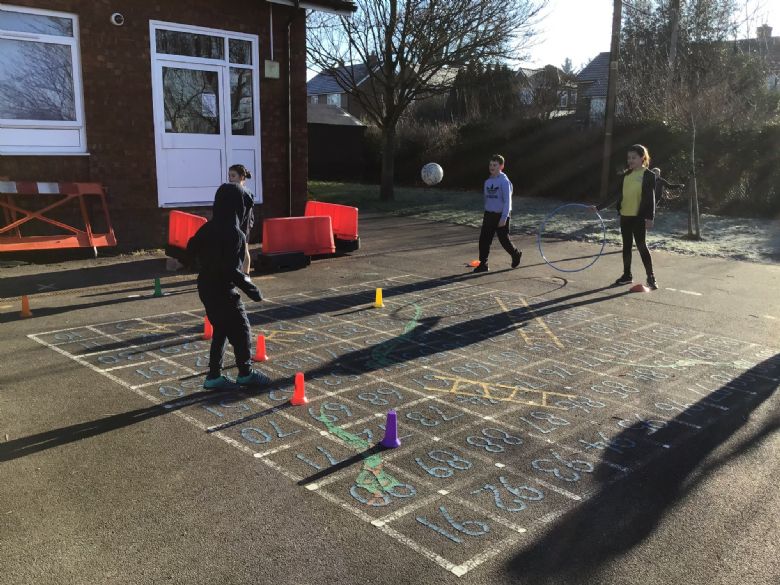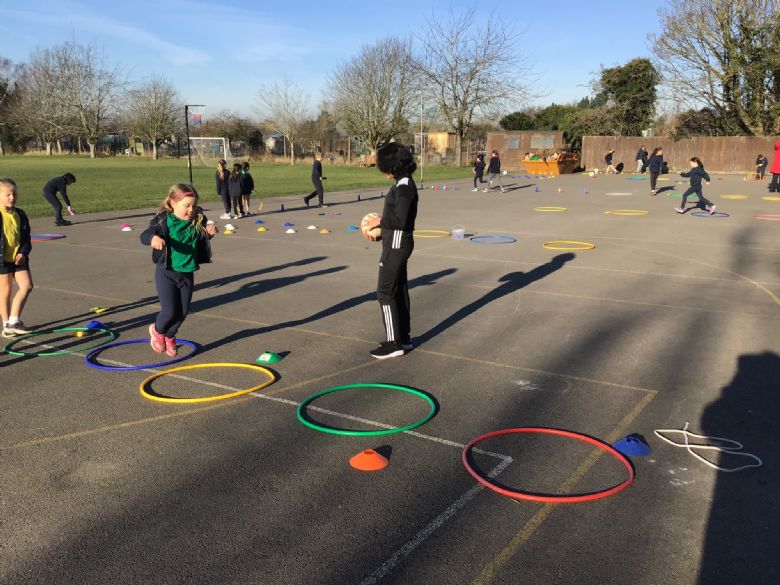 Friday, 3rd February 2023
This week in English we have finished reading Michael Morpurgo's 'Kensuke's Kingdom'. It was an exciting ending that left us wanting to find out more! We have written a book review about the story and thought about how we use commas in our writing (in lists and to separate clauses).
In Maths this week we have been working with fractions. We have multiplied fractions (unit fractions, non-unit fractions and mixed numbers) by integers and have started to find a fraction of a quantity and will be continuing to find fractions of an amount next week.
On Thursday we enjoyed visiting the Roving Bookshop. It was fantastic to see so many of the children really excited about being able to purchase a book for themselves, and they were really thoughtful about their choices. We started reading these in our guided reading session and I hope they all enjoy reading these at home!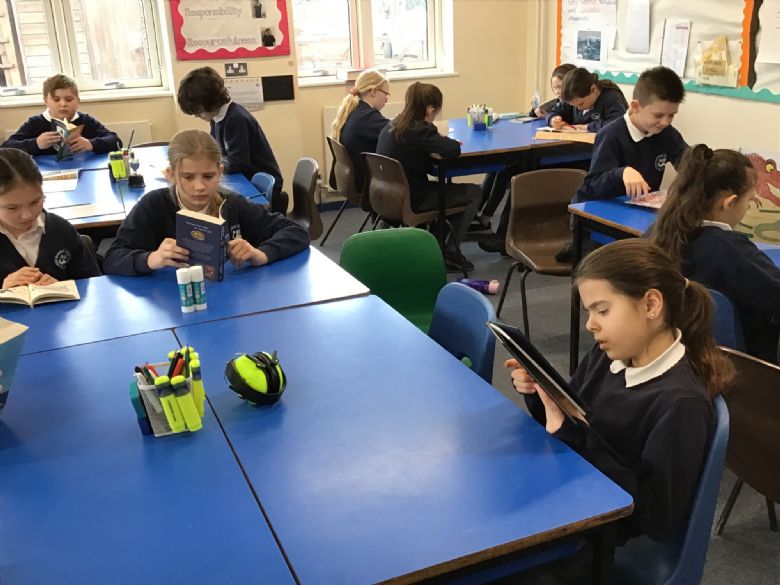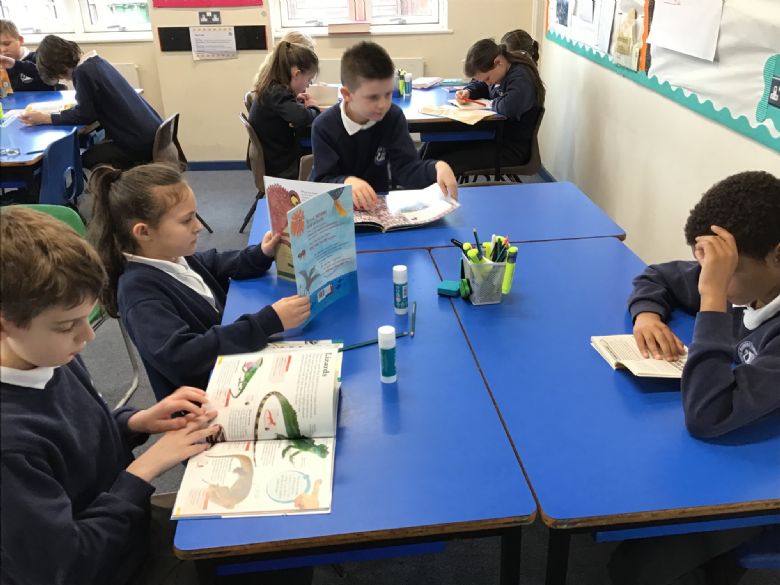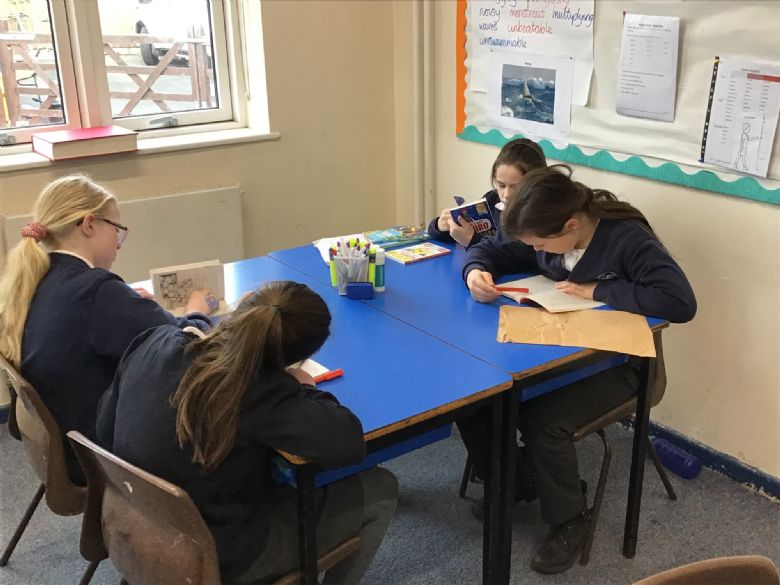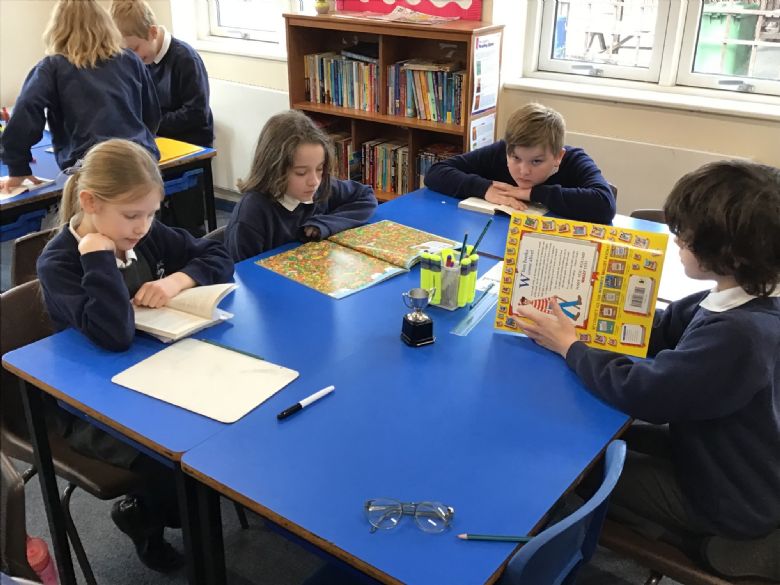 Friday, 27th January 2023
Some of our class went to the O2 Arena in London on Monday to take part in the Young Voices concert. This was an amazing opportunity and was thoroughly enjoyed by all. Those children who had decided not to go stayed in school and did some interesting activities with Ms Hayden, including some fantastic drawing. It was a great start to our week.
In English this week we have continued to read Kensuke's Kingdom. We have learned more about the island and the different food and animals that live in it. We have also learned more about Kensuke - the old man on the story who is helping Michael. We have worked on building the character knowledge we have about him. Next week we will begin to think about creating our own chapter!
In maths this week we have completed our main unit on multiplication and division, although we will continue to recap these throughout the year. We have looked at the formal written methods that we know and have worked on problem solving.
We ended our week this week with a fantastic music and art day! We have used the music 'Earth' by Hans Zimmer as our stimulus for this. Look out in the photo gallery for the photographs of our fantastic art work produced from this day!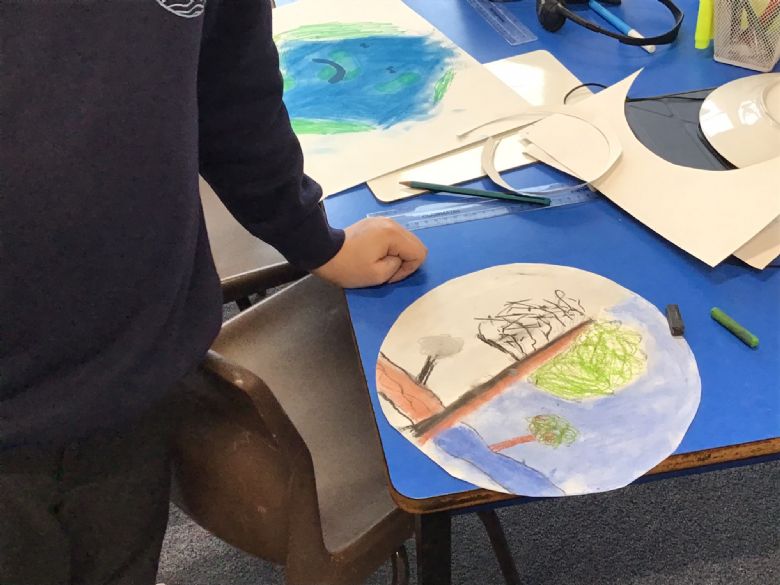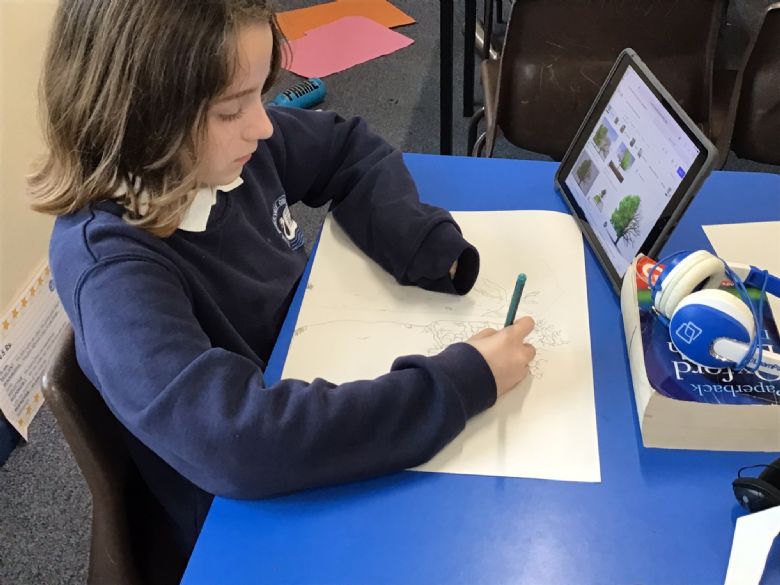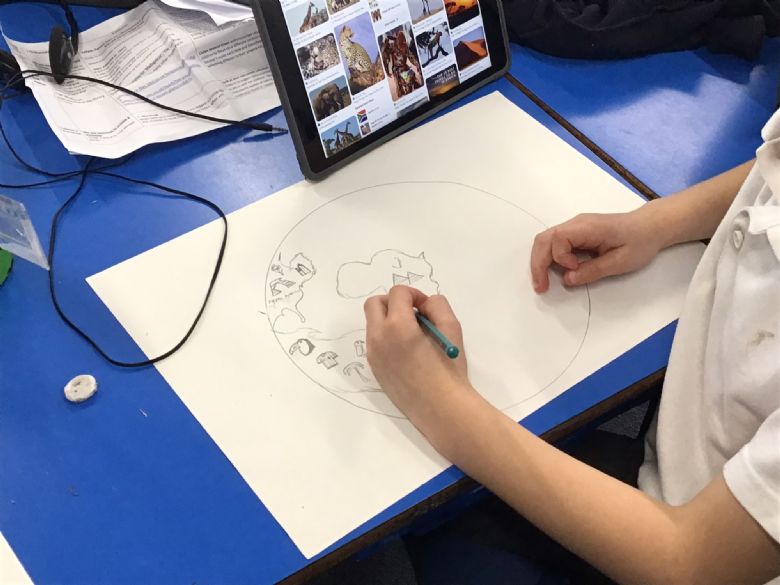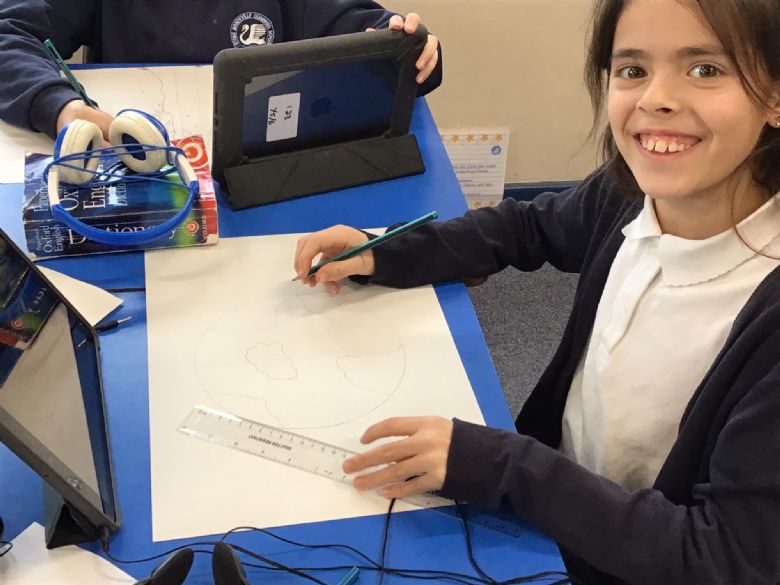 Friday, 20th January 2023
In our English work this week we have continued to work on Kensuke's Kingdom. We have been focussing on Chapter 4 in the book, where Michael has arrived and explored the island. We have talked and written about his feelings during this part of the story and have produced some great diary entries describing his feelings of dread and jubilation.
In maths we have been focussing on division this week. We have used different representations to help us to understand how to divide a 4-digit number by a 1-digit number. We have practised using partitioning and exchanging (where necessary) which will help us when using the formal 'bus-stop' method.
In RE this term we are asking, 'Are Sikh stories important today?' This week we read the story of The Milk and the Jasmine Flower, which taught us that there is always room for goodness in the world. We made bowls out of clay to help remind us of this which will be sent home - why not ask the children about the story when they bring this home!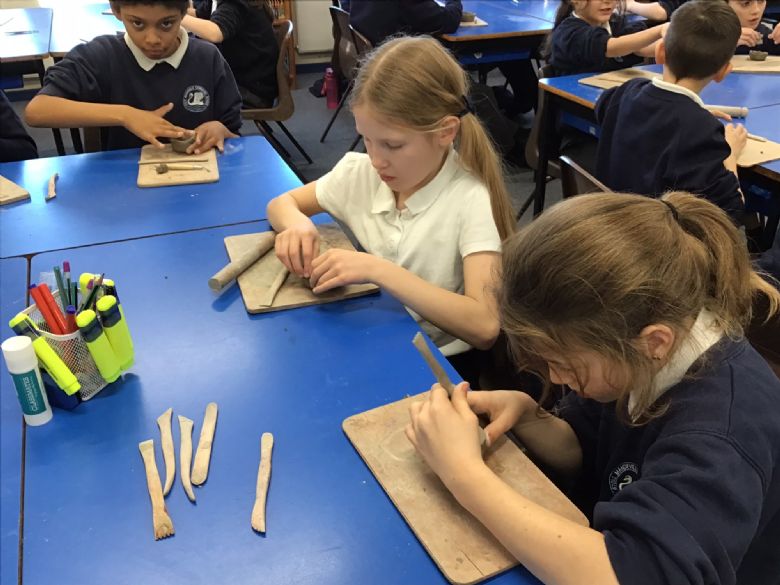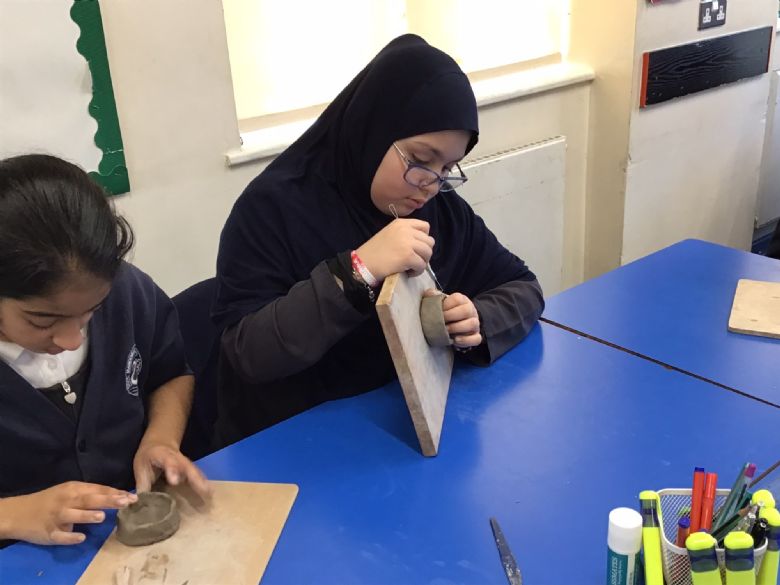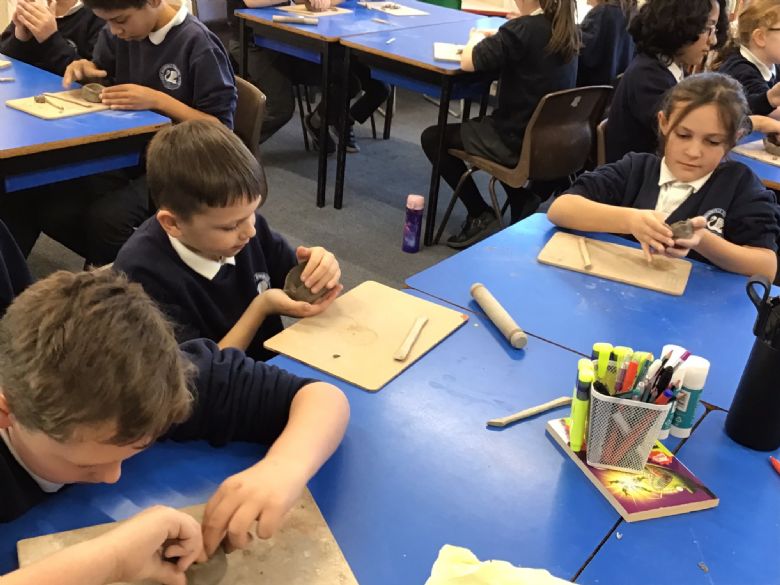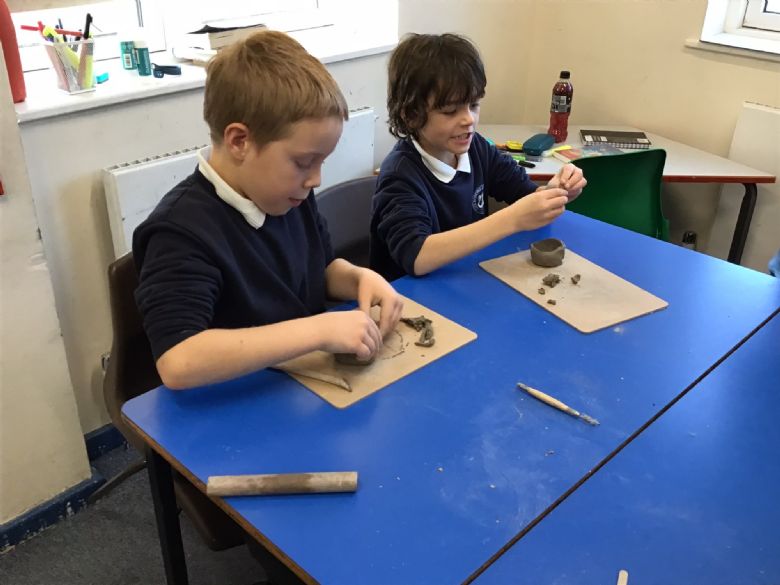 Friday, 13th January 2023
We have had a very good return to school after the Christmas holidays. It is great seeing the children settled back in to school life and working so well.
In English this term we have started a unit of work based on a new text - Kensuke's Kingdom. This is an adventure story written by the author Michael Morpurgo. We have really enjoyed reading it so far, and have started to produce some great writing from it - including some fantastic Ocean poems.
In Maths we have been focussing on multiplication and have been learning formal written methods of multiplication. We have been building these up in complexity and have attached some videos from Math Antics on Google Classroom to help anyone who is finding this tricky.
In science we had a great lesson looking at water resistance. This involved some practical work to see which shapes allowed Plasticine to move through water the fastest, then we used this knowledge to design and build some model boats that we will be testing to find which one has the least water resistance acting upon it.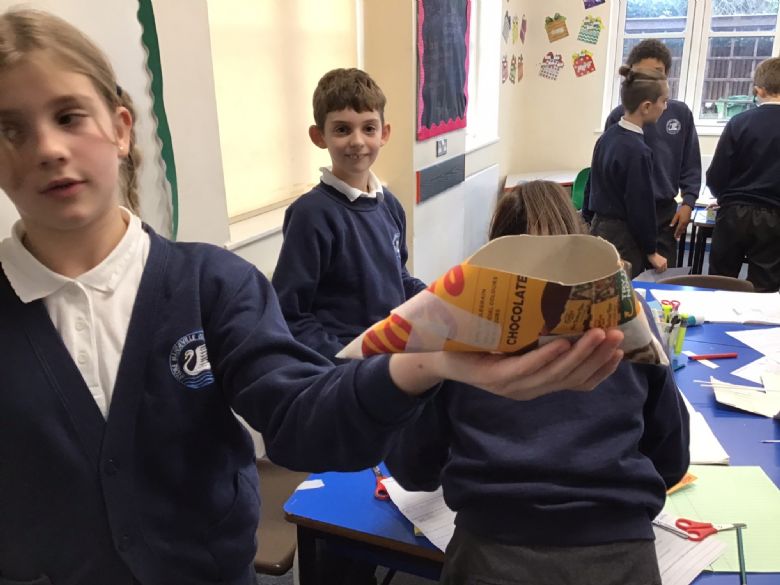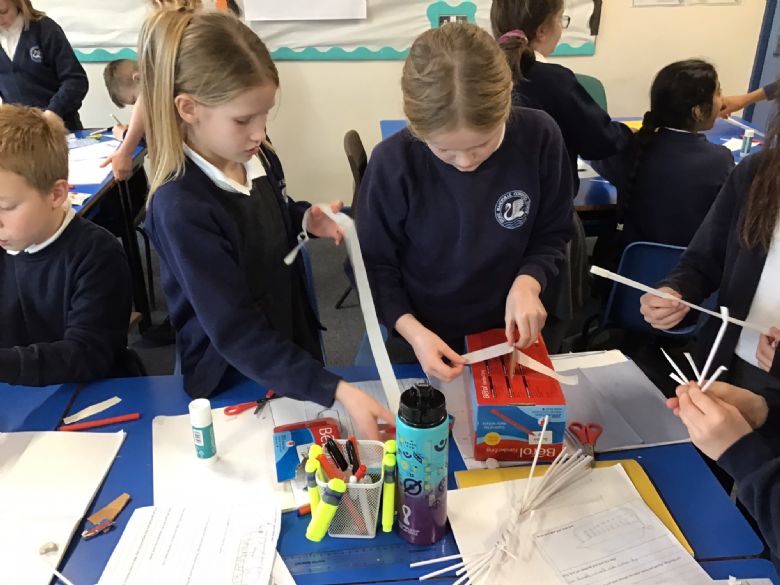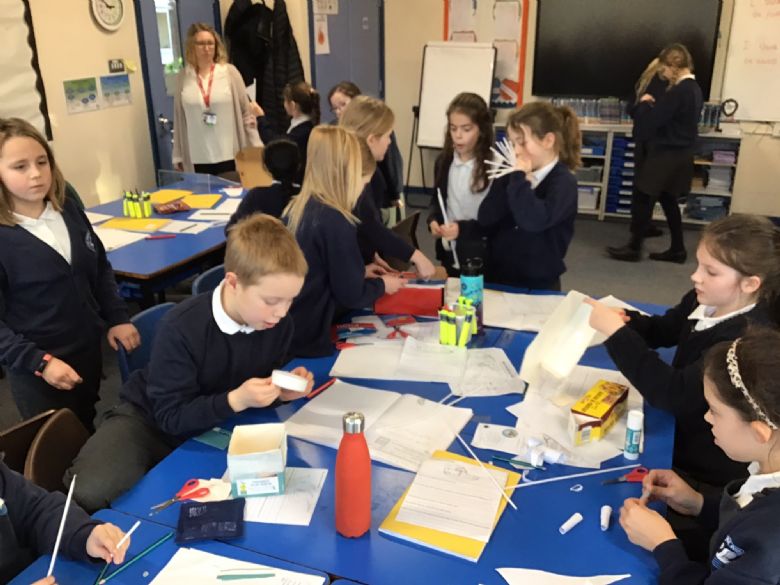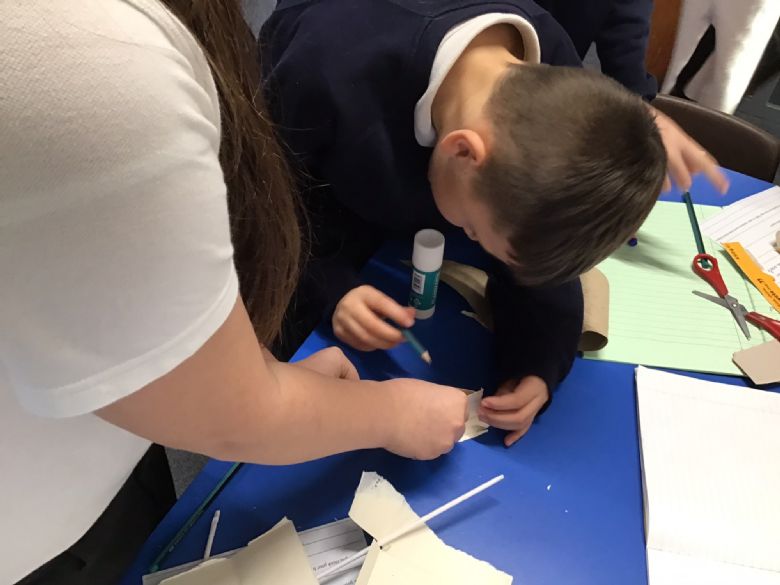 Friday, 16th December 2022
Wow, what a week!
The big highlight of our week was our class Viking Day that finished off our Viking topic which has been our focus this term. During this day we completed some great craft activities.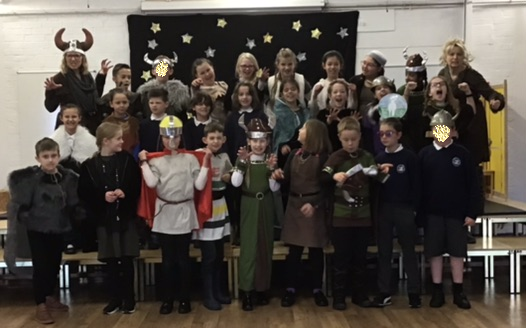 We started the day by making clay tablets that we then wrote in using Viking runes. We had to carve our names and a short message into the tablets. We discussed why the runes have straight lines, and we recognised some of our current letters in the runes.
We made some Viking braids by first making a Trollen Wheel. The instructions for this are below. These braids came out surprisingly well, although many members of the class were frustrated at how long it took for the braid to start appearing.
We made some Viking shield designs. We did this by painting on foil. This created the shiny metal that may have been on some of the shields when they were made and polished.
Finally, we all made Viking Soda Bread with Mrs Cole. The recipe for this is also found below. The children were given the ingredients and the recipe and had to weigh and follow the instructions themselves. This was easier for some than others! All of the bread looked great at the end, and everyone learned something about making dough!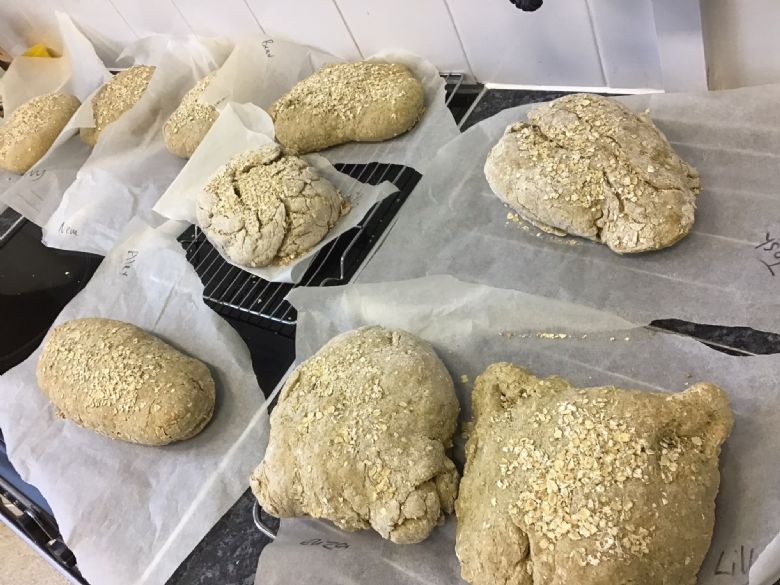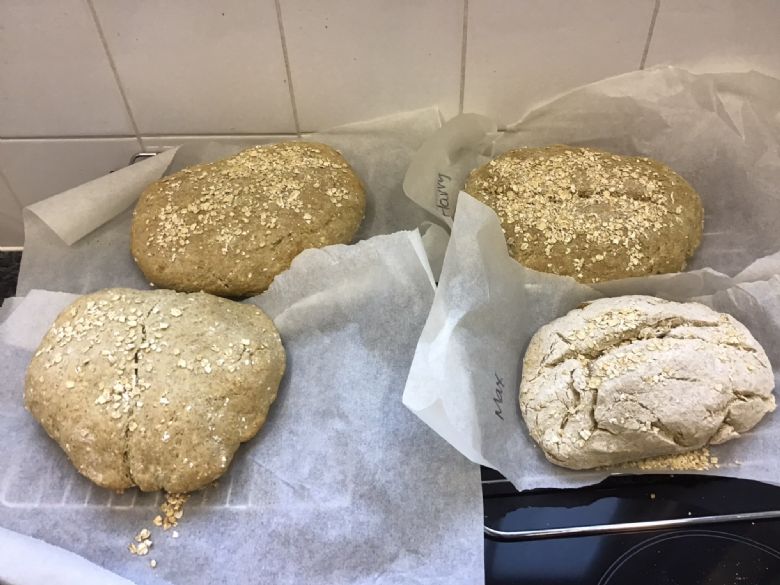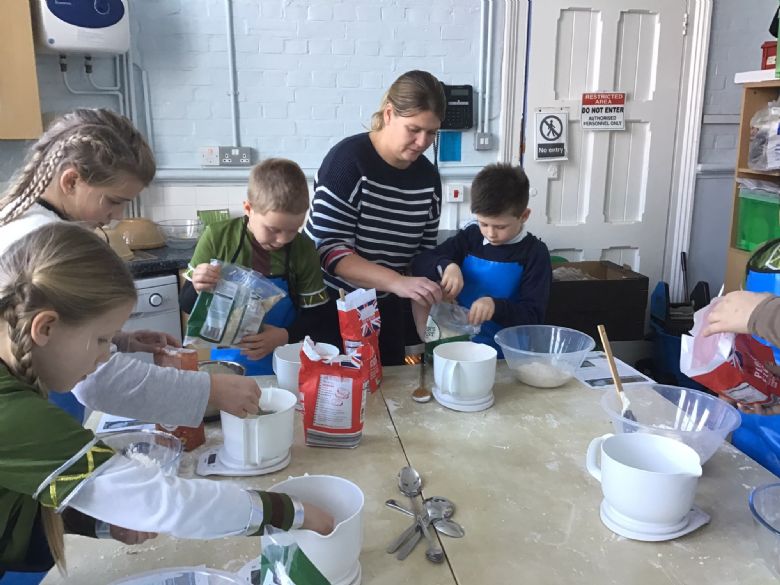 To see all of the photos from the day please see the class Photo Gallery.
We also enjoyed our Pantomime trip to The Waterside Theatre today to see Aladdin! What an enjoyable week!
Friday, 9th December 2022
This week has seen the start of our festive celebrations with our Christingle service taking place on Thursday morning. It was a really enjoyable service and a really big well done needs to be given to the many members of Signing Choir that are in our class - a great performance!
This week in our English lessons we have been using a Christmas advert as the stimulus for our lessons. We have watched the Sainsbury's advert 'The Big Night' to write a newspaper article to review the performance that has taken place in a school. We have looked at all the features of a newspaper article and tried hard to include these to make our article interesting.
In Maths lessons we have been finishing off our fractions topic. We have been looking at subtracting fractions from a mixed number and subtracting two mixed numbers. We have had to find equivalent fractions to help us do this and in some instances have had to break a whole into fractions to solve the subtraction.
We had fun in DT this week making our Viking Longhouses - most of which I am sure now occupy a special place in your homes! This went extremely well - please see the Year 5 Photo Gallery for all of the photos from this.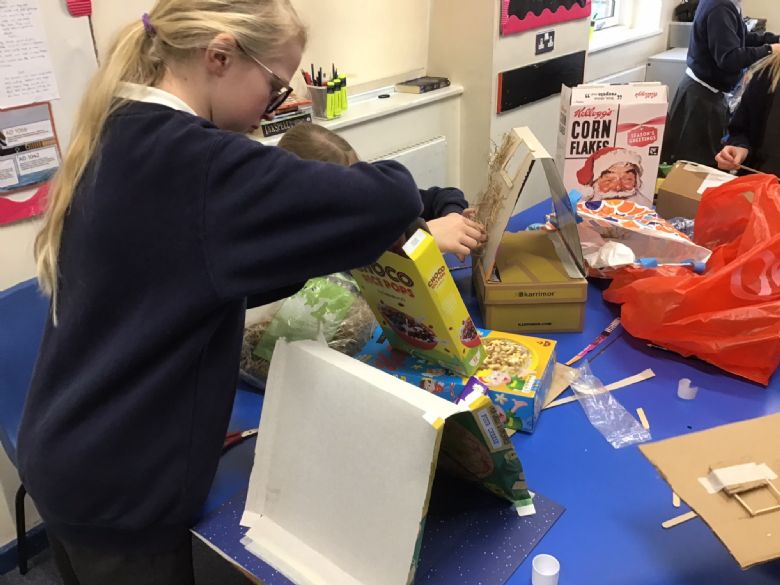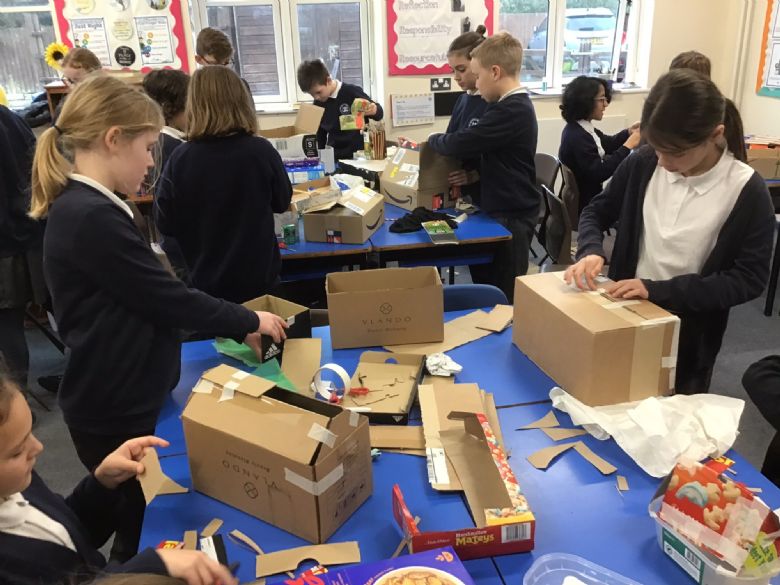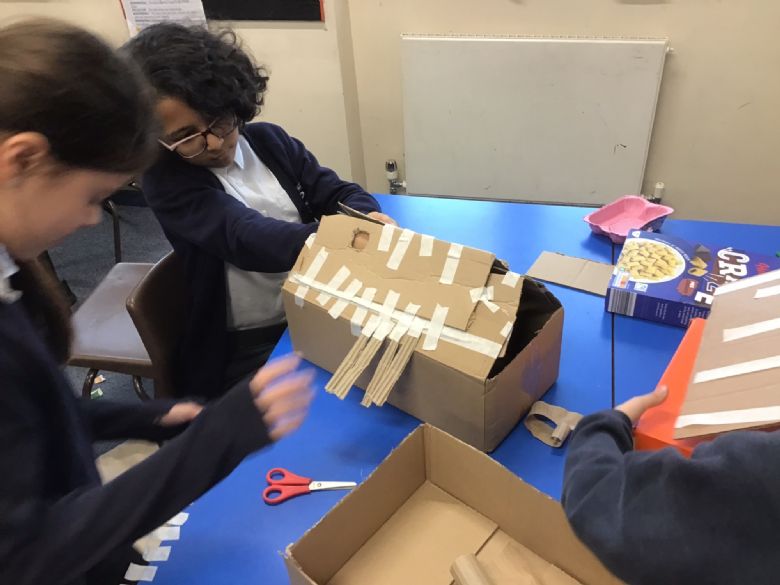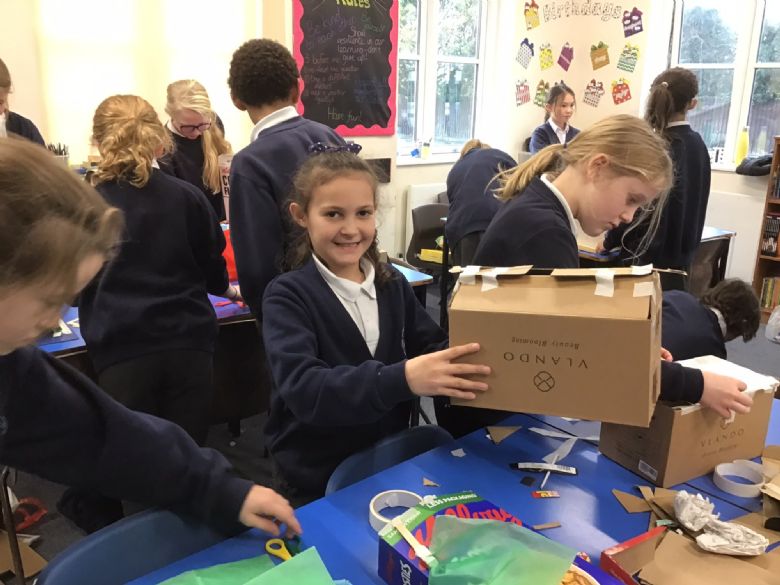 Friday, 2nd December 2022
We have had a busy week of testing this week. If your child has not completed any of these due to absence, we will be catching them up next week.
In English, we have started a Poetry unit. We have looked at some of the poems written by Joseph Coelho and discussed what we like about them. We have then found out some things about the author. We will be starting to write our own poems in the same style of his next week.
Maths lessons have continued to be working on Fractions. This week we have been subtracting fractions and having to find equivalent fractions to ensure the denominators are the same.
In our Topic lessons we have been focussing on geography. This week we have looked at the human geography of countries in Scandinavia. We now have a better understanding about the difference between human and physical geography.
Friday, 25th November 2022
This week in English we have been planning and writing our own Viking Sagas. We have used some of the Viking gods that we know about and included them as our principal characters. The normal story structure of beginning, build-up, problem, resolution and ending has been followed, along with the thought of which character is the main cause of our problem! We have really enjoyed writing these!
In maths this week we have continued working with fractions. We have been adding a mixed number and a fraction by partitioning the mixed number first then adding the parts together. This has needed some practice, especially when we have needed to find an equivalent fraction first to make the denominators match!
In RE this week we have started our focus question for the term which is, 'Is the Christmas Story True?' We have begun by looking at eyewitness reports and how everyone has a different version of what they believe is true - even when we have all seen the same thing!
Friday, 18th November 2022
What a busy week we have had! This week started off with Odd Socks day to begin our Anti-Bullying focus week in school. We also had Bikeability Level 2 training taking place on Monday, Tuesday and Wednesday this week, we had 8 children taking part in a tag-rugby skills session tournament on Wednesday afternoon, the annual Children in Need Pudsey Fair on Friday afternoon, and our first school football team match took place after school on Friday! Despite all of this, we still managed to get some learning done!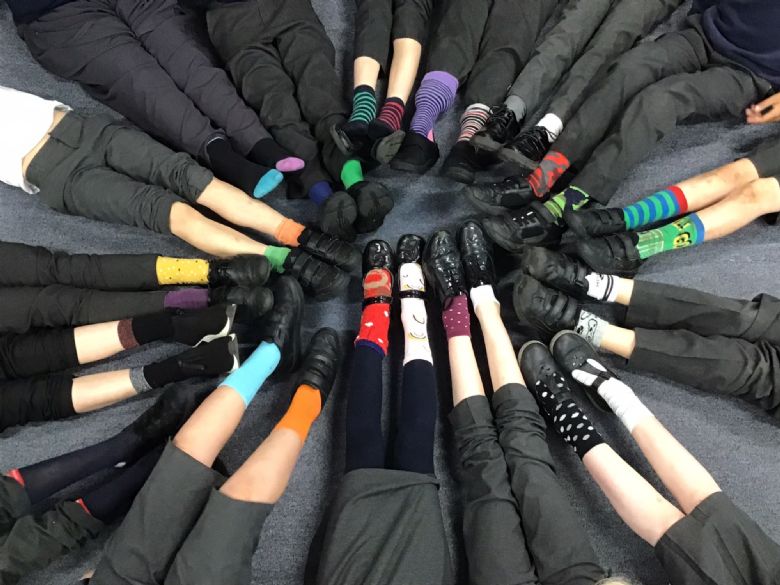 In English we watched some more Viking Sagas. We looked at the hidden message within these sagas and used this in our retelling of them. We watched 'Freya and the Goblins' and 'Thor and the Giants'.
In Maths we did some work consolidating what we already know about fractions. We looked at practical ways to convert between mixed numbers and improper fractions, then we looked at how we could add together fractions of the same denominator. We have now started to look at having to convert to equivalent fractions to allow us to then add fractions together.
Our visit to the Pudsey Fair was very enjoyable, and we are looking forward to having to organise it next year!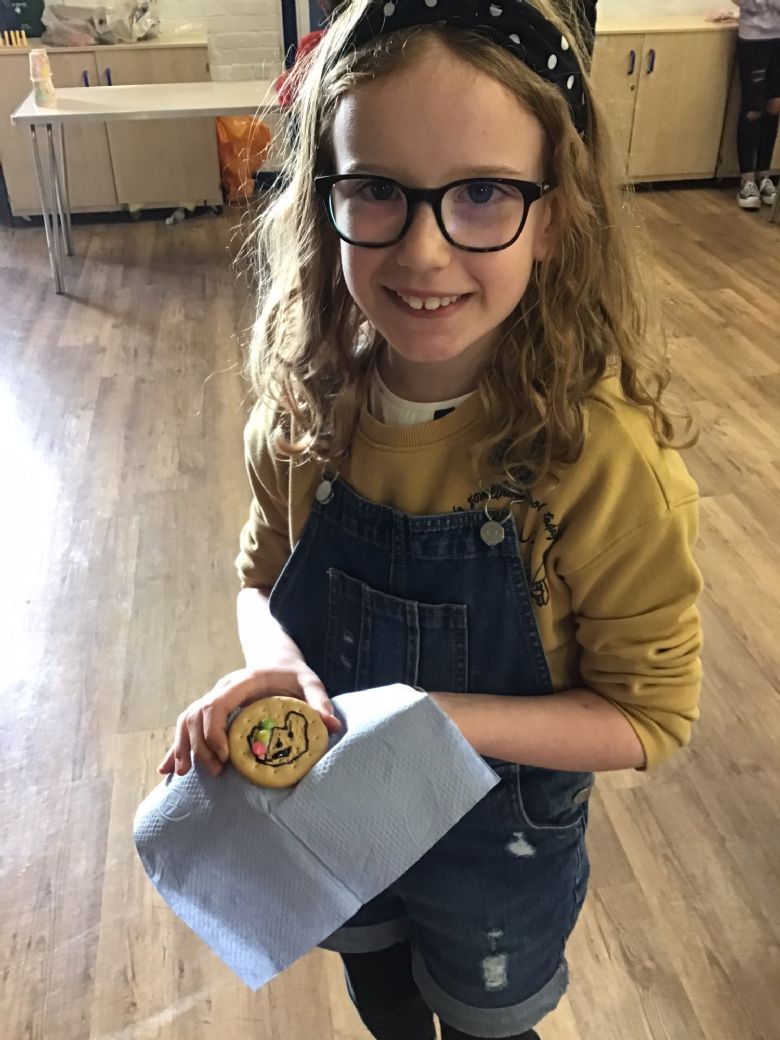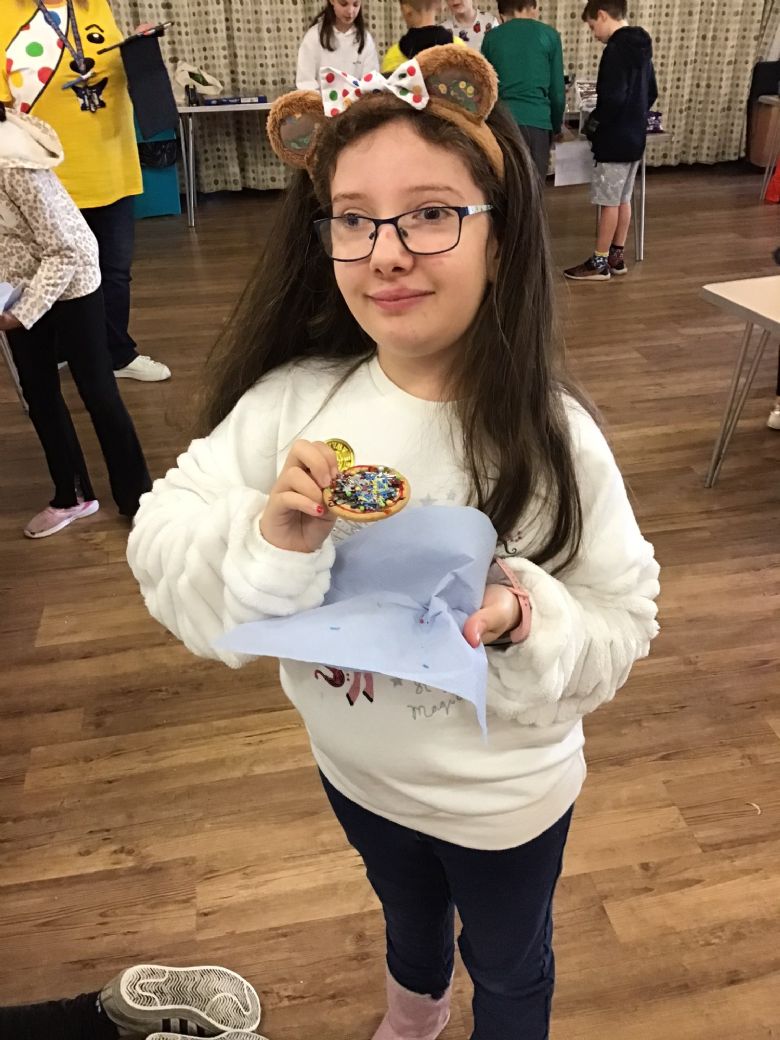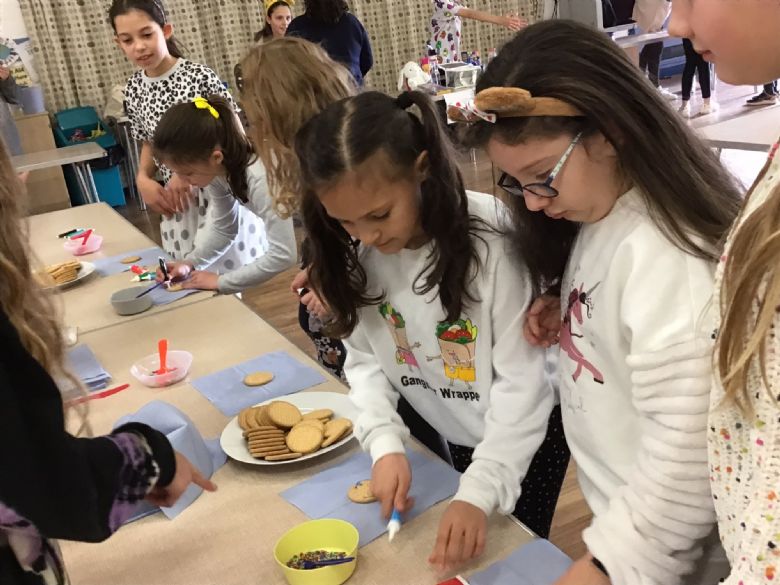 Friday, 11th November 2022
This week we have started learning about Viking Myths and Legends. We watched an animated retelling of the story of how Odin Created the World this week and then used this to write our own retelling of the story. We tried to include all of the narrative features we earned last term.
We have continued our work of fractions this week. This has gotten harder, and we will continue to practise these skills as long as we need to. We were comparing and ordering fractions this week. We are confident to do this when the numerator or the denominator is the same, but have found it hard when we have to convert them to equivalent fractions first.
In PE we are completing a unit all about increasing our fitness. Our activities this week were all about raising out heart rate. We had to complete 1 minute of each activity - which doesn't sound very long until you have to do the activity!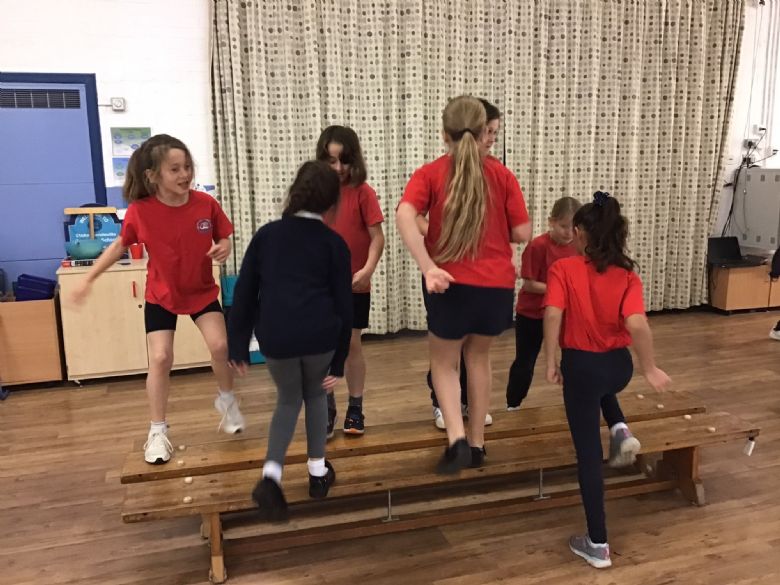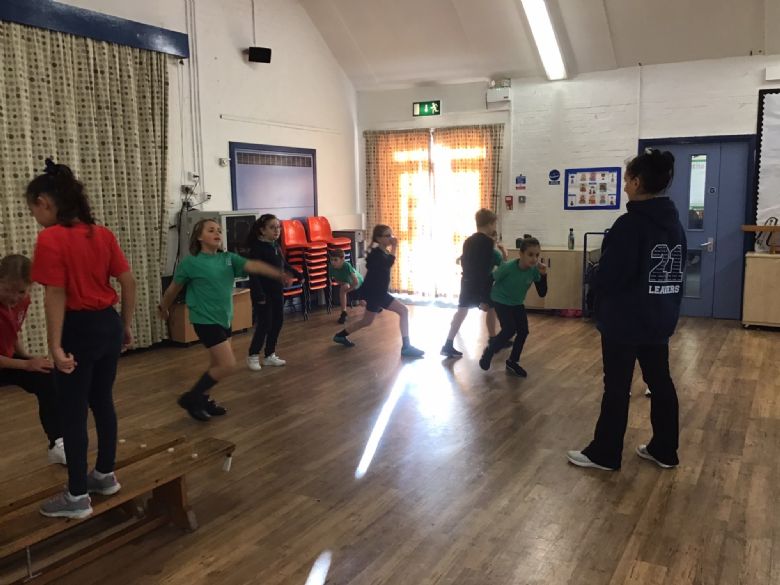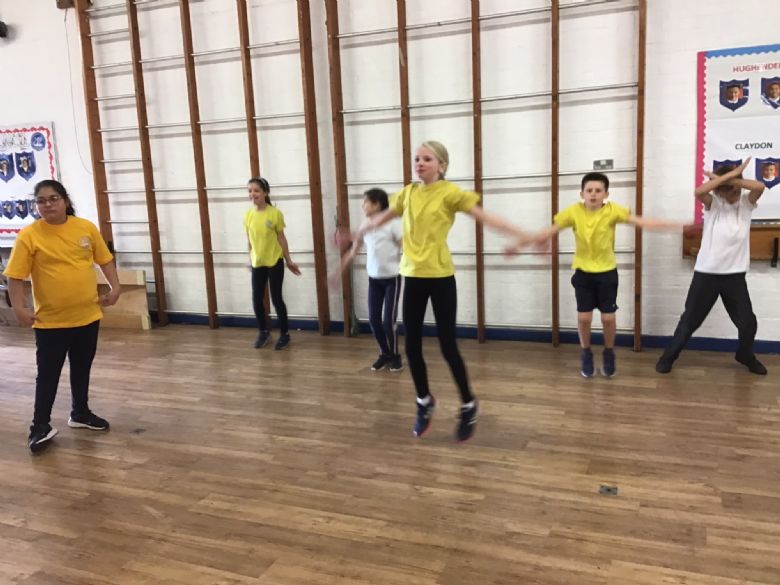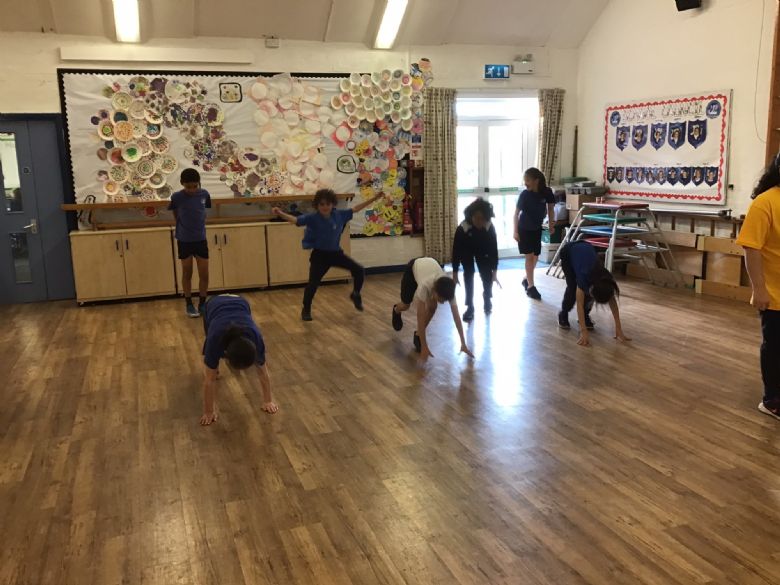 Friday, 4th November 2022
This week has been our Black History focus week and we have used this as an opportunity to find out about Rosa Parks in our English lessons. The children have watched and read lots of information about Rosa Parks and the Bus Boycott in Montgomery, Alabama, all of which is available on Google Classroom. They have had a choice of writing styles to choose from, which they have really enjoyed and have written some very moving pieces.
In Maths this week we have started our learning about Fractions. This is a really big topic and is one that lots of children (and adults) find tricky. We have been looking at equivalent fractions this week. Please do not worry if your child has found this difficult this week - it will continue to get easier as we progress through the unit and practise using these skills.
We have (on the day of the worst weather!) had our Outdoor Learning Day this week. This took place on Thursday and we were able to do our topic lesson outside. Luckily we avoided the rain and managed to be outside in a spell of sunshine! We searched for Viking Runes outside and managed to decode some written messages from the Vikings!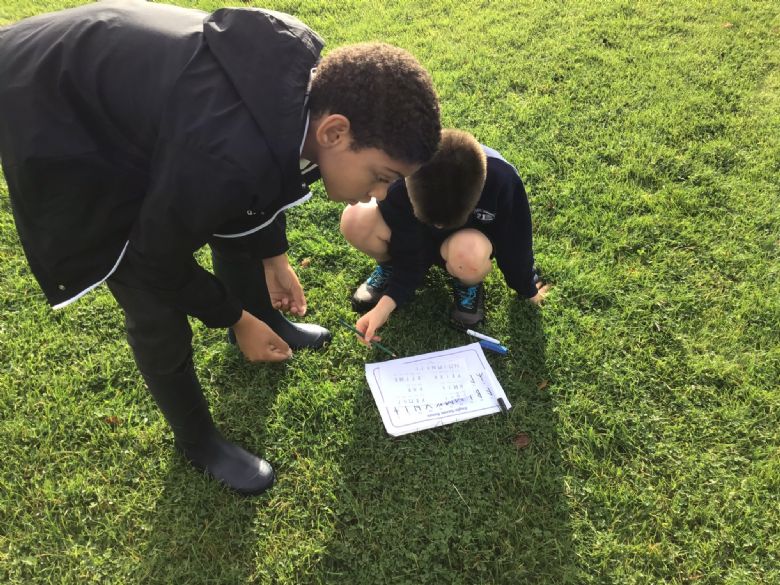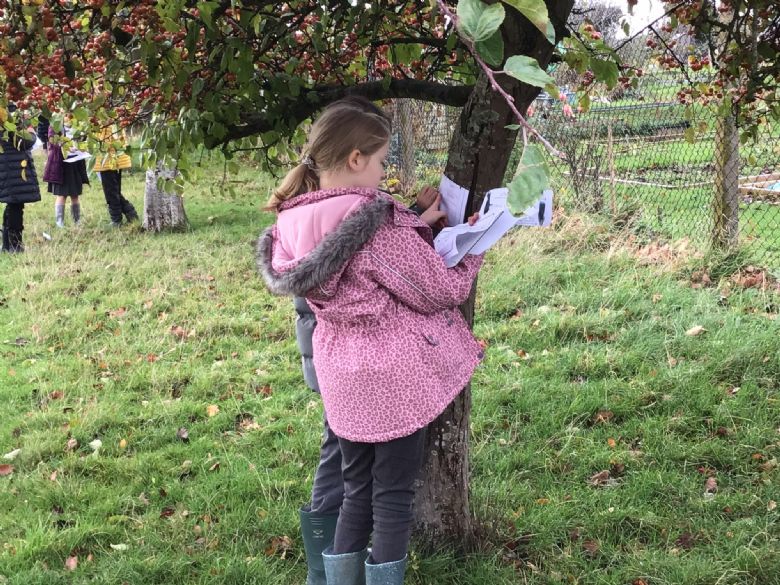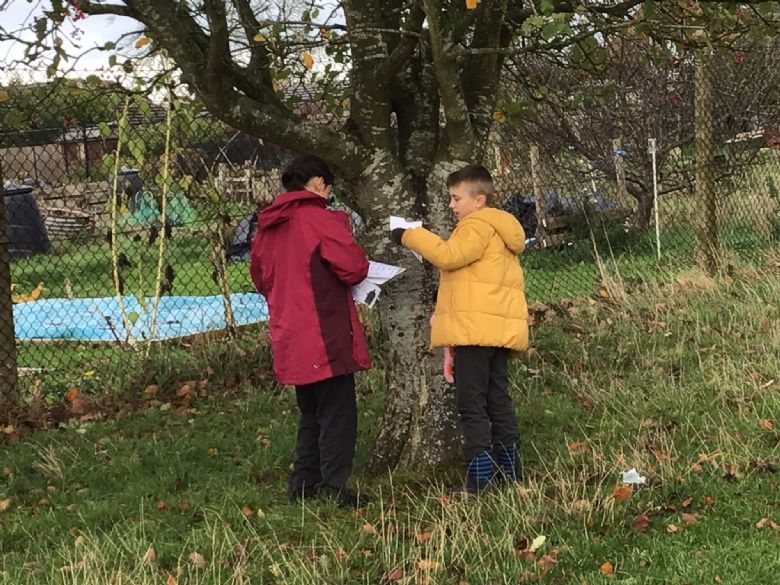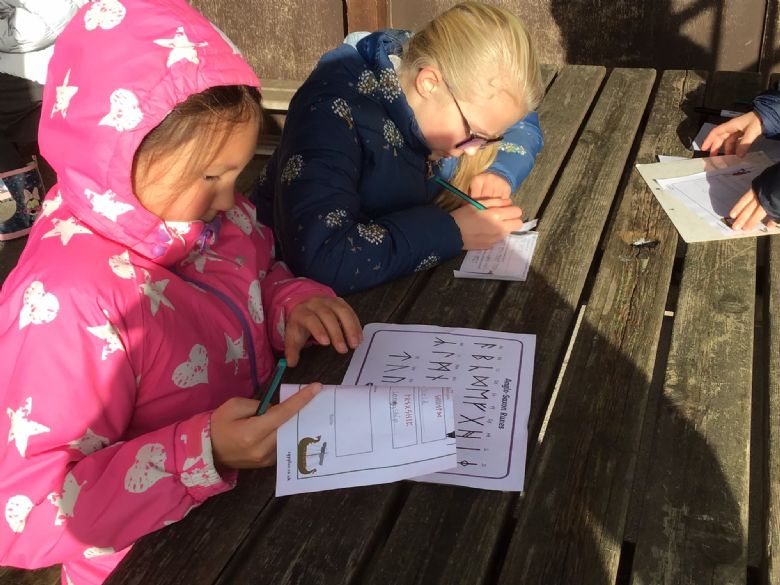 Friday, 21st October 2022
This week we have finished our work on Viking Boy by writing a newspaper report about the final battle between Gunnar and Skuli. These have been, once again, written really imaginatively and have been a joy to read!
In maths we have earned about square numbers and cube numbers. We enjoyed using counters to make squares for square numbers and using cubes to build cubes for cubed numbers! We have also earned about the process of multiplying and dividing by 10, 100 and 1000 by using place value mats.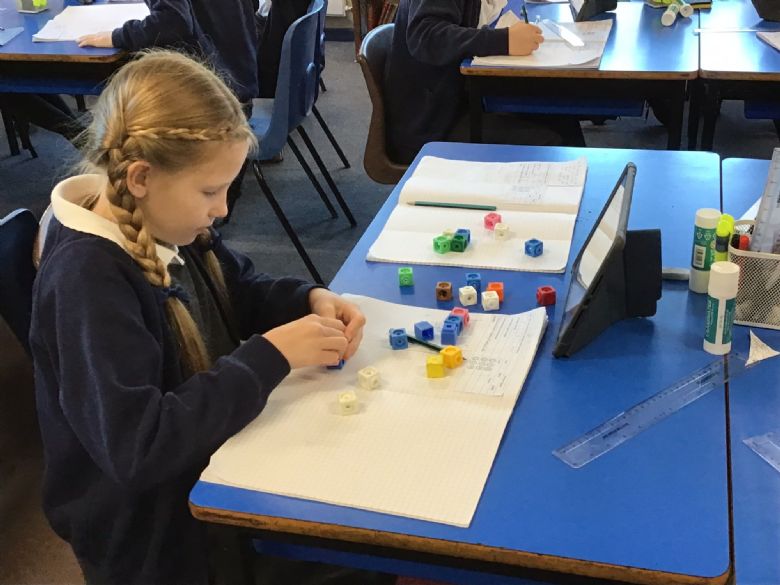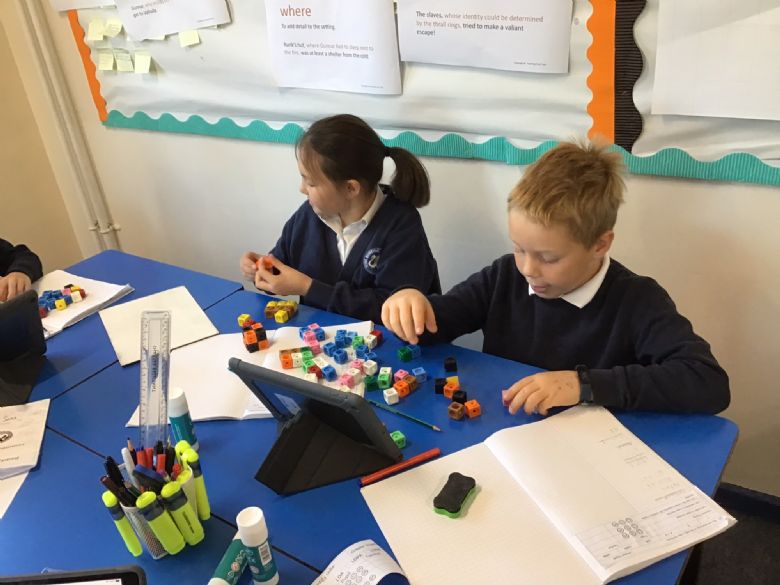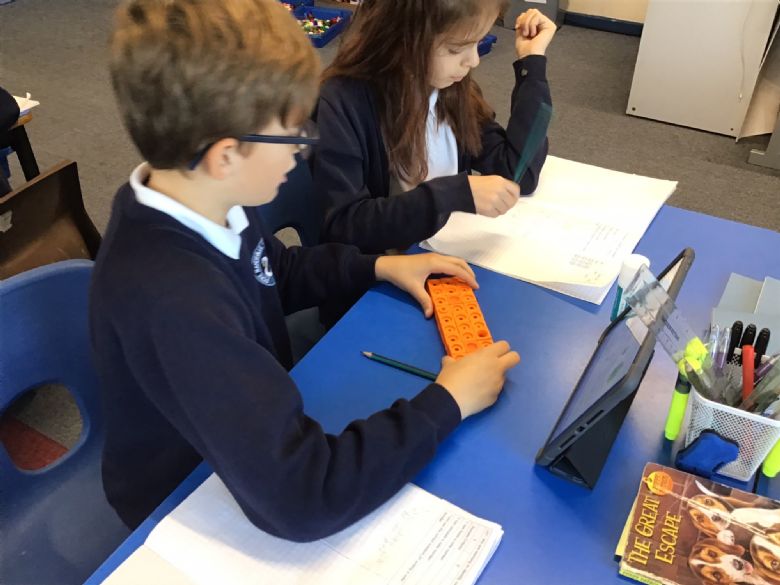 We had a really interesting discussion on Thursday as part of our 'Give Racism the Red Card' day. This revolved around racism in football and other sports and what needs to happen to supporters who make racist comments to players. The children all had very clear and strong views, and it was certainly a lively discussion!
Enjoy your half term, and remember that there is no homework set during the holidays.
Friday, 14th October 2022
We have nearly completed reading Viking Boy! After finishing our chapters on Monday, we read what has really happened in the next chapter of the story and we were not disappointed! The story is getting even more exciting and we are looking forward to the climax. We have begun to think about the features of a newspaper story and will be using this in our writing next week.
In Maths we have been focussing on multiples and factors this week. If you need a little refresher yourself, check out https://www.youtube.com/watch?v=1qPfLkOEuYY. The children have all done extremely well and have found common factors and common multiples too.
On Thursday we had some training in the afternoon to become Playground Leaders. We learnt about the importance of including everyone in games and how to make them fun. We will soon be developing using these with some of the younger year groups at lunchtime.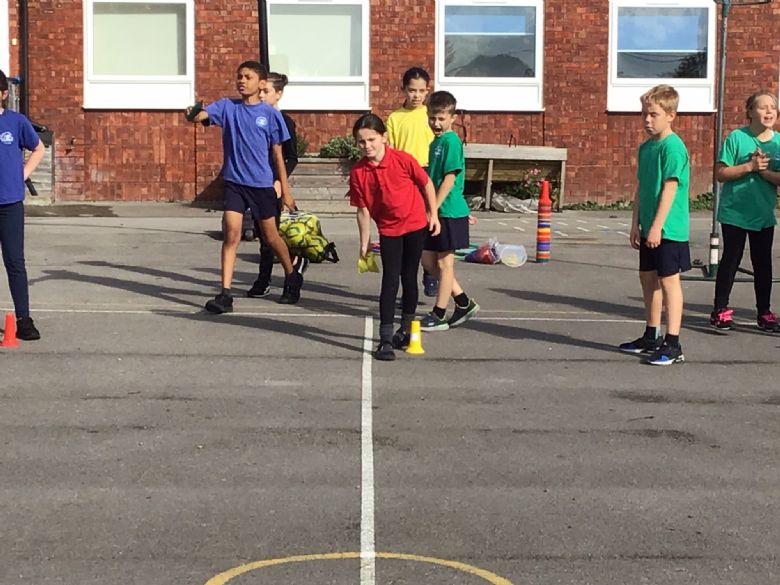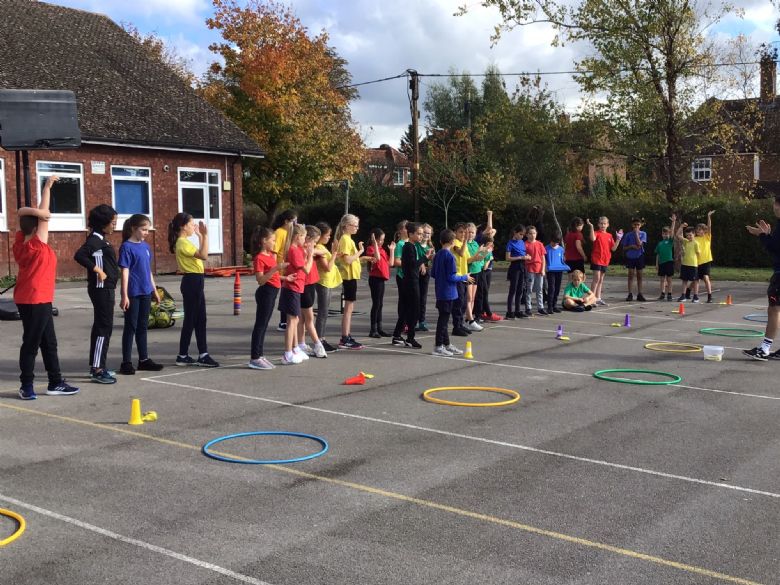 Check out the photo section for more photographs!
Friday 7th October 2022
Our Viking Boy work has continued this week, with us planning and writing our own chapters. We have done this slowly, section by section, to allow us to demonstrate all the skills we have been learning so far in Year 5. We have included expanded noun phrases, direct speech and relative clauses in our work!
In Maths, we have been continuing to work on addition and subtraction. We have built up our knowledge of inverse operations and multi-step problems and can now begin to apply these skills! We have used place value mats and counters to help with these when we need to.
We had a great Harvest Festival celebration on Thursday this week. As a whole class we sang and signed a harvest song and managed to sing in a three-part round. This was great fun and helped us learn some new signs too.
We have continued to enjoy learning the cornet. Here are some photos of us hard at work!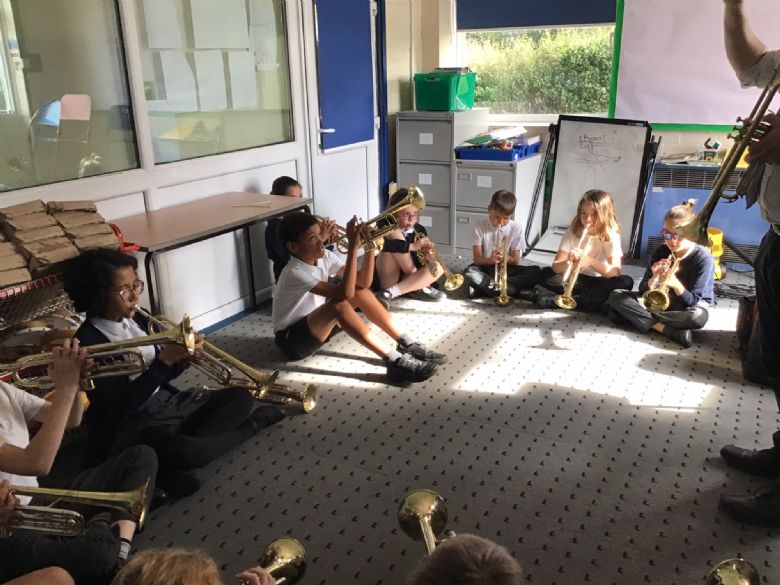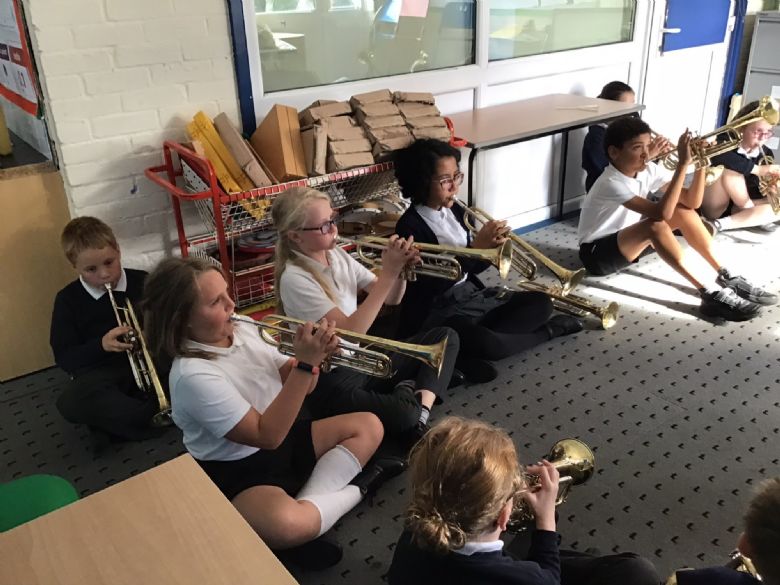 Friday 30th September 2022
We have continued our work on Viking Boy and improving our sentences this week. We have looked at relative clauses and the punctuation associated with these (commas surrounding them). We have discussed how these relative clauses turn a simple sentence into a complex sentence. We have used the words 'who, whose, where, when, which' to start our relative clause.
In Maths, we have begun addition and subtraction. We have been refining our written methods for addition and subtraction. We have worked hard to keep all of our numbers in their own squares which has really helped to improve our presentation. We have remembered to carry over and exchange when needed.
In science this week we have been researching planets. This has been really interesting and we have learnt a great deal. We have meade posters using the information we have found and these will be on display in school from next week. Don't forget to come and see them when you see the books for Parents' Evening!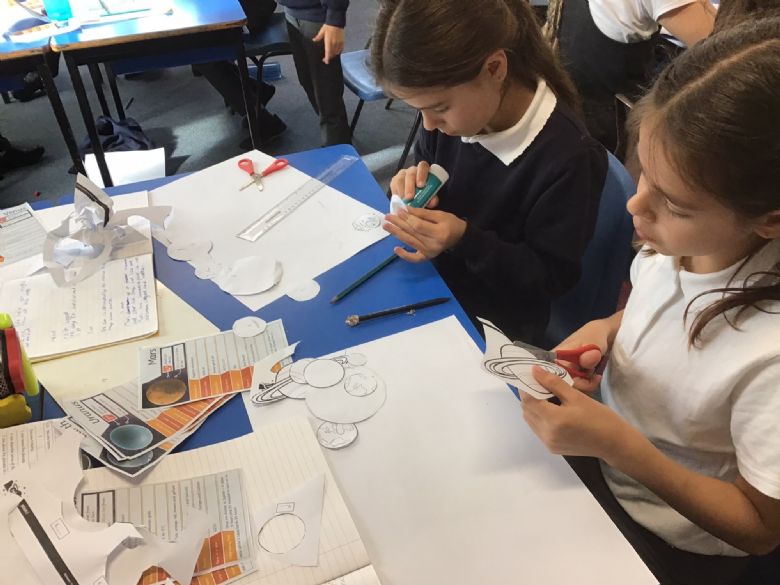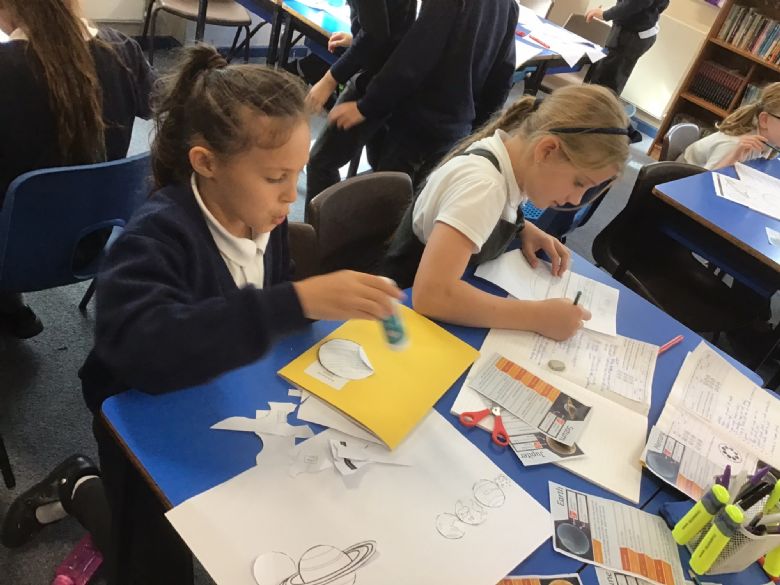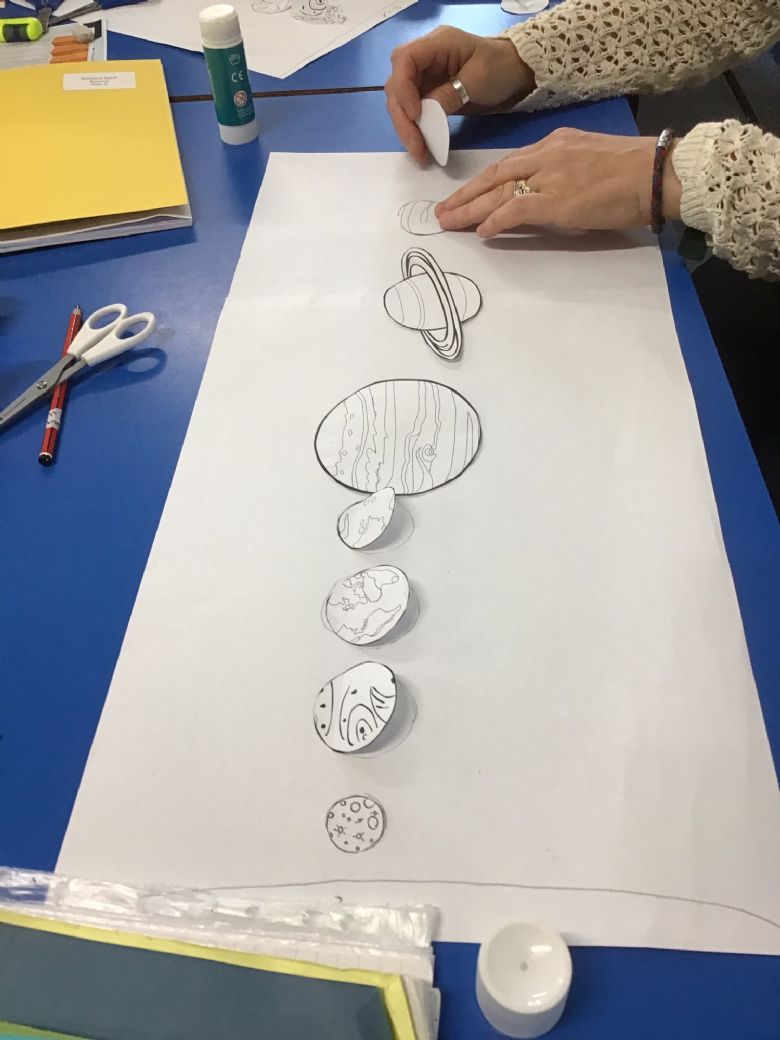 Friday 23rd September 2022
This week we have been working hard to use direct speech in our writing. We have earned the four rules of speech punctuation and have been turning speech bubbles into direct speech, punctuating it correctly. We have started writing a section of the story 'Viking Boy' which has a conversation between two of the characters.
In Maths, we have been working on rounding numbers to the nearest 10, 100, 1000 and 10,000. We have found this quite tricky this week and will continue to revise this in the coming weeks.
We have been busy in our music lessons, which have been split into two halves. One group is spending the lesson learning the songs for the Young Voices singing concert, while the other half of the class have continued learning how to play the cornet with Mr Kitchen. We have been able to do both activities over the course of our lesson.
Finally, we would like to say congratulations to our new school councillors - Neve and Connor!
Friday 16th September 2022
This week we have read more of Viking Boy. It is really exciting already and has had us on the edge of our seats! We have used this text to find and help us write expanded noun phrases this week. These have been successful so far, and I am really excited to see these being used in the children's writing.
In Maths, we have continued to look at the place value of numbers. We have been partitioning numbers into their different values *hundred-thousands, ten-thousands, thousands, etc) and looking at different representations of these. We have looked at multiplying and dividing by different powers of 10, and have combined all of these skills into using number lines.
We started our science topic of Earth and Space this week. This is a fascinating topic and we have already got so many questions that we would like to find out the answers to! This week we looked at evidence that suggests the Earth is a spherical shape, and compared this to why people used to believe the Earth was flat in the distant past.
We have spent some of our Guided Reading time talking about the Queen, her life and the State Funeral that will be happening on Monday. We will continue to discuss this with the children while they continue to have interesting and relevant questions about it.
Friday 9th September 2022
This has been the first week of Year 5, and what a great week it has been! It is lovely to have all the children back in school, and we have even enjoyed welcoming in two new and 1 returning member of the class. It is great to see the children settling straight back in to school life and showing such a responsible attitude towards their learning.
We have started our English lessons with the book 'Viking Boy' by Tony Bradman. We have enjoyed reading the start of the story and thinking about what we think the characters are going to do in the story. We have looked in detail at the front cover of the book (we have judged this book by its cover!) and used this to predict what we think the story is going to be about. We are all looking forward to seeing how the story develops!
In Maths, we have started the topic of place value. We started the week looking at Roman Numerals and learnt some new letter values - D=500 and M=1,000. We have then moved on to numerals (numbers) and the place value of digits up to 1,000,000. We have used place value counters to help us and have looked at when to move into the next place value column.
We have started out topic of Vikings by looking at the people who were in Britain before the Vikings. We found out some information about the way the Anglo-Saxon people lived and we will use this to compare life with the Vikings.
We are having our indoor PE session on a Wednesday and are working on our gymnastic skills. We are working on counter-balancing and counter-tension this term. On a Thursday we will be having a sports coach teaching netball. This will be outside unless it is raining (as it was this week!). Please can the children have shorts for gymnastics and jogging bottoms for netball, along with their coloured PE t-shirt.