What are we Learning?
Each week we will share what we have been learning in our class. Remember to look at our photo gallery to see what we've been up to!
24th June 2022
This week we have be exploring our outdoor area with magnifying glasses and learning all about bugs! We have looked at their habitats around the world and why they are suited to these habitats. We have used insects to inspire out art. We have used Matisse's Snail to create collages and work by Lucy Arnold to make pastel drawings. We've also been writing 'Who Am I?' clues for our friends to guess which creepy crawley we are. We have had some fantastic team work in PE where we had to help each other move and shape our bodies to represent numbers. It was a challenge but we really enjoyed it!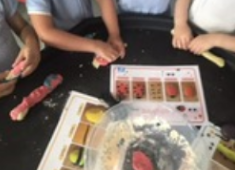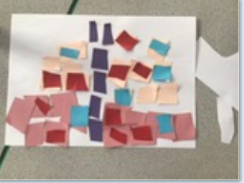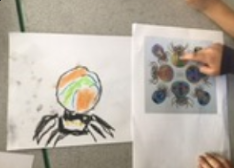 17th June
This week we have been enjoying the warm weather and have got some more gardening done. We have each planted a sunflower seed to observe and then measure when we learn about height in the coming weeks. We have been very creative with our 2D shapes when making tangrams. We have made everything from an alien lost in space to a panda with bamboo! We have been learning all about animals that could be found in a zoo and where they would originally have been found in the wild. We have written some fantastic leaflets all about these animals!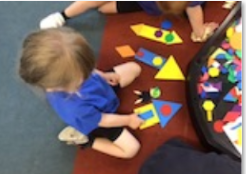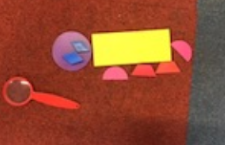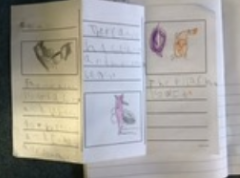 10th June
We have started our last half-term in Reception with a new topic of 'Amazing Animals'. We have been transported all the way to Africa! This week we have been learning about the environments in different parts of Africa such as the Congo rainforest, the savannahs and a small village in Kenya. We have written lists of what we would take if we were to visit a very hot part of Africa. We have compared our way of life to theirs and noticed a big difference in the way houses were built. We have had a go at constructing our own dough mud huts and have loved exploring the animals that can be found. We have learnt the BSL signs for giraffe, elephant, hippo and crocodile. In Maths, we have been brave and captured a vicious red snake! It was our task to measure how long different snakes were. We have also started to plant up our garden area but are awaiting our compost delivery, and then we can do more.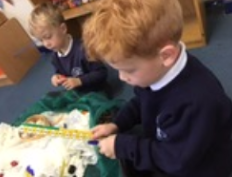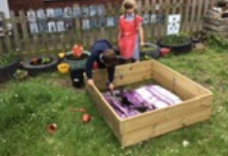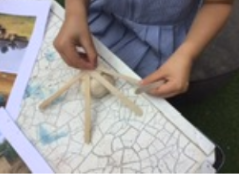 27th May
This week we have been working hard to prepare lots of things for our Jubilee celebrations in school! We have explored the life of Queen Elizabeth and all that she has done, specifically in the 2020's. We have loved making Union Jack flags, our own crowns and bunting. We have drawn our own self-portraits using charcoal and then used this skill to draw portraits of our Queen. We have also been working hard in Literacy where we have been writing our own adapted narrative of The Three Billy Goats Gruff. Did you know the Goats have met a mean rabbit, a hungry dinosaur and a grumpy hedgehog under the bridge?!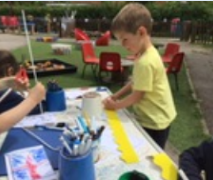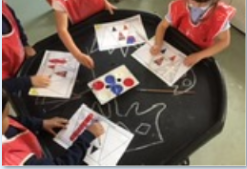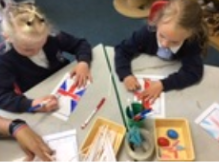 20th May
This week we have been learning all about life cycles. We have started a science experiment to see what conditions a broad bean will need to grow, and we are excited to bring these home soon. We have also explored the life of a butterfly and used this as an inspiration to create symmetry within art. We have learnt a version of The Three Billy Goats Gruff in Literacy and have a super story map! Next week we will be writing our own versions of the narrative. Maths has had a focus of addition, linking to our number bonds to 5 and 10.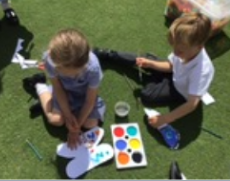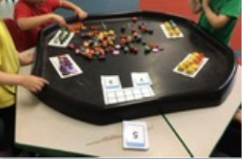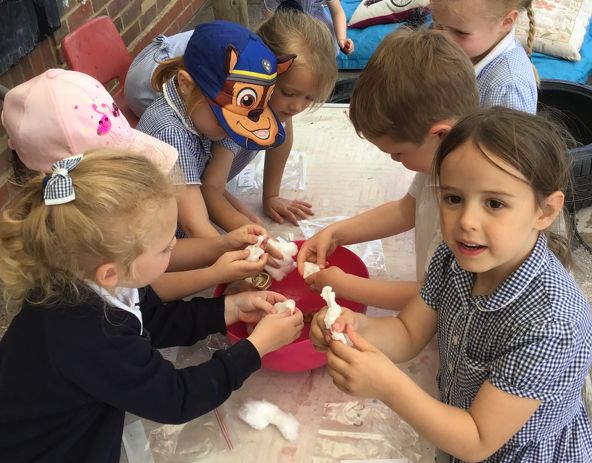 13th May
At the start of our week we had quite a shock! Someone had left enormous floury footprints walking across our classroom to our reading sofa! We worked out that it was the Big Bad Wolf coming to bake in our kitchen. We have written newspaper articles to tell everyone all about it and then made our own Reception Newspaper. We have loved exploring all sorts of food and discussing the healthier options we should make. We have been very careful when learning how to use a knife to chop fruit properly to make a delicious fruit kebab! On Friday we celebrated Deaf Awareness Day. We had the pleasure of Mrs Walker and 2 of our HID students coming to visit us in Reception. They taught us all about their hearing aids and cochlear implants. We even had a go at using some special equipment, so we could hear through their aids!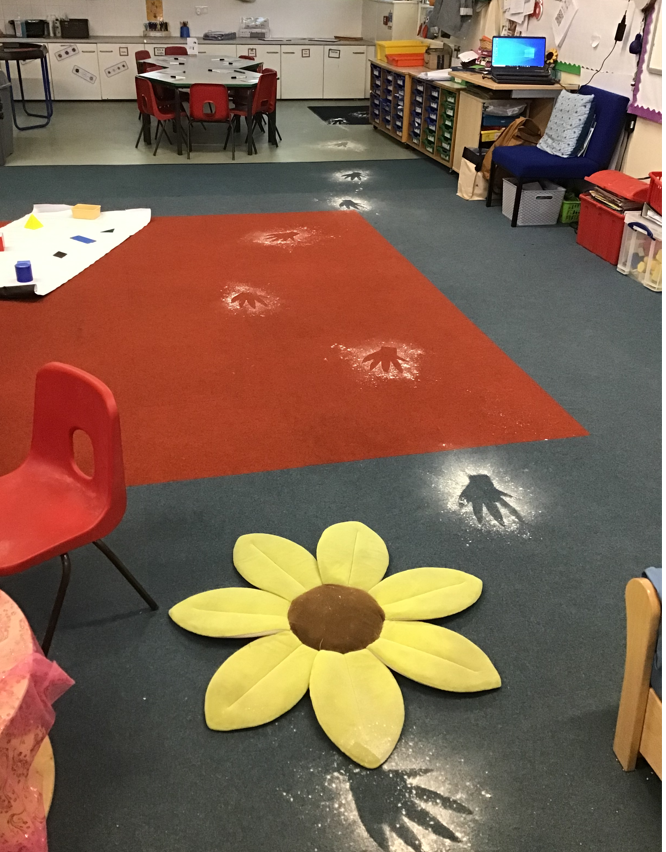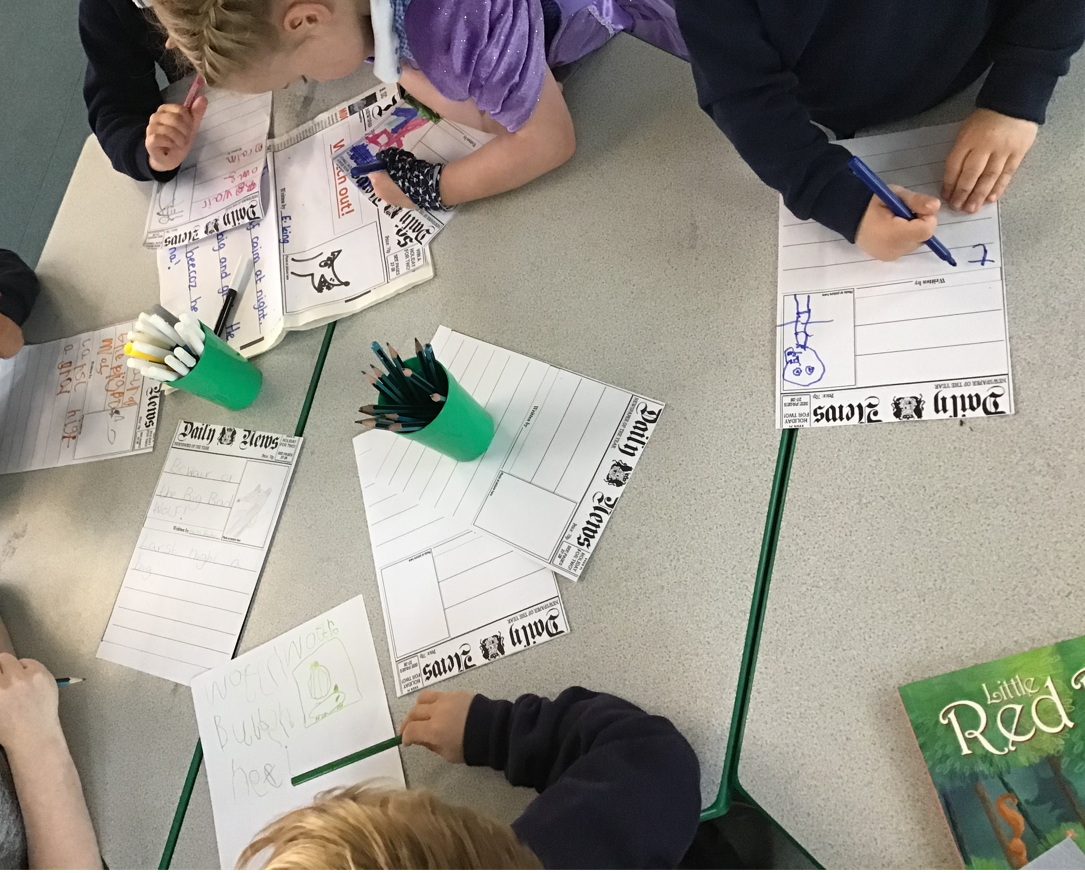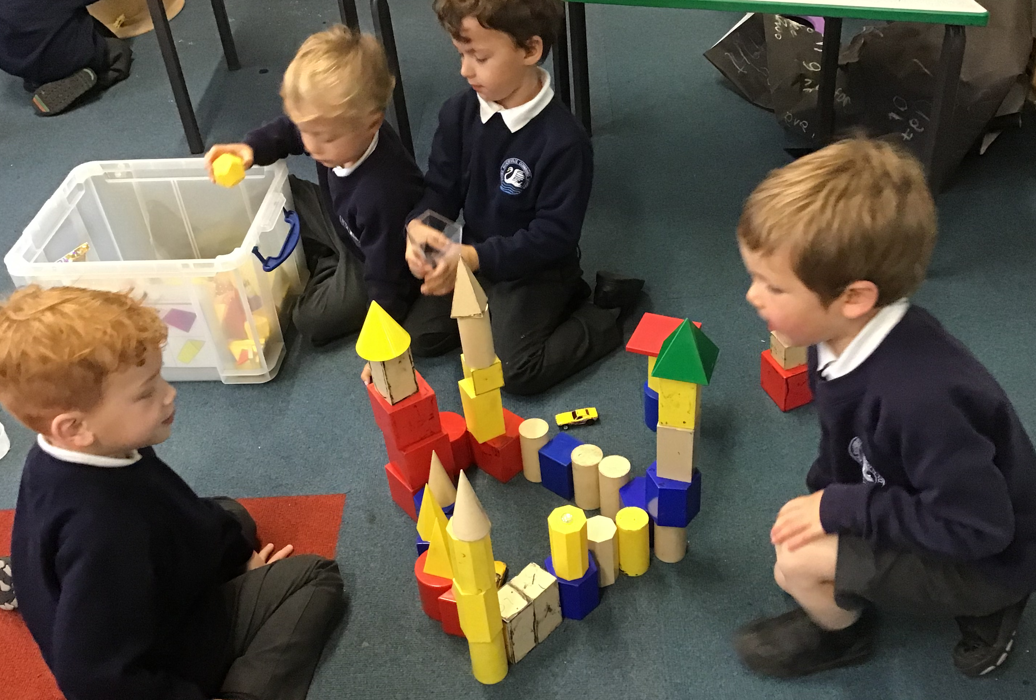 6th May
On Tuesday morning when we came to school we were horrified to find that our role play kitchen had been broken into and there had been a porridge explosion! We used our investigative skills and narrowed the suspects down to Goldi and the Bears. So, this week we have been looking at the story of Goldilocks and the Three Bears. We have loved messy play with porridge and writing our own recipes to help the characters, so another mess can be avoided! We have been learning all about teen numbers in Math, recognising the numeral and making the amounts with Numicon. We also had a very exciting visitor called Isobel! She came to tell us all about her inventions. We used our scientific skills to help her make some new items.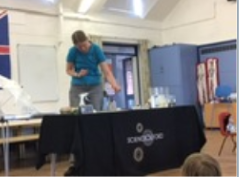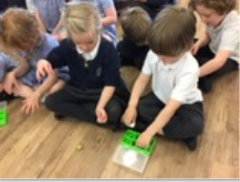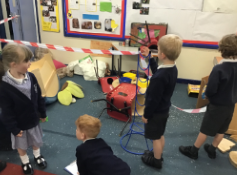 29th April
We have started our new half-term with a new focus of Traditional Tales. This week we have been exploring the story of The Little Red Hen and how her friends were very unhelpful. We have written letters asking for help with some of our favourite activities in Literacy and in our child initiated play too. The Little Red Hen also left us a letter! She asked if we could help her make some more bread, so we did! We have loved kneading dough to make flat breads. In Maths, we have another hen to help us with our learning. Rosie from the story Rosie's Walk showed us how to escape the sneaky fox by using positional language. We have enjoyed giving instructions using this language to keep our puppet friends safe from the fox. Mr Lack has helped us to plant lots of young trees on our field that will hopefully encourage more wildlife for us to observe.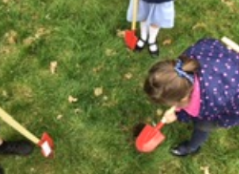 8th April
Our last week of the spring term has been very busy! We have loved exploring the celebration of Easter by making cards, sharing the Easter Story, and stories linked to egg hunts and new beginnings. We have adored looking after our tiny chicks, but they are growing up quickly and are due to head back to the farm this week. In Maths, we have been using some spring insects such as ladybirds and butterflies to help us double numbers by making sure their wings have the same amount of spots on them.
To end our 'People Who Help Us' topic, we had some very special visitors. Gaynor and Louise from Stoke Mandeville Hospital's Neonatal unit came in to teach us all about looking after poorly or premature babies. We had a fantastic time trying on PPE, checking our blood pressure and heart rate with their equipment and helping a dolly to feed. We would like to say a huge thank you to them!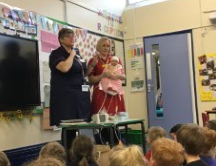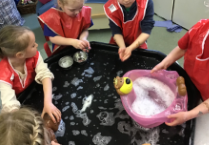 1st April
We have been very excited this week due to the arrival of our eggs! We have been lucky enough to have 10 chicks hatch! We are observing them every day and have used our new knowledge in Literacy where we have been writing instructions on how to hatch a chick. Looking after our chicks inspired us to think of other animals and how we can care for them. This led us to open a veterinary clinic in our outdoor area. We've had a crocodile with a poorly tooth, a gigantic bear with a tummy ache and a parrot with a broken wing. In Maths, we have been exploring odd and even using Percy Puffin's socks, our newly hatched chicks and ourselves. We're challenging ourselves to write captions matching animal pictures in phonics, it's very tricky!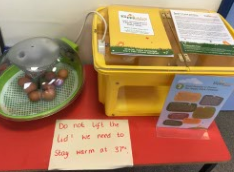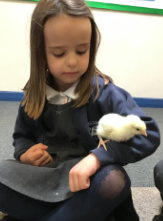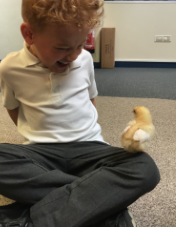 25th March
On Tuesday we had our Beach Day! We loved exploring sand, dying water blue, sea creatures and eating ice lollies! We used this day to help us write a seaside post card. We hope to take these on our Friday walk to the post box and park. Keep your eyes open for a post card coming through your letter box soon! As the weather is becoming much nicer we have spent a lot more time outside playing, learning and sharing stories. It might be a good idea to apply sun cream before we come to school, or leave some in our bags for us to put on ourselves whilst at school.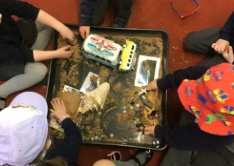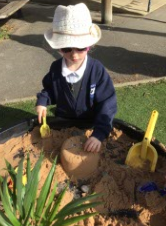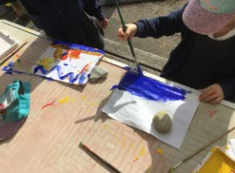 18th March
This week has been our Science Week. We have loved taking our science experiments outside! We have explored floating and sinking and then used this knowledge to build boats. We have sown cress seeds and discussed the perfect growing conditions. Our whole school experiment contribution was to determine whether the colour of ice impacted how quickly it melted. We have also loved exploring the irreversible changes to salt dough fossils when they dried. In Literacy, we have been talking about our dream job roles. We have some aspiring builders, rock stars, vets and hairdressers!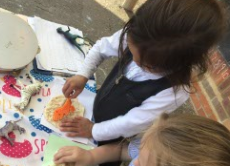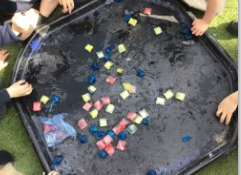 11th March
We have loved exploring capacity using water, rice and jell baff this week! We were able to take this learning outdoors when we transformed into firefighters and helped saved the day! In Literacy, we have been working hard to catch a criminal called Burglar Bill, have you seen him? We've made WANTED posters and put them up around school hoping that someone might be able to give us some clues. Apparently he was last seen by Reception in Asda! On Tuesday we were very lucky to have The Wonder Dome Planetarium visit us in school. We were very good at remembering some space facts and loved being inside the huge tent watching the space scenes.
4th March
This week has been a shorter week, but we have filled it with so much learning! We have transformed our role play area in to a police station, and we have been creative with our junk modelling to build a police car for Ted, our class teddy bear. We have been detectives in Maths when finding missing numbers on number lines and going on hunts to find the cheeky numerals. On Thursday we celebrated World Book Day, and we all looked fantastic! We focussed on the book 'Superworm' by Julia Donaldson. We have made sunflower seed bird feeders, super bin-bag capes with superhero gadgets, splatted words with our super strength and designed our own bugs.
18th February
We have rounded off our topic of 'Light and Dark' by exploring space facts. In Literacy this week we have been space detectives trying to work out which sentences were fact or fiction. Who knew the moon isn't really made of cheddar cheese?! We've been working hard to recognise our digraphs within words and reading with fluency. We have also been very creative when using lots of big empty boxes. We have designed our own sea creatures and turned the boxes into coral reefs.
11th February
This week has been Children's Mental Health Week, and we have been discussing and exploring three specific emotions; sadness, fear and anger. We have read some fantastic books to help us understand what these emotions could look and feel like - 'Lost and Found' by Oliver Jeffers, 'When Sophie Gets Really, Really Angry' by Molly Bang and 'The Owl Who Was Afraid of the Dark' by Jill Tomlinson. We have made our own stick puppets retell the stories, and we've made a tree showing who or what could help us when we feel these emotions. The best activity for us was making volcanoes to represent anger! In Maths, we have been exploring basic times of day and discussing our routines.
4th February
We have been expert data collectors this week in Math. We have been creating tally charts to collect information from our friends to find out the most and least liked things. We have also been enjoying a new story in Literacy called 'Whatever Next!' by Jill Murphy. We have used the character of Baby Bear and his space items in our role play rocket to retell the story. We are very confident using our class story map to tell the story. Next week we will explore more space related learning ready to adapt the story map, who knows what Baby Bear will see!
28th January
This week we have pushed ourselves in Literacy and have been writing sentences about nocturnal animals. We have had some very special gold head teacher stickers awarded for resilience and beautiful writing! In Maths, we have been exploring 2D shapes. We have loved going on shape hunts inside and outside of school and making pictures by only drawing 2D shapes. In the afternoons we have worked as a fantastic team to create collages of our favourite nocturnal animals. We have a badger, an owl, a hedgehog and a fox. We explored the work of the author Eric Carle and created our own collage paper using paints first. Then we shredded this along with tissue paper and other resources to create our final animals.
21st January
We have finished out large scale collages ready to add to our Reception display in the school corridor. Each group has taken a nocturnal animal, explored its shape, size and colour and then created our own printed paper to rip to make the collages with. We have made a hedgehog, a badger, an owl and a fox. In Maths, we have been working hard to find less than and have even shown our working out using a number line! In IT we have all logged on to BugClub using the ipads at school, we have enjoyed reading the stories to collect tokens to play the games. If you need any help logging into BugClub at home please ask any Reception staff. We're happy to help!
14th January
This week we have been camping in our role play area and have loved talking about our own experiences of being in tents and holidays in general. We have used our hands and small world creatures with torchlight to cast shadows. Mrs Adler shared a brilliant story from home called 'Daft Bat', we loved hearing about how the bat sees the world from upside down. In Maths, we have been challenging our brains by finding more than using our baby owls, Sarah, Percy and Bill to help us. We have started our purple phase 3 phonics and have looked at J, V, W and X.
7th January
We have been very excited to see our friends after the Christmas break! We are also starting a new topic called Light and Dark. To start this we have worked as a fantastic team to build up a campsite. We have a real tent, lots of torches and have collected resources to make a camp fire. We have had an arty start to the topic by creating a huge tree and have used our handprints to make different coloured leaves, this is making the backdrop for our role play area. We are looking forward tom learning about lots of different nocturnal animals and eventually outer space!
10th December
We are getting into the Christmas spirit and have changed our role play area in a grotto / Santa's workshop. We have been busy wrapping gifts, writing Christmas cards and making Christmas present wish lists. We are also working very hard on our Nativity songs and remembering when to get on and off the stage. We can't wait for the big show! In Maths, we have work on recognising and writing numbers to 5 and then challenging ourselves to work to 10.
3rd December
This week we have been making a story map to help us retell the story of 'We're Going in an Elf Chase'. We have loved adding our own sections to the story and introducing new characters. We have also been on a key word hunt around the school. We are embedding our skills when reading CVC and CVCC words such as 'bells', 'rabbit' and 'elf'. We have also been busy helping to make props for our upcoming Nativity.
26th November
The celebrations continue in Reception and this week we have been exploring our birthdays and what birthdays around the world look like. The highlight of the week has been visiting the kitchen to make our banana birthday cupcakes! We were very careful when following our recipe and measuring our the ingredients. In Maths, we have been learning and wholes being made up of parts, we have enjoyed building jigsaw puzzles with our friends and then having a go at making our own. We have also been building up our physical confidence when using the climbing frame in different ways and zooming around on scooters outside.
19th November
This week we have been continuing our Celebrations theme. We have loved looking at Diwali and creating our own clay Diva lamps - they look fantastic and will be coming home soon! We have read a story called 'Dipal's Dwali' and have taken inspiration from this to made beautiful rangoli patterns and delicate mehndi designs. This week has also been Anti-Bulling Week. We have really enjoyed exploring the music made by Any and the Odd Socks Band. We have thought carefully about what makes a good friend and how one kind word can change someone's day for the better. We have decorated our classroom with odd sock designs and made unique bunting to show that we are all special and can all be fantastic friends.
5th November
We've had a spooky start to our new half-term. We have looked at the celebration of Halloween, shared our experiences and decorated our classroom. We have loved deconstructing pumpkins both inside and outside. We've used knives in a safe and careful manner to carve faces, used tweezers to collect seeds and made gooey potions from the pulp in the mud kitchen! We have come to the end of our phase 2 phonics sounds and will spend time consolidating this before we move on to our purple phase 3 sounds. As a school we have been celebrating Black History this week. In Reception, we have looked at a female African-American artist called Alma Thomas. We have explored her paintings and recreated similar patterns using collage.
22nd October
We've made it to the end of our very first half term!
This week we have been using our phonetic skills to write healthy shopping lists to help a character called Oliver. We've loved racing around the 'shops' with our shopping trolleys. In Science this week we joined up with Year 2 to plant some daffodil and tulip bulbs. We are eagerly awaiting spring to see the shoots start to appear! In Computing we have been getting into the Halloween spirit and used an app to create spooky pictures. We've focussed on changing the toll and the colours.
We would like to say a huge thank you to everyone that joined us on Thursday afternoon for our 'Share a Story' session. The children we're thrilled to see so many grown ups from home in their classroom. It has been a hot topic of discussion this Friday. We hope to do more of these throughout the year.
15th October
We have been working hard in our Literacy learning to adapt the story of 'The Tiger Who came to Tea'. We've had butterflies, slime monsters and sharks join us for tea instead! We've had a go at writing labels for our new characters using our phase 2 sounds. We are starting to use our phonetic knowledge and are seeing sounds everywhere!
We've also put our coats and wellies on and set off on an autumnal adventure to search for signs of the seasons changing. We have collected sticks, conkers, leaves of many colours and even seen a grey squirrel! We didn't manage to spy any hedgehogs, so instead we read the story of Percy the Park Keeper ad his friend The Hedgehog. We've used our collected items in our Maths learning and in our fine motor trays where we've made leaf kebabs and wrapped conkers to keep them safe for the squirrel.
8th October
This week we have been exploring the text called 'The Tiger Who came to Tea' by Judith Kerr. We have made our own version of the story as a story map and have actions to help us retell it. We have loved writing menus, receipts and shopping lists to help the Tiger. We were left with all of his dirty dishes, so we've been working hard in the water area to make sure they are all clean. We've worked as a brilliant team in the construction area to create traps to catch the Tiger in case he ever comes back again.
In Maths, we have been working on our accurate counting. We've made some rules to help us. We know that things need to be in a clear line, we use our pointy finger and touch the items one at a time whilst saying the number name. This is called the 1:1 counting, and we're getting rather good at it!
1st October

We are very proud to say that we attended our first assembly with the whole school to celebrate the harvest festival. We bravely stood up and sang our song 'The Dingle Dangle Scarecrow', thank you for working on this at home too! We were fantastic!
In our learning time we have been diving deep into number and using our quick eyes to recognise amounts of items as fast as we can! In Literacy, we have read the story of 'Funny Bones' and then transformed our role-play area into a Doctor's surgery. We have been busy making sure everyone has been taking their medicines and vitamins.
24th September
This week we have started our phase 2 phonics learning. We have looked at S A T P so far and have loved finding the sounds in our names and in the environment. We have also had a brilliant visit from a dancer to help us celebrate the Olympics this year. We had the country of Germany, and we explored the traditional dance of Schuhplattler. This dance entailed us using lots of body percussion when moving to a beat by stomping, clapping and hitting our feet.
17th September
We had a very busy first full week at school! This week we have been involved in our whole school science experiment all about bubbles. We have explored how to change bubbles using their sizes, colours and quantities. We really loved making bubbly volcanoes by mixing dyed mixture with whisks. We have also followed our interests and have created ancient pirate treasure maps to follow in our outdoor area. Some of us found magical eggs, beautiful gold and a dream castle to live in!
We are all feeling rather exhausted, and we are looking forward to a relaxing weekend at home where we can recharge our batteries ready for another week!
10th September
We've just completed our first week at school! We've done a fantastic job of settling into our new classroom and routines. So far we have loved touring the school and visiting the field to play parachute games. We've visited the hall ready for when we have our lunches there every day and even been to visit the school library. It's been a warm week, so we have really enjoyed exploring the water trays in our outside area, especially when we added bubbles to make baby baths and car washes!
We're looking forward to next week when we stay all day!