What are we Learning?
Each week we will share what we have been learning in our class. Remember to look at our photo gallery to see what we've been up to.
Friday 1st December 2023
Reception have been busy this week decorating our Christmas tree decorations ready to sell at our Christmas Market this week! In Literacy, we have been adapting familiar stories and writing about the new characters we have added. In Maths, we have been subtracting within 5 using physical objects to support us. We have also been working hard to remember the songs and BSL signs for our Nativity. Ask us and see what we can show you!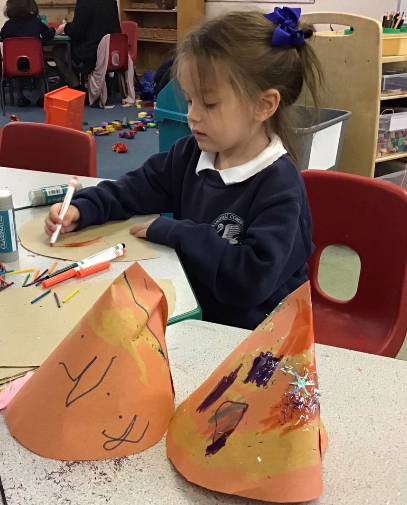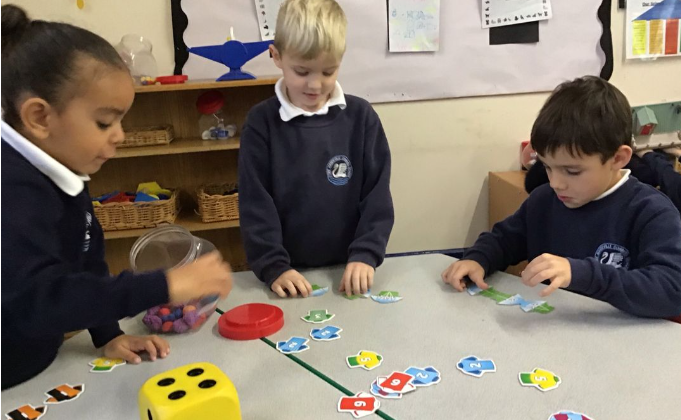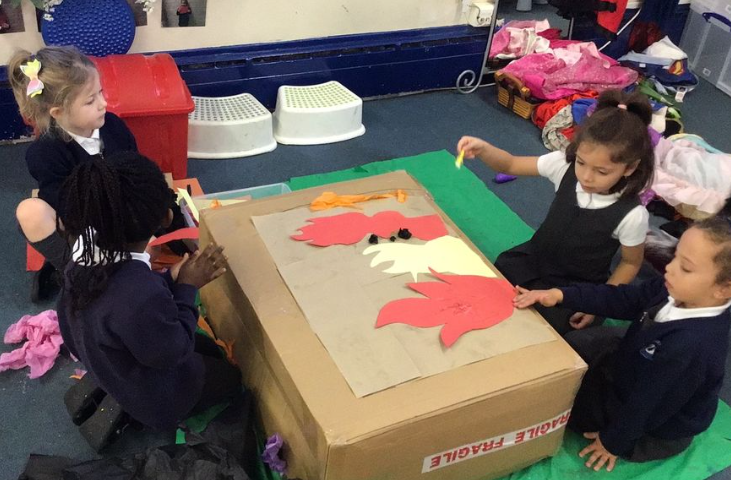 Friday 24th November 2023
In Maths this week we have been working hard to use physical resources to help us learn how to build number bonds to 5. In Literacy, we have been enjoying the story of The Tiger Who Came to Tea. The tiger delivered a bag full of food for our role-play and gave us a story map to learn too! The tiger inspired us to have our very own tea party. In the afternoons, we made and decorated cakes ready for a tea party on Friday.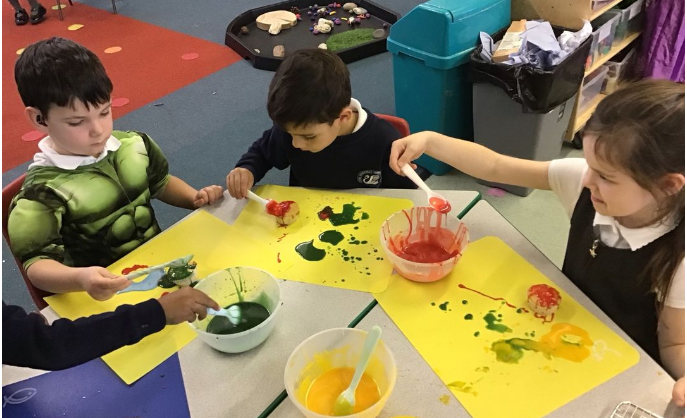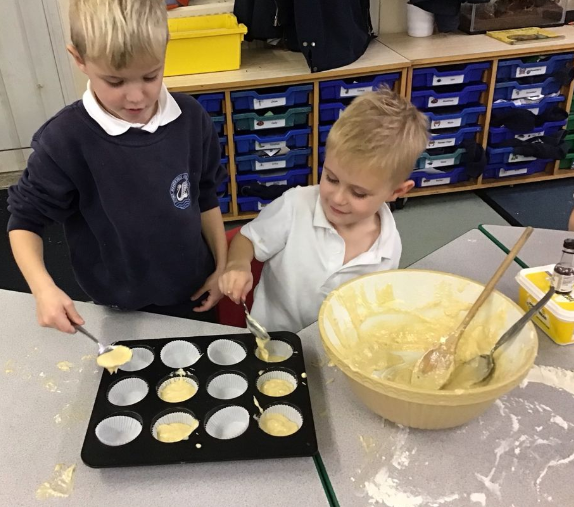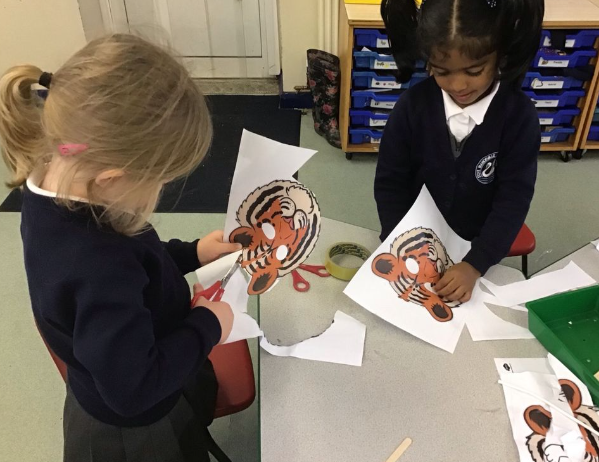 Friday 17th November 2023
This week we have continued our learning along the theme of Sparkly Celebrations. We have been talking about our birthdays, birthday traditions and the months of the year. In Literacy, we have been using the tricky word 'to' to write a party invitation to a friend. We have also been on lots of word hunts outside to develop our blending to read. We've played musical statutes at pretend parties and made many playdough cakes! In Maths, we have been comparing size, mass and weight. We've had lots of socks filled with all sorts of media to explore.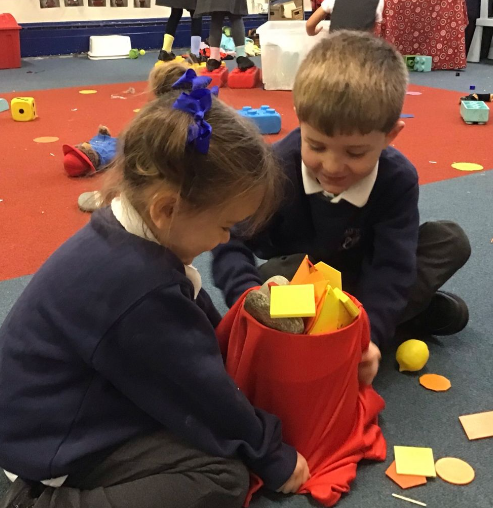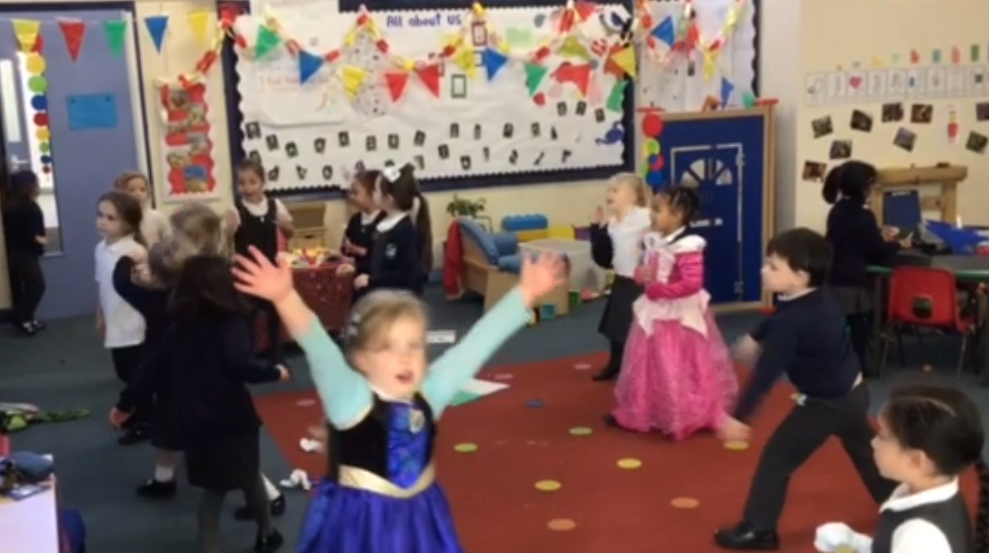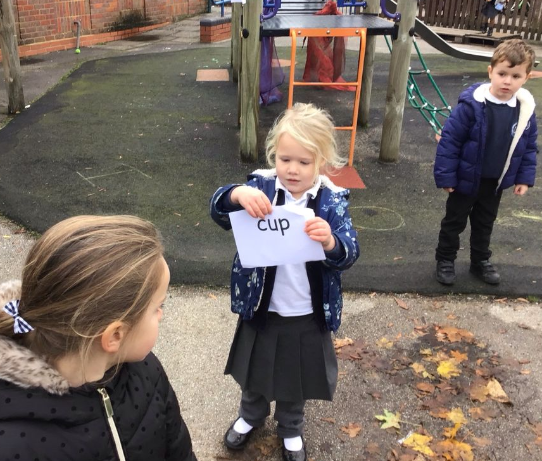 Friday 10th November 2023
Reception have been getting ready to celebrate Diwali this week. We learnt about the festival of light and had a go at making our own diva lamps from salt dough! We have also been making poppies for Remembrance Day at the weekend. In Literacy, we have challenged ourselves to write a word or short caption to match a picture. In Maths, we have been working on our reliable counting and using 1:1 correspondence to ensure we have counted the accurate total.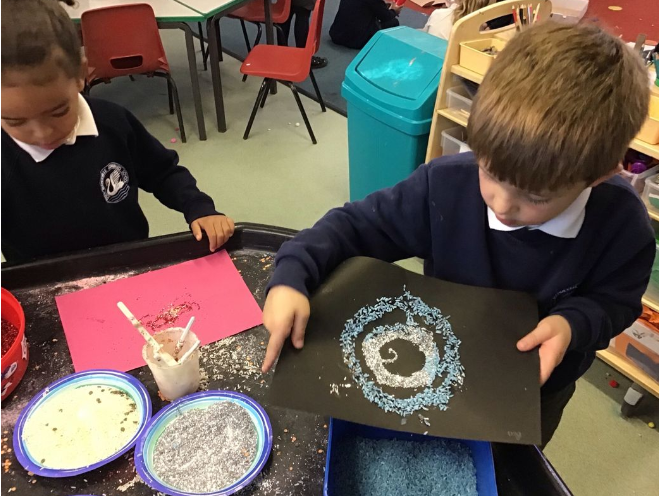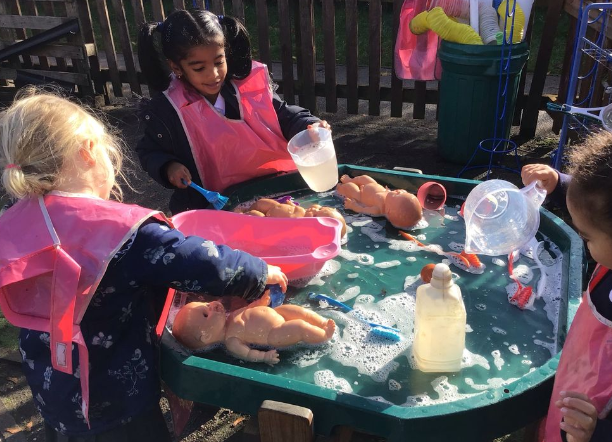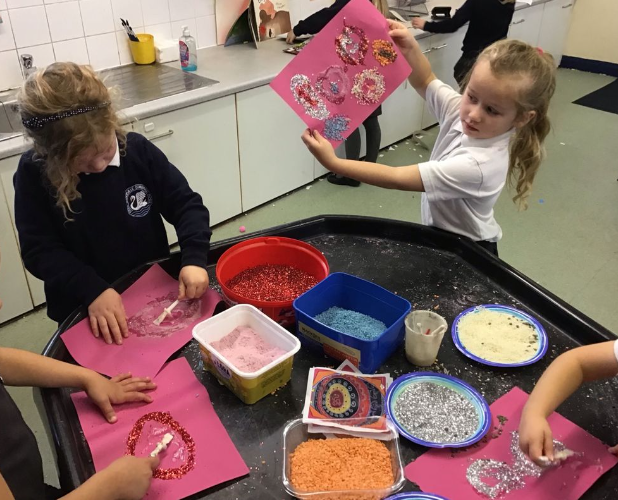 Friday 3rd November 2023
This week we have been celebrating Black History Week. Reception have explored the life and adventures of Mae Jemison. We've used this to create space-inspired art, packed bags containing things we would like to take to space and watched videos from NASA. In Maths, we have been learning about more and fewer when comparing amounts. We have used our quick eyes to help us subitise and work quickly! In Literacy, we have started to look at fireworks ready for November 5th. We have used 'It is' as a stem and had a go at writing short words to complete the sentence.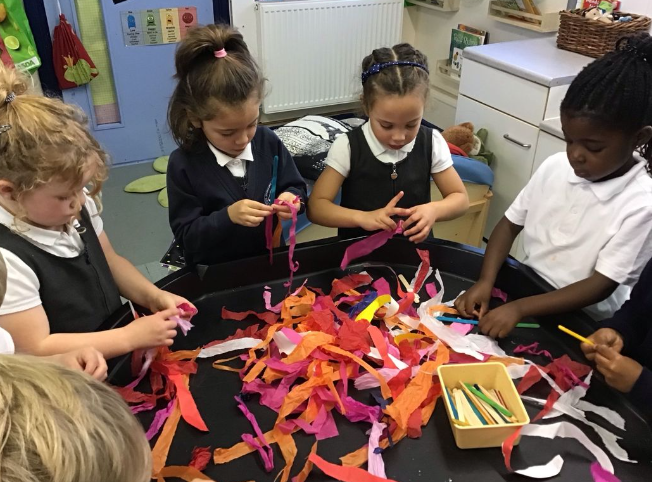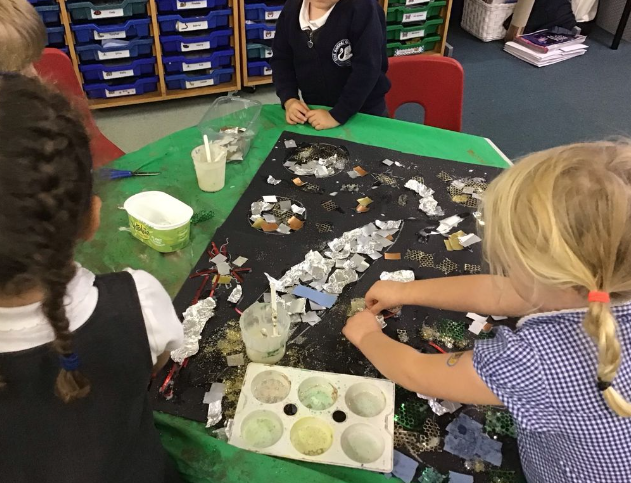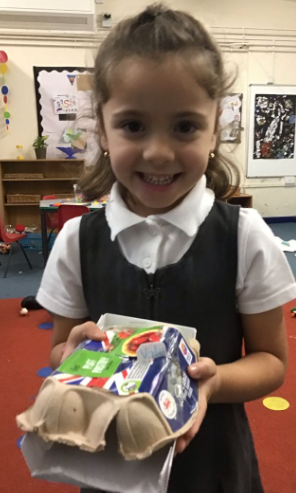 Friday 20th October 2023
We have made it to our first half-term. Well done Reception! This week we have been learning all about our bodies, healthy eating and skeletons. We have read stories from the 'Funny Bones' collections and loved them! In Literacy, we have heard sounds in potion ingredients and had a go at writing them down. Some of us challenged ourselves and wrote CVC words to match. In Maths, we have been continuing, creating and fixing repeating patterns.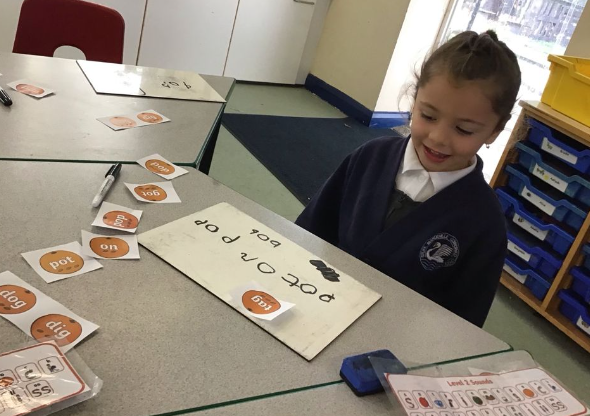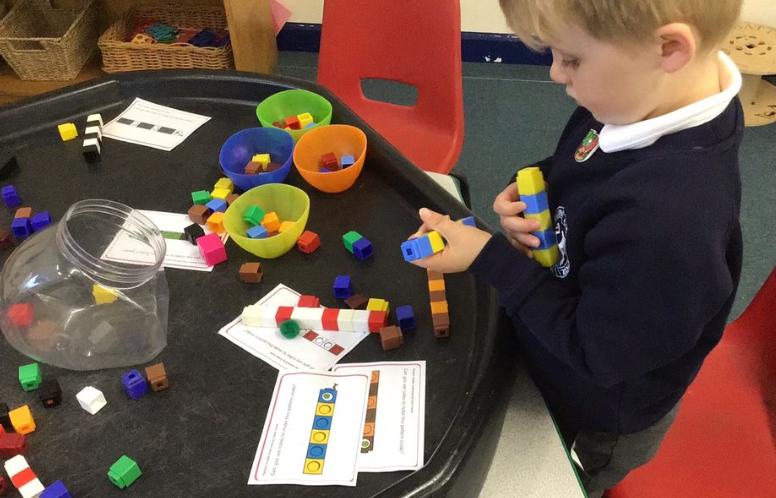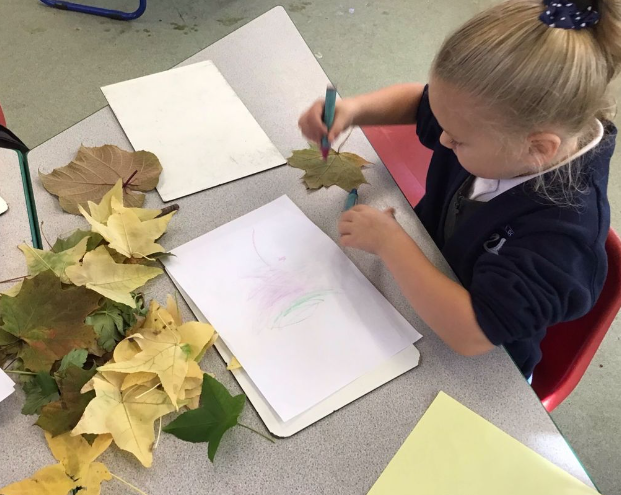 Friday 13th October 2023
We've begun to feel autumnal vibes in Reception. We've been on bug hunts and Autumn hunts this week! On our Autumn hunt we collected lots of resources to take back to our classroom to make abstract autumn art. In Literacy, we have read the story of Stick Man and listened for any rhyming words, then we had a go at finishing rhyming strings. In Maths, we have been learning about the composition of 3 and 4. We have built many towers to show the different ways that the numbers could be made.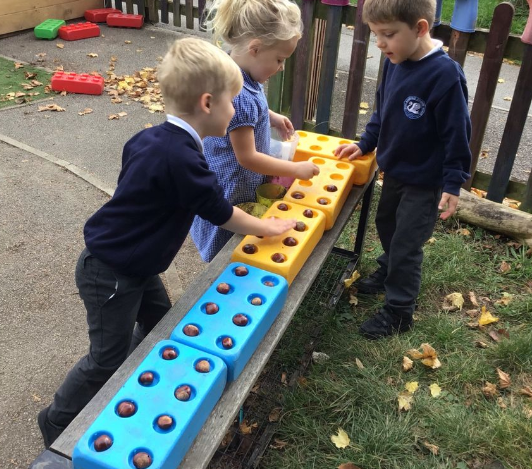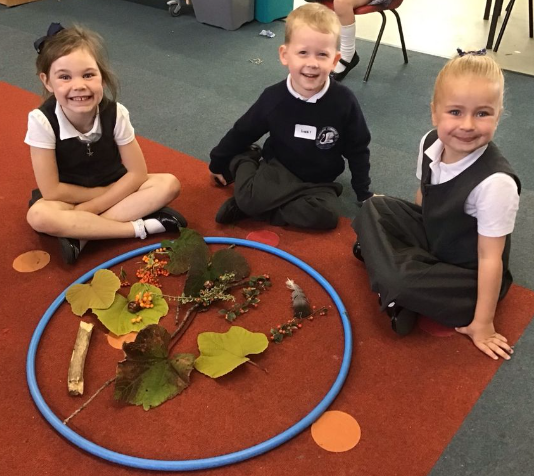 Friday 6th October 2023
This week Reception have been learning to hear initial sounds in Literacy. To help us we had yet another strange delivery from someone called Oliver. He sent us a story about his grandad's vegetable patch and a potato! We've linked this learning to Harvest. We've made a huge scarecrow and added it to our cloakroom display. We've also learnt about healthy eating and what we like/dislike eating. In Maths, we have been learning to count reliably using the 1:1 correspondence whilst playing Bingo!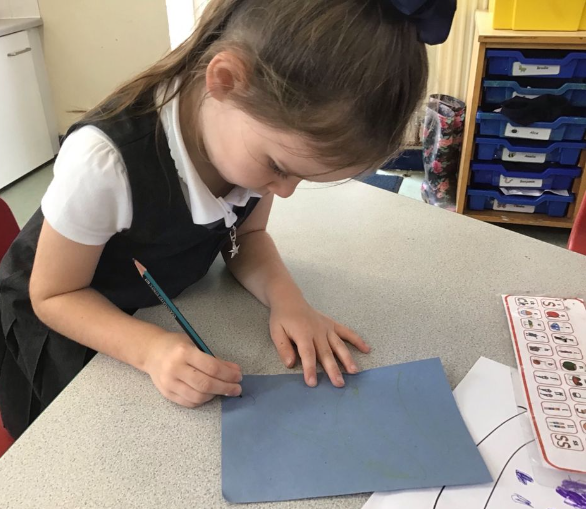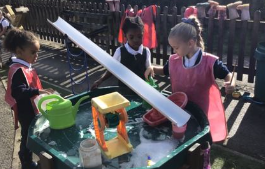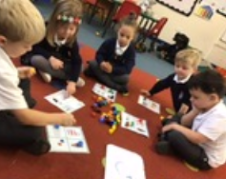 Friday 29th September 2023
We have continued our Literacy learning, and this week adapted our story maps to change the vegetable. We have had enormous tomatoes, kiwis and melons! Our challenge was to see if we could hear the initial sound of the new vegetable, 't-t-tomato', some of us even had a go at writing the sound! In Maths, we have been learning the composition of 1, 2 and 3. We've been collecting and sorting groups of items. We've also been learning about our bodies and what they need to be healthy, linking to all of our vegetable stories. We have created a huge person and added labels for the body parts. We have also been using the iPads and have been on a photo hunt to familiarise ourselves with the school even more.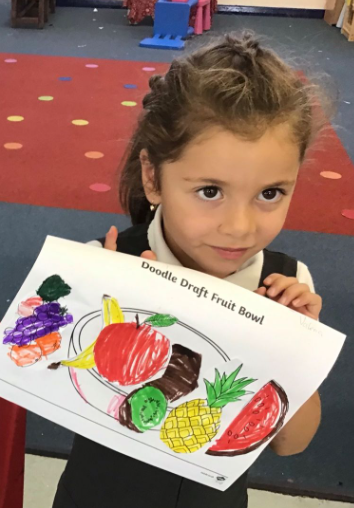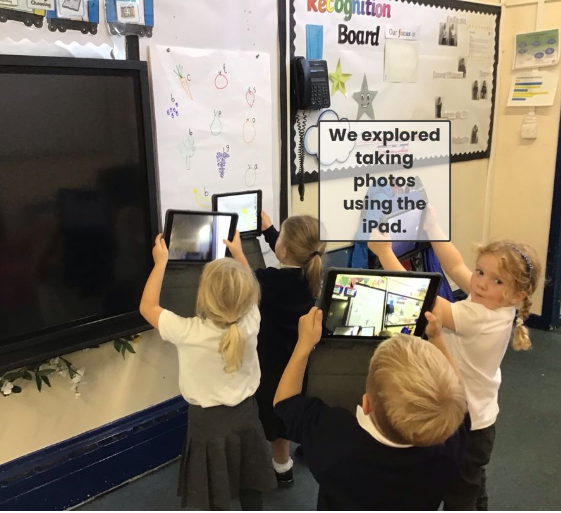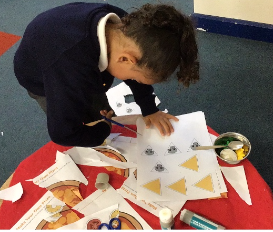 Friday 22nd September 2023
This week we have continued to settle into our new school routines and learning. In Literacy, we had a surprise delivery of vegetables! The little old man who grew the enormous turnip wanted to share them with us. He also packed a story map that we have been learning to retell using BSL signs to help us remember. We have started our phonics learning by recapping Level 1 and hearing initial sounds when playing listening games. We sat together this week and created our own class rules that are on display in our classroom. We are using our 'T-rex' arms to say stop if we do not like something that someone is doing.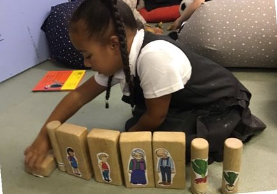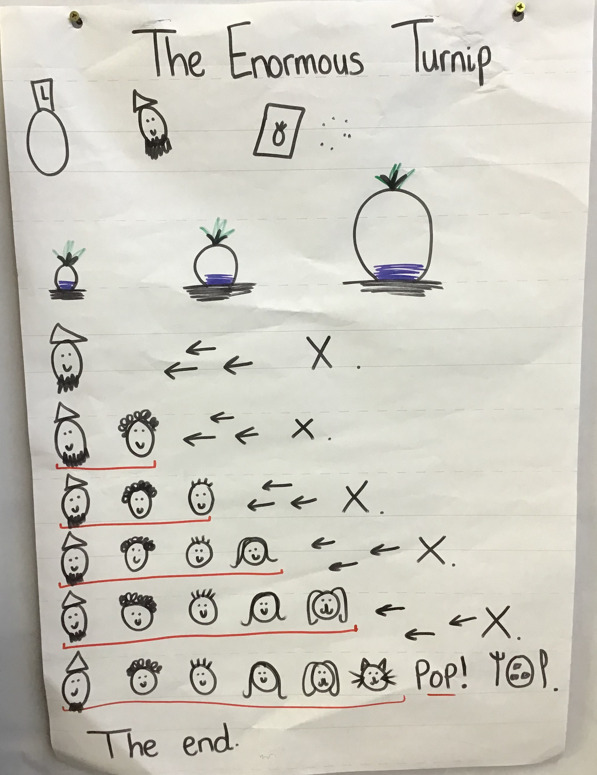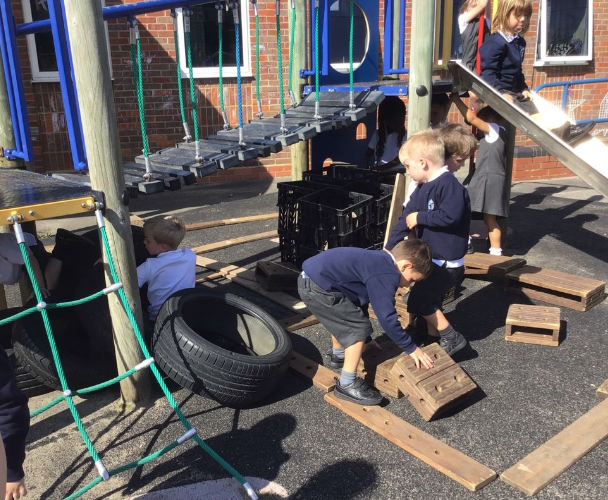 Friday 15th September 2023
We have completed our first full week at school! It's been a very busy and exhausting week for everyone, but also very exciting! We are settling in to our new classroom and daily routines well. As the weeks go on, we will be adding more small steps to our routines. So far, we have been learning how to sign Good Morning and Good Afternoon in BSL, ask us to see if we can remember! We have also been on a tour of the whole school. A big favourite was the library. On Wednesday we ventured to the hall for our first short PE lesson and loved it. We're looking forward to next week when we will start Literacy learning and retelling stories.