What are we Learning?
Each week we will share what we have been learning in our class. Remember to look at our photo gallery to see what we've been up to!
Friday 2nd December 2022
This week in Reception we have continued to use our story maps of 'The Tiger Who Came to Tea'. We have adapted the main character in the story map and have had many new characters such as 'The Enormous Octopus Who Came to Tea' and 'The Fat, Cold Snowman Who Came to Tea' instead! In our Maths learning we have been working hard to subtract within 5 and use our number bonds to 50 to help us with this. We have loved using our dinosaurs to help us find out how many are left. We've followed our interests and had a fire station role play for the last few weeks, we are excited to learn that this will soon change into a winter wonderland and a grotto to help us explore Christmas further.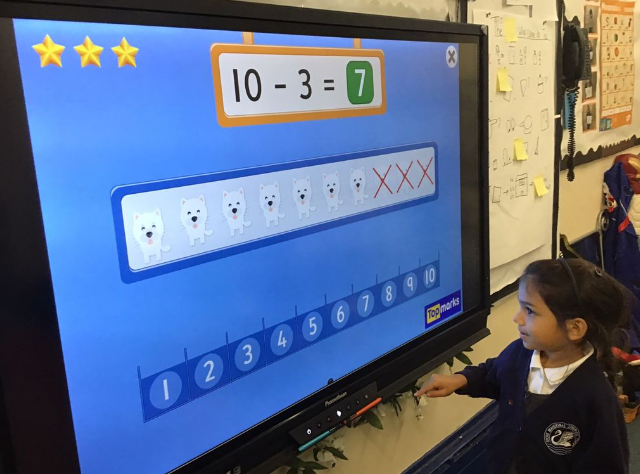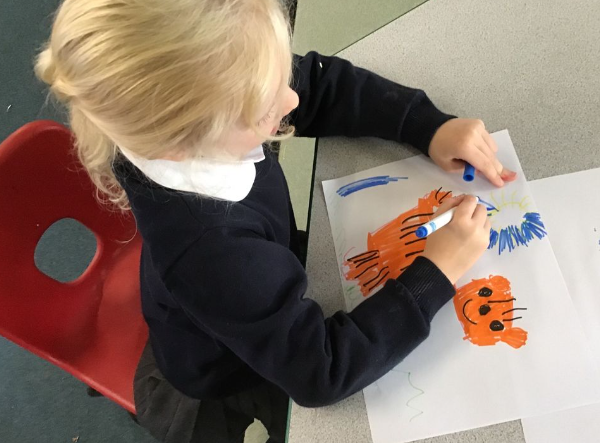 Friday 25th November 2022
Our maths learning has been all about number bonds to 5 this week. We have been using our Numicon to find missing numbers in calculations and had target practise outside throwing items at the correct numbers. In Literacy, we have made a story map to support our learning of the text 'The Tiger Who Came to Tea'. The cheeky tiger came and took parts of the map, so we have had to work hard to complete them by adding in our own drawings. We have also been working hard on learning to write our Level 2 tricky words using lots of sensory resources. We have loved using the iPads to explore our own individual BugClub accounts. Please see a sticker sent home in our reading record, so you can log in at home and read the books too.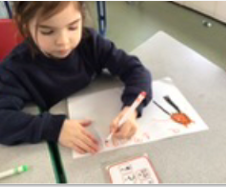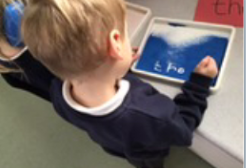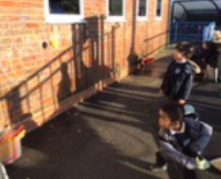 Friday 18th November 2022
This week we have looked at another celebration, our birthdays! We had a strange envelope arrive in our classroom, when we opened it we found it was an invitation to a party from our class bears! We used this as inspiration to write our own party invitations in Literacy using the tricky word 'to'. To get ready for the party, we have made a recipe and listed ingredients ready to cook cakes to enjoy after some dancing. We loved going to the kitchen and talking about what we like to cook at home. In Maths, we have been comparing lots of things from mass to capacity and size. We have filled socks with various resources and observed how it changed the socks. Our role play has also been changed into a garage for all sorts of vehicles to come in for repairs.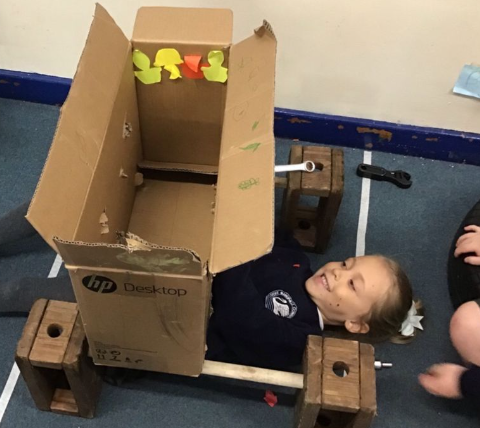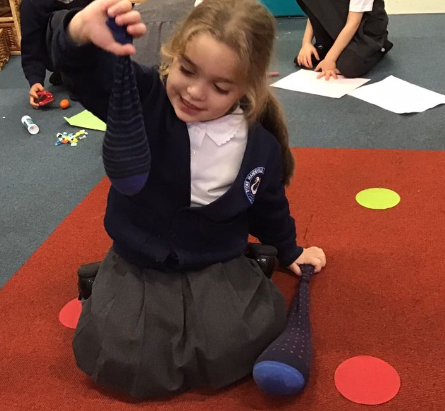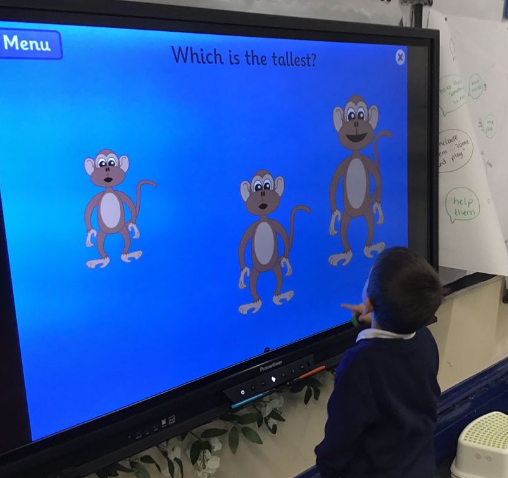 Friday 11th November 2022
This week we have been busy exploring the celebration of Diwali. We were very lucky to have a lovely parent helper, Mrs Mistry, come to talk to us about how she celebrates Diwali and share stories with us. We had a great afternoon creating very bright Diwali cards. We have linked Diwali to our Literacy learning by reading the story of 'Dipal's Diwali' and writing short captions to match a picture from the story. In Maths, we have been counting carefully using our cardinal and ordinal skills. We have been using tens frames to help us count 1:1 (saying one number and using one touch to count one thing). We have also used apples to print poppies for Remembrance Day today and joined the whole school Remembrance assembly.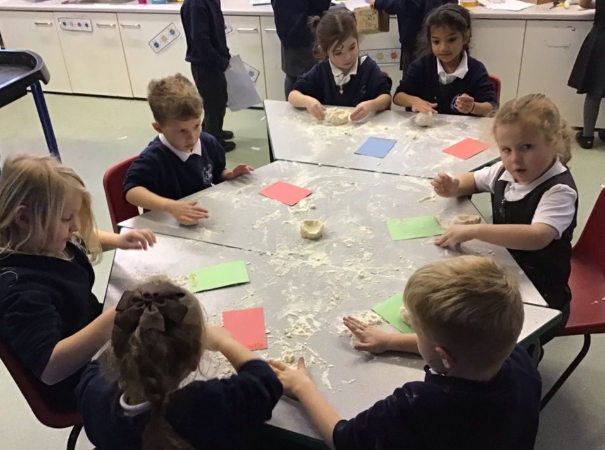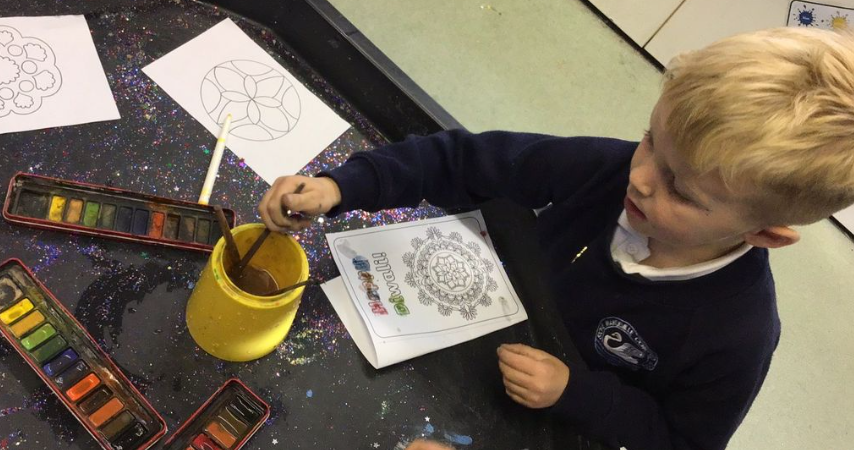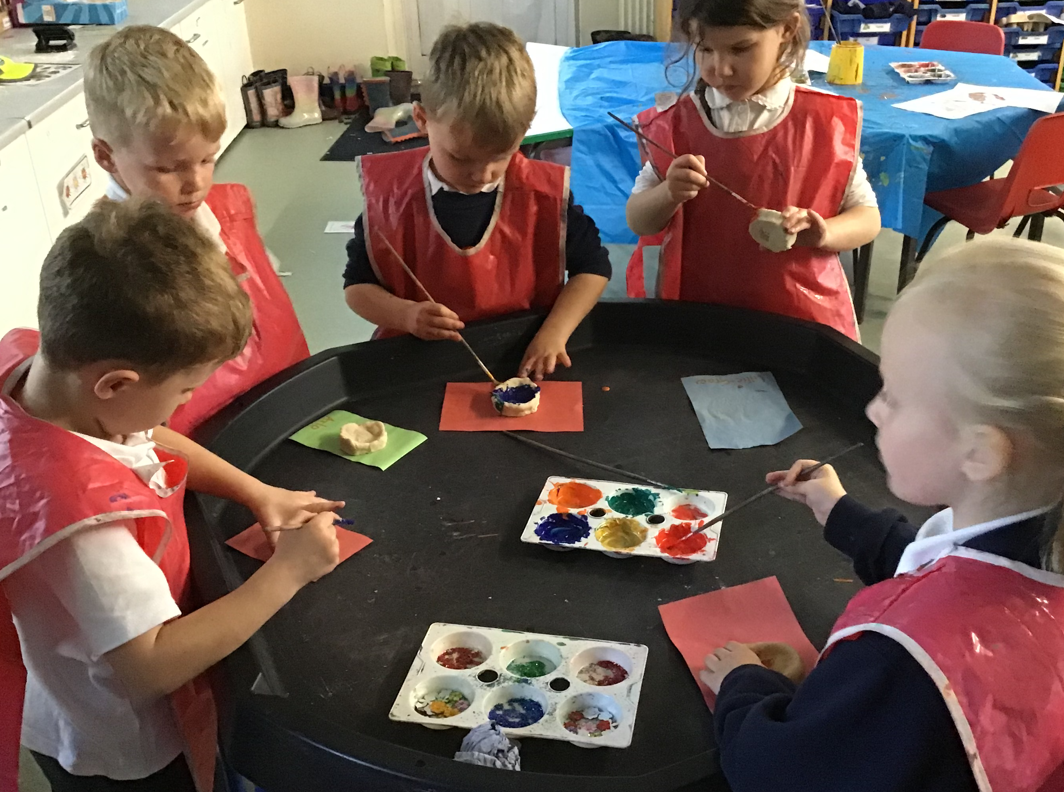 Friday 4th November 2022
In Literacy this week we have been learning to read and write keywords when describing fireworks and bonfires. We are becoming stronger at segmenting by ourselves to hear all the sounds in words! In Maths, we have been comparing quantities and labelling them as being more or fewer. Our class worry monster, Biscuits, has helped us with Maths as he set up a picnic, and we compared his amounts of snacks. We have loved taking even more of our learning outside this week as it was Outdoor Learning Day on Thursday. It was a perfect day to splash in puddles, discuss seasons and practise putting on our waterproof clothes by ourselves! We have also been celebrating Bonfire night and Black History Week. In Reception, we have been exploring the music of Bob Marley and his home country of Jamaica.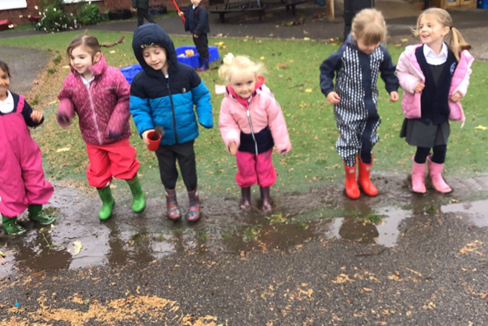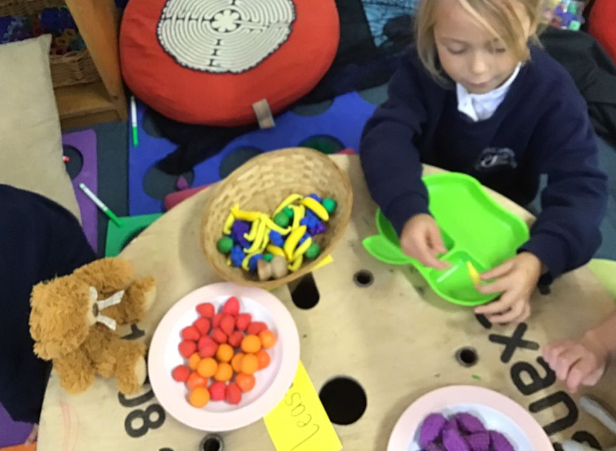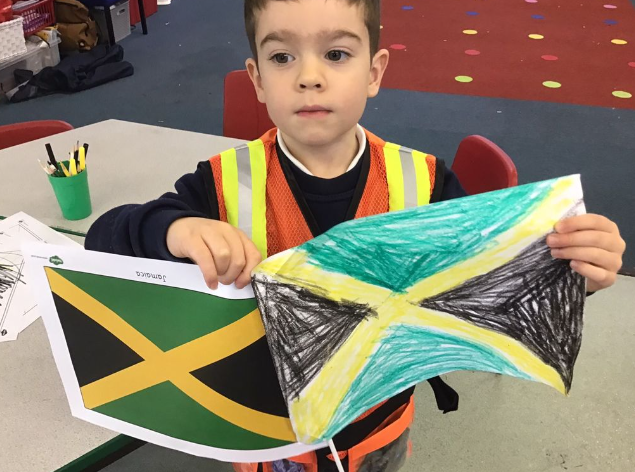 Friday 21st October 2022
This week we have been exploring potions and spells, getting ready for the Halloween season! In Literacy, we have been creating our own potions in cauldrons and writing a list of odd ingredients using our level 2 sounds. We've continued the spooky theme by painting pumpkins and squashes, chopping them up and sponge painting to print pumpkin shapes too. In Maths, we have been learning all about repeating patterns using shapes. We have also used lots of natural resources and our own bodies to make and correct patterns. This week has also been all about online safety and ensuring we know which adults can help us if we ever feel worried.
We have finished our first half-term in Reception are all looking forward to what's to come after the break!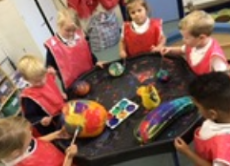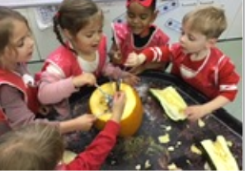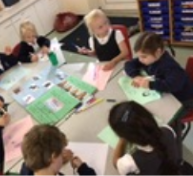 Friday 13th October 2022
This week we have been learning all about Autumn! We have been reading lovely stories about Percy the Park Keeper and the creatures that he helps. Our favourite was the cold fox, we have learnt the BSL sign for fox. Ask us to see if we remember! In Literacy, we have used another autumnal book, 'Stickman'. We have been listening to the story and finding rhyming words. We've also made out own stick men and stick creatures using twigs and dough. We went on a hunt around school for signs of Autumn and collected lots of leaves, acorns and seeds. We've used these to make leafy hedgehogs. Our class snails, Eggs and Beans, also enjoyed a trip out of their tank this week.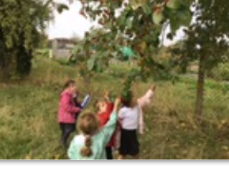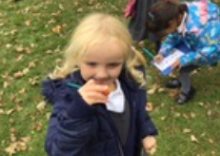 Friday 7th October 2022
Reception have been working so hard to learn the song of 'The Dingle Dangle Scarecrow' and we have performed it in our first ever assembly! From now on we will also be joining the whole school for Celebration Assembly every Friday morning. In phonics, we have been learning the sounds of G, O, C and K. We have had a brilliant time making kites and exploring how to make fabric move in the wind. We have linked our Harvest assembly to our child initiated learning and have used vegetables to print scarecrows, combine harvesters and tractors. In Maths this week we have been playing BINGO to help our counting to 5 and our quick eyes.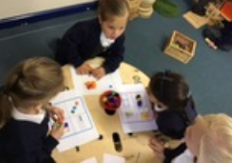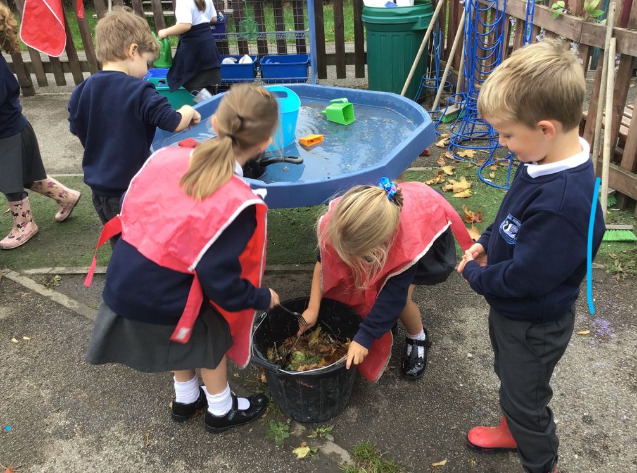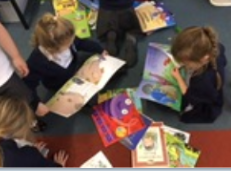 Friday 30th September 2022
We have had a surprise visitor this week, Tommy the tortoise! Mr Lack let us see him before he heads into a cosy box for his hibernation period. We loved seeing him and have been able to add some fantastic questions to our Science floor book. In Maths, we have been delving deep into the composition of 1, 2 and 3. We are beginning to gain some brilliant 'quick eyes' when recognising pictorials and numerals. In Literacy, we have been adapting our story map for The Enormous Turnip, we have had gigantic broccoli and tremendous tomatoes. We have added some more letters and sounds to our phonics wall, we now know I, N, M and D.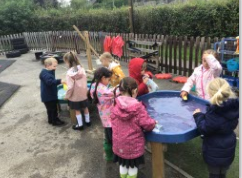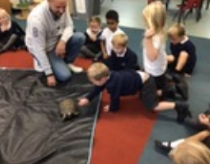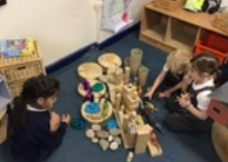 Friday 23rd September 2022
This week we have been learning all about each other. We have drawn some great family portraits and discussed our likes and dislikes. In Literacy, we have been learning the story map of The Enormous Turnip. We have been using British Sign Language signs to help us remember it all. Ask us to show you at home, we are fantastic! We have also started our first week of learning Level 2 Phonics. So far, we have looked at the letters and sounds of S, A, T and P. We have our first piece of home learning added to seesaw for you to try at home too!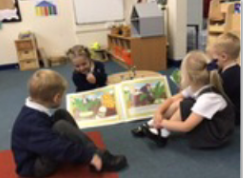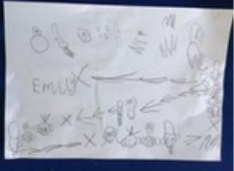 Friday 16th September 2022
We've done a fantastic job of settling into our new classroom and routines. So far we have loved touring the school to see the library, the kitchen and some other classrooms. We've been fantastically independent when getting ready for lunch in the hall. We have met our Year 6 Buddies and spent some time with them in our classroom and outside area. We can't wait to see them again at lunch times. We have also met our class worry monster, we have decided to call him Biscuits! He's been helping us learn the rules and routines of school and making us feel safe. We're looking forward to next week and having more fun!