What are we Learning?
Friday 26th May 2023
It has been lovely to be back as a whole class together this week after our exciting adventures last week.
In English, following our study of Macbeth, we have been writing a biography of William Shakespeare, looking at the key moments in his life. We have learnt about his family and where he lived as well as identifying some of the many plays he wrote.
In maths, we have been solving a variety of problems and we have played games in pairs. We also completed a scavenger hunt using our arithmetic skills.
During RSE week, we have discussed sensibly the changes to our bodies that will occur during puberty and how a baby is made. In other work, we are well on our way to completing the art work outside under the shelter in the playground using our Keith Haring figures. Do have a look!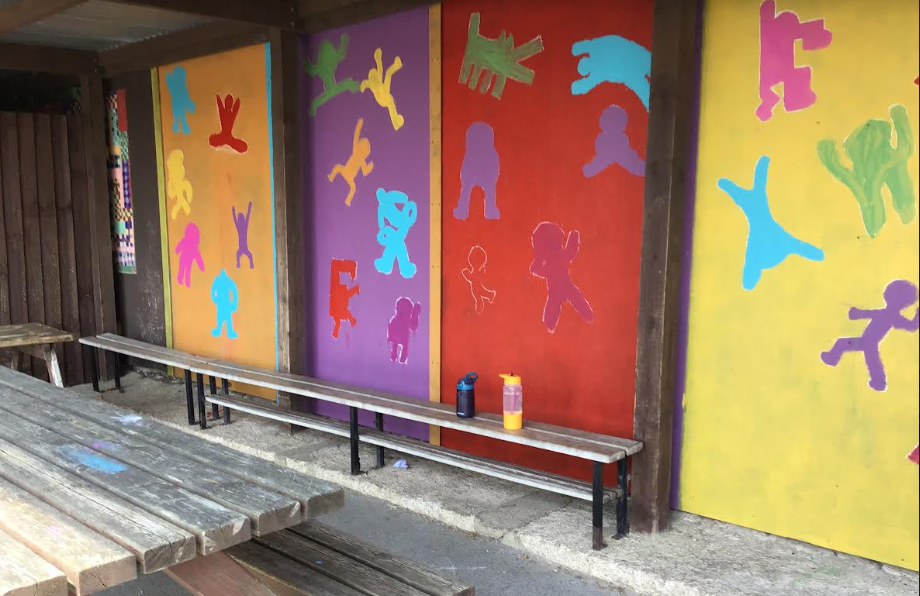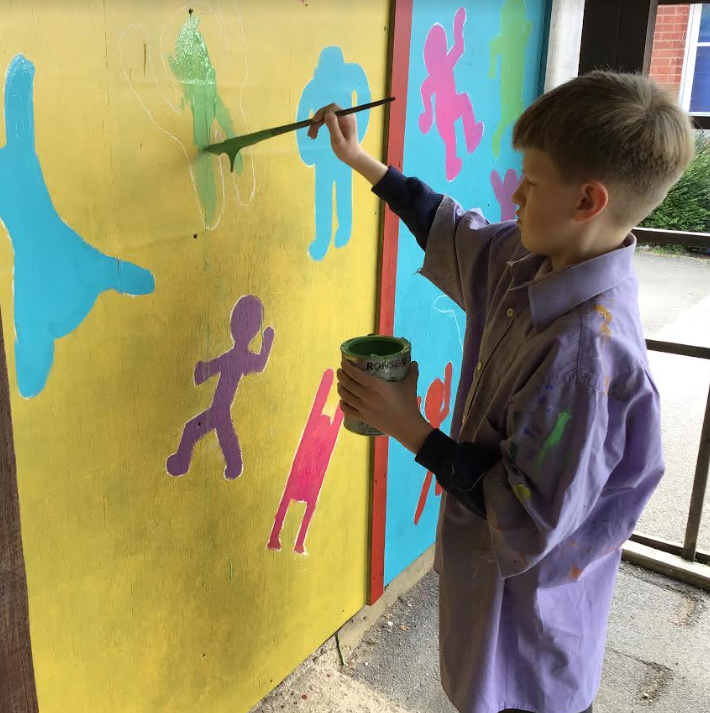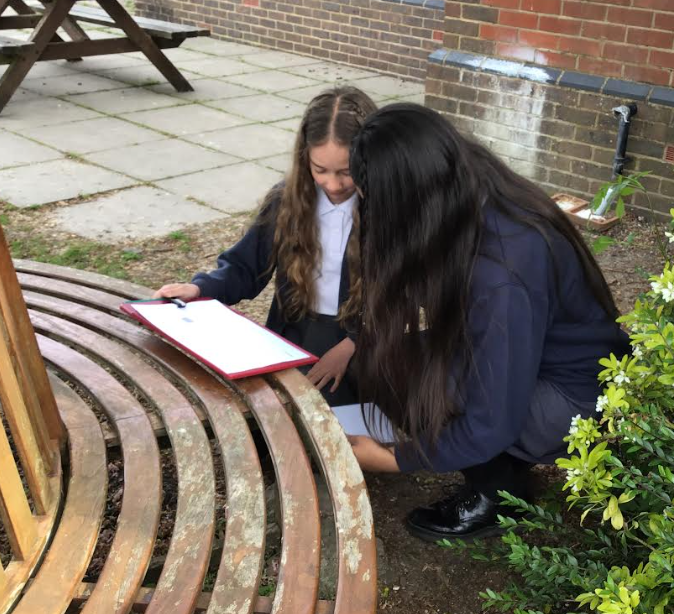 Friday 12th May 2023
A huge well done to all the year 6 children for their hard work and sensible attitude to their SATs this week.
It has been great for them to show what they know and have been learning while in Key Stage 2.
In the afternoons, we have been continuing with our Games lessons, music, art and computing. In computing, we have created games with different sprites using Scratch. We have written programmes where several sprites fall at different speeds and are worth different scores. Some of us have also written instructions where the sprite can ask and respond to questions. It has been great to see lots of problem-solving skills being used in order to overcome difficulties when using Scratch.
On Friday last week, we also enjoyed our cupcakes to celebrate the King's Coronation.
Finally, we are all looking forward to next week. We are sure that everyone who goes to the River Dart will have a fantastic time and that the children who are staying at school will also have great fun during their activity week with Year 5.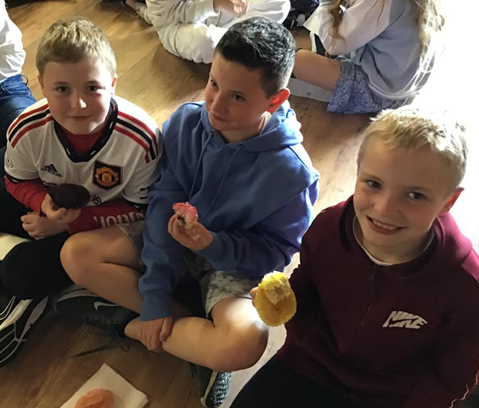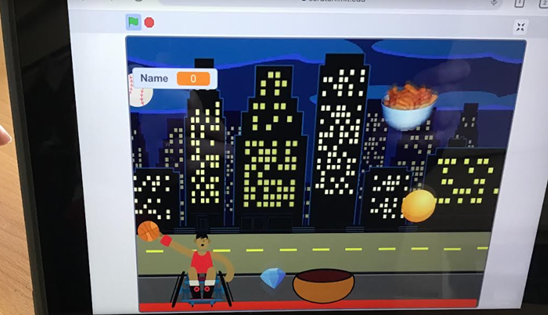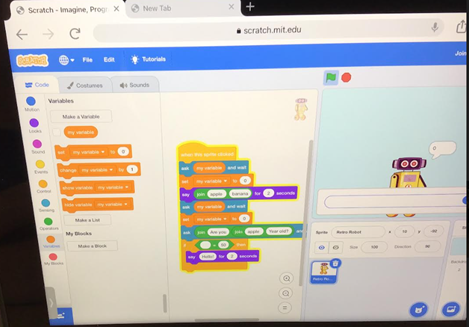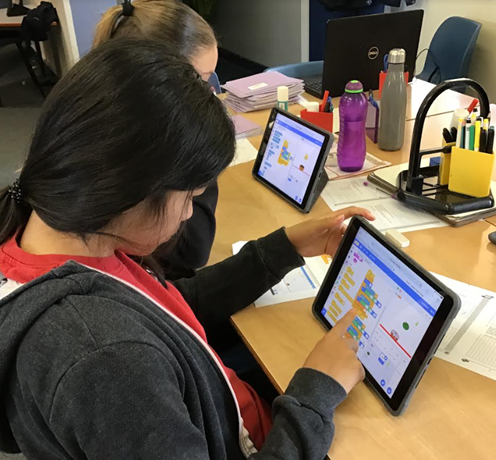 Friday 5th May 2023
This week, we have calculated more angles and used the fact that the internal angles of a quadrilateral add up to 360 degrees. We have also revised coordinates. We have been completing daily arithmetic questions in preparation for next week and we are getting very good at these!
In English, we have planned our own story based on the style of Shaun Tan's 'Outer Suburbia' stories. We have also continued our study of Macbeth and we are looking forward to finding out what happens in the end!
On Friday, we celebrated the Coronation by wearing red, white and blue. We completed artwork based on this. Some of us completed work on fabric for a display in the church (see photos). We have also enjoyed hearing about different occupations as part of our 'Aiming High' work. Thank you to those parents who took the time to come and talk to the children in school about their jobs.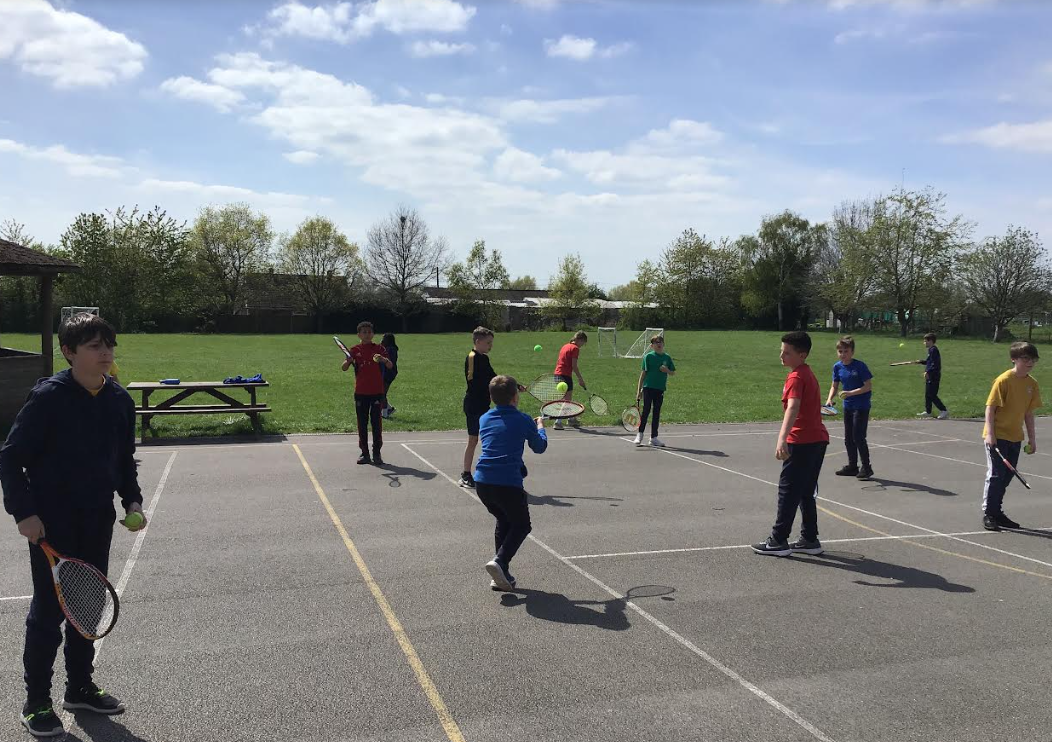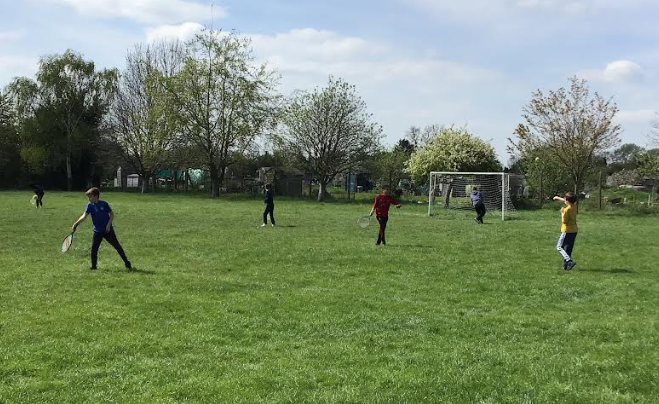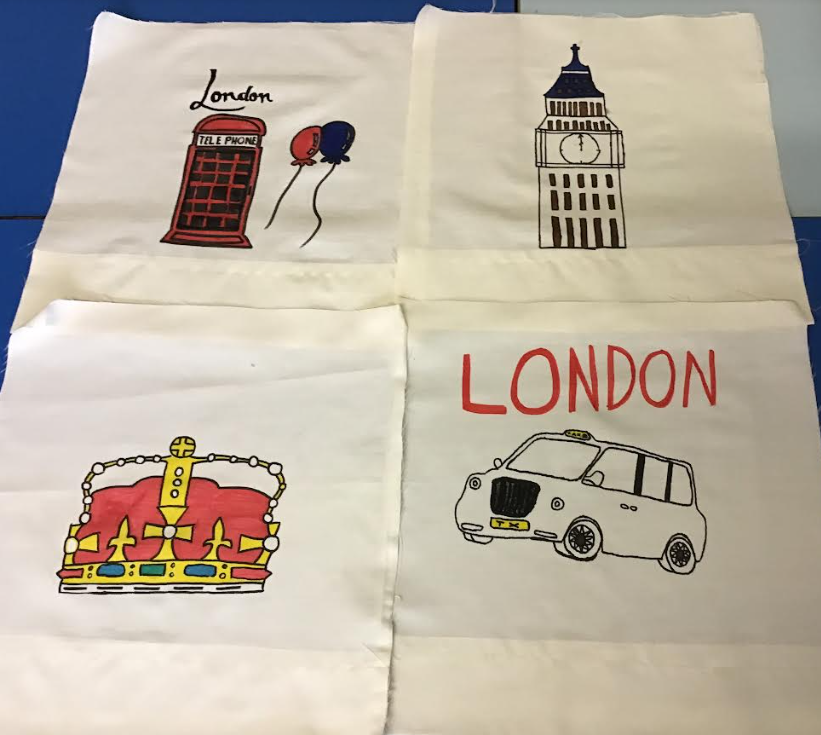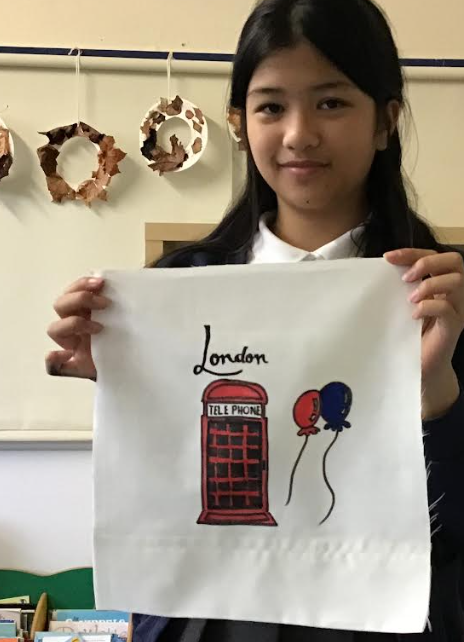 Friday 28th April 2023
We have continued to calculate missing angles this week, using our knowledge of isosceles triangles. We know that isosceles triangles have 2 equal sides and 2 equal angles. We have used this and also the knowledge that the internal angles of a triangle add up to 180 degrees.
In English, we have continued studying Macbeth. We are starting to realise that Lady Macbeth is quite manipulative and greedy. We have planned a newspaper report about the killing of King Duncan. We also completed a grammar quiz around the classroom to help us prepare for SATs.
During our computing lesson, we used Scratch to change variables and create scores for different 'sprites'. In our Science lesson this week, we looked at different types of microbes and then created branching keys to identify them. The River Dart information evening PowerPoint is available on the school website.
We hope everyone enjoys the Bank Holiday weekend!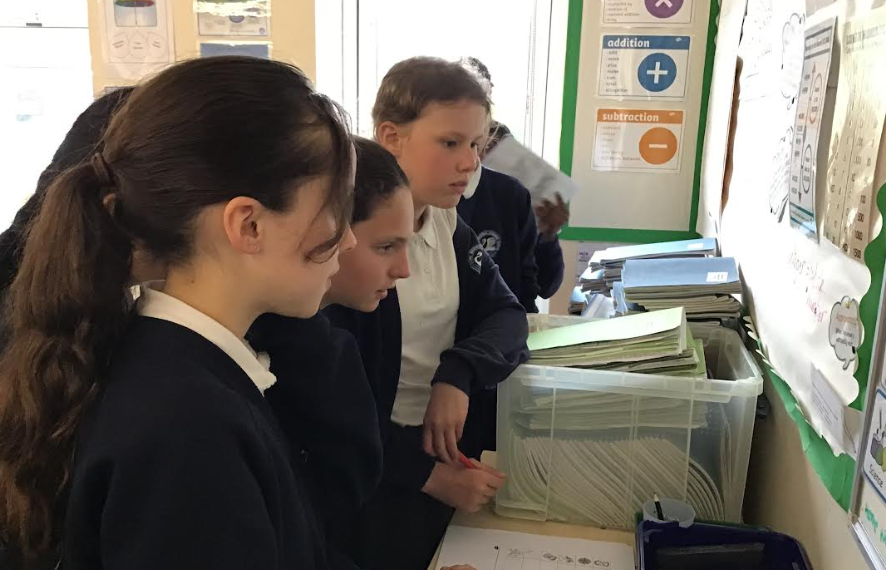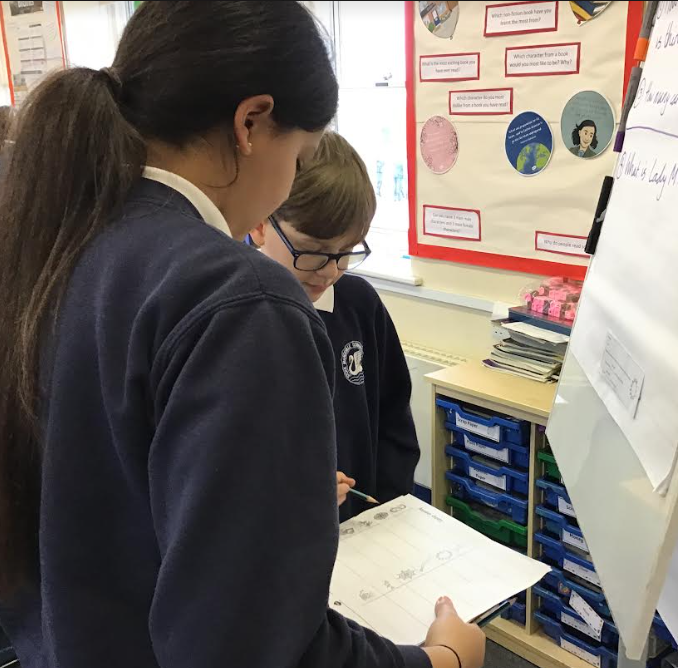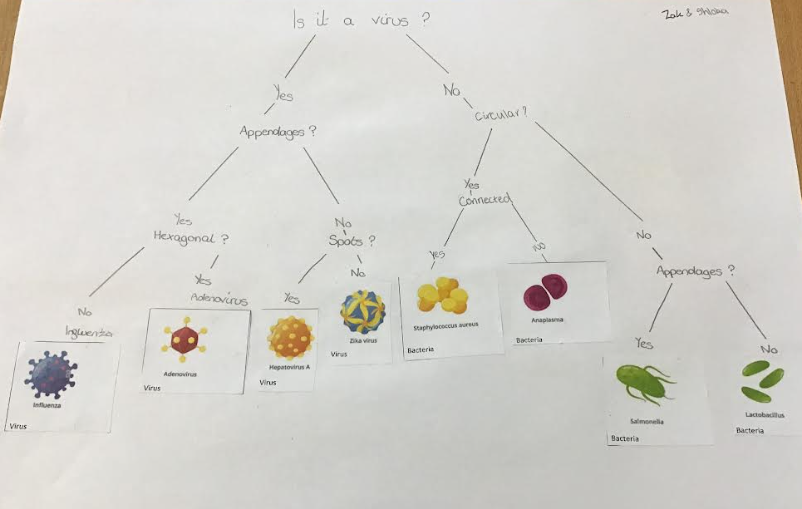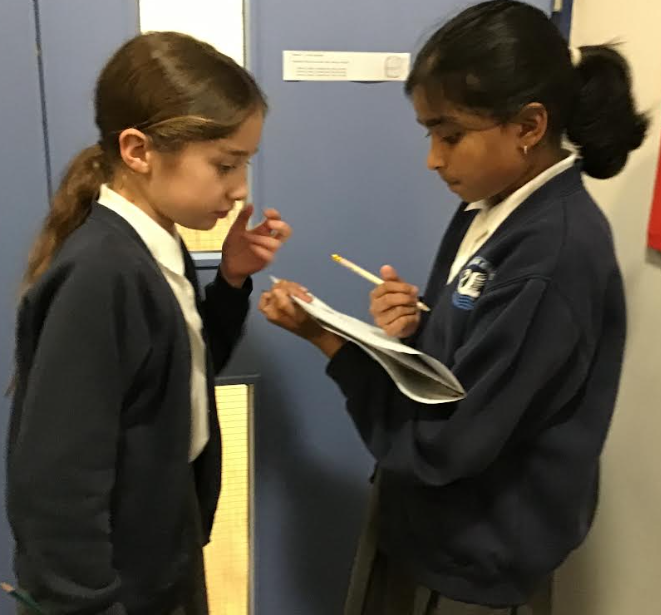 Friday 21st April 2023
We can't believe it is the summer term! Let's hope for lots of sunshine over the coming weeks.
In maths this week, we have revised angles and how to measure these with a protractor. We have also discussed the difference between acute, obtuse, reflex and straight line angles.
In English, we have started to read a short story by Shaun Tan (who is also the author of The Arrival which we looked at last year). We have discussed the main character, Eric and how he views our world. Also in English, we have started to read a version of Macbeth (the Scottish play) by William Shakespeare and we have written our own spells.
Although the photos below don't show it, Wednesday afternoon was lovely and sunny and we were able to enjoy practising our tennis skills. During art this week, we copied the style of the artist Keith Haring, using bold colours.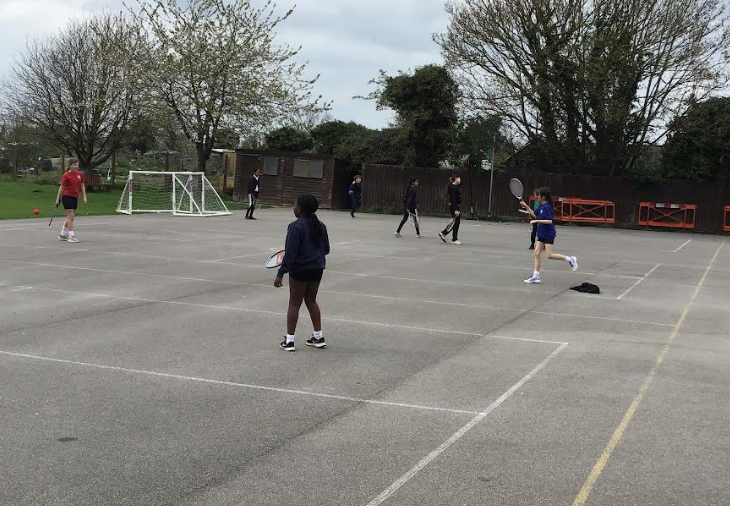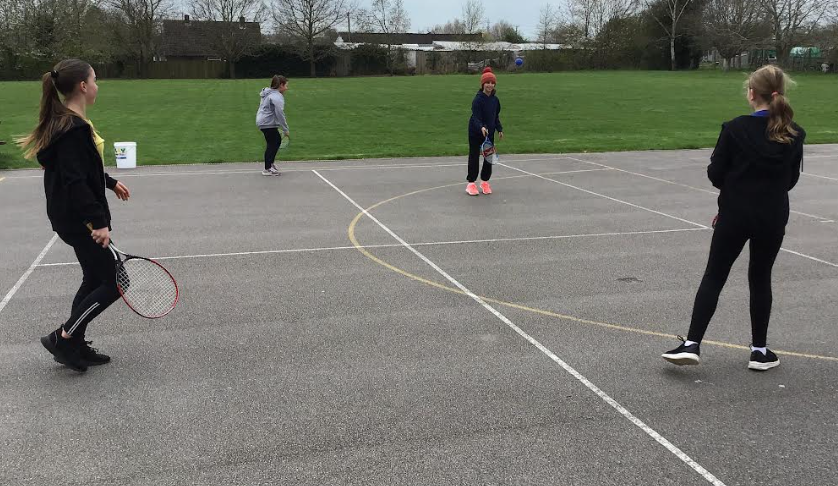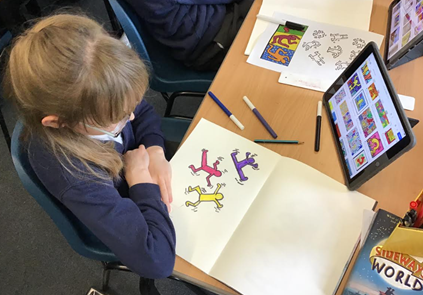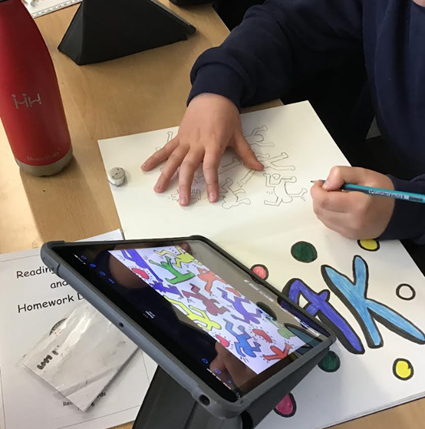 Friday 31st March 2023
As we come to the end of the term, we have finally completed reading 'Holes' and watching the film. We have discussed the differences between the two versions in terms of the characters and the plot. This includes how transferring between two time periods can be achieved in the novel and the film.
In Maths, we have been practising a range of skills in preparation for our SATs after Easter. This has included calculations with fractions and solving 2-step problems.
As seen in the photos below, we enjoyed making our snack bars in DT. Some of us learnt that butter needs to ideally be melted in order to bind the ingredients together. We have made and decorated boxes to put our creations in.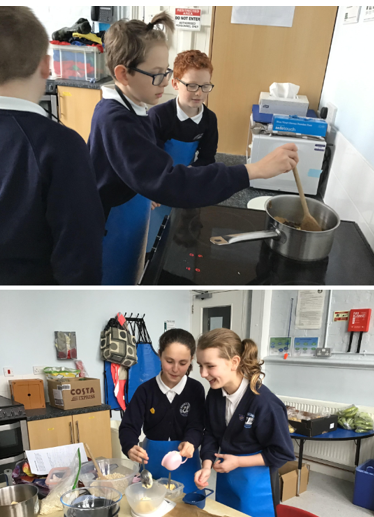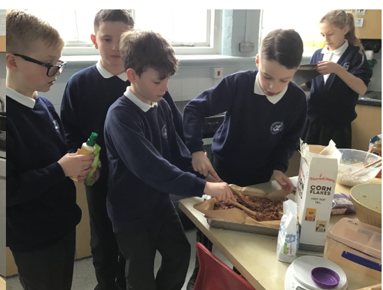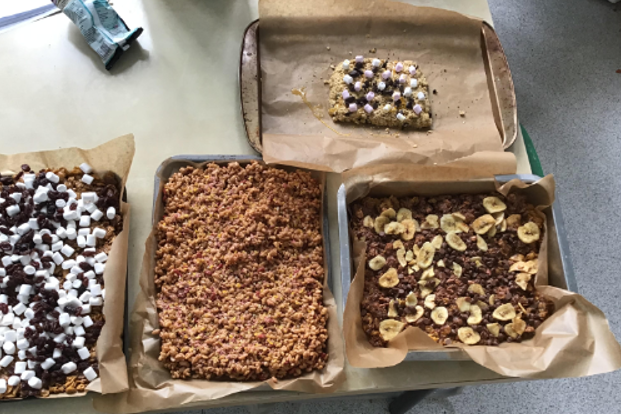 Friday 24th March 2023
This week, we have nearly completed our reading of 'Holes' and our analysis of 'The Highwayman' in English. We have started to write the 'missing' chapter for Holes where Zero is alone in the desert. When writing this, we have tried hard to copy the style of the author, Louis Sachar.
We used bar models in Maths this week to help find missing percentages such as 20% of ? = 60. Some of us worked out how to do this using alternative methods too. We have also completed a practise SATs Maths paper so that we know which areas we need to revise before the tests in May.
In DT, we have continued to plan our chocolate bars and we have worked on designing and making boxes for the final product. On Wednesday, we worked in teams to complete a pitch orienteering course on the school field.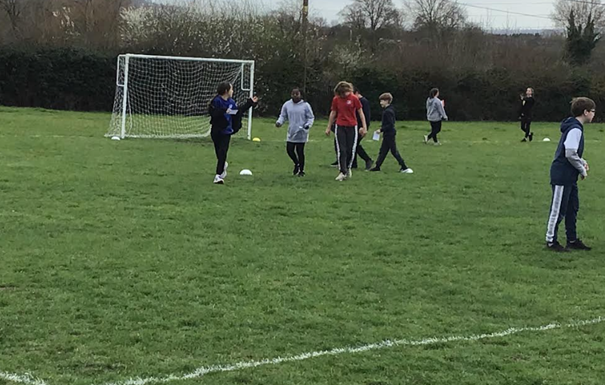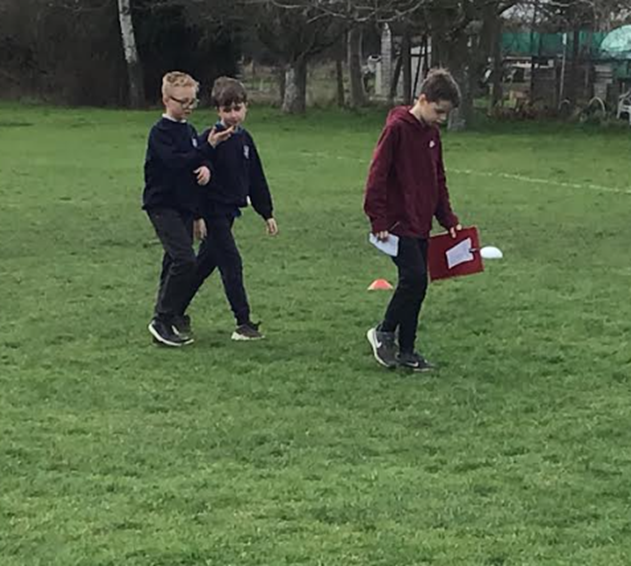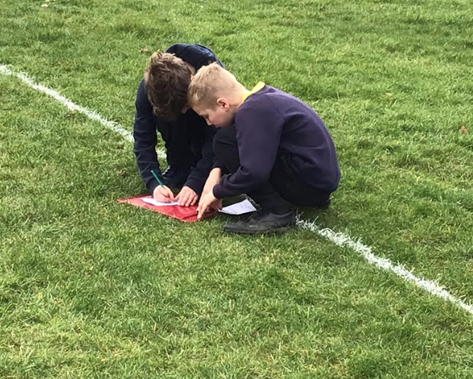 Friday 17th March 2023
In English, we have been looking at the life of Louis Sachar, the author of Holes. We have found out some facts about him and we will be using these to write a biography. We read a biography of the Olympian Tom Daley and discussed the features of this type of text.
In Maths, we have continued our work on percentages and fractions. We have also completed a test and also used our maths skills to measure the distances our rockets managed to travel (see photos).
During STEM week, we have enjoyed lots of science related activities including a live lesson. We also made paper rockets and investigated to see how far we could fire them across the classroom! We collected the data together to enter into a spreadsheet.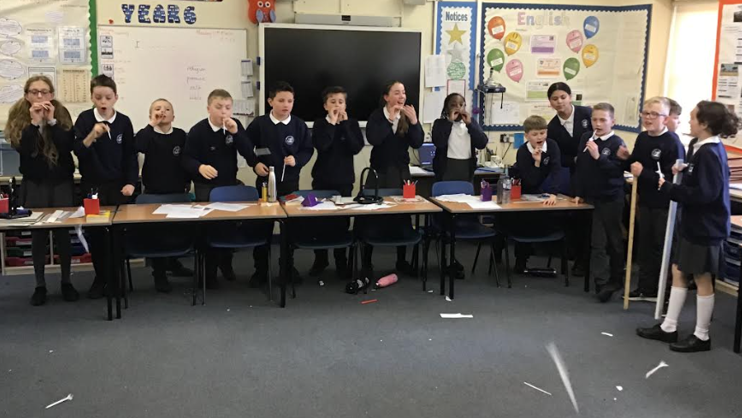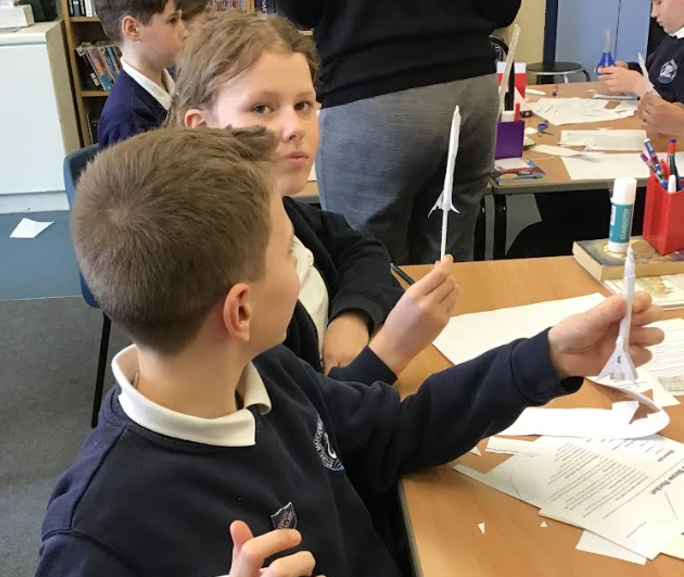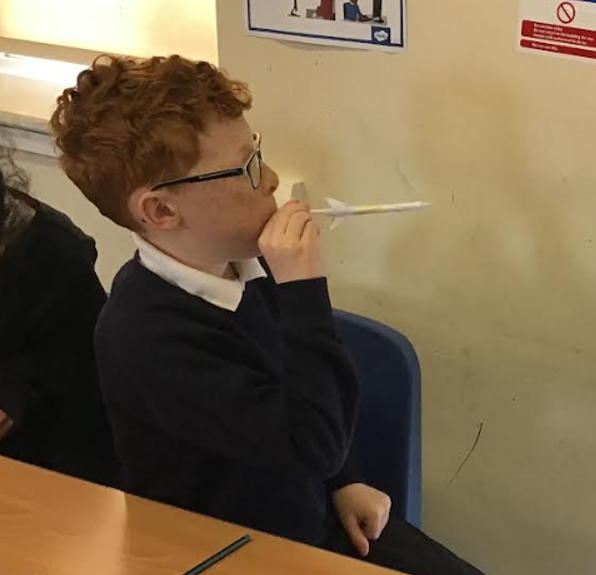 Friday 10th March 2023
This week in English, we have been looking at balanced arguments. We have read some different debates from 'The Week Junior' and we have also read an article about whether texting or phoning a friend is better. This led to a good deal of discussion! We have been planning and writing a debate about whether Camp Green Lake is somewhere parents should allow their children to attend.
In Maths, we have been converting fractions to decimals. We have used division to help us and discovered a number of fractions which lead to recurring decimals.
In RE, we discussed how some people in other parts of the world are not allowed to practise their religions and we were able to reflect on how fortunate we are. During computing, we continued our work on spreadsheets, researching the costs of different journeys. We worked collaboratively, sharing documents. Due to the snow, we had to have our orienteering lesson in the hall which was a challenge but nevertheless, we managed to follow maps and calculate the totals hidden under the cones.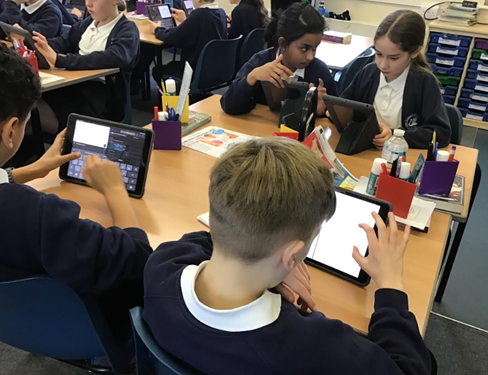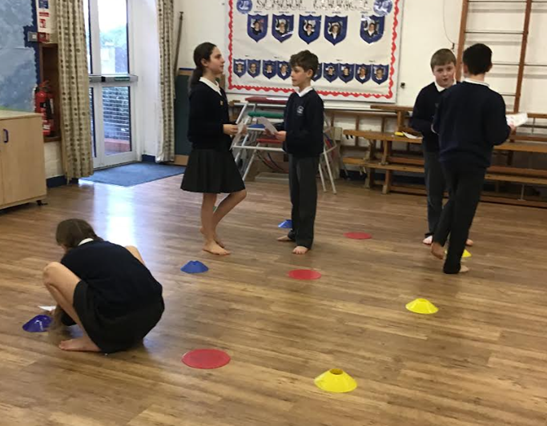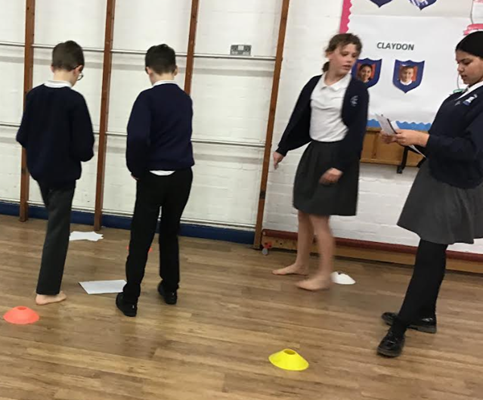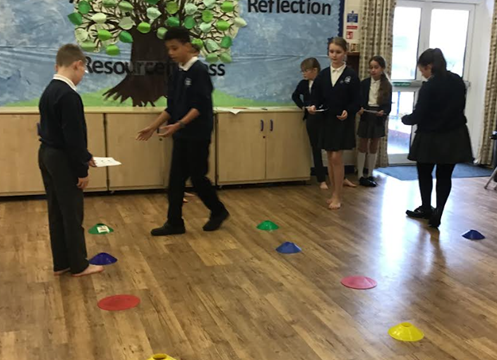 Friday 3rd March 2023
I have been incredibly pleased with the newspaper reports written this week based on the killing of Camp Green Lake's sheriff. We have used the passive voice and reported in direct speech to write in a formal and informative way.
In maths, we have continued our work on decimals, and we have solved money problems using the 4 operations. It has been good to see a really positive attitude to maths and collaborative and systematic working.
On Thursday, we enjoyed World Book Day. We completed our House Spelling quiz and the house teams worked well together. On Thursday, we read a real life story about a man who survived from a submarine accident. We created 'blackout poetry' and used a demonstration to draw our own submarine. We also listened to the author Michael Morpurgo talk about his inspiration for writing War Horse. A class survey revealed our favourite books include Holes, Wonder, Harry Potter and Flat Stanley. We also like the author David Walliams. The children's costumes all looked fantastic today! Well done everyone!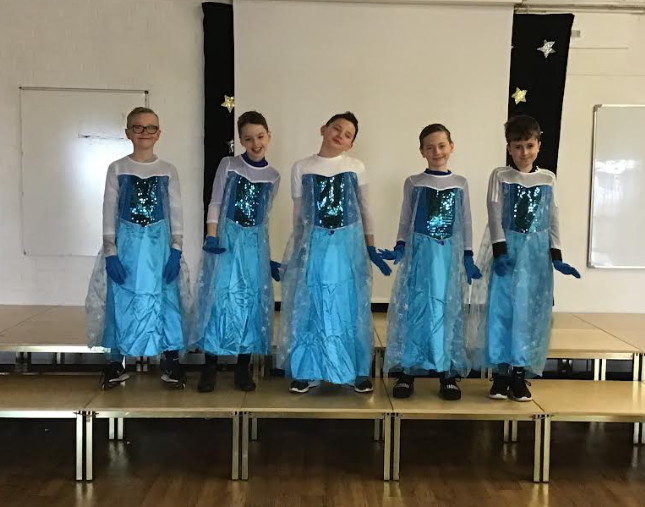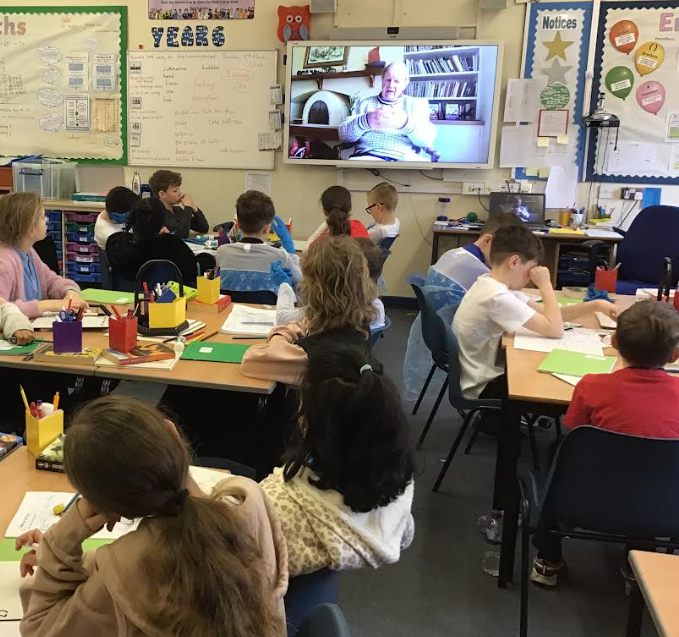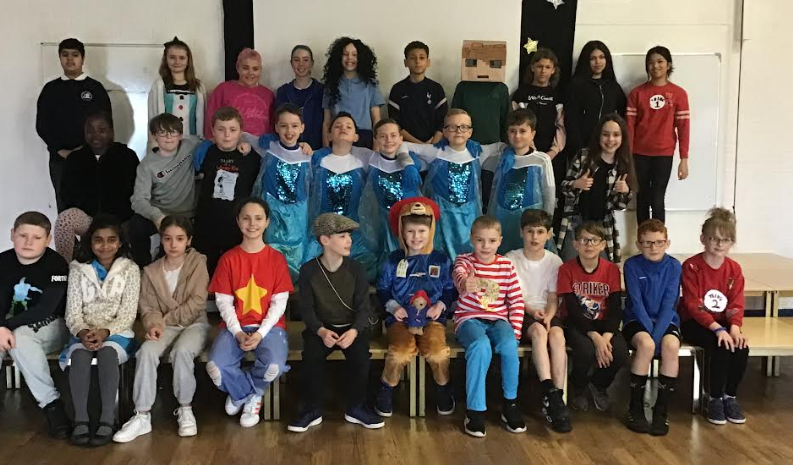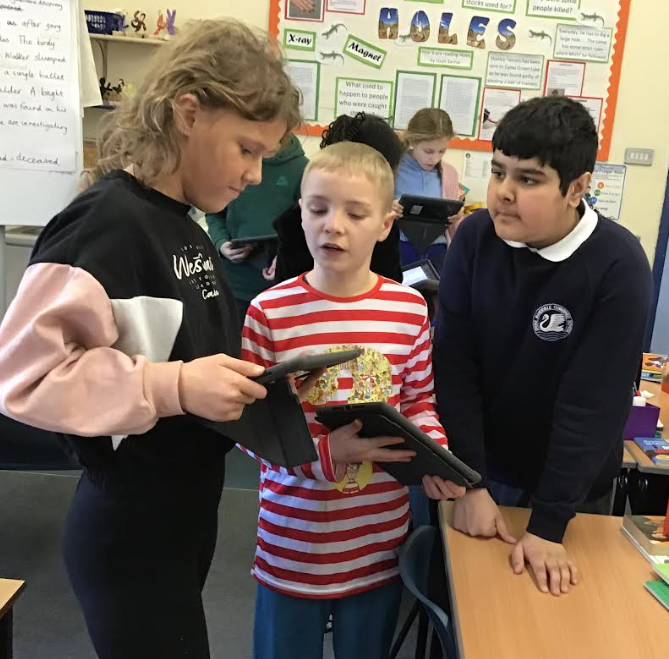 Friday 24th February 2023
This week, we have been calculating with decimals. We have multiplied and divided by 10, 100 and 1000. We have also multiplied decimals by integers using formal written methods.
In English, we have looked at newspaper articles and identified the features of these. We have particularly identified formal and informal language especially in quotes from witnesses to events. We are building towards writing our own reports based on 'Kissin' Kate Barlow' from our novel, Holes.
On Wednesday, we started our orienteering lessons. We completed a scavenger hunt around the school grounds, using a map to mark the location of the question cards. We had to answer questions about different sports. We then used the ipads to research any questions we did not know the answer to.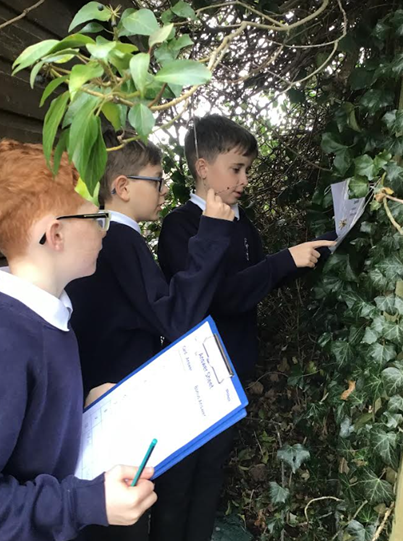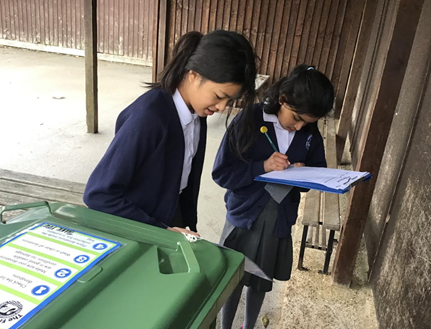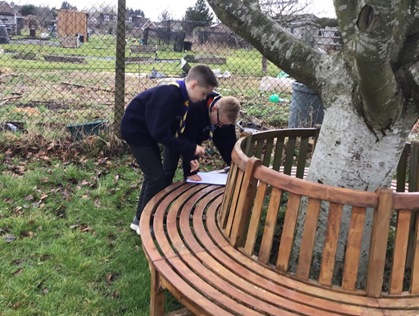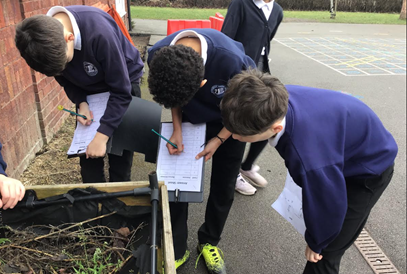 Friday 10th February 2023
In maths, we have started to calculate with decimals and we have discussed the place values of all the digits. We have answered true and false questions and partitioned numbers upton 3 decimal places.
In English, we have completed our leaflets persuading parents to send their sound to Camp Green Lake. We have enjoyed being economical with the truth and using different persuasive techniques.
During Children's Mental Health Week, we explored different emotions and how to manage these. We also played connection bingo and found out lots of interesting facts about each other we did not previously know. In RE, we discussed forgiveness and took part in role play situations which we filmed.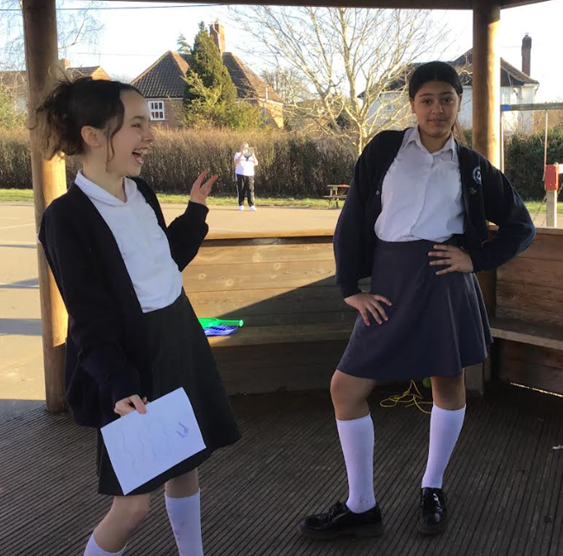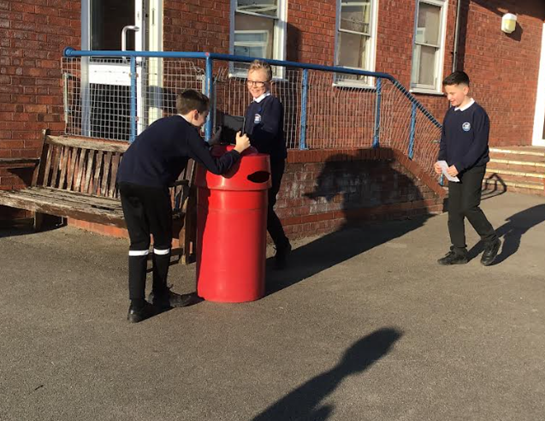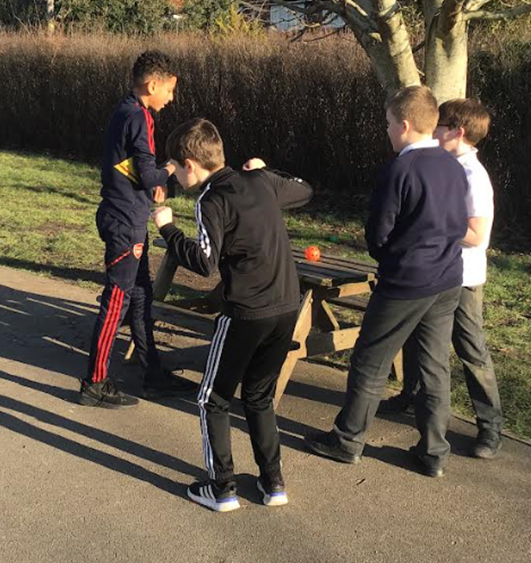 Friday 3rd February 2023
We have continued to form algebraic equations this week and we have used them to solve problems. We have also looked at formulae where there can be more than one answer.
In English, we have written some fantastic adverts using persuasive language and word play. The adverts were for the Warden's deadly nail polish which is described in 'Holes'.
On Tuesday, we had a very messy art lesson where we developed our sculptures by adding modroc. The figures are really taking shape now although some are more abstract than others.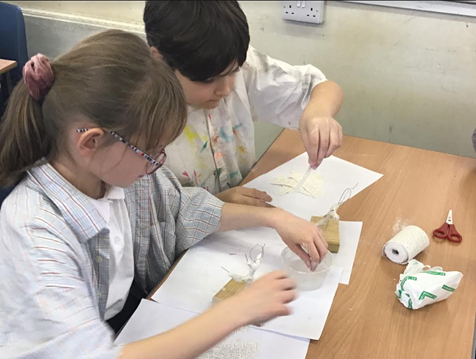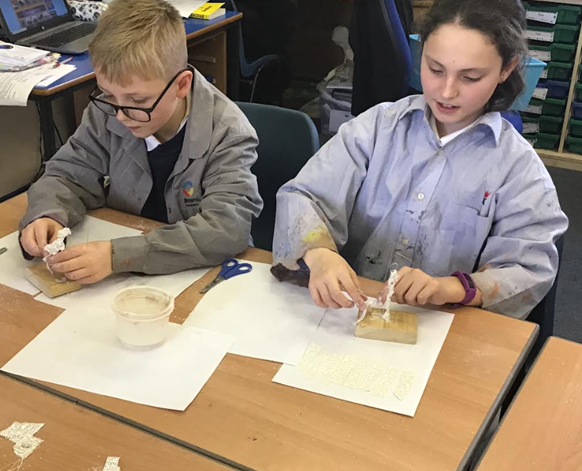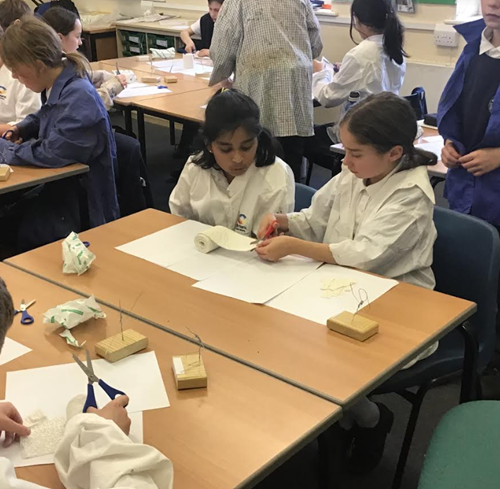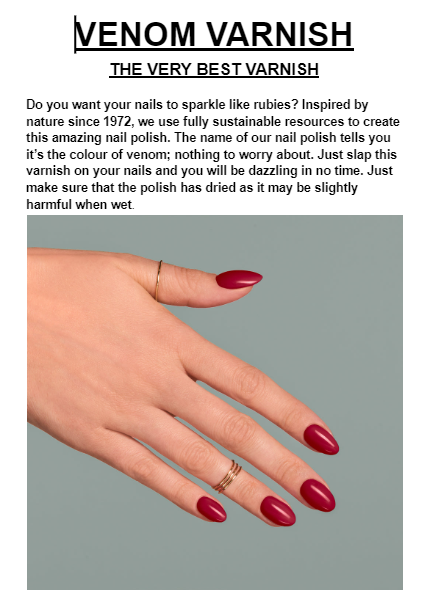 Friday 27th January 2023
In maths this week, we have started to form algebraic expressions using letters instead of numbers. We have learnt that 4 multiplied by y can be written as 4y. We have also represented these using drawings to help us.
In English, we have continued to read Holes and we have discovered that the Warden is actually a woman. We have been writing conversations to show the characters of the different boys and adults in the story. Lots of us have theories about what is going to happen next!
On Monday, a group of children travelled to the O2 to sing in the Young Voices choir. They were fantastic and represented the school really well. In art this week, we have started our sculptures, forming figures out of wire. Thank you to Mr Lack for preparing the wooden blocks for the figures to stand on. On Thursday, we had our music and arts day where we focussed on the composition entitled 'Earth' by Hans Zimmer. We enjoyed composing on the ipads and creating artwork inspired by the music.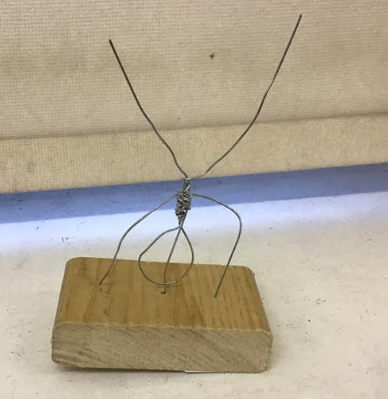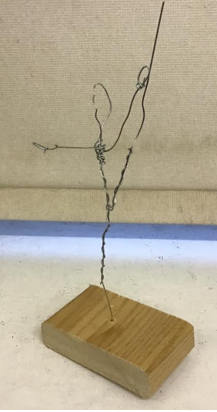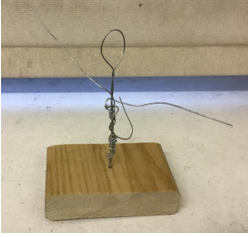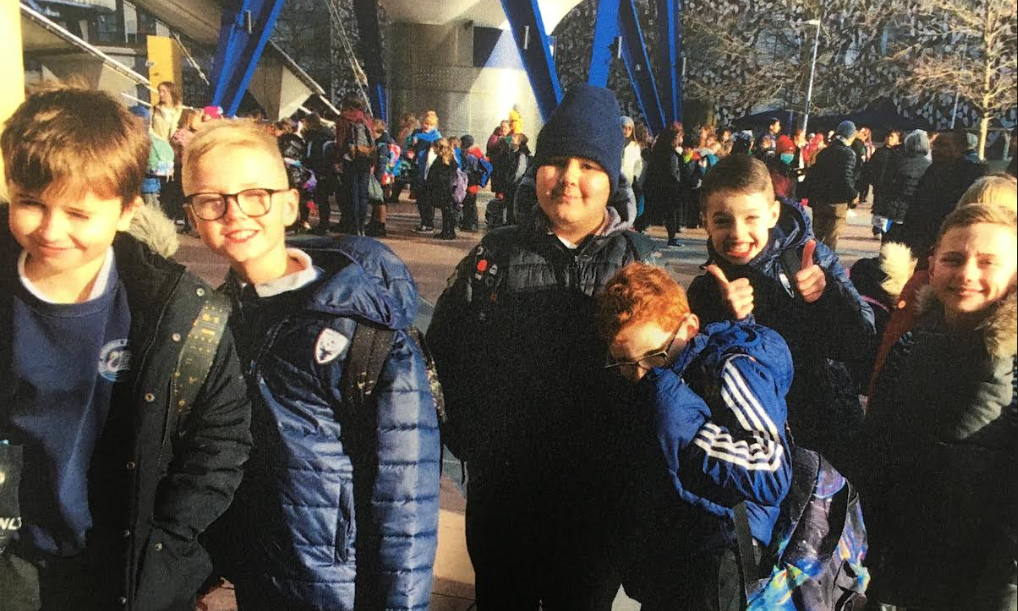 Friday 20th January 2023
This week, we have been continuing with our work on ratio. We have been solving problems including working out how to adjust recipes for different quantities. In our fluency sessions, we have been getting really good at working out percentages of amounts.
In English, we have identified the features of explanation texts about different animals. We are then using this to plan and write a text about the yellow-spotted lizard from our novel, Holes. We are focussing on using technical language and organising the information.
In other subjects, we have considered the impact of human and geographical features on different biomes. This includes the introduction of species which are not native to the area and how this influences the delicate balance in the food chain.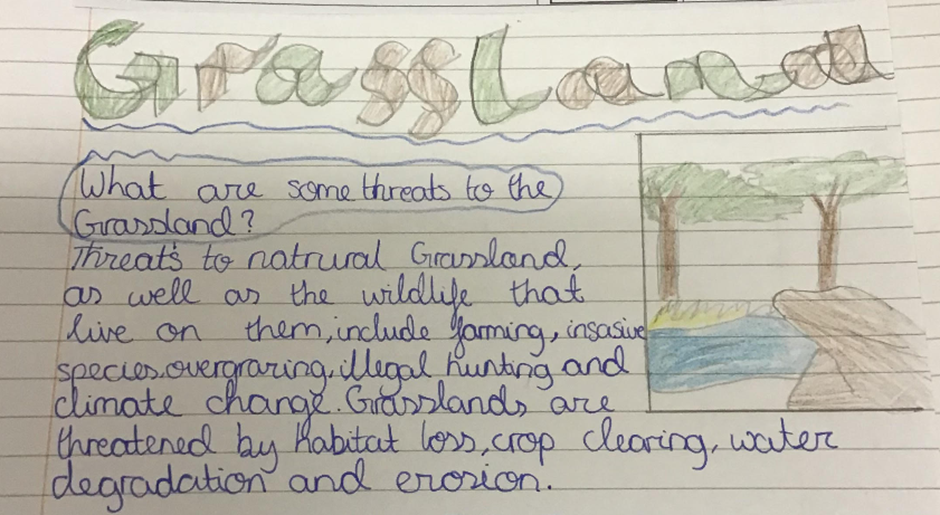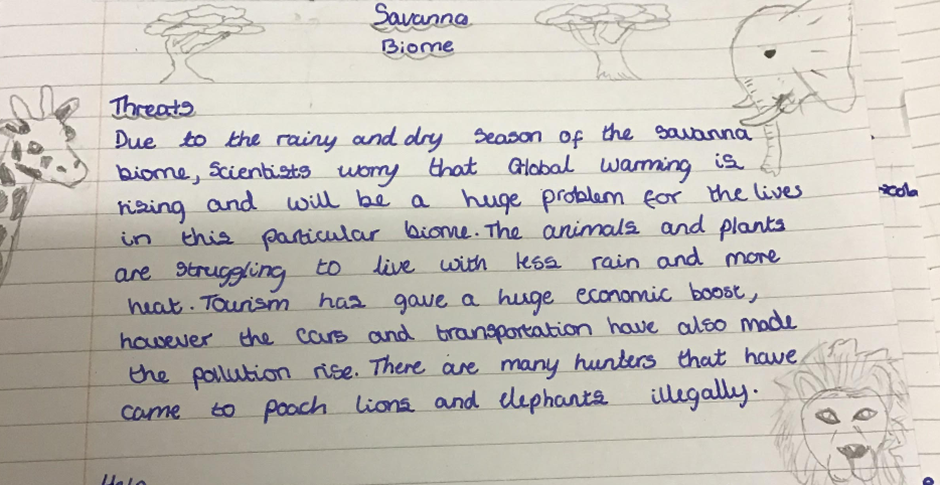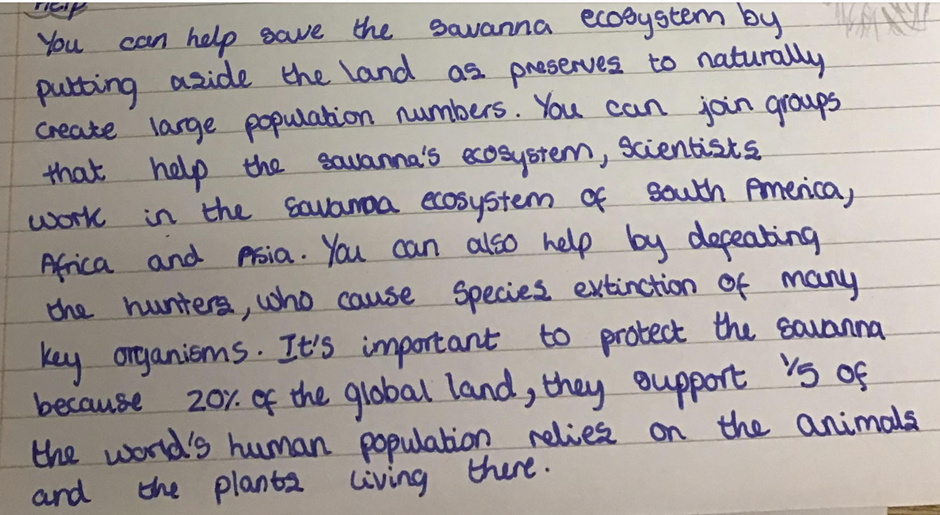 Friday 13th January 2023
Happy New Year! We have got started straight away with our new topics since we came back to school. We are really enjoying reading 'Holes' by Louis Sachar. We have discussed the main character and his initial impressions of 'Camp Green Lake' where nothing is green and there is no lake! This links really well to our new Geography topic of Biomes. We have started researching these, their features and where they are in the world.
In maths, we are using ratio to calculate relationships between different numbers, using the language of 'For every......, there are........' We have also been making use of the colon (:) to show ratios. To start with, we used counters and pictures to help us.
In art, we are completing a sculpture topic and we started this week by creating figures out of foil. We used shadows to help us draw the figures we made in our sketch books. In science, we are studying adaptation and evolution. We have been researching different breeds of dogs and have compared their characteristics in a game of Top Trumps.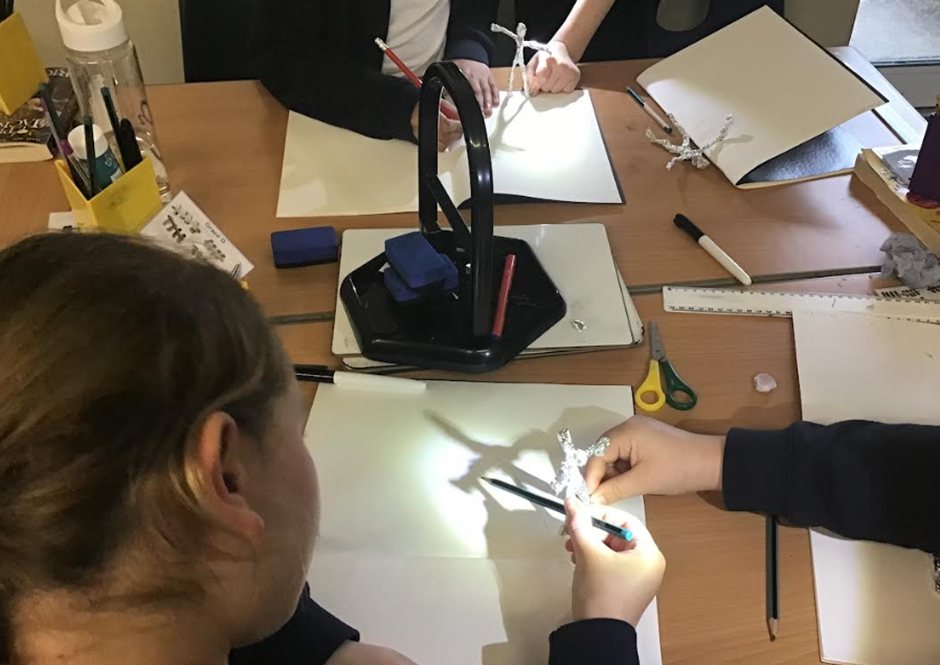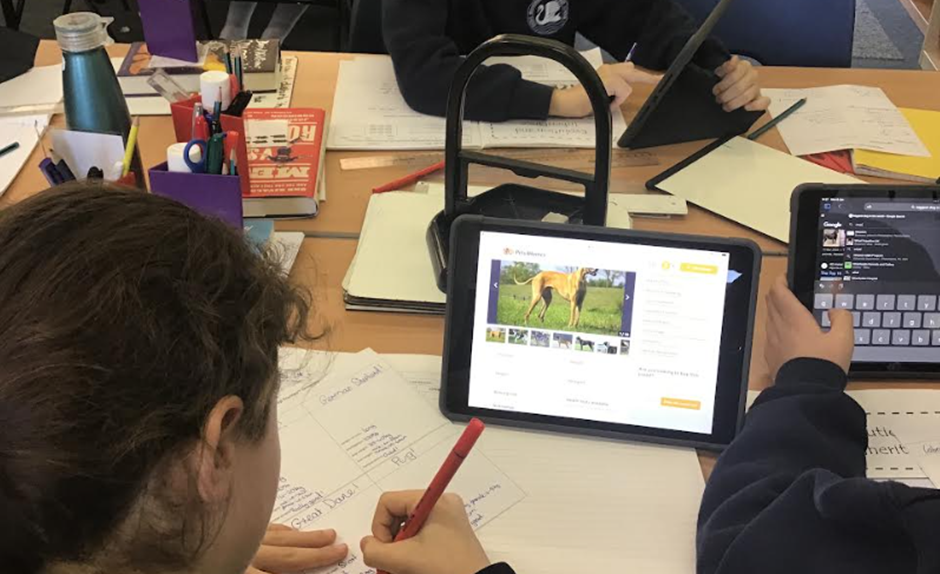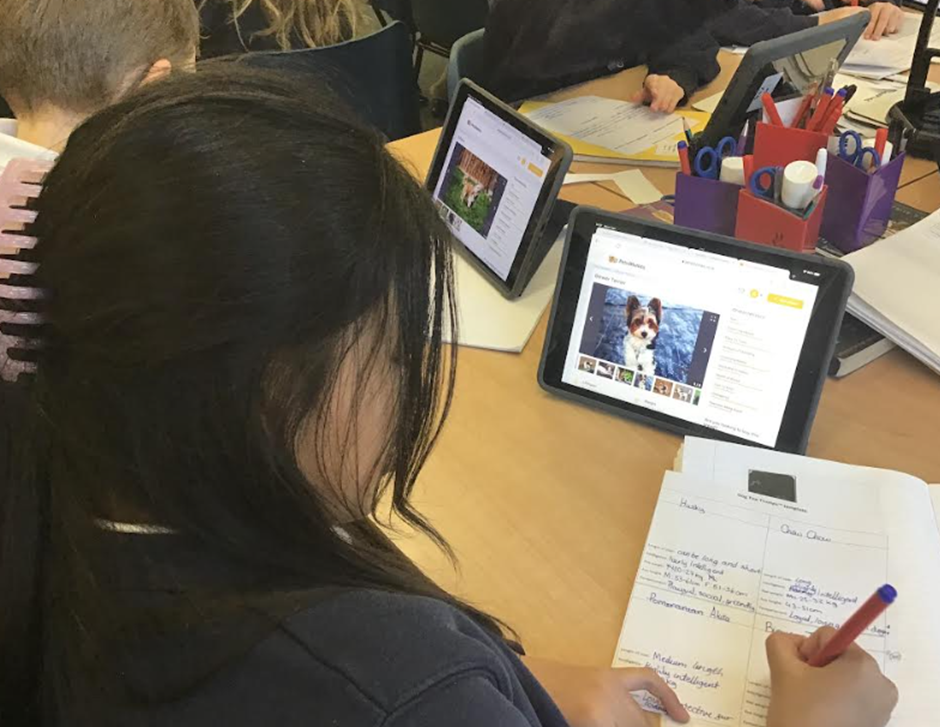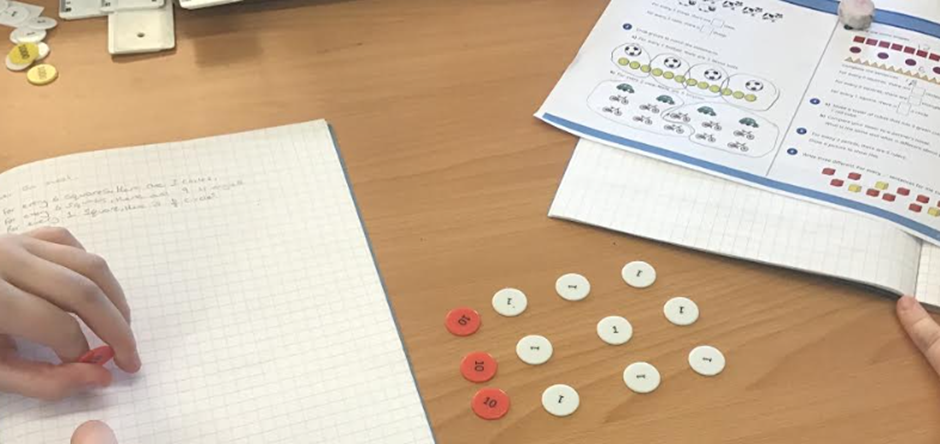 Friday 16th December 2022
In English this week, we have been looking at extracts from 'A Christmas Carol' by Charles Dickens. We have discussed the characters and explored why Scrooge is so against Christmas. We have written diary entries using the first person and including thoughts and feelings.
In Maths, we have finished our work on fractions by finding fractions of quantities. This has included working out what the original 'whole' was given the fraction and the 'answer'. We have found that diagrams can help a lot with these types of questions.
On Friday last week, some of us interviewed Mrs Spong (Mrs Lund's grandmother) who was evacuated during WWII when she was 8 years old. She told us all about her experiences and she said how much she enjoyed coming in to talk to us. Those children who were lucky enough to interview have fed back the information to the class this week. Finally, we must mention the snowfall this week which caused great excitement! One of the photos below shows children looking wistfully out of the window on Monday when we were unable to go outside. We also completed our DT projects this week and some of the sewing skills were very impressive.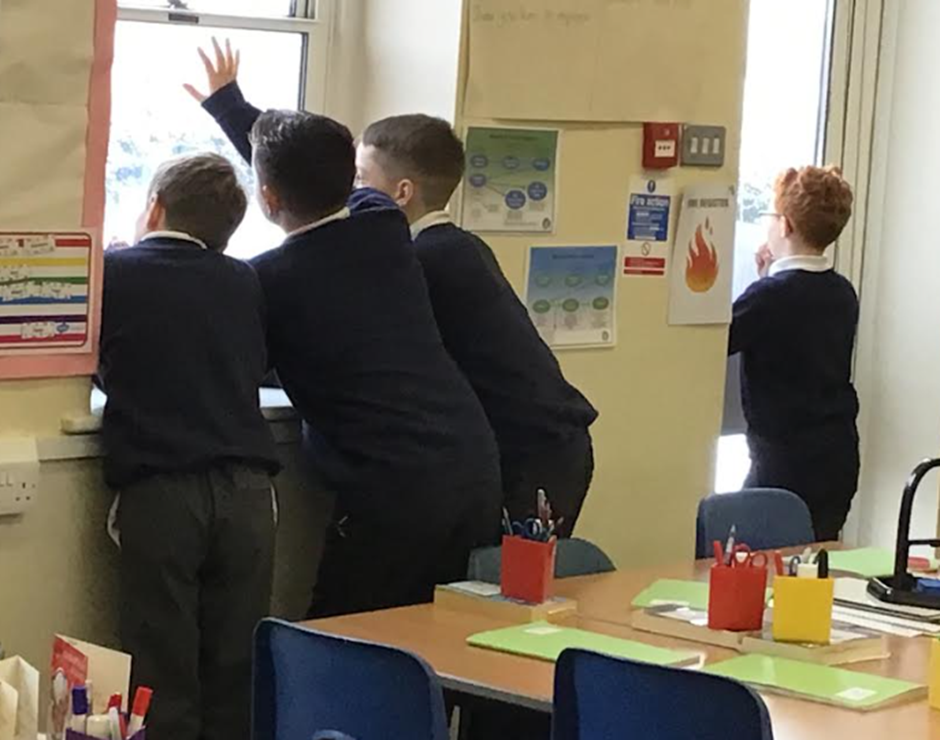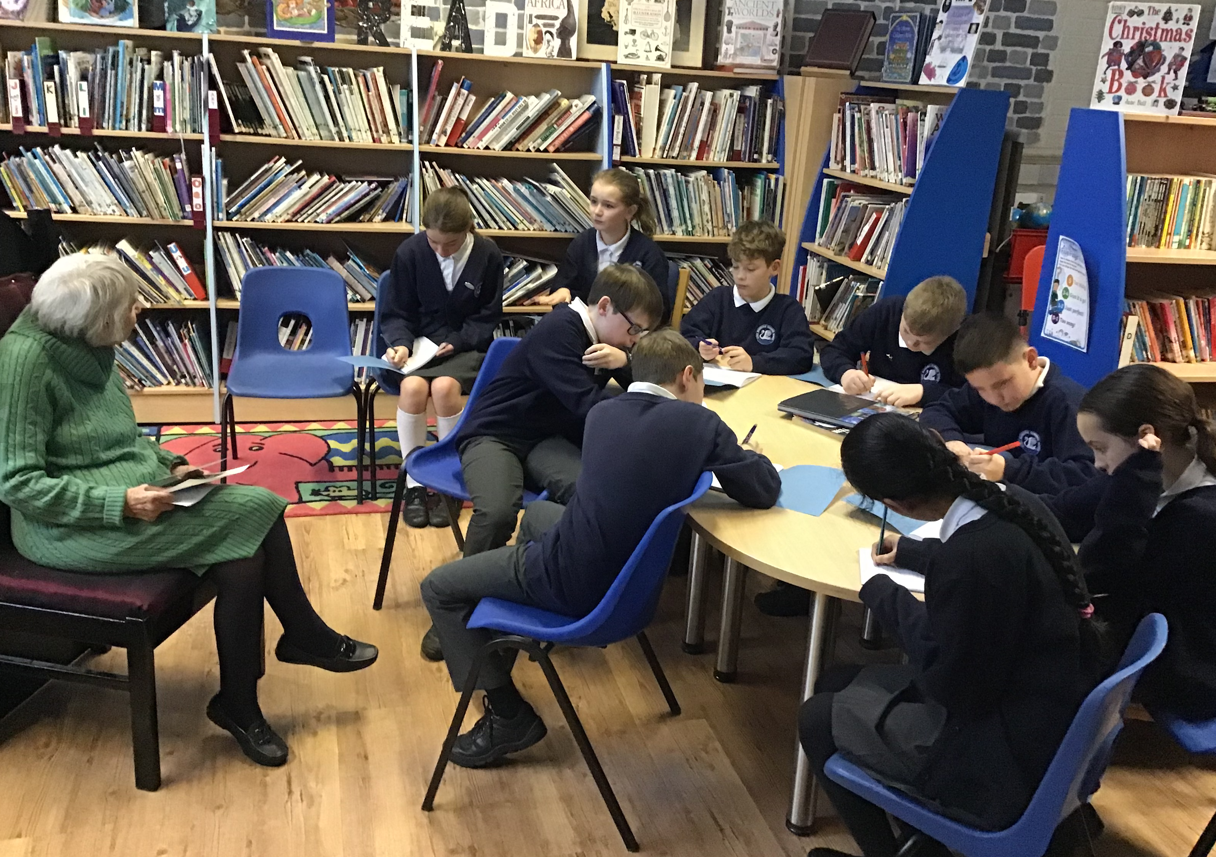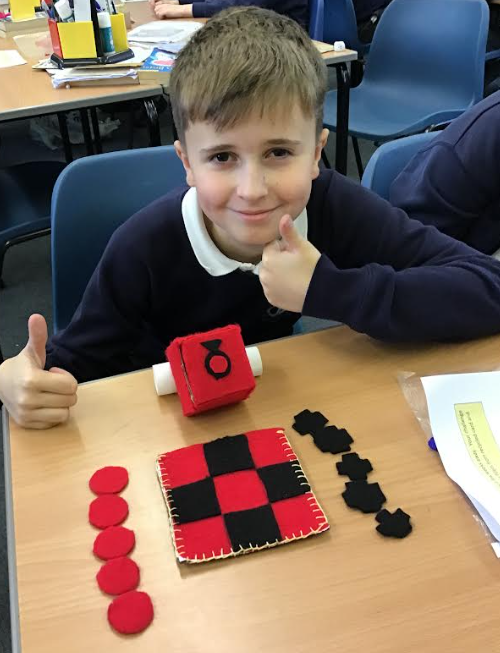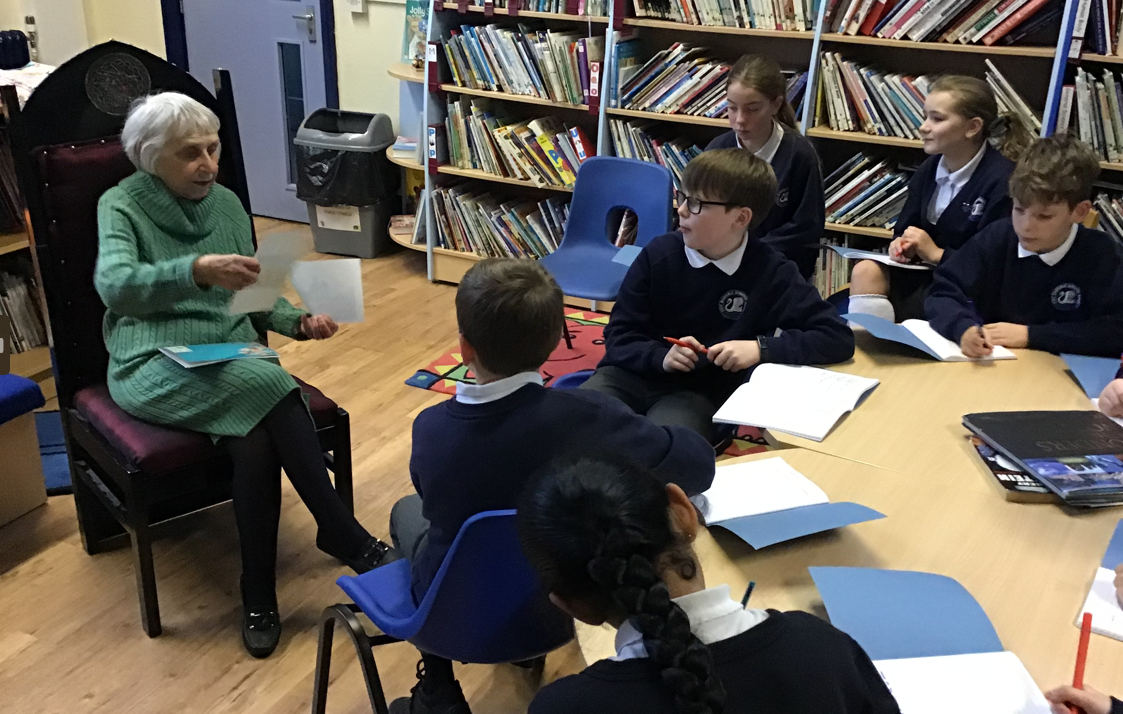 Friday 9th December 2022
This week, we have been dividing fractions by fractions using diagrams and looking for patterns in our answers. Once again, our times tables knowledge has come in very useful. We have also revised coordinates and BODMAS (order of operations).
In English, we have planned and written explanation texts. We identified the features of this type of text and then have tried hard to use these in our own writing. We chose our topics from electricity, chocolate or Anderson shelters. We spoke about the difference between explanations and instructions.
On Wednesday, we had a great time at the church making 220 christingles ready for the services on Thursday. There was excellent teamwork between all the children and we managed to make all these christingles in just 30 minutes!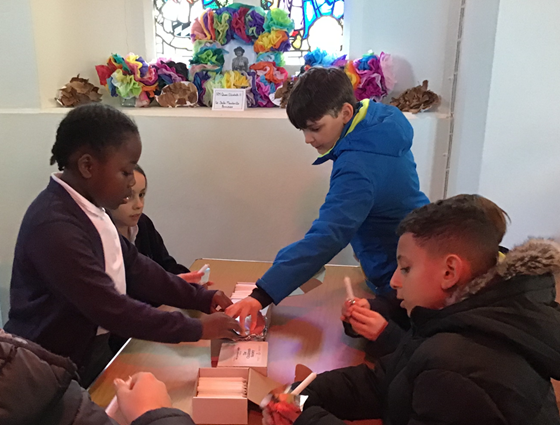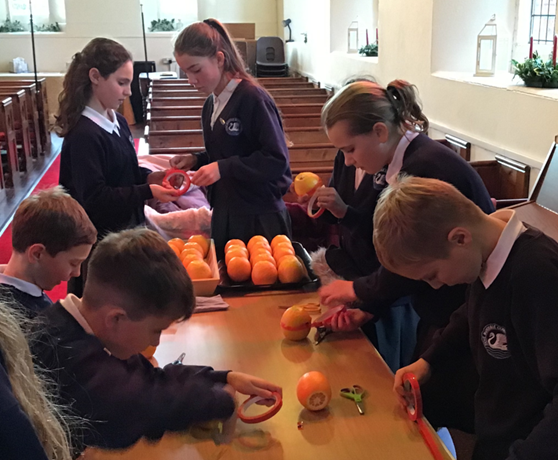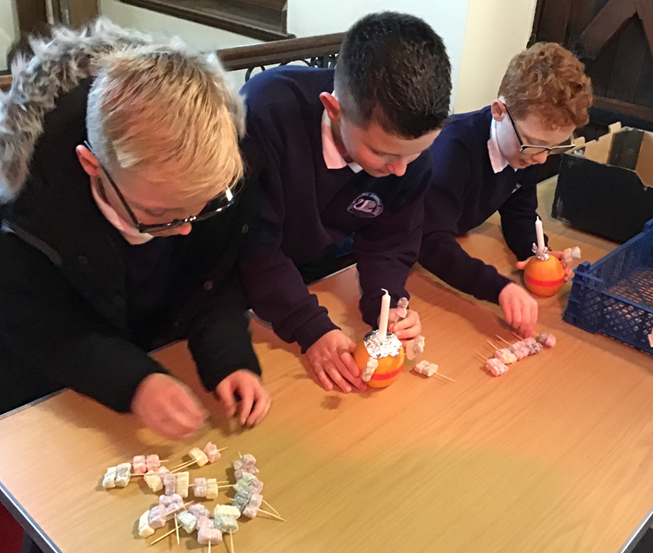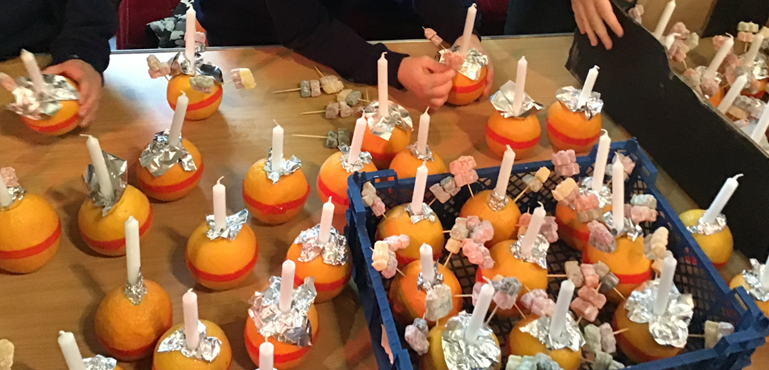 Friday 2nd December 2022
In maths this week, we have been multiplying fractions. We started with multiplying by whole numbers (integers) and are now able to multiply fractions by fractions. We used diagrams and also worked out that we could multiply the integers together and the denominators together.
In English this week, we have completed tests on reading and grammar. We have also written diary entries based on the advert 'A Christmas Truce'.
This week, we painted snowmen decorations to sell at the Christmas Fayre. We designed our snowmen first on paper and then used fine paintbrushes to decorate the ceramic figures.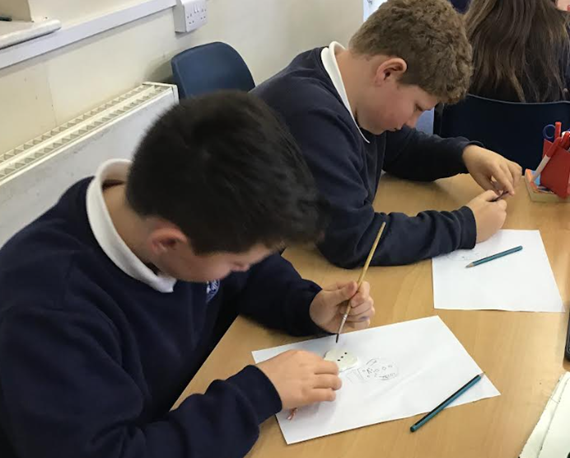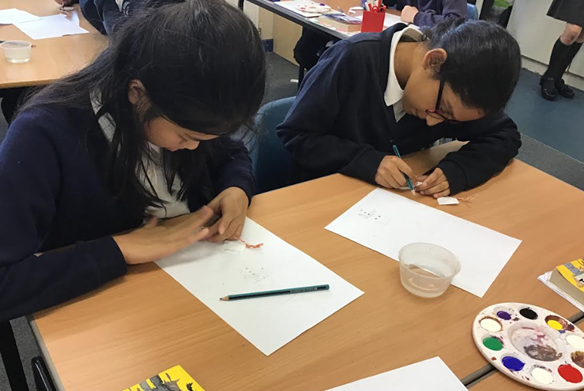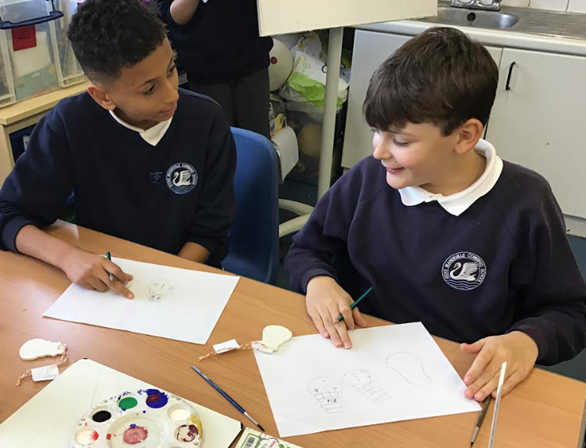 Friday 25th November 2022
With one month until Christmas and the start of a certain football tournament, we have been completing work based on A Christmas Truce when the soldiers in World War One joined together for a football match. This week, we have written descriptions of No Man's Land, using a range of sentence structures. We have also written first person accounts.
In maths, we have been adding and subtracting fractions including mixed numbers. We found adding easier than subtracting, but we have made excellent use of our times tables knowledge to find equivalent fractions when needed.
In DT, we have been busy sewing our stocking presents. There is lots of evidence of 'make do and mend' and some of us are particularly good at the blanket stitch. The teachers were very impressed with the tidying up skills displayed at the end of the session. The photos below show us in action!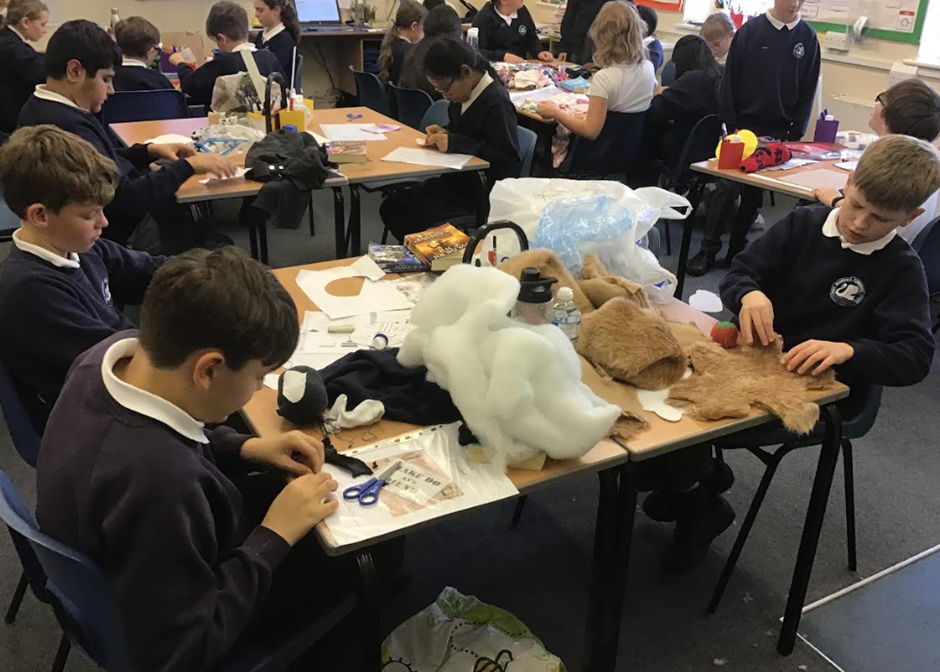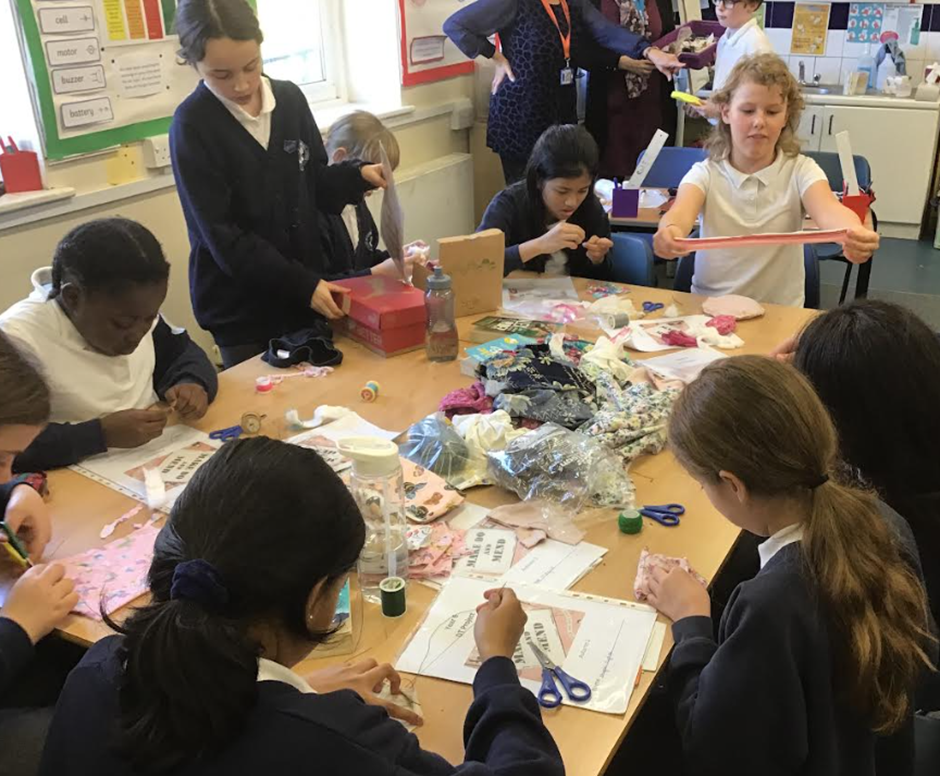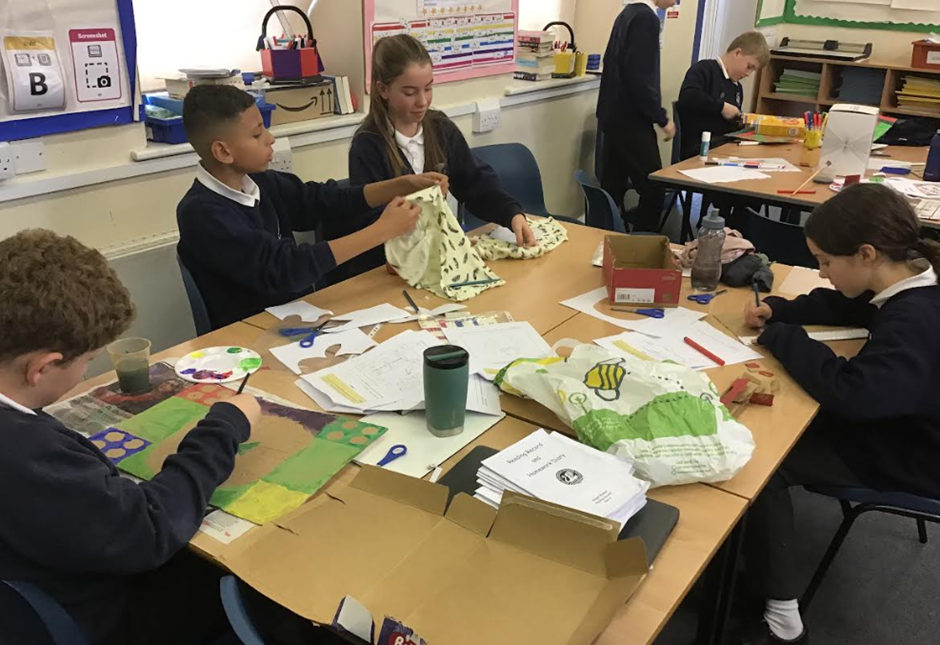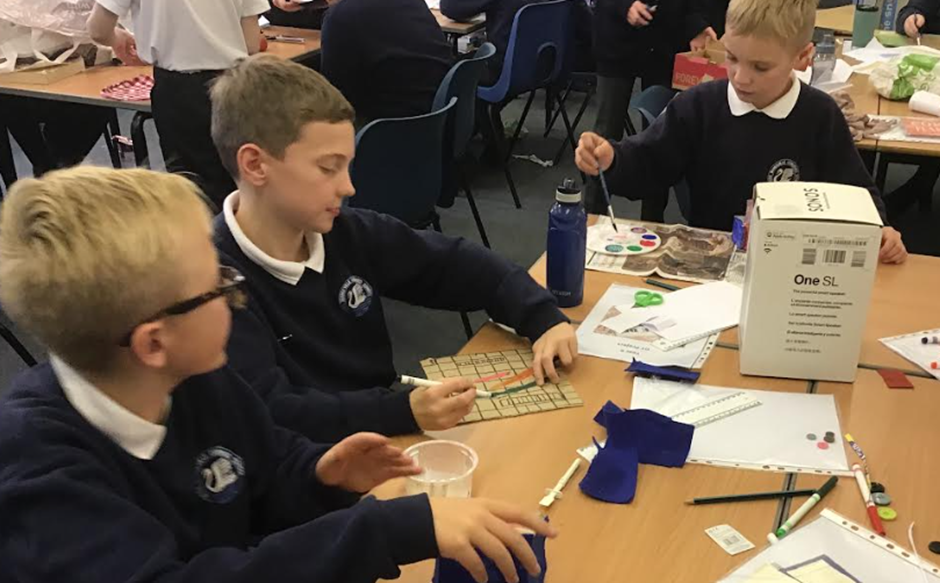 Friday 18th November2022
In English this week, we have been finding out what happened in an air raid and we have written information texts to inform the general public of their duties and responsibilities. We have considered the layout of the text and the technical and formal language which is needed.
In Maths this week, we have been continuing our learning with fractions, including comparison of fractions using the numerator and denominator. We have also discussed how we can compare them by considering whether a fraction is more or less than a half
In Science, we constructed electrical circuits, and we have started to consider how to make a bulb brighter or dimmer. The highlight of the week for most of us was the Pudsey Fayre on Friday afternoon. We have enjoyed planning our games, and we have brought in lots of sweets as prizes! We are looking forward to seeing how much money we have raised as a school.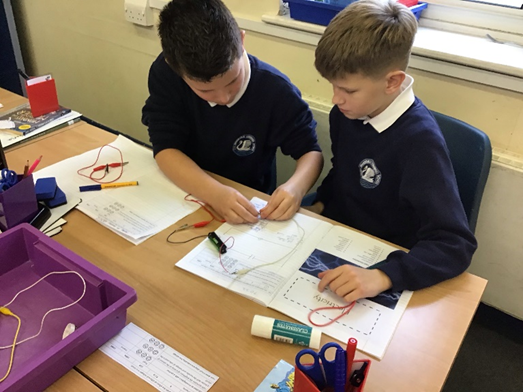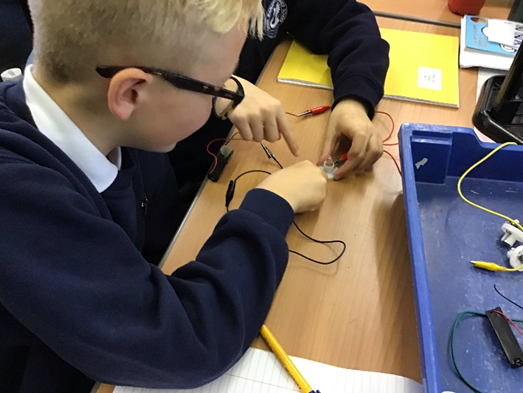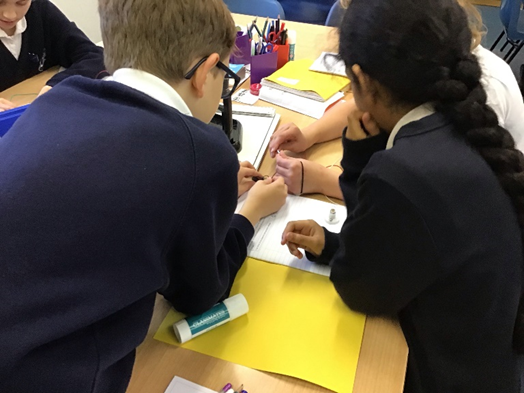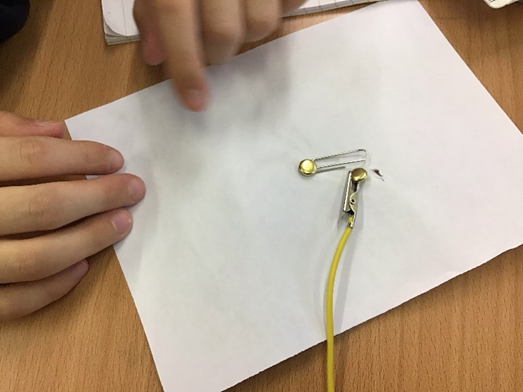 Friday 11th November 2022
In English this week, we have been reading and discussing poems written about war. We have learnt how poets can show their opinions through the words they use and we have compared different poets and their work. We have also used some of the vocabulary and phrases to help us draft our own poems.
In maths, we have been using mental calculations and known facts to solve problems. We have also started to revise equivalent fractions in preparation for addition and subtraction of fractions next week. We have continued our maths fluency and we are getting more confident when describing our methods.
In History this week, we have learnt what propaganda is and we have discussed posters used during WWII. We have also drawn our own posters. In Science, we have started our electricity topic and we considered how to stay safe.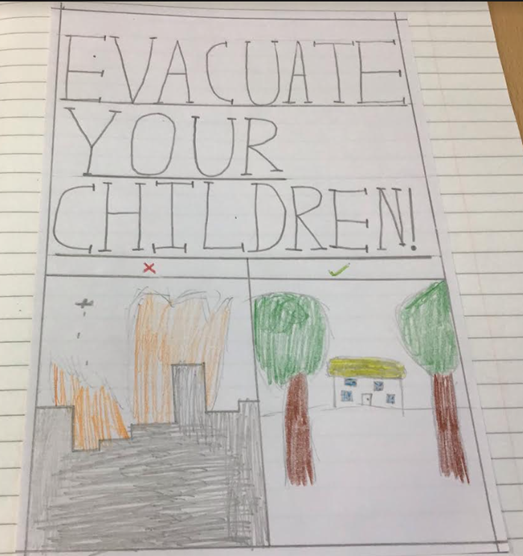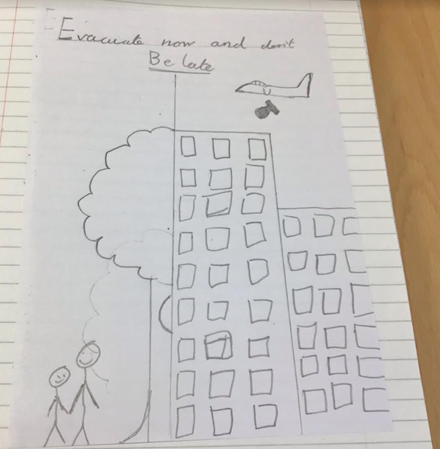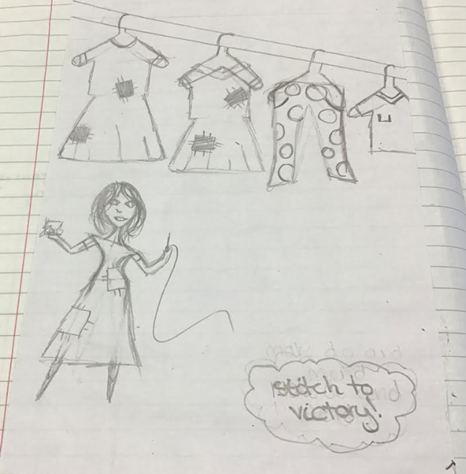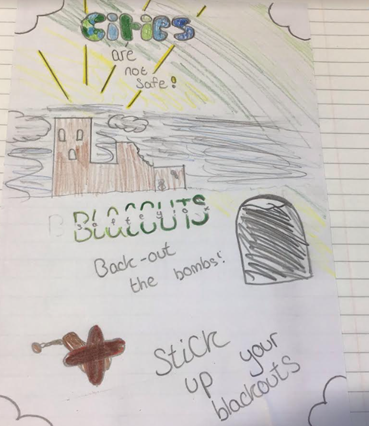 Friday 4th November 2022
In English this week, we have been learning about Sir Mo Farah as part of our Black History Week studies. We watched a clip of him winning his second gold medal at the London 2012 Olympics and we have written newspaper reports about this using formal language and quotes.
In maths, we have been learning what BODMAS stands for and how to apply this to calculations. We have become more confident using this and we have seen how adding a set of brackets can change the final answer of a calculation.
In other work this week, we have used the ipads to explore the Tinkercad app which is used for 3D modelling. We have also gone outside as part of our outside learning day to complete a photo scavenger hunt and to take pictures of forced perspective. We have posted these on Google Classroom.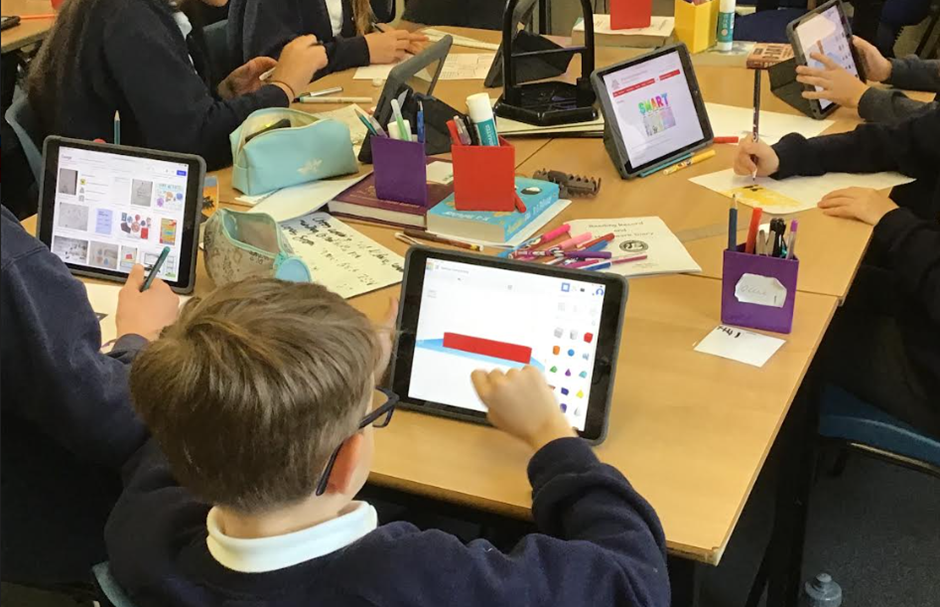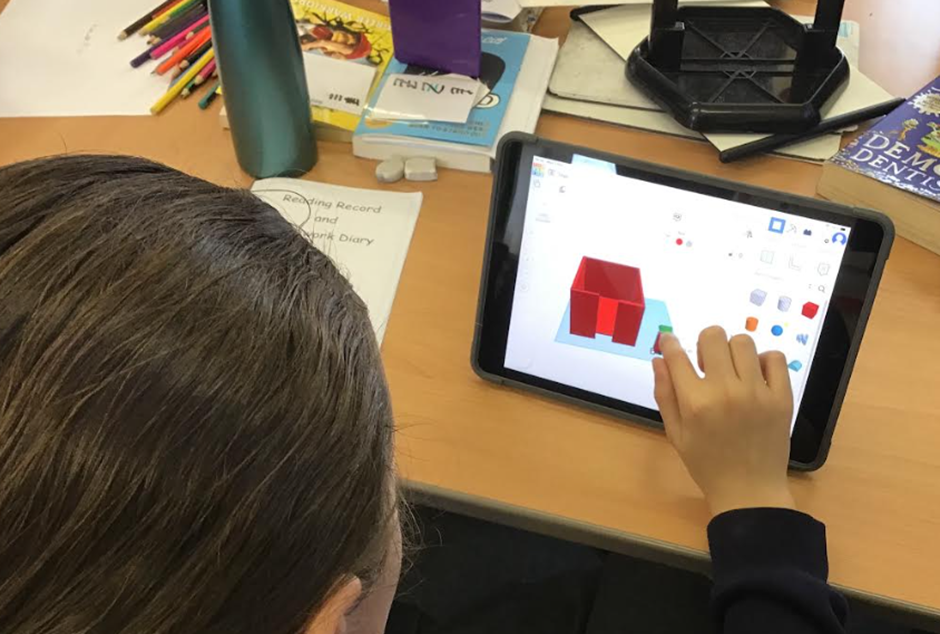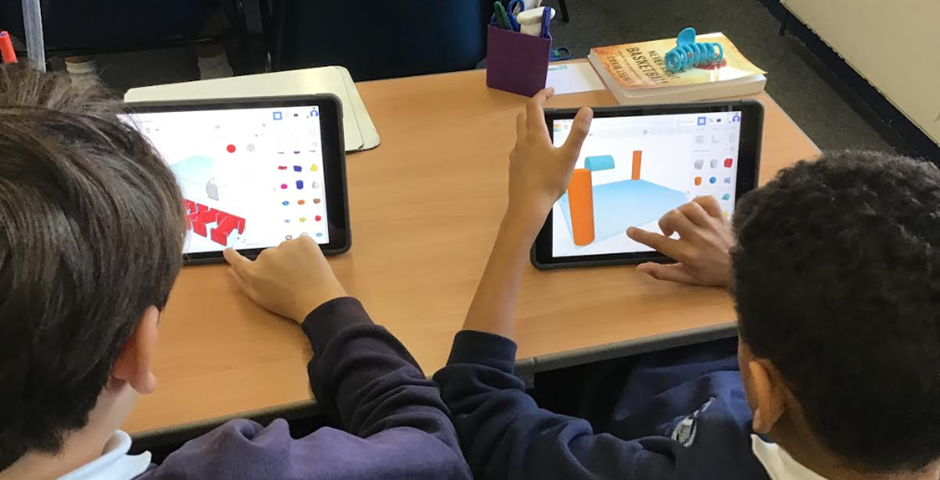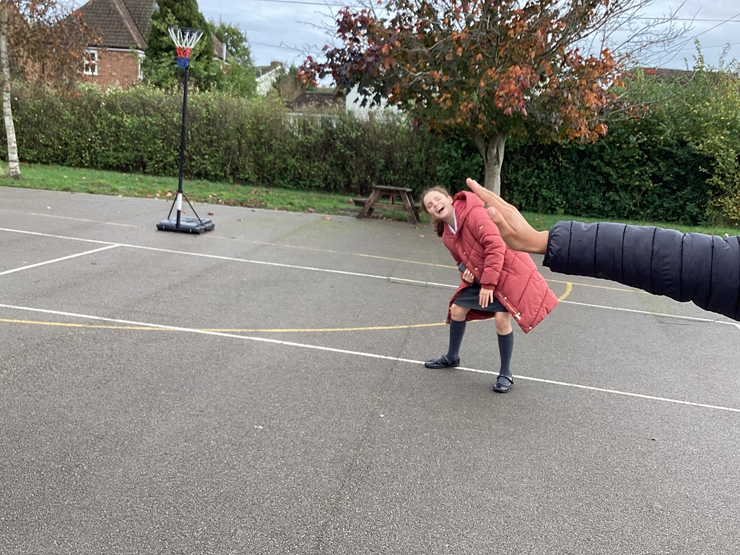 Friday 21st October 2022
This week, we have completed some tests to see what we need to work on in preparation for our SATs in May. We have completed maths, reading and grammar tests.
In English, we have started to compare the novel, Goodnight Mr Tom, with the film. We have noticed lots of differences and have discussed why this might be. We also noticed some similarities.
In maths, we have continued working on long division, and we have discussed reminders and how these may need to be rounded up or down in some word problems.
In art, we have created sunsets and silhouettes, depicting London during the Blitz. We have been learning about the Blitz in our History lessons. Also in history, we have learnt about rationing and how this did not end when the war ended.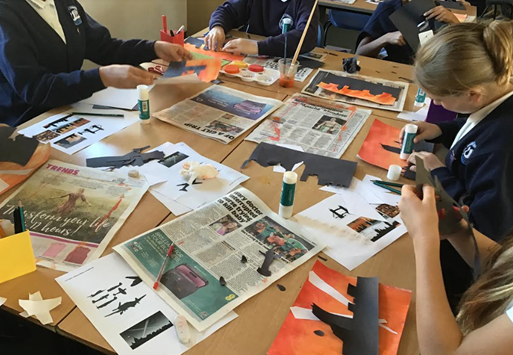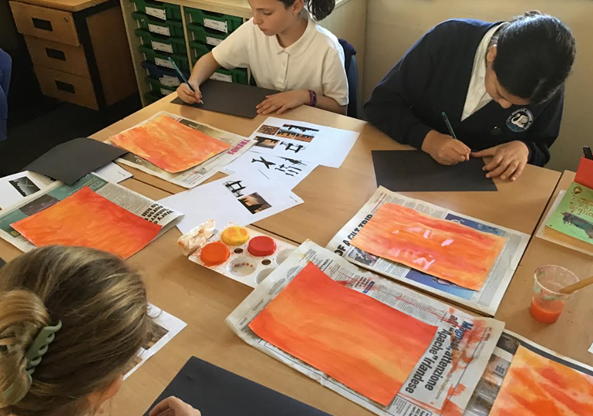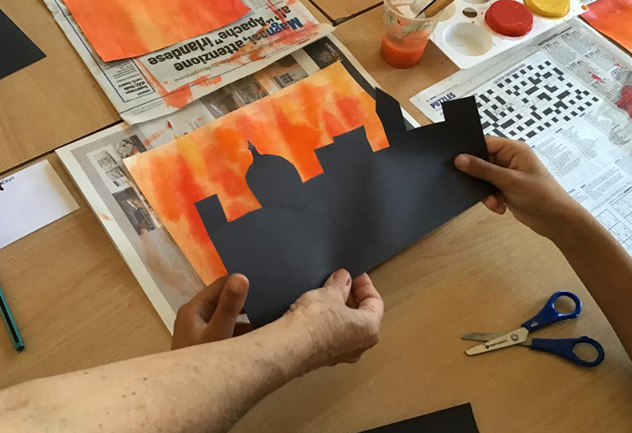 Friday 14th October 2022
We have been working hard this week on our presentation and handwriting in Year 6. This has made a difference particularly to our working out in maths where we have been completing division calculations using long division and also factors.
In English, we have combined our history knowledge with our writing as we completed accounts about what it may have been like to spend a night in an Anderson shelter. In our topic lesson, we learnt about what happened during the Blitz. Some of us wanted to know what happened to pets and whether they had to wear gas masks.....
During our indoor PE session, we continued our circuits and this week we completed a cardio circuit. There were lots of very active children who were somewhat out of breath by the end of the session!
Our computing lesson covered different ways to communicate online and we considered what is respectful online behaviour. We linked this to respectful face to face behaviour too.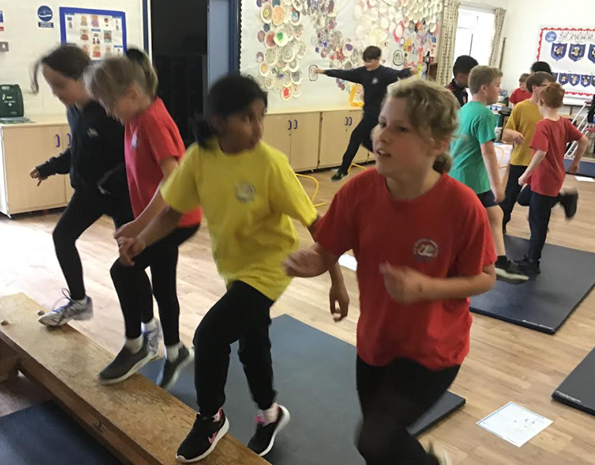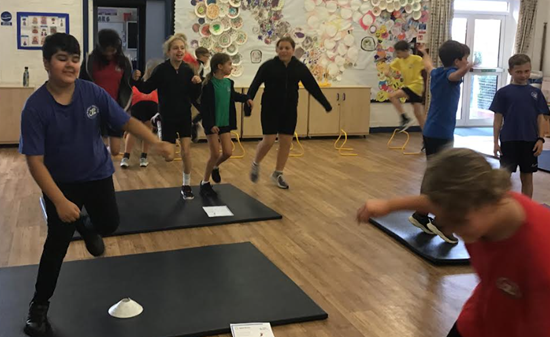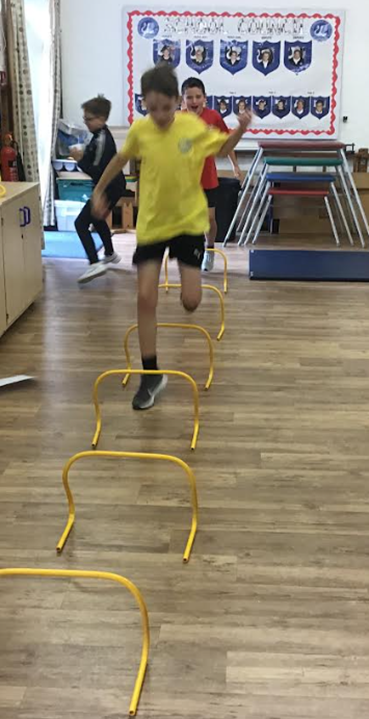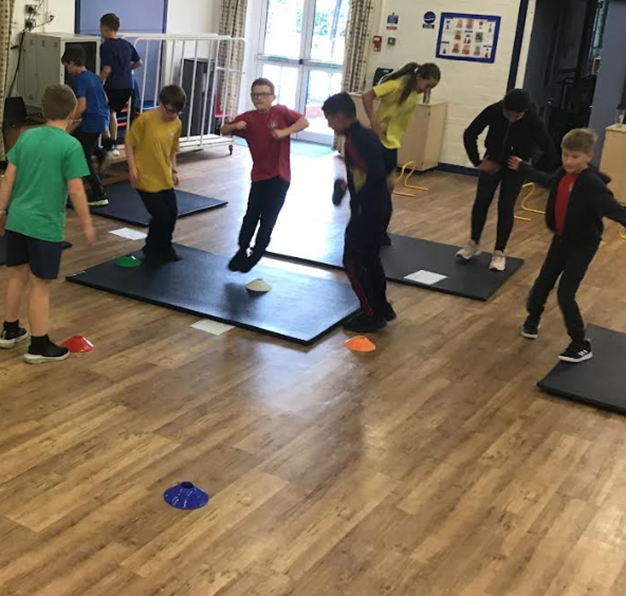 Friday 7th October 2022
This week, we have enjoyed carrying out science experiments with light. We made light beams travel to hit a target using torches and some of us changed the direction of the beam by using mirrors.
In English, we wrote contrasting diary entries to show how the character of Mr Tom changed from when Willie first arrived to when he felt more comfortable.
In art, we designed Christmas cards. We also prepared the year 6 contribution to the whole school hall display by designing our own emojis.
In maths, we have continued looking at different properties of numbers including squared numbers, cubed numbers and prime numbers.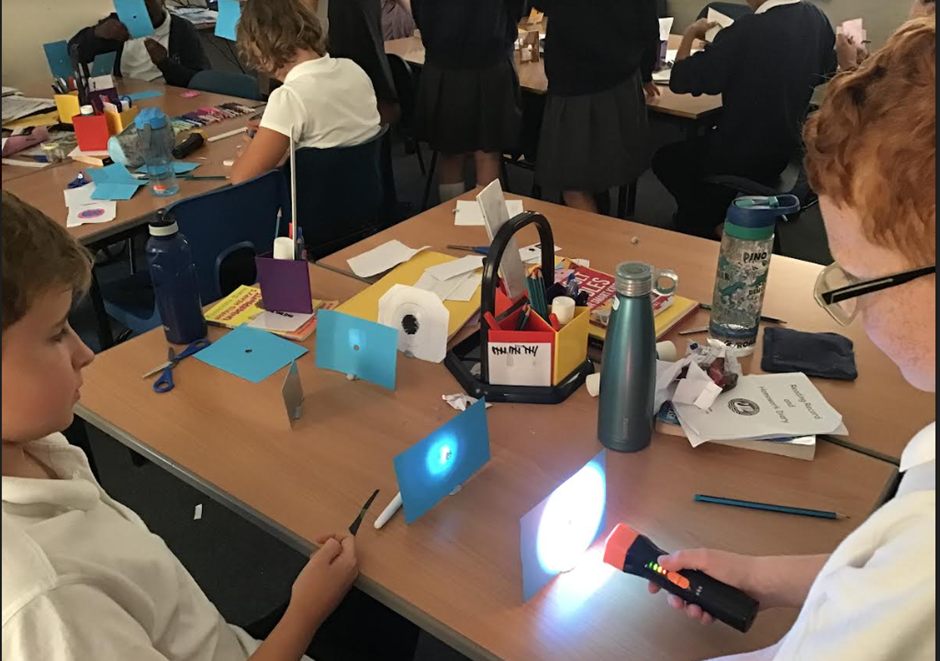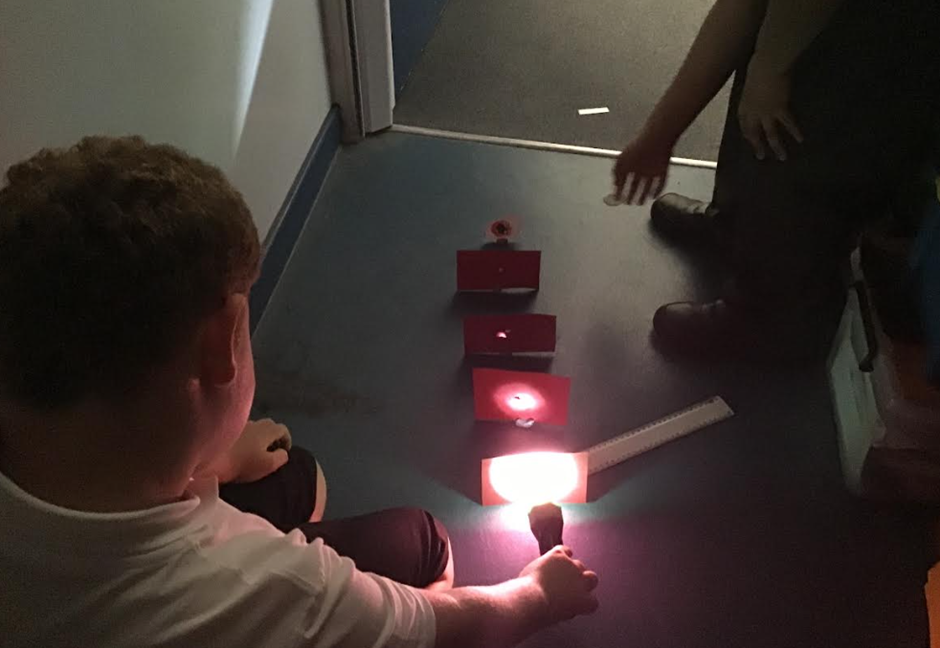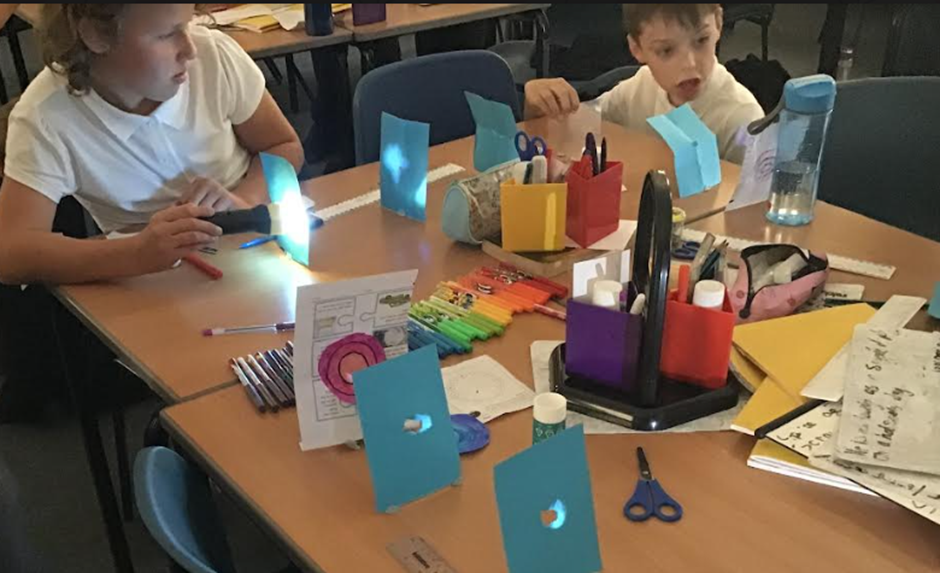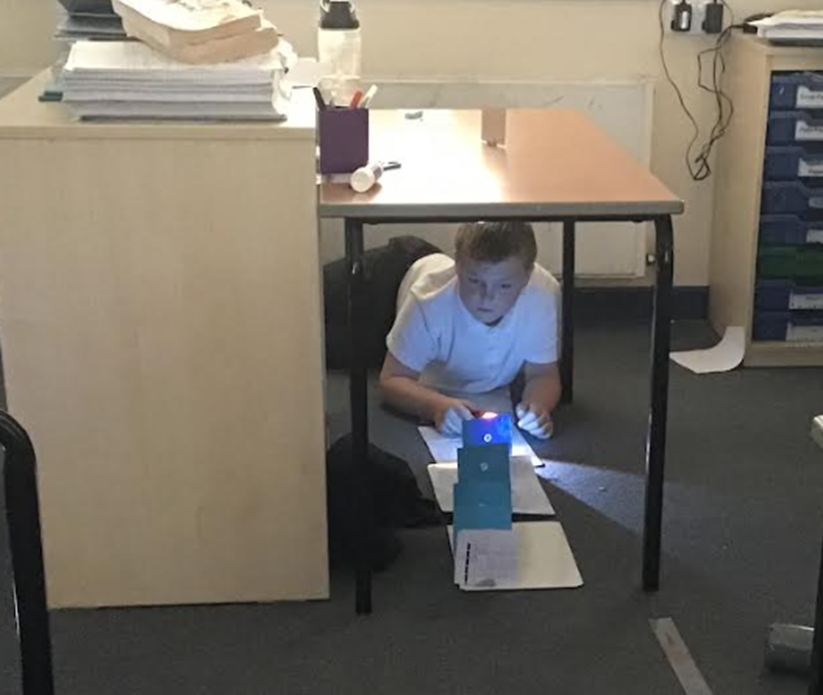 Friday 30th September 2022
We have baked and eaten carrot cake this week, using a war-time recipe as carrots were used as a sugar substitute to add sweetness. It wasn't to all of our tastes but there wasn't much left! We will be doing some more war-time cookery in the coming weeks....
In English, we have written instructions on how to build an Anderson shelter and we have explored the difference between active and passive sentences.
In maths, we have identified and worked with factors and multiples and we have started to look at prime numbers. We have explored different tests of divisibility and now know a quick way of telling if any number can be divided by 3 (amongst others).
In RE this week, we discussed how Muslims show commitment to God by giving to charity and we took part in drama to show this (see photos).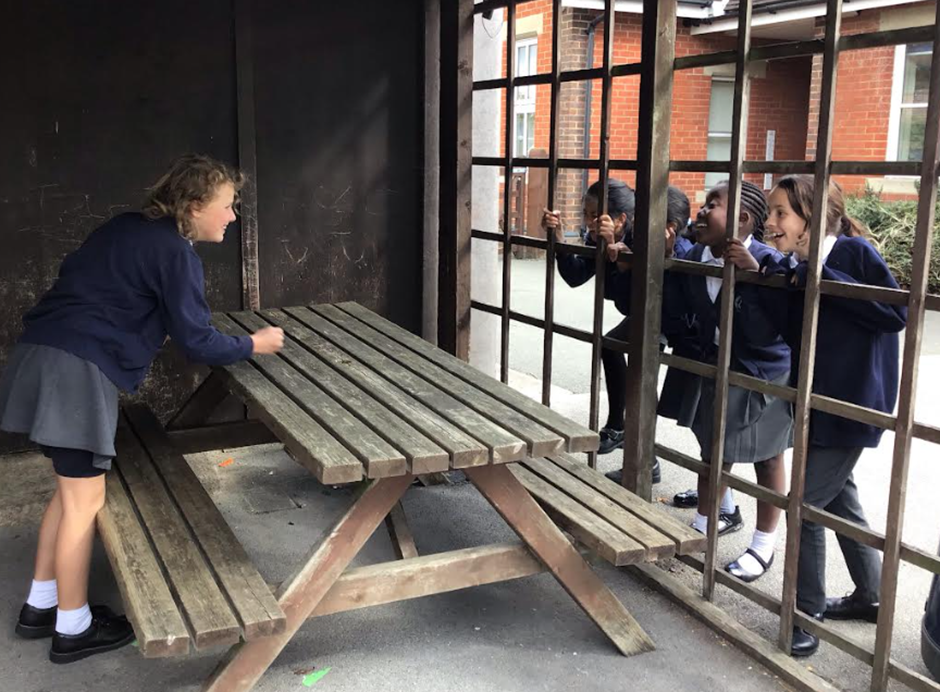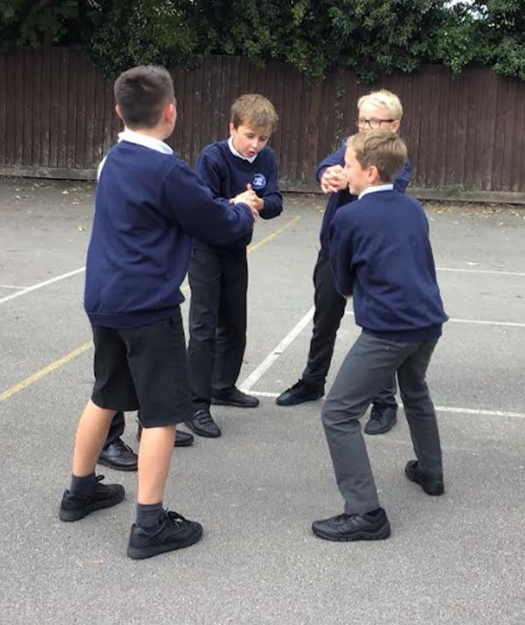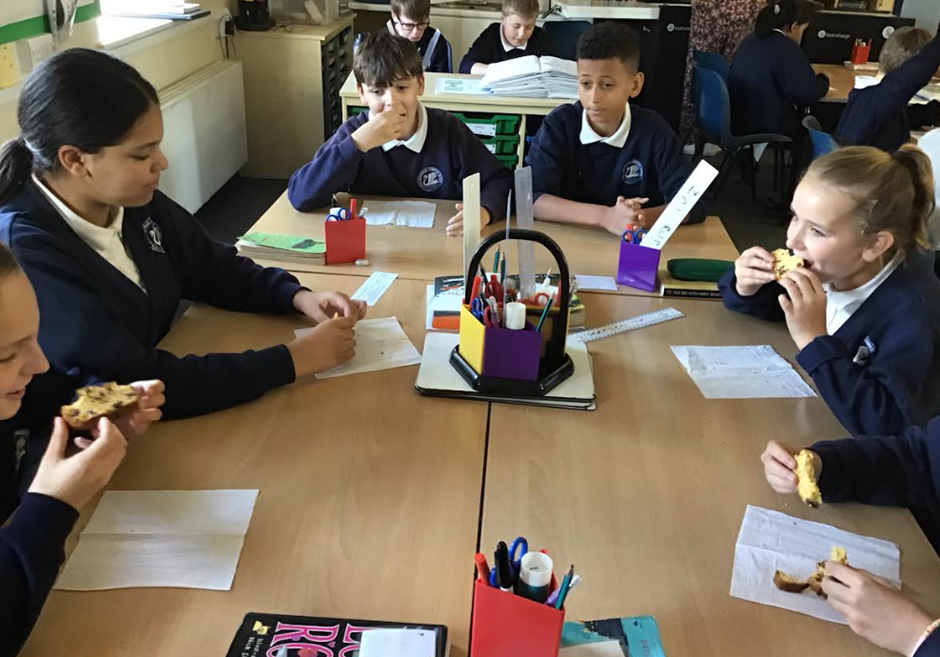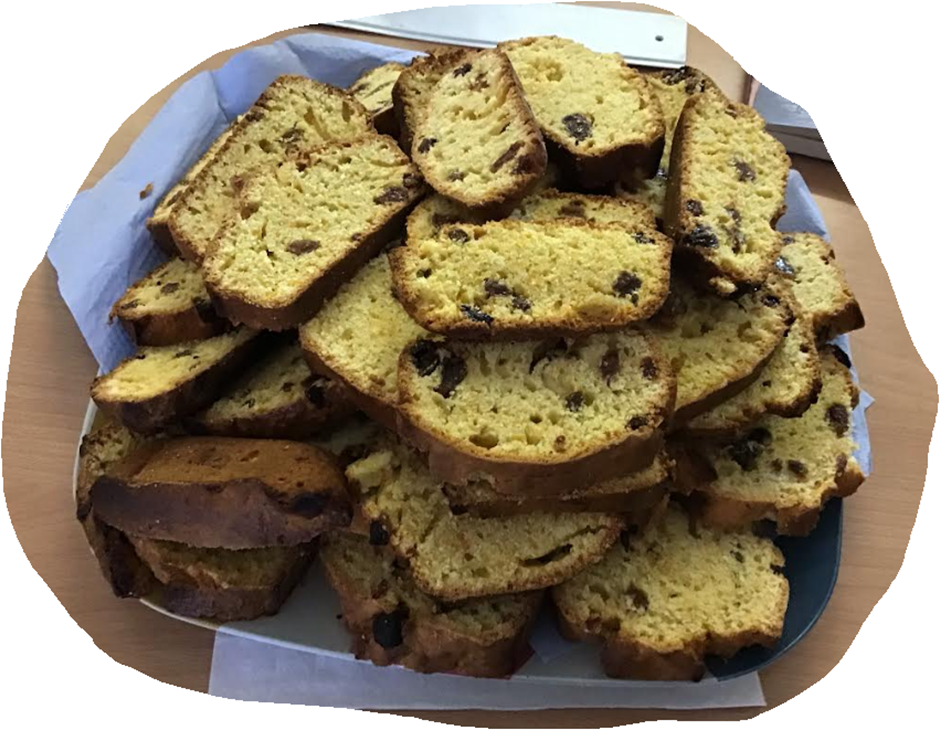 Friday 23rd September 2022
This week, year 6 have had their first class trip in a number of years thanks to COVID and we were all very excited to be going on a coach to Hazard Alley in Milton Keynes. We experienced a number of situations where we had to answer questions and make decisions about how to keep ourselves and others safe. These included railway lines, water safety, online safety and safety in the home. We all made 999 calls and we had to remember the information we needed to tell the operator as well as the instructions to take back to the group. When we got back to school, we discussed how we should only make 999 calls in an emergency.
This week, we have also had elections in school for the house captains and Head Boy and Head Girl. The children had written fantastic letters of application and they read these out to their house and to their class. They should all be very proud of themselves.
Lots of the children had watched part of the Queen's funeral on Monday and we had a good discussion about this. The adults were amazed at how much the children had noticed.
In our learning, we have continued with large numbers in maths including rounding these. We have also looked at negative numbers. In English, we have written letters in the role of different characters and we have edited and improved our own work, ready for a display. In RE, we discussed how Muslims show commitment to God through prayer and in History, we have explored reasons why WWII started.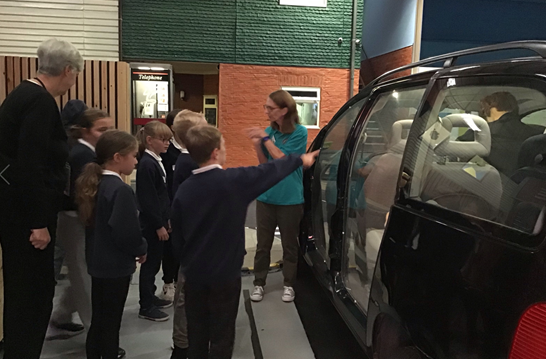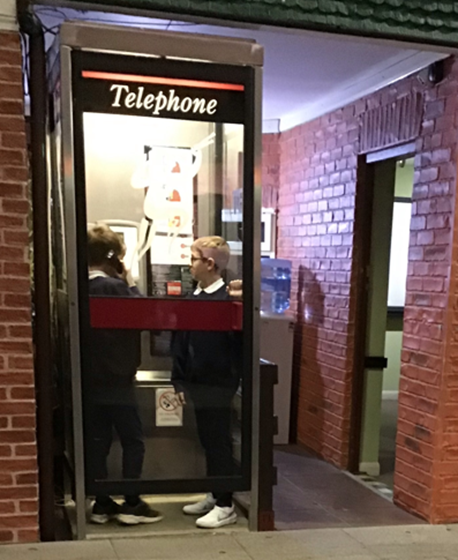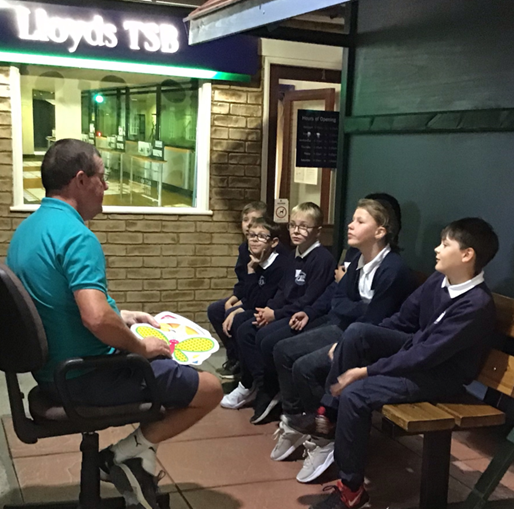 Friday 16th September 2023
We have had a very busy start to Year 6.
Last week, we enjoyed starting our new topics, especially World War II and we are thoroughly enjoying reading Goodnight Mr Tom by Michelle Magorian. We have already written letters as one of the characters from the book and we have discussed what it may have been like to be an evacuee. We have also started our Science topic, light and we enjoyed looking up the meanings of some of the new vocabulary using the ipads. In maths, we have been exploring place value and ordering numbers up to 10 000 000.
This week, we have completed the 11+ and we have also met our buddies. We enjoyed spending some time with them on Thursday afternoon, as the photos below show. Mrs Stewart spoke to us about applications for Head Boy and Head Girl and also for House Captains so some of us have letters to write over the weekend....