The Swans win the League!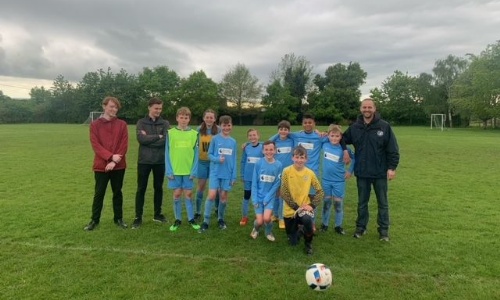 Read on for our final match rundown from our Football Manager, Mr Lack
With a consistent theme of fantastic gameplay from all our team throughout the season, the Swans went into Wednesday's match confident we could hold off the attacking team. Halton gave us the challenge we've been waiting for and matched our skill and heart. Play was constantly cancelled out in midfield with almost every attack for the first 10 minutes of the game until Halton scored a very sneaky goal putting us one behind. The Swans showed no sign of slowing or getting disheartened and had equalised within 5 mins, taking us into half time at 1-1.
With some strong encouragement from the supporters and Mrs Stewart, the Swans came out fighting and quickly showed dominance on the field, making it 2-1 straight out of the gate. Halton answered within 5 mins making it 2-2. Knowing what was at stake, the Swans went on the offensive and with great communication and team play they took the lead only for it to be disallowed as a true Maradona moment! Undeterred and aware of the clock a beautiful long ball and wing play netted them the winner, ending the game 3-2 and securing Stoke Mandeville Combined as the 2022 League Champions.
Played 4
Won 4
From the coaches and managers, we would just like to express how proud we all are of every single player. From those that said they couldn't play very well (then being a defender that all strikers feared!) to those that shared their skill and encouragement to everyone of their team mates, we thank you all for your dedication and heart.
Overall Match Summary
Played 7
Won 6
Lost 1