What are we Learning?
Friday 17th June 2022
This week we have enjoyed the sunshine with cricket matches and treasure hunts outside.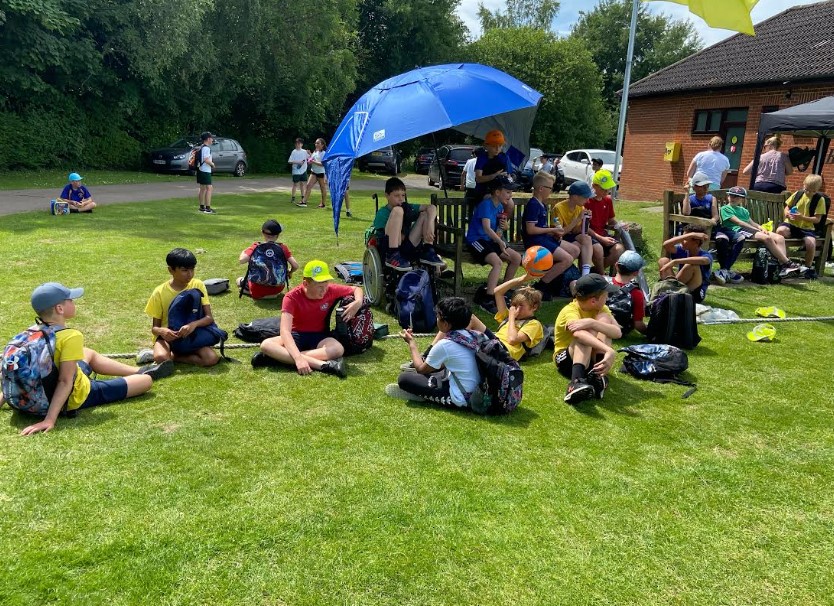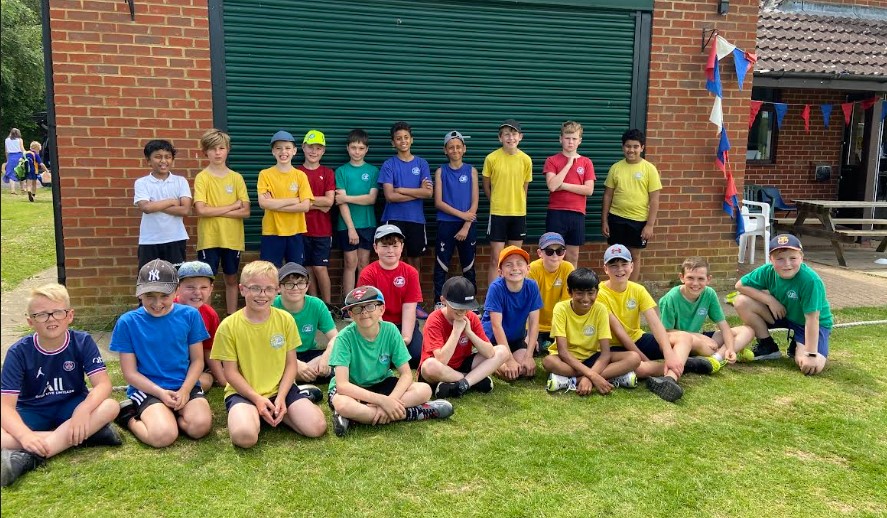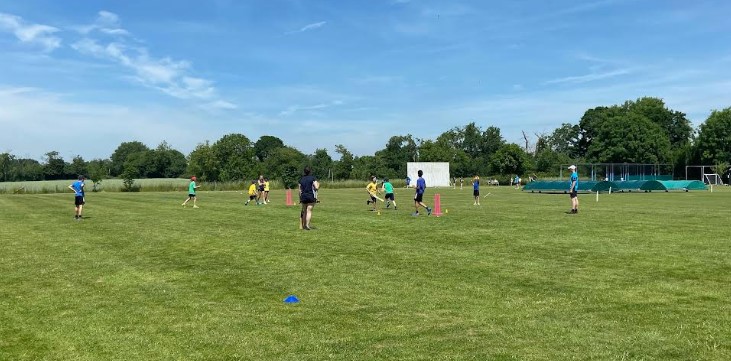 We have also started the end of year production in earnest with the songs and acting. Some of us have already learnt all our lines too.
In English, we have continued with the stories of Shaun Tan and have planned our own stories in his style, using some of the strange elements he includes.
In Maths, we have been measuring and drawing angles, perfecting the use of a protractor which some of us have found tricky.
We have had the opportunity to research and present information on a choice of topics and it has been good to see how everyone has the opportunity to show their individuality and interests through this.
Friday 10th June 2022
We have come back refreshed from half-term and the Jubilee celebrations.
For the final half-term, in English, we are studying Tales from Suburbia by Shaun Tan. We have been exploring the plots and the characters this week and identifying how Tan uses strange elements in his stories. We have also written suspense stories, including questions, short sentences and powerful vocabulary.
In maths, we have been calculating with ratio and proportion. Our times tables and knowledge of fractions has helped us enormously with this.
As we prepare for our summer production, we are halfway through learning the songs, and the words for these can now be found on Google Classroom.
Friday 27th May 2022
This week we have completed our lessons on sex and relationships. The adults have been very impressed with the level of contributions from the children and also the maturity with which they have approached these sessions even though some of us have found them a bit embarrassing.
At the end of the week, we have enjoyed celebrating the Jubilee and dressing up in red, white and blue on Friday. We have completed portraits of the queen from the 1950s.
We have also researched what happened during the 1950s and completed some written work based on this. Some of us looked at scientific and cultural developments such as the availability of colour televisions, the birth of NASA and of course the coronation of Queen Elizabeth II. Elvis Presley also appeared on television in 1956.
We are all ready for a half-term holiday (especially those of us who went to the River Dart last week!) and hope that everyone has a good rest.
Friday 20th May
The majority of our Year 6 class have been on their residential trip to the River Dart this week, updates which can be viewed at the following link: River Dart - Daily Updates.
For the children who remained behind, they have taken part in some fun activities at school doing cooking with Mrs Noordin, enjoying a walk to the park and having ice cream at the local shop with Mrs Tattersall.
Friday 13th May
Year 6 have worked extremely hard during their SATs tests this week and they can all be very proud of themselves.
This week, they have also completed some art work using paint, based on flowering plants.
On Thursday, we had a presentation from a visitor from The MK Safety Centre (Hazard Alley) We learnt about general safety and how to keep ourselves safe online.
On Friday, we enjoyed learning more about what it is like to be deaf, taking part in a number of activities for our Deaf Awareness Day. Some of us were particularly good at signing to the song we have rehearsed as a whole school.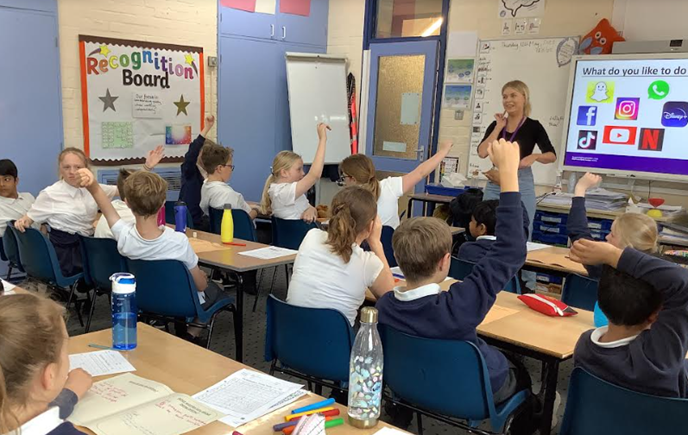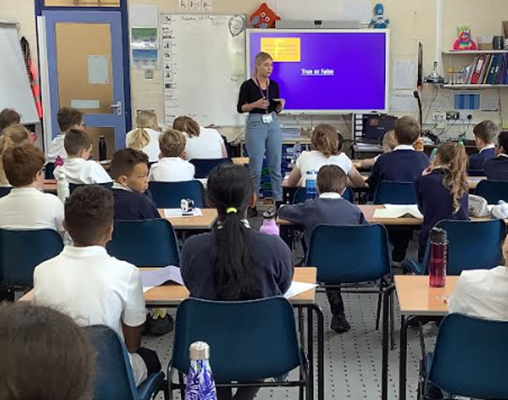 Friday 6th May 2022
This week, we have been working hard in the lead up to our SATs tests next week. We have been continuing revising our arithmetic and the grammar terms in addition to reading comprehension exercises.
In English, we have continued to study Macbeth and we have written newspaper reports about some of the events in the play.
On Thursday, we were very fortunate to be able to watch a science show from Science Oxford. We saw how a nappy absorbs water and the presenter performed lots of 'tricks' that were actually science!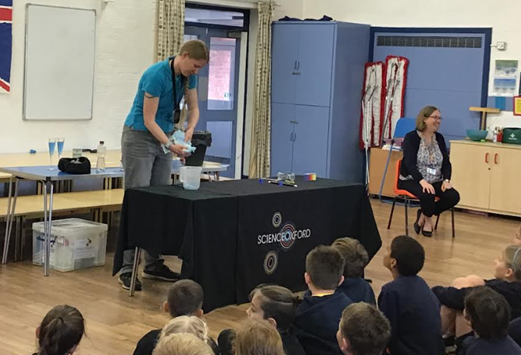 Friday 29th April 2022
With the start of a new term, we are working hard in the run up to our SATs tests, revising the main points which wil help us.
We have also started reading Shakespeare's Macbeth (The Scottish Play) and have identified the main characters. We are explaining the story and looking at some of the language used by William Shakespeare.
In maths, we have completed a test to help us with test technique and we are also revising the 4 operations.
In computing, we are finalising the presentations that we have been filming over the last half-term and are editing them so that they 'flow'.
During our sessions with the sports coaches, we have started athletics now it is the summer and over this half-term we will be practising various running, jumping and throwing skills.
In RE, we discussed some moral questions such as 'Is it OK for a stranger to grab a child?' and 'Is it OK for a stranger to grab a child if it was to pull them back from running into a busy road?' We had some interesting discussions about questions such as these.
Friday 8th April 2022
This week, we have finally finished reading Holes and upon finishing the final chapter, there was a spontaneous round of applause from the class as we all enjoyed it so much. We have been watching parts of the film this week and writing comparisons between the book and the film. There are many similarities but also a number of differences.
During art, we have been completing paper mache masks, based on the faces we drew last week. It got rather messy but we persevered.
In maths this week, we have been learning algebra and many of us have realised it is not as scary as we first thought. We have been finding missing numbers and solving simple equations.
In PE, we continued with orienteering skills, and we also played dodgeball, practising working as a team and using tactics.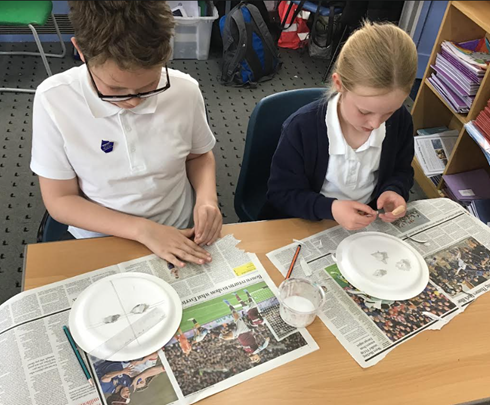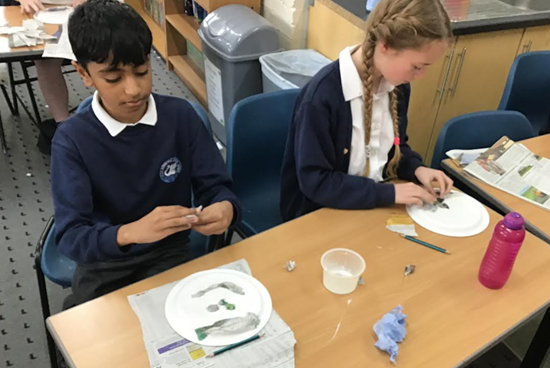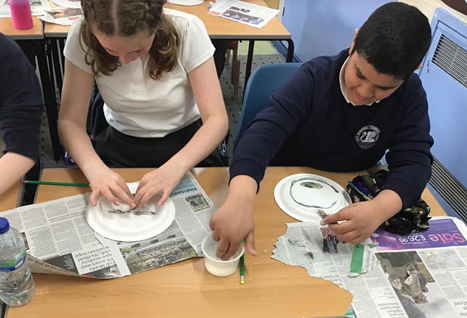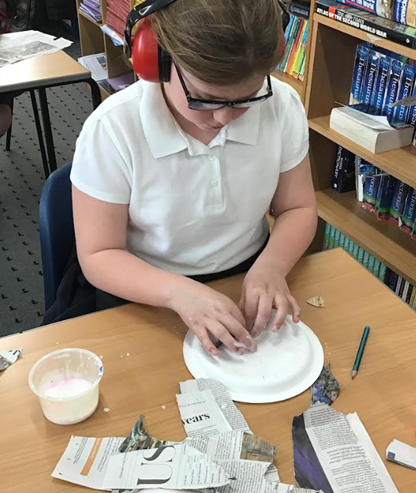 Friday 1st April 2022
We have had an exciting week this week with the arrival of the chicks, snow and tests!
This week, we have completed tests in reading, grammar and maths, to show what we have learnt. We have also completed a writing assessment based on a picture stimulus. In English, we have also continued revising grammar and completing reading comprehensions in preparation for SATs in May.
This week in art, we have completed portraits, perfecting our skills of proportion on faces (see photos below)
We have continued our discussions regarding trade and why it can still be cheaper to transport goods from China rather than closer to home.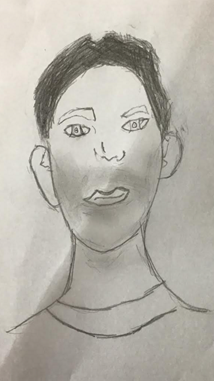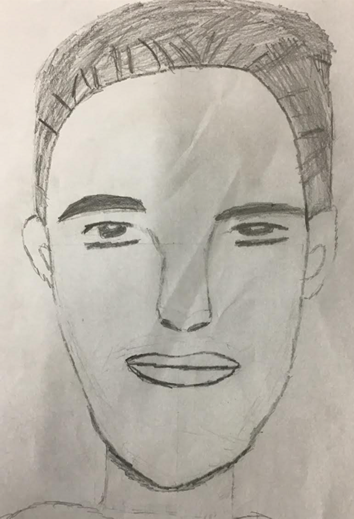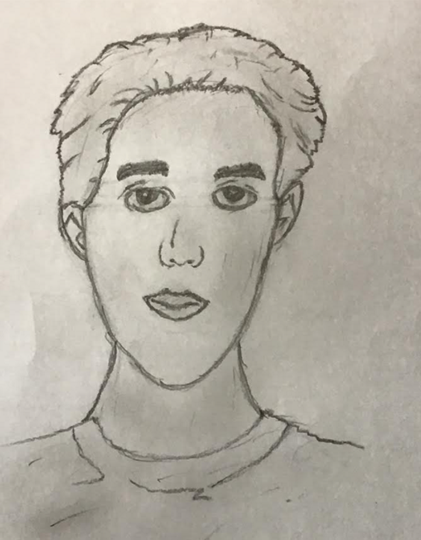 Friday 25th March 2022
This week has been a week of activities, including many sporting successes in netball, football and swimming. During our PE lessons, we also took part in some orienteering activities which you can see in the photo below. Some of us also had our photo taken with this year's Commonwealth Games mascot, Perry the cow. Perry is travelling around different schools and this week he visited Stoke Mandeville!
In English we have been writing the 'missing' chapter of Holes, trying to copy the style of writing used by Louis Sachar. He uses quite short sentences and leaves the reader to make inferences about the characters.
We have been perfecting the skill of using a protractor in maths, something which is easier for some of us than others! We have also been learning about the properties of circles and how to calculate different angles.
In Art we have been looking at graffiti styles and the use of colour.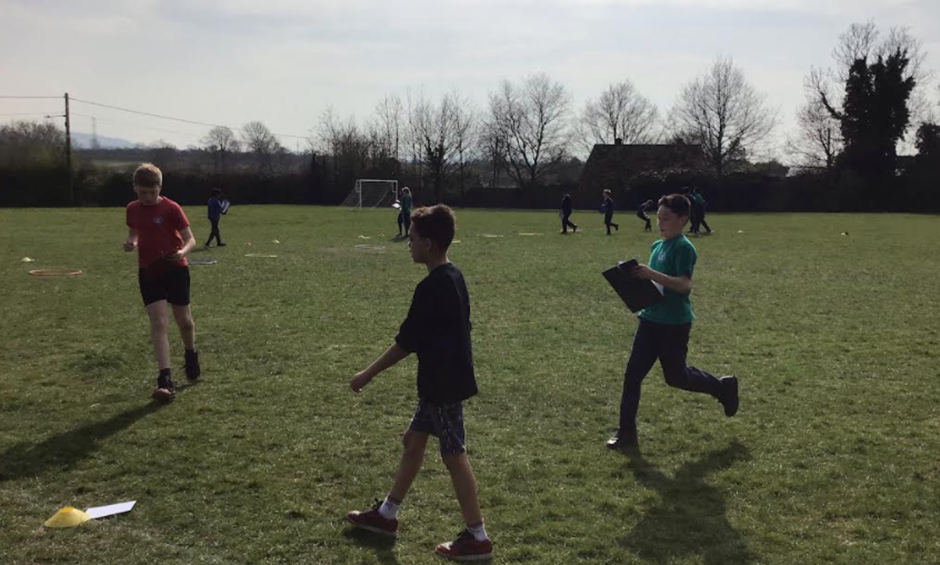 Friday 11th March 2022
We thoroughly enjoyed going into the planetarium which visited school on Tuesday. We could see the night sky, the solar system and we learnt more facts about the different planets.
During English, we have been debating whether Camp Green Lake is a good place to rehabilitate youngsters. We have discussed arguments for and against and talked about the vocabulary we can use to write an argument.
In maths, we have been continuing with our shape work and calculating volumes of cuboids.
During our topic lessons, we have looked at exports and imports, discussing trade between different countries.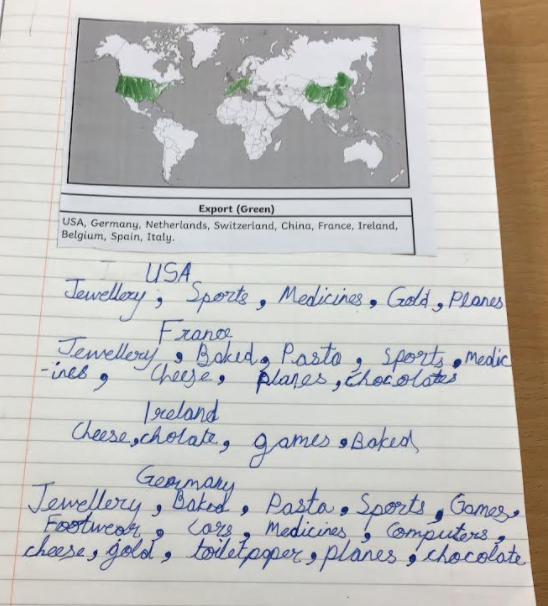 Friday 4th March 2022
This week, we really enjoyed World Book Day, where we studied a true survival story about a man who escaped from a sinking submarine. We wrote accounts of his story and designed our own submarines. See the main school web page for further photos. We have also been continuing our reading of Holes and we are now starting to find out how the story from the past has links with the present day.
In maths this week, we have been calculating the area of different triangles using the rule: half the base x height.
As part of our skills for life work, we have been designing posters to support anti-racism.
Some of the class travelled to the John Colet this week to take part in a dodgeball festival. The staff who went with them were extremely impressed with their behaviour and especially their ability to decide for themselves which members of the squad would play each game. The adults were hardly needed! The squad won all their matches except one so all in all, an excellent afternoon's performance.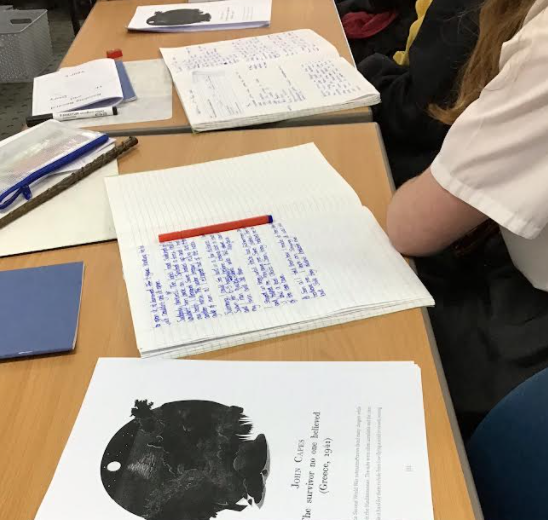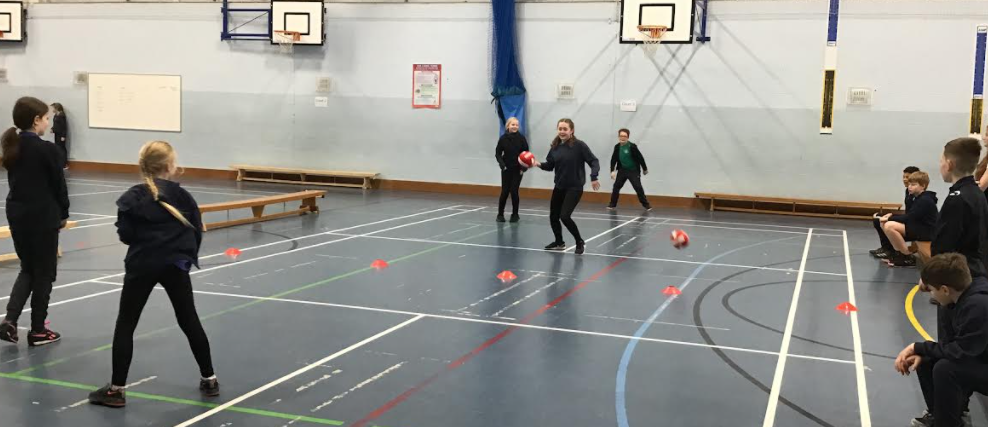 Friday 18th February 2022
This week we have had a couple of exciting events! On Wednesday, we had a day of lessons based on the dance music from west Side Story. We created art work and stop-motion films using ideas and images from the musical.
On Thursday, we took part in a skipping workshop and had a go at individual skipping as well as skipping with a large rope, held by 2 people. We learnt that skipping is a great form of exercise and is also very tiring.
During our English lessons, we have chosen tasks to complete which are based on our novel Holes. We have written diary entries, letters and written crosswords to complete.
We have worked hard on our mock SATs tests, and we are going to be addressing the questions that gave us difficulty over the next half term.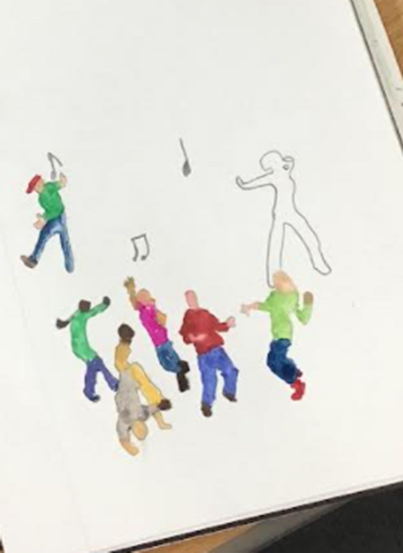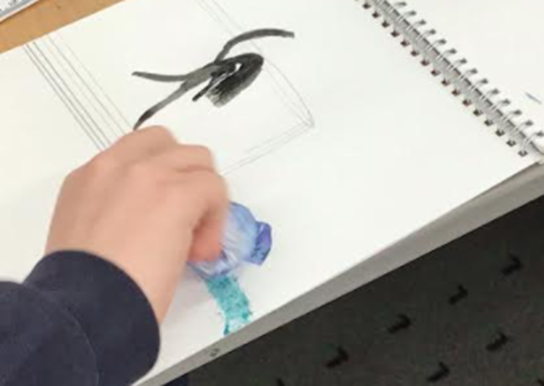 11th February
We have been continuing with our filming projects in computing and we are looking forward to sharing these with each other. One group even filmed Popper, the reading dog, this week!
We have been sitting some old SATs tests to help us get ready for the tests in May and so that we can see what we need more help with in the coming weeks. The children have been very sensible during these and worked hard.
In Art we have painted our Modroc sculptures and we have created some model Eden projects as part of our Science work.
This week has been our Mental Health Week and we have discussed emotions such as fear, embarrassment and anger. We have thought about ways we deal with these emotions and how we have grown over the years; many of us are no longer scared of the same things we were scared of when we were younger.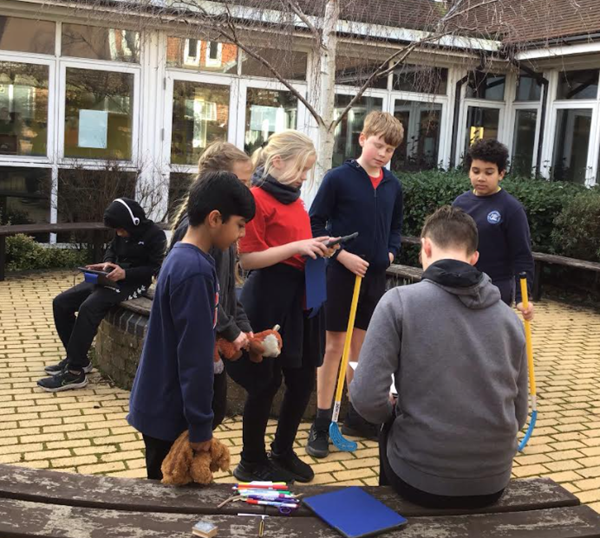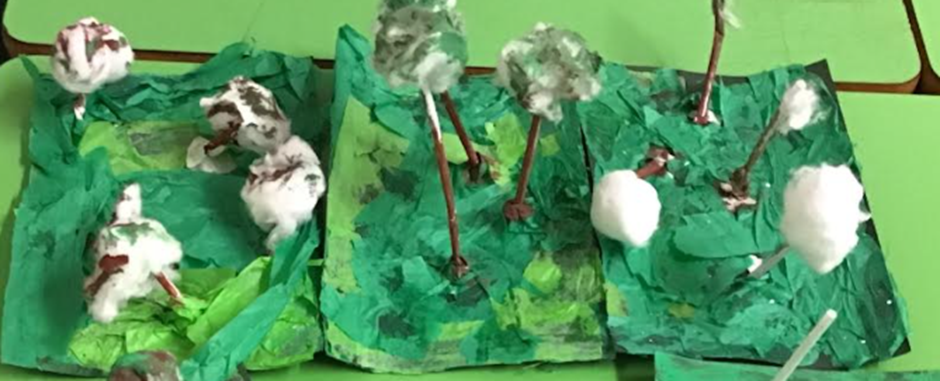 4th February
This week, we have been continuing to study Holes and we have been using speech to show what the characters are like. We have learnt that the formidable Warden is actually a woman which surprised us. She is a very strong and scary character!
In Science, we looked at the 'biomes in a bag' we set up a few weeks ago and were amazed to see how much the grass had grown. We are continuing to study different biomes from around the world.
In French, we learnt about different types of transport including van (camion) and aeroplane (avion).
The modroc sculptures are coming along well, and we are looking forward to painting them next week.
28th January
In school, we have been continuing our learning with writing based on Holes by Louis Sachar and we have also been continuing our work no percentages in maths.
During music we have refined our Garage Band pieces and added chord progressions, using keys which we like the sound of, starting and finishing with C.
Our topic lessons have continued with the study of different biomes and we have created a 'biome in a bag' to see how grass seeds will grow using condensation. Some have now germinated which is very exciting!
In art, we have started out sculptures using wire and modroc. Although it was messy, we have had a great time and are looking forward to finishing them and painting them next week.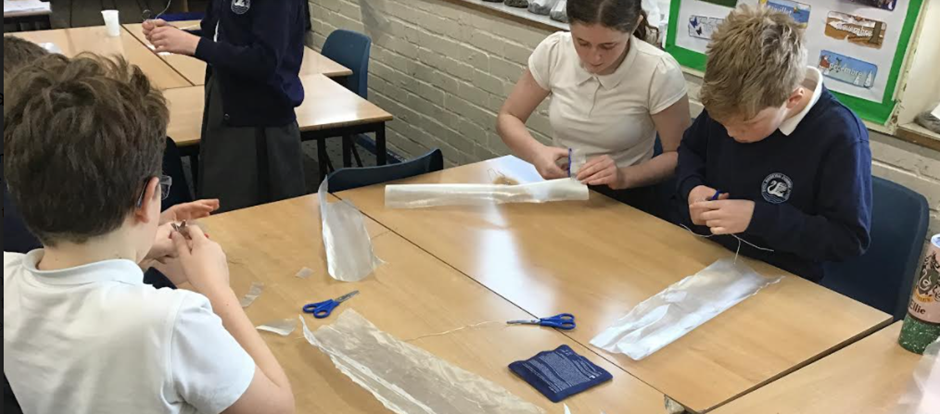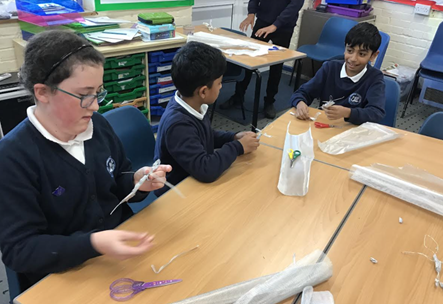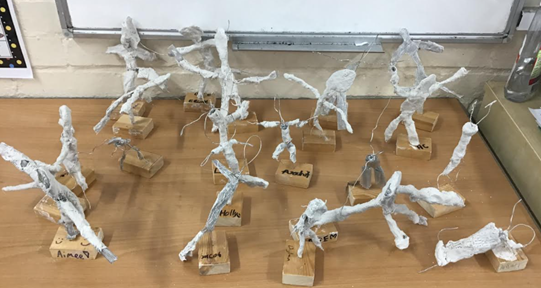 21st January
This week, we have started to read the novel Holes by Louis Sachar. We have discussed the nicknames of the boys at Camp Green Lake and what conditions there are like for them. Hopefully Stanley will make some good friends and manage to avoid the yellow-spotted lizards!
We have continued with our filming in computing and some of us interviewed Mrs Stewart about her dog. Some children are using the skills they have picked up in music, using Garage Band to make background music for their film.
During French, we recalled the vocabulary associated with the story, 'L'anniversaire de la tortue' which we read earlier in the term. We discussed the different forms of the verb 'aller' which means 'to go'.
We enjoyed breaking the rules on Friday!
This is our Highwayman display which is outside Mrs Stewart's office.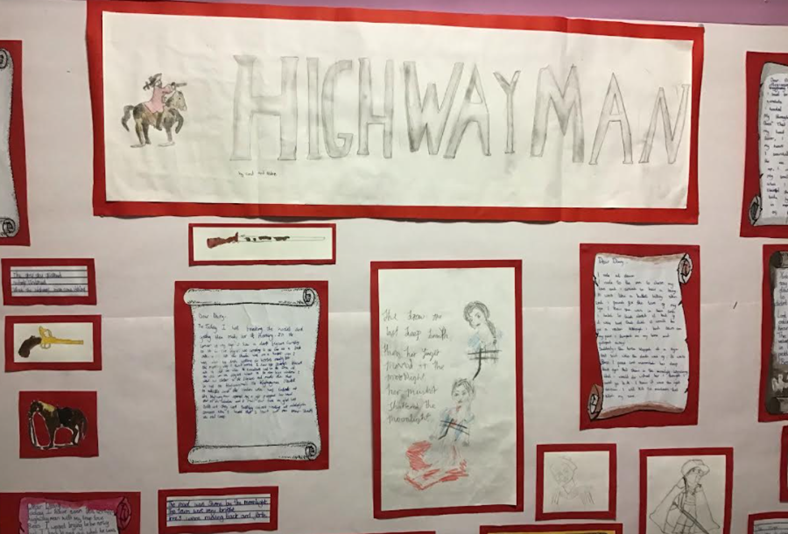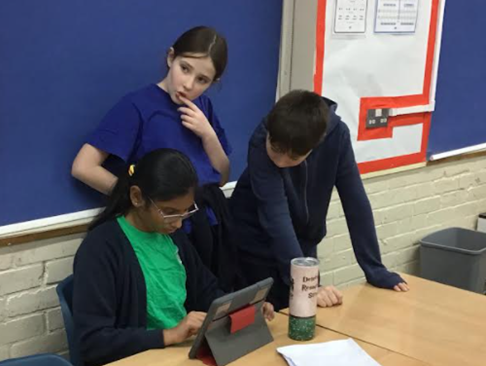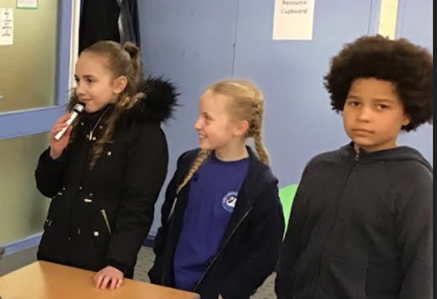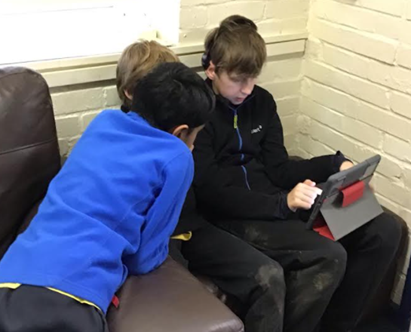 14th January
In RE this week, we considered the question: 'Is anything eternal?' The children had the most amazing ideas and the discussions we had included items such as 'friendship, truth, love, God, the oceans, numbers'. All of these suggestions were from the children themselves.
During English, we continued our study of The Highwayman and we have written accounts for the display outside Mrs Stewart's office. Abbie and Coral also designed the heading for the display.
In PE, we continued our tag rugby skills and mini games. In addition to this, Mr Cole showed us some badminton skills and we practised hitting the shuttlecock over the net to score points in different target areas.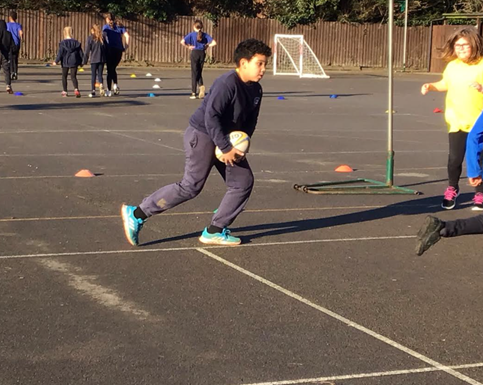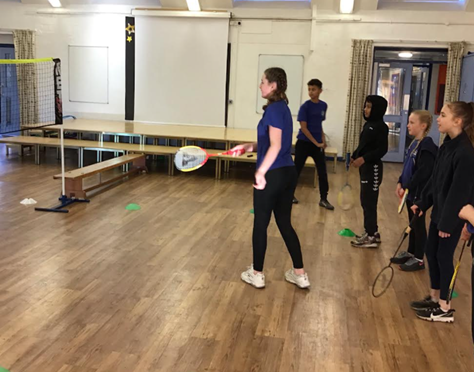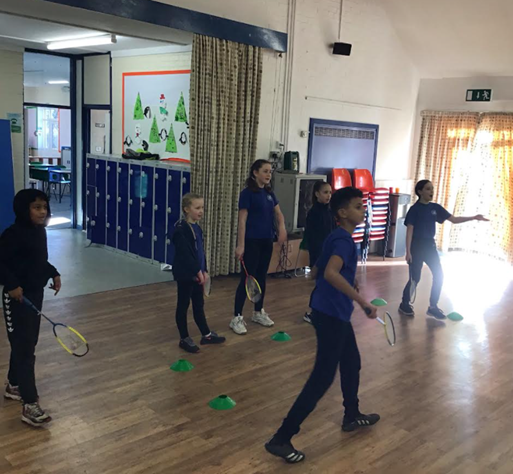 7th January
Happy New Year!
This week we have started our topic of Biomes and we have been researching a biome using the ipads.
We have also started reading The Highwayman, a narrative poem by Alfred Noyes.
In computing we have started planning a short film which we ae going to produce in groups. Hollywood watch out!
10th December
During RE this week, we have thought about what Christmas means to Christians and how traditions followed help Christians to celebrate what it means to them. We considered whether it is acceptable to celebrate Christmas even if you are not a Christian and the overwhelming majority of us agreed it was, as it is a time to share with families and friends. We created artwork (some of which was quite abstract) which combined the thoughts of God as a heavenly being and Jesus as a human representation.
In English, we have used lots of figurative language to describe a Christmas scene. We have used pathetic fallacy, metaphors and the power of three. We discussed how to avoid using similes which are cliches.
Our maths work has continued on the theme of fractions and decimals which is an important part of the year 6 curriculum. We have used division to find decimal equivalents to some fractions.
In DT, we have been constructing boxes (for a gas mask). Many of us found this challenging: measuring, cutting accurately and sticking. Some children showed real resilience during this process and should be very proud of themselves.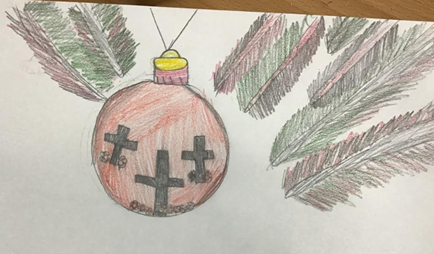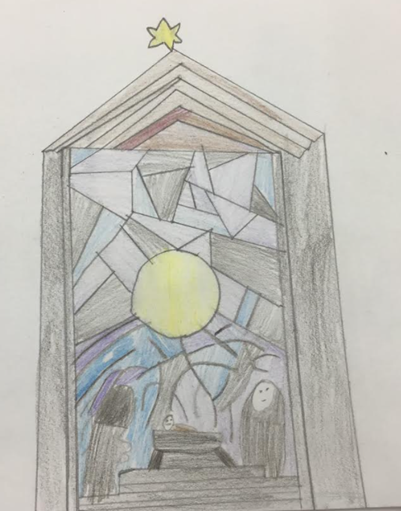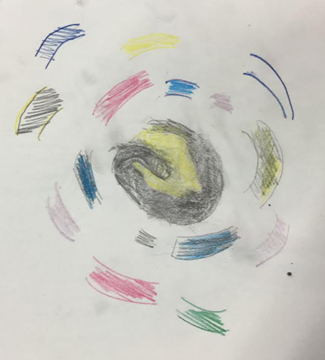 3rd December
It has been an exciting week with the start of December and all it has brought: advent calendars, chocolate, Christingle and making decorations for the Christmas Fair.
We have based our English work this week on an advert from a few years ago: The Christmas Truce which was shown by a well-known supermarket. We have written diaries and letters in character using empathy and a variety of sentence structures.
We have used fractions to multiply and divide this week, some of us actually finding it a bit easier than adding and subtracting. Our times tables knowledge has come in very useful.
The children were well-behaved walking to the church for the Christingle service and we were very proud of Cameron and Joshua who read the Bible passages so beautifully. Those children in the signed singing choir were also great role models.
26th November
We have welcomed Mr Davey into our class this week. Mrs Tong and Mr Davey are working together to plan and teach our lessons.
We have completed our termly tests on grammar, reading and maths. The teachers have been impressed with how we have approached these.
In English, we have been reading the story of Rose Blanche and using our knowledge of WWII to predict what may happen next. We have also written accounts and revised the use of inverted commas for speech.
In maths, some of us have been practising ur measuring skills and linking units of measure. Others have continued with fraction calculations including problem solving.
Using the ipads, we have created formulae on sheets so that we can calculate costs and distances more easily.
On Friday afternoon, we all went outside briefly during the exciting hail stone storm! (see photos below)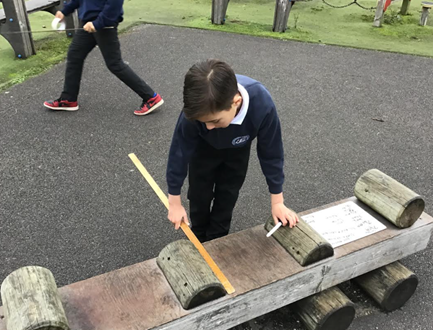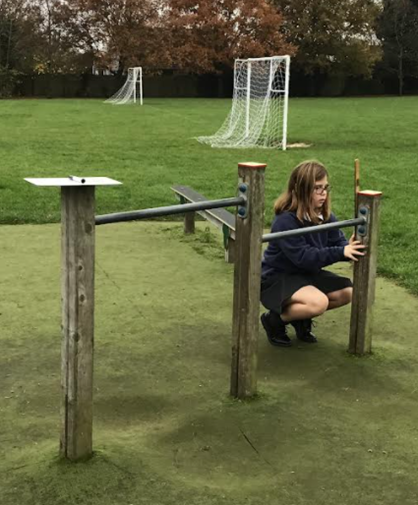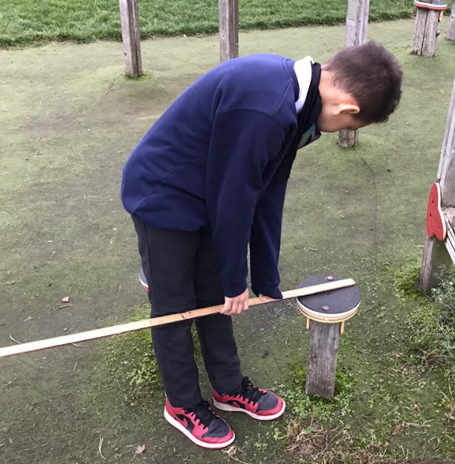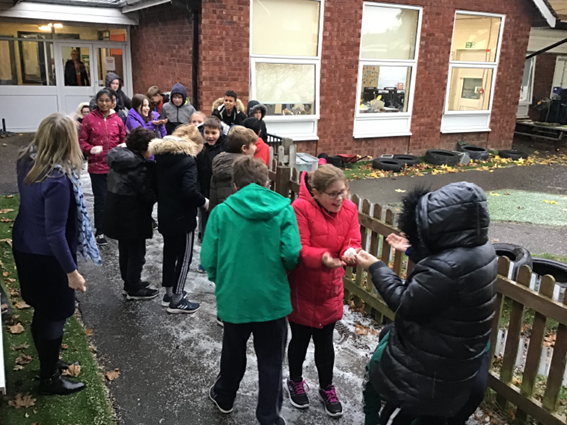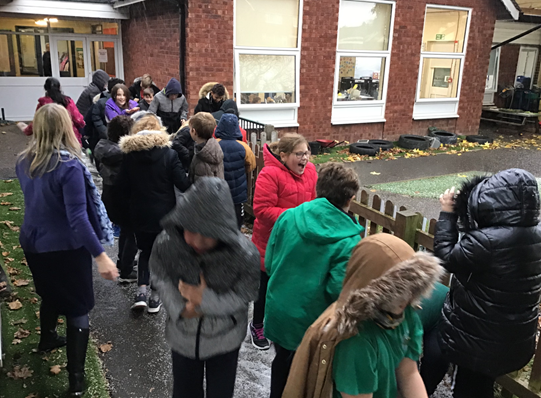 19th November
This week, we have been thinking about hurtful behaviour and bullying along with the rest of the school. We have taken part in role plays and discussed the impact of the Internet.
In maths, we have continued with fractions, adding and subtracting fractions and fixed numbers. We have also solved puzzles and problems relating to this. Most of us show our working clearly too which makes Mrs Tong happy!
In History, we continued with our code breaking skills, just like the clever people at 'Station X' (Bletchley Park) during the war. We have learnt how to use the Pig Pen Code this week.
In groups, we have planned our stalls for the Pudsey Fair in aid of Children in Need. We have enjoyed doing this and planning the games and prizes too. Mrs Tong even had a giant teddy bear sitting in her chair for most of Thursday.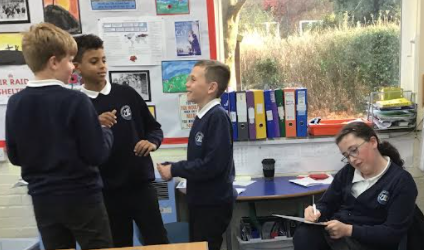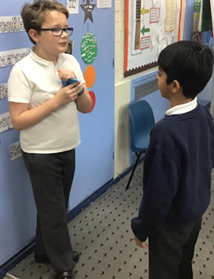 12th November
The children were incredibly respectful during our remembrance work and made thoughtful and empathetic comments when we discussed 'In Flanders Fields'. One comment included 'This touching poem encourages people to think deeply about their actions and to maintain respect and reflection throughout their lives'. This is something we should all strive for.
This week, we have been showing our competitive side when taking part in the Times Table Rock stars competition. At the time of writing, year 6 were proudly at the top of SMCS's results table (as they should be as they are the oldest!). Well done to all the children for their efforts. W took part in lots of practical activities as part of Maths week (see the photos)
In computing, we enjoyed creating spreadsheets about visitor attractions such as Legoland and Alton Towers. During PE, we have measured how far we can hit a plastic ball with a cricket bat so we can send out results to the Mandeville School to be entered into their competition. Fingers crossed.....!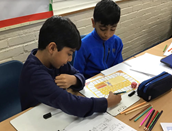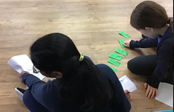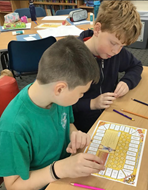 5th November
After a relaxing half term, we have got back into our learning very quickly. We have also said goodbye to one of our class and welcomed someone new.
On Thursday we spent most of the afternoon outside, playing basket ball and also carrying out a listening walk around the school for our 'Take learning outside' activity. Apart from children's voices, we heard lots of sounds created by nature. We really enjoyed being silent and drawing what we could hear.
In English, we have based our learning on Black History week, learning about the influence of Harriet Tubman in tackling slavery. We have also learnt about a modern inspirational Nigerian, Ade Adepitan, who has played basket ball for Great Britain and also written children's books in addition to presenting on television.
Our maths work has focussed on fractions and finding equivalent fractions. We have played some interactive games too using this skill.
22nd October
This week, we have written and performed play scripts based on our novel. There have been some very convincing performances! We also created calligrams in English, depicting the characters using words (see the attached photos).
In science, we looked at how water ca change the way we see things. The straws we put in the water appeared to bend and when we placed arrows behind the glass of water, that appeared to change direction! We experimented with lots of different images.
In art made clay 'medals' which we had designed based on those awarded during World War II. We were able to use different tools to create different effects.
We really enjoyed showing our parents our work on Tuesday after school and Wednesday morning before school.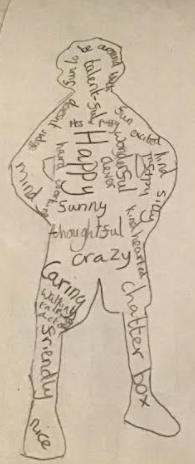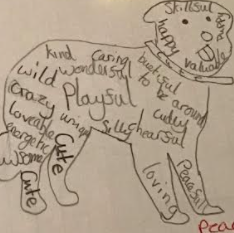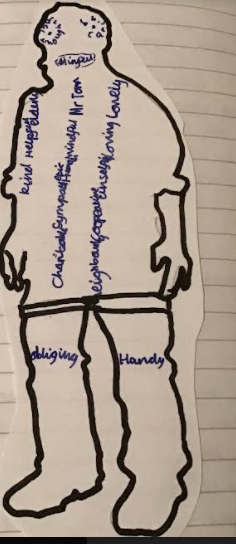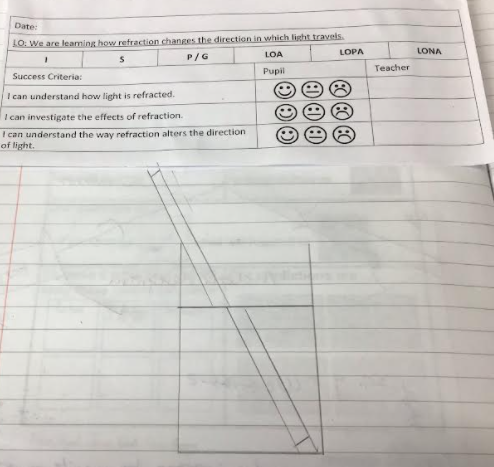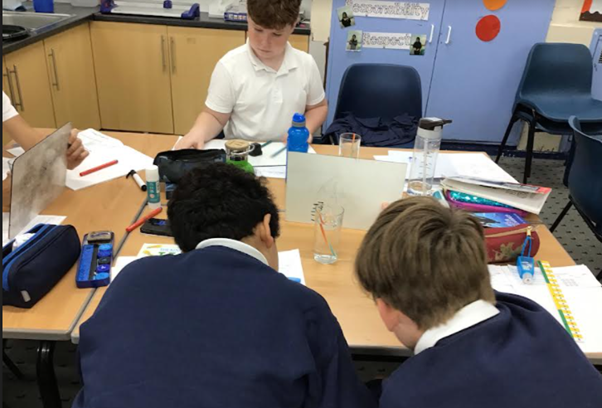 15th October
Year 6 have continued their work on Goodnight Mr Tom this week. We have looked at the relationships between the characters and completed diagrams to show these. We have also Looked at evidence to show how Willie's mother was unkind and how Mr Tom was the complete opposite. We have enjoyed watching extracts from the film too.
The homework which has been set over several weeks to build an Anderson shelter has already started to be posted and so far we have seen some great examples made of cake, lego and playdough.
During maths, we have applied our times tables knowledge to investigations into factors, multiples and prime numbers.
In science, we continued our work on light and we managed to write our names in mirror writing. We also took our mirrors around the school to practise placing them so we could see round corners!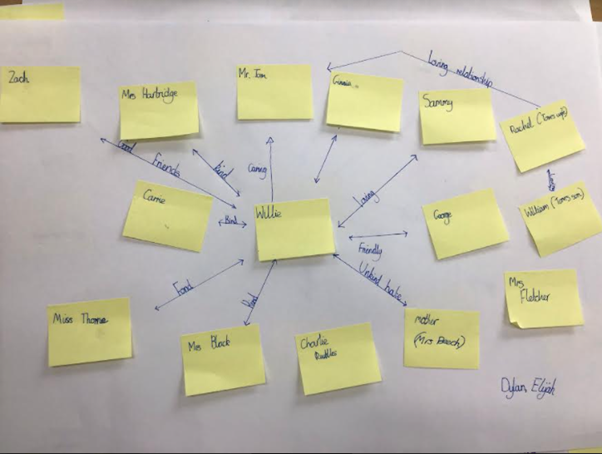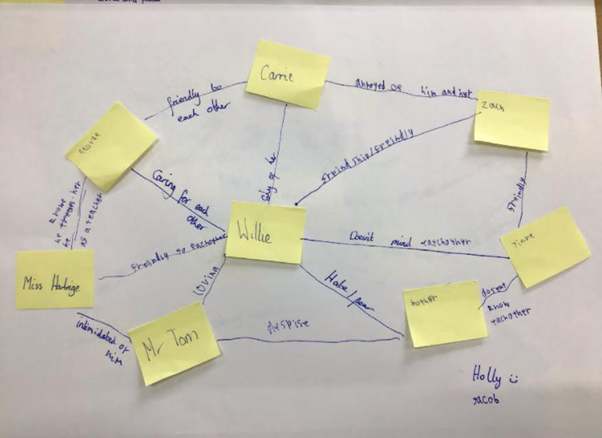 8th October
In Science this week, we used coloured cellophane to investigate light when it is shone through them. The teachers kindly ate a box of well-known chocolates so that we could carry out our tests. We also created shadow pictures using our hands and a selection of items collected from the school field.
In English, we continued reading our novel and also started to watch some of the film so we could compare events. The teachers were amazed at how observant everyone was! We also completed a piece of extended writing, imagining that the two main characters were caught in a raid and had to take cover in the Anderson shelter. We are going to edit these next week.
During Skills for life, we have found out about the work of different humanitarian charities who work to ensure basic human rights such as shelter and food are met around the world.
Maths this week has been more division and multiplication and the use of factors to divide by trickier numbers.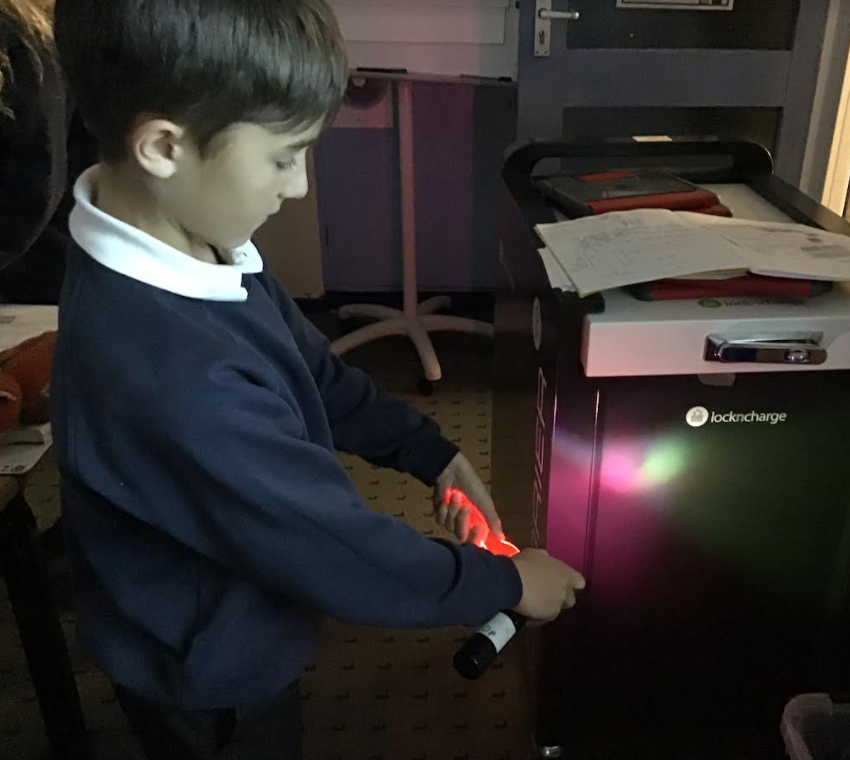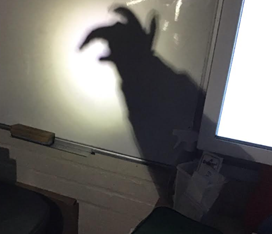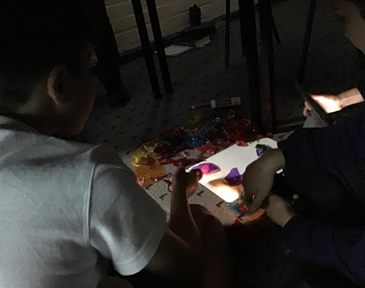 1st October 2021
We have enjoyed writing diaries in character this week, showing how a character can change over time. We have also started to use the language that different characters use. It has been great to visit the library and many of us have borrowed fiction and non-fiction books to read for pleasure.
During art, we have experimented with shading and we have used paints to depict poppies and field scenes.
After a mastering long multiplication, we have moved onto division this week and our times tables knowledge has proved important for this too. We have learnt to express remainders in different forms and also to interpret them correctly in problem-solving situations.
In French, we have been learning how to describe different school subjects and how to pronounce them correctly.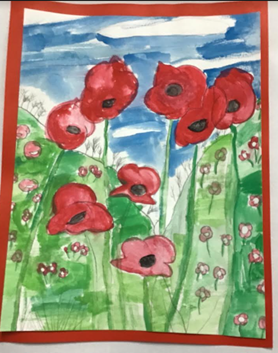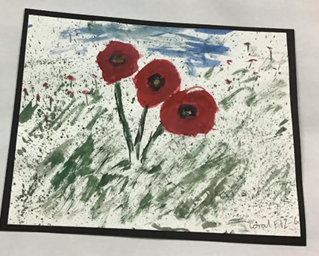 24th September 2021
This week, we have been experimenting with light and proving it travels in straight lines (see our photos).
We have also continued to read Goodnight Mr Tom and we have met a new character, Zach, who seems like an interesting chap! Our character descriptions have included metaphors and sentences which 'show, not tell'.
The children have worked extremely hard on mastering long multiplication and everyone feels much more confident with this now. It has been a week of hard work but with excellent results.
We enjoyed Spanish dancing this week and even the adults had a go.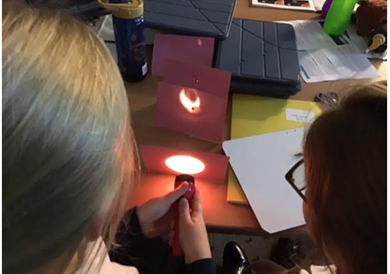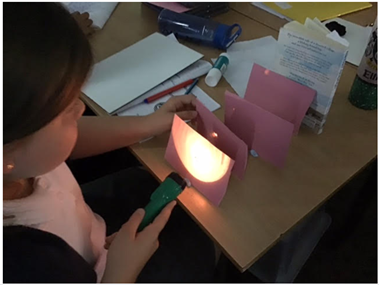 17th September 2021
This week, we have been working hard and getting into character during our study of Goodnight Mr Tom. We have written letters from different characters. We have also started to explore some of the language used during the time the novel was set and considered how language is continually changing. Mrs Tong has learned what some of the modern 'text speak' language means!
In maths, we have calculated using negative numbers and we have realised that we need to know our times tables in order to continue with long multiplication next week. In science we started our topic on light and looked at how our pupils change size when we go from the dark to the light.
We were fortunate to be able to enjoy some tennis coaching in addition to our usual Games lessons (see the photos below).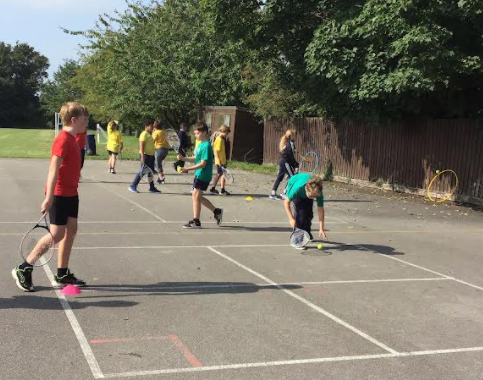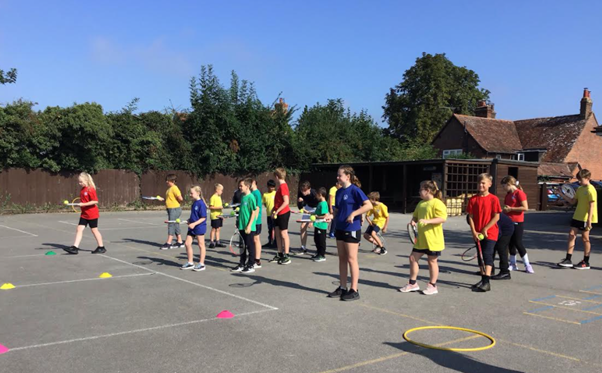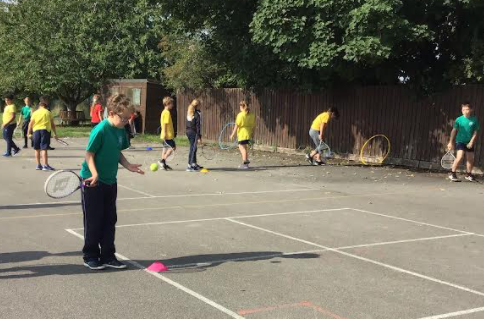 10th September 2021
Welcome to a new academic year! This is the final year of primary school and there are lots of exciting opportunities. The first of these was meeting our buddies in Reception class this week. We helped them into the lunch hall and assisted with opening packets and generally chatting. The Year 6 children were incredible at looking after the younger children. We will continue to do this for the first few lunchtimes until the children feel more confident.
At the start of the week, we carried out experiments with bubbles (see the pictures) and generally found that hot water created more bubbles with washing up liquid. Let's hope that the children used this fact when they help with the washing up at home! In maths, we have been looking at increasingly larger numbers and in English and History we have started our studies of the Second World War. WE are reading the novel Goodnight Mr Tom by Michelle Magorian to support this work. This week, we have also had the 11+ and all the children behaved in a mature and sensible way during this.