What are we Learning?
16th July 2021
Our final sports day has been completed and well done to everyone in year 6, including those who helped at the KS1 sports. You all showed great sportsmanship.
This week, we have also been using our learning to complete an orienteering course with an English theme and in maths, we have been investigating different combinations of cups and saucers!
This morning, we sang a song about Edward Jenner when we had a special assembly where Rob Butler MP presented the school with their Primary Science Quality Mark award, We enjoyed being able to share this song with the rest of the school as we have worked hard to learn the words.
We have recorded ourselves singing all the songs for our 'production' and we hope that we can share these with parents very soon.
9th July 2021
It has been an interesting week of home learning and we have been impressed with how all the children have engaged with this.
In English, we have been creating stories where the reader gets to choose which direction the story goes in. We have had a sneak preview of these and we will all get a chance to follow each others' stories in the next few days. It has given us a chance to show our computing skills too by adding links to pages and pictures as backgrounds too.
In maths, we have been solving problems and using all 4 operations to calculate different costs for holidays, including aeroplanes and parking. Unfortunately, it may be some time still before we can all safely put these skills to use in real life!
We have also been spending some time looking at the websites and links for our new secondary schools as many of them have provided virtual tours which is helpful.
2nd July 2021
We can't quite believe that we are in July already. Our learning has continued at a great pace this week and the children have continued to show us all how resilient and ready for their next adventure they are!
In English we have been writing about our passions and interests. There is such a variety of interests that we have in year 6 that is has been fascinating to hear about them and what made the children start becoming interested in these areas. We have heard about horse riding, music, art, sport and anime interests to name a few!
In maths this week we have been revising fractions. The children have asked for a few areas to be revised in school that they feel they do not quite understand. This week was fractions (particularly focusing on multiplying fractions) and next week we will be looking at calculating percentages.
We have been busy preparing for next week's filming of the Year 5 and 6 play this week. The singing is sounding fantastic, and we are looking forward to putting the final pieces together. We have also been busy finishing or DT projects this week. These should soon be ready to bring home. Look for photographs of the finished projects on the website next week!
24th June 2021
The teachers have been entertained this week, reading to and listening to the anecdotes that the children have been writing. We have all watched Michael Rosen telling anecdotal stories (hot food, London Airport) for inspiration.
In maths, we have been working on a theoretical project linked to cupcakes. We have been deciding how many we can make, how we could sell them for a profit and how we could get the best deals in a supermarket. We learnt about 'buy one, get one free', 'two for the price of one' and 50% off to name a few deals. We have also drawn the nets of boxes to package them in and designed logos.
We are continuing to sing songs for our production and we have started to rehearse some scenes too. Well done to everyone who has been working hard learning lyrics and lines.
During our Skills for Life lessons, we have been learning how to treat minor bleeds and how to help someone who is choking. During PE, we have thrown javelins (foam ones!) and tried to improve our own throws each time.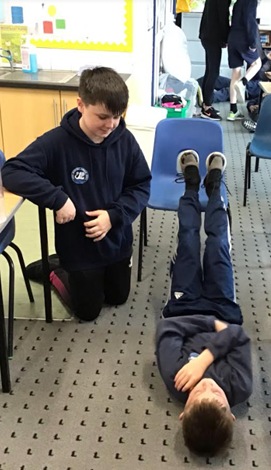 18th June 2021
This week has been our assessment week, and we are really proud with how well the children have concentrated and worked so hard to demonstrate all of their learning this year. Well done to all of you.
When we have not been completing maths assessments, we have been learning about the Fibonacci Sequence. We have worked out how this sequence is made and found more terms in the sequence - some of us tried to get to 1 million! We have used this sequence to draw golden rectangles and to draw squares creating a spiral pattern. We have also looked at how the Fibonacci sequence is found in nature.
We were fortunate enough to take part in The Biggest Sing on Tuesday this week. Along with many other schools both nationally and internationally we sang 'Lovely Day' by Bill Withers. The vocal warm-ups were great fun and the singing was greatly enjoyed by all; it sounded pretty good too!
On Friday our House Captains have planned and delivered our afternoon PE lesson. The organisation of this was excellent and the whole class enjoyed the activities they planned.
7th June 2021
This week, we have been completing our written work based on a short film: The Alchemist's Letter. We have written letters, instructions and narrative based on this thought-provoking film about a machine which turns memories into gold.... We have also had the opportunity to design book covers and create crosswords based on this stimulus.
In maths, we have continued with angles work and drawn some very BIG polygons by going into the hall with giant pieces of paper.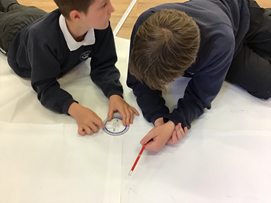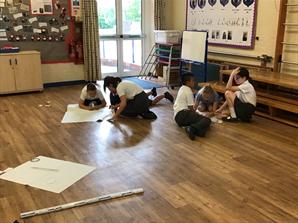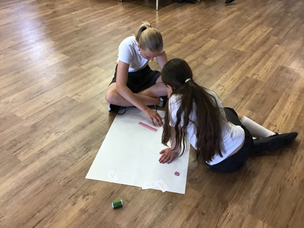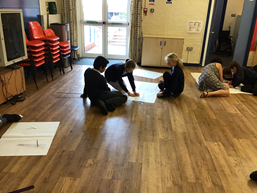 During our topic lessons, we have looked at how land in towns is used and sorted these uses according to commercial, residential and entertainment as just some of the categories.
Along with the rest of the school, we have been learning the song 'Lovely Day and signing to the chorus so that we can join schools all over the country in a 'Big Sing' record-breaking attempt. We have also been rehearsing songs for our production and some of us have been learning our lines for our allocated roles.
21st May 2021
We have continued to look at the work od Shaun Tan this week. We have read other short stories from Tales from Outer Suburbia and have found similar themes and styles running through his stories. We have used these ideas to plan and write stories using his narration style. The children have all done really well with this writing. You can see some examples of sections of their stories below.
In maths we have looked at angles. We have been calculating missing angles on straight lines (180o), in a complete turn (360o) and in triangles (180o). We enjoyed doing an active maths session relating to this too.
Most of our afternoons this week have been spent on out Skills for Life topic of Relationship and Sex Education. The children have shown a mature attitude during these sessions and have asked some interesting questions. They may have more questions to ask you following what we have learned. Please see the information sent to you via ParentMail if you need to clarify what we have covered this week. This letter can also be found in the 'Letters Sent Home' section of the website.
14th May 2021
This week, we have been continuing to learn how to use and apply ratio in maths. This has included enlarging shapes and pictures by different scale factors and changing recipes to serve different numbers of people.
In English, we have been reading and responding to a text by Shaun Tan, Tales from Outer Suburbia. As part of this work, we have considered modal verbs. We have written questions which the characters may have asked and responded to them using the 'voice' of other characters.
We have continued with our exploration of figures drawn in the style of Keith Haring, Using paint mixed with glue, we were able to paint onto tin foil using bold colours.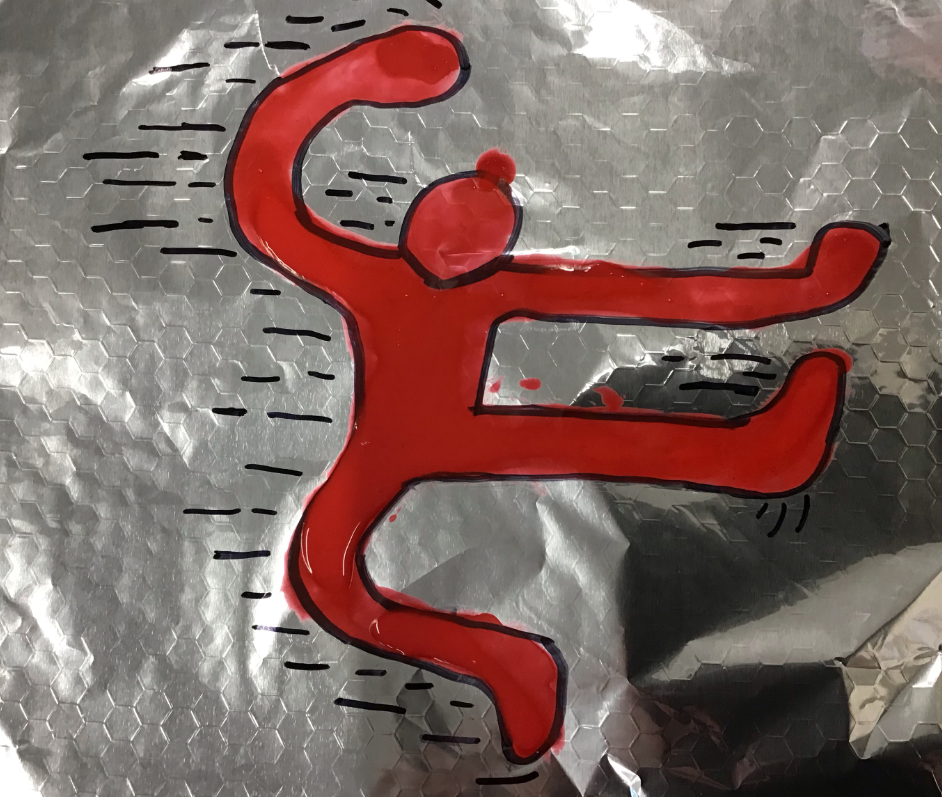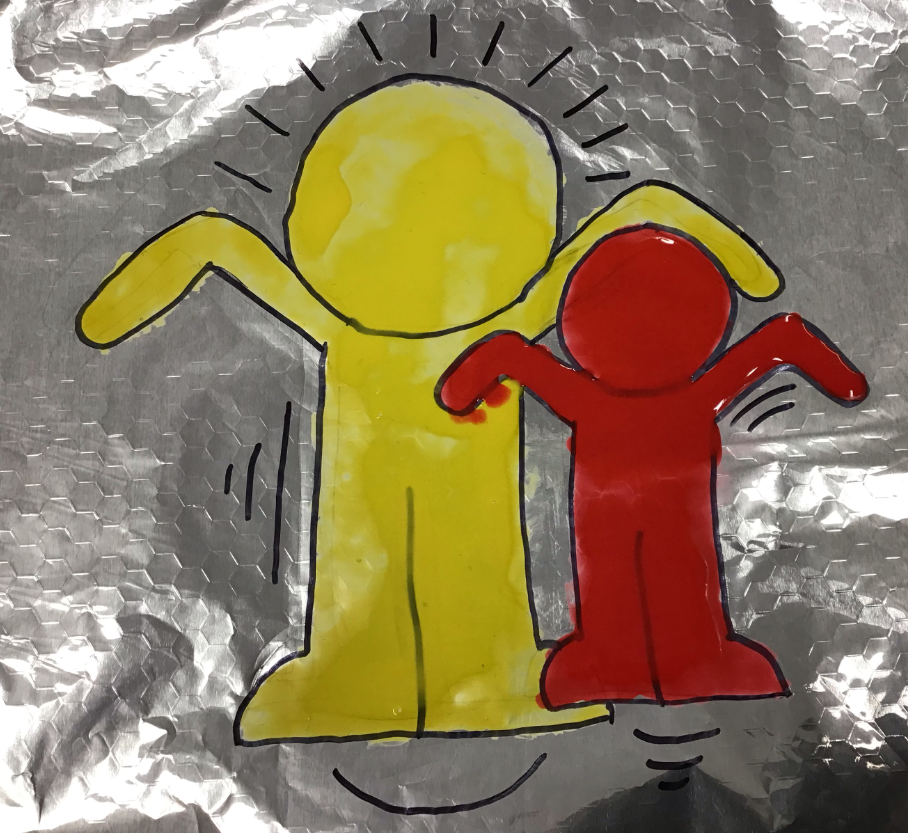 In DT, some of us mastered using a sewing machine to work on our recycled garments.
We have continued learning some of the songs for our end of year production and Mrs Walker taught us some of the signs to use when singing the choruses. We are looking forward to recording these for everyone to listen to.
7th May 2021
In English this week we have been working on Biographies. We have started this topic by learning more about the life of William Shakespeare. We have enjoyed learning about different facts form his life and were fascinated by hearing that he lest his wife his 'second best bed' in his will, with the rest of his belongings left to his daughter. We have written a biography of William Shakespeare using information we have found from a range of sources. There are some fantastic examples of these!
We have also used the biographies learning in our science lessons. This week we have begun to write a biography of the scientist Carl Linnaeus. Linnaeus was a Swedish botanist and scientist from the 18th century who came up with the system of classification of living things that is still used today. It is because of Linnaeus that there is a common Latin name for all living things, and that humans are known as Homo sapiens. We will complete these biographies next week.
Our maths lessons this week have focussed on ratio. We have looked at what ratio is and how to describe the relationship between the numbers of objects. We have also looked at the link between ratio and fractions before using all of this knowledge to begin to calculate ratios. This topic will continue next week.
30th April 2021
This week in year 6 we have continued with our studies based on Macbeth. We have worked on newspaper reports of the events, using formal language and the passive voice. Purple pens have been used to improve and edit our first drafts. At the end of last week, we wrote up our witches spells and these are now on display in the classroom (see photo)
In maths, we have continued to work on algebraic equations, this time moving on to focus on 2 unknown numbers. We have also had a go at forming our own equations for others to solve.
Our cricket skills are developing as we work on these in PE and the children have tried hard to avoid the teachers when hitting the balls! The teachers have had to keep their wits about them as some of us are extremely competitive.
We have continued with our weaving project in art but this week, we also looked at the artist, Keith Haring. We are trying to complete art work using the same style as Haring with bold colours and black outlines.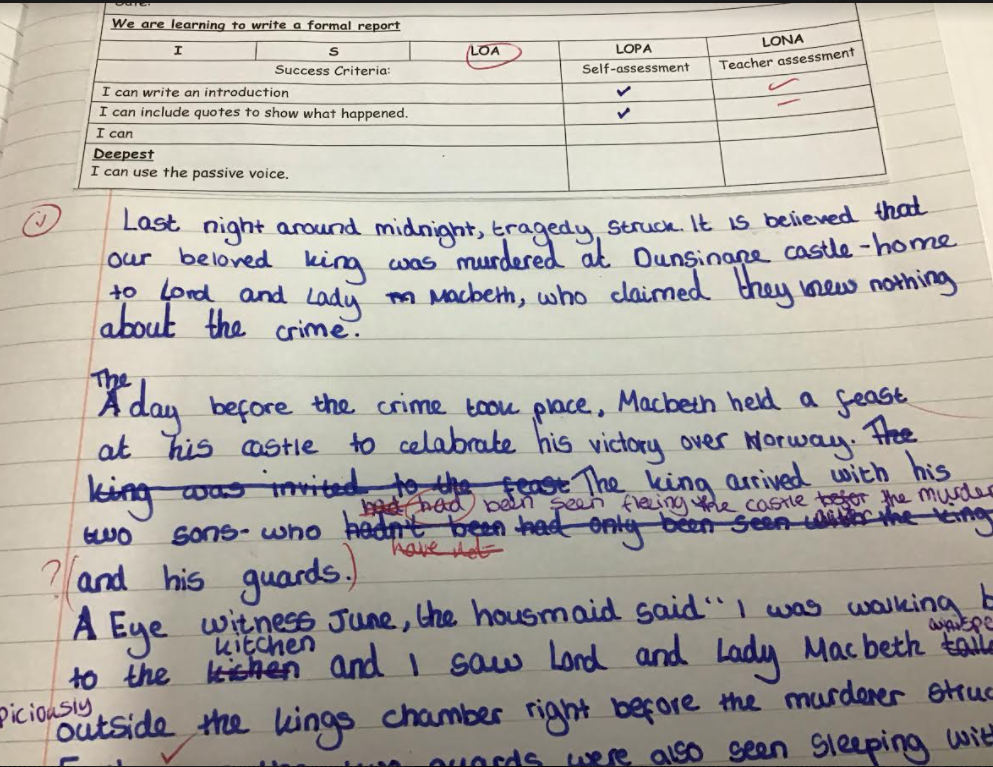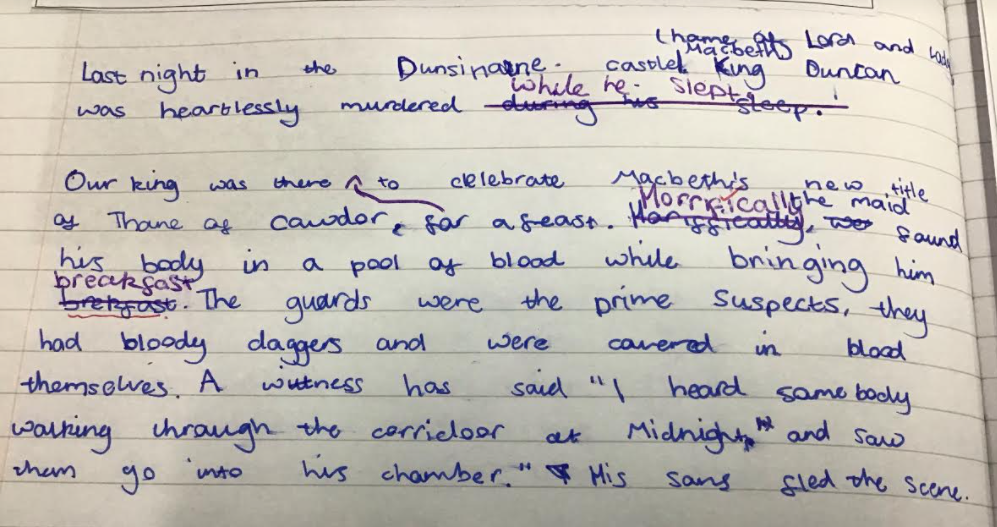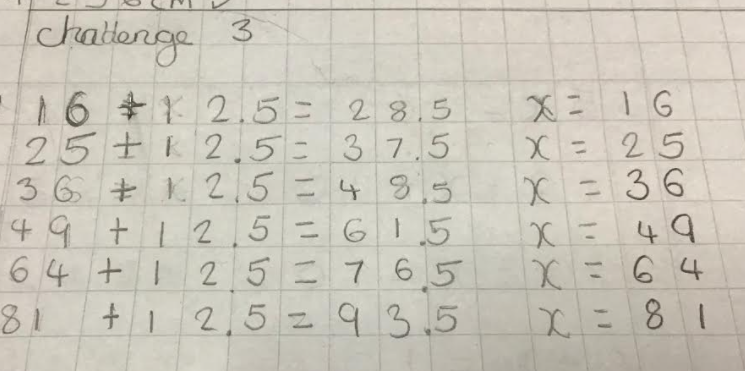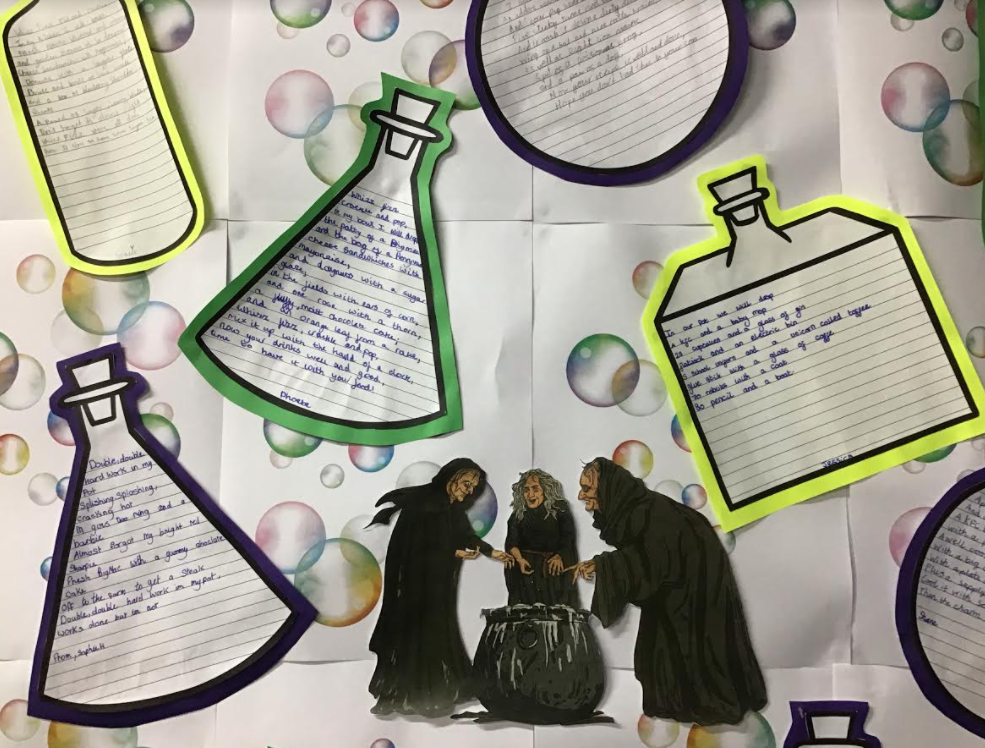 23rd April 2021
What a busy start to the new term! It has been lovely seeing the children back in school this week and well rested after the Easter break. We have started lots of new topics this week in our lessons.
In English we have started learning about Shakespeare. We have looked at the story of Macbeth and started this by focussing on the famous poem/spell said by the Three Witches at the start of the play. We began by trying to organise the rhyming couplets into a poem in groups. None of us managed to produce the same poem as Shakespeare, but we all recognised the ending of the poem and had good reasoning for how the rest of the poem was organised. We moved on to creating our own witches spell first in the style of Shakespeare and then as a modern-day spell - it showed what an incredibly imaginative year group we have! We have also watched a short adaptation of the play in animated form to get a feel for the whole story.
In Maths lessons this week we have started learning algebra. We have looked at how we can find unknown parts to an equation, whether these come at the beginning, middle or end of it. We have then linked this to how we write these missing-part equations and how we can use the inverse operations to find an unknown. We have begun to substitute known numbers into an equation in order to solve it. This all sounds much more complicated than it really is and the pupils have all done remarkably well. Our Maths homework is based on developing fluency in our arithmetic skills (this will continue to be the focus for this term).
In Science our new topic is rooted in Animals and their Habitats. We will be looking at how animals are classified and grouped during the course of the term. We started by looking at some living organisms and discussing what similar characteristic they had. We worked in pairs to group these animals due to their similar characteristics and explained our choices to the class. We then looked at the official groupings. Ours were very well matched, although we didn't always use the scientific terminology.
We have made a good start to our new DT topic of re-using textiles. We have spent some time this week evaluating textiles and looking in detail at how they are constructed and attached together. We started looking for ideas about what we can make ourselves using the iPads. We will begin our design process next week and will create a pattern to then cut out the fabric. If you have any spare newspaper, please could you send this in on Monday.
Our 'pupils of the week' this week are BH for always being a super role model and LZ for demonstrating good leadership and organisational skills.
1st April
This week, we have completed Holes and we have watched the film so we were able to compare them, looking at similarities and differences. Although the plot was the same, we all agreed that the adult characters were portrayed with more humour in the film. We also discussed the use of music to increase tension and drama.
During one of our reading sessions, we looked at a couple of news articles: one of which was an April fool and one of which was real (clothes made of chocolate and shoes with a docking station for a phone to take selfies). We also completed a quiz on news round together.
We have continued working on our podcasts which we have started to record. Some of us still have some editing to do as we want them to be perfect!
In maths, we have used pairs of compasses to draw circles which was something many of use found challenging. We also completed problem solving involving angles and measured and drew angles using protractors. Some of us found the 180 degree protractors easier to use while others of us preferred the 360 degree protractors.
It was very exciting to have our PE session led by our House Captains this week. The teachers were really impressed with the leadership skills displayed. They organised the resources with the help of Mrs Noordin and Mrs Bushay and explained the tasks clearly. The children practised skills from a number of sports, as seen in the photos below.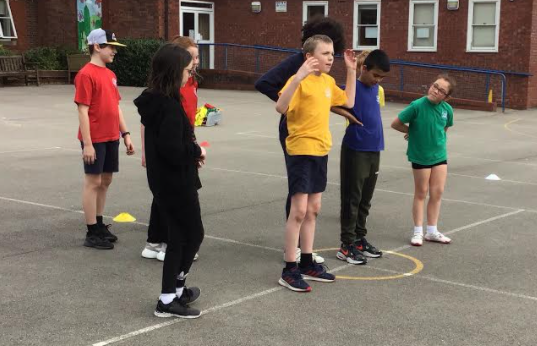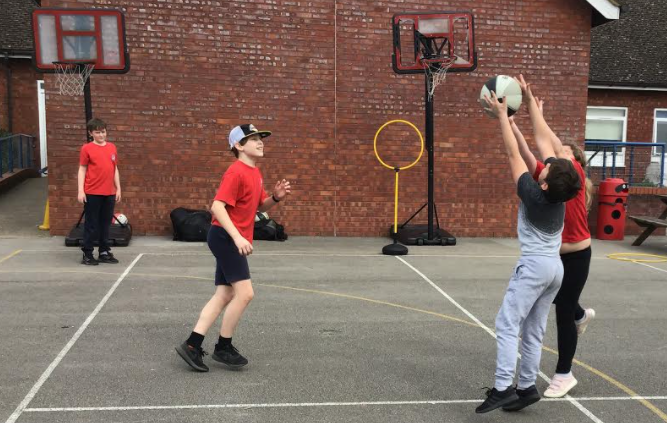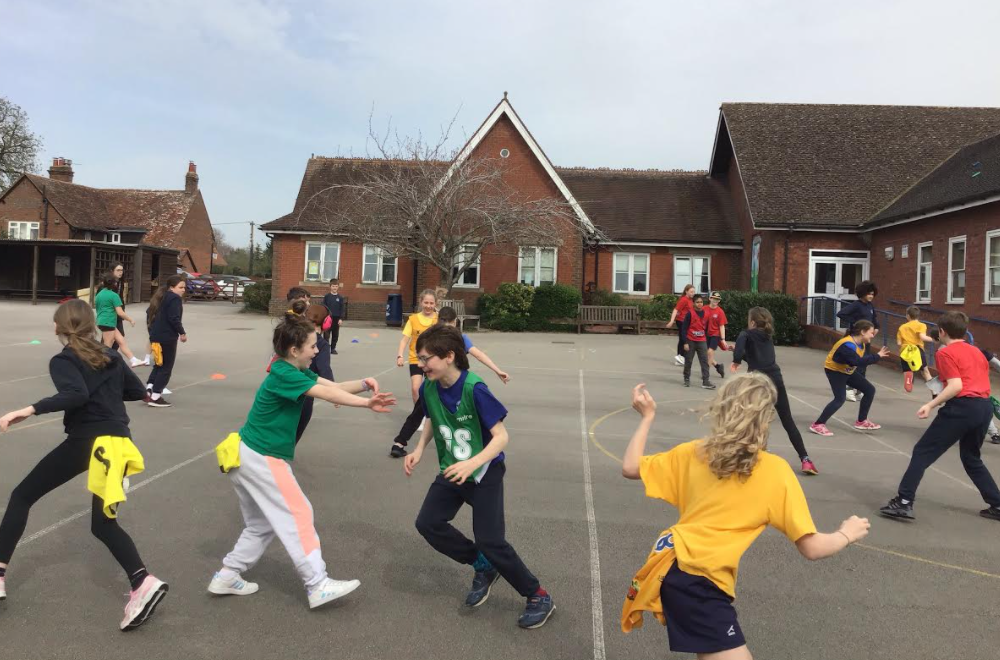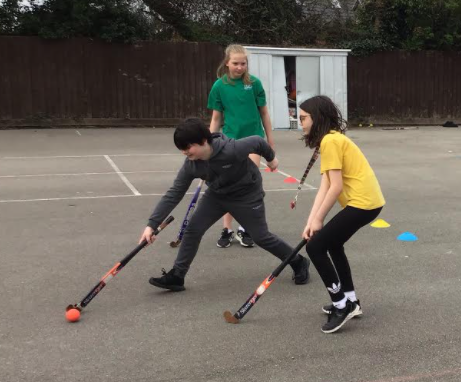 26th March 2021
In English this week we have been reading and writing debates (sorry if this is increasing their arguing abilities at home!). We have read examples of debates from The Week Junior and discussed the layout and language features of a debate. We the started writing a debate about whether parents should send their children to Camp Green Lake residential facility. The children have come up with lots of interesting reasons why you should send your child to Camp Green Lake such as:
they will get plenty of fresh air;
it will help with learning conflict resolution skills;
it will give parents a break from their children.
And lots of reasons why you should not send your child to Camp Green Lake for example:
it is full of venomous animals like yellow spotted lizards;
the food is not very good;
the desert sun is scorching
Here is some additional descriptive writing we have completed this week:
In maths this week we have worked on line graphs and finding the mean. The mean is a form of finding the average, where you add up a set of numbers and then divide the sum by the number of items in the set. We even did this as an Active Maths lesson where we measured our height, hand span, head circumference, arm length and foot length then found the mean height etc of the class. It was great fun!
We had a cricket session on Thursday afternoon, which was great fun despite the dreary weather. We have developed our throwing and catching skills as well as beginning to work on adapting batting skills. We will continue these in the summer term when the weather improves.
We have developed our scripts for our Podcasts this week and hope to be able to record and edit these next week. We will let you know where these are when they are completed so that you can listen to them.
Pupils of the week this week are SBo for producing a fantastic piece of debate writing and PTu for her descriptive and thoughtful writing.
19th March 2021
This week, we have had another good week of exciting learning in year 6.
In English, we completed our newspaper reports and there is now an impressive display of our writing in one of the year 6 classrooms. We have started to look at different leaflets which advertise places to visit and we have started to write a leaflet about Camp Green Lake, using irony and puns. Some of our favourite phrases included 'You will have a whole lot of fun' and 'Your child will dig this exciting opportunity'. We also completed some tests on reading and grammar so that the teachers can see what we need to focus on for next term.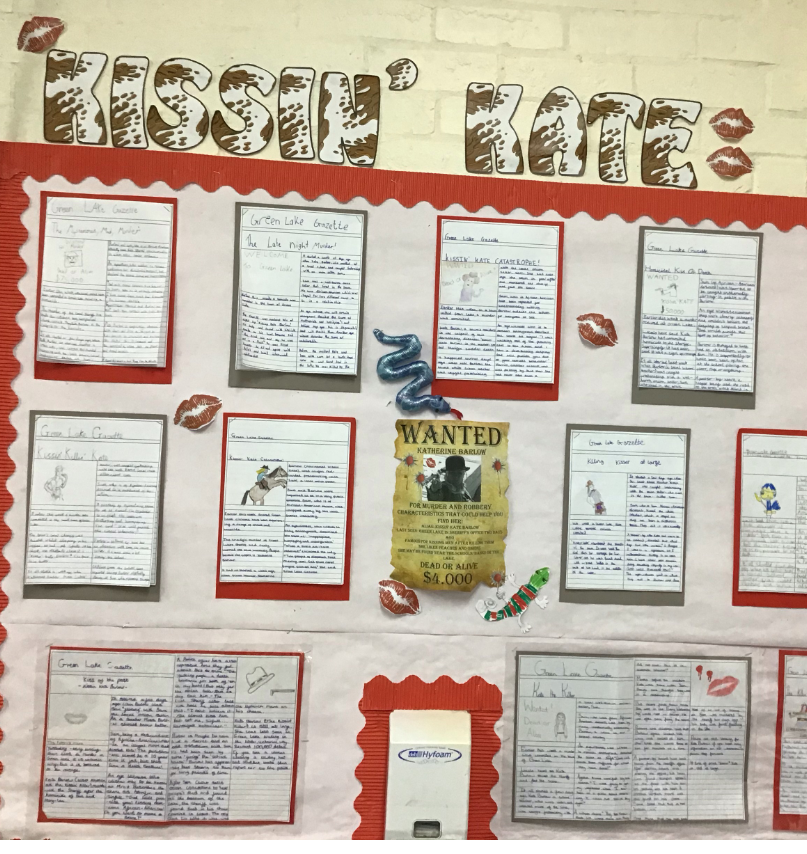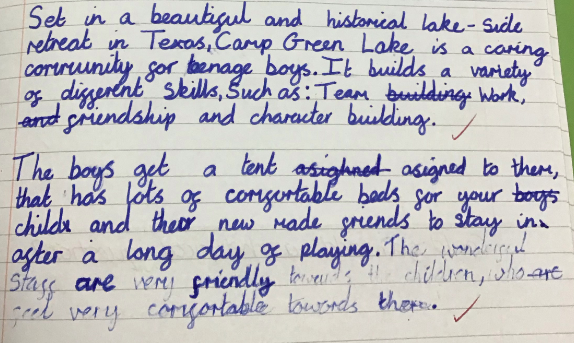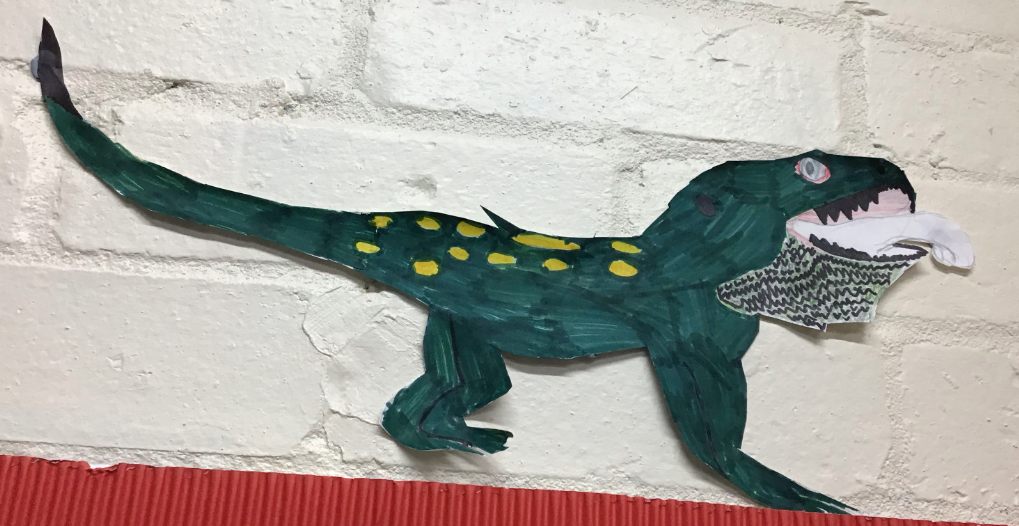 In maths, we completed a test and then we have been looking at census data. We contributed to the whole school display outside Mrs Stewart's office. We have presented data in a variety of forms: bar graphs, pie charts and line graphs.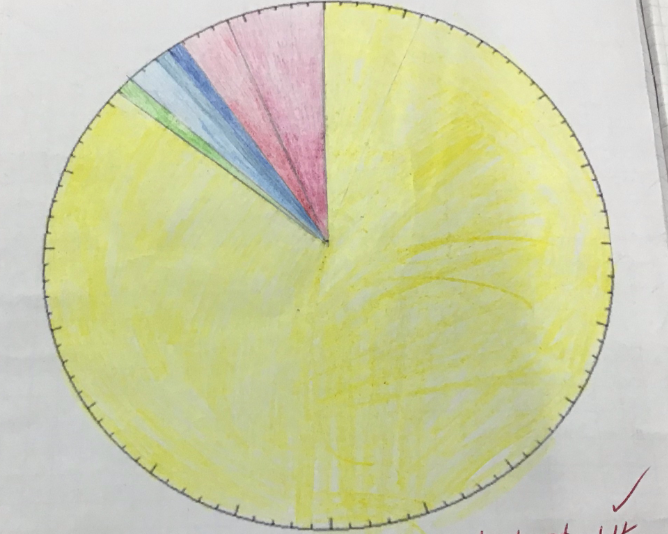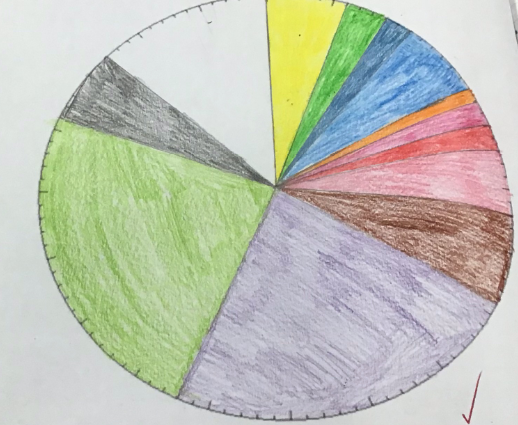 In art, we have continued with the weaving project that we started last week. Some of us have shown considerable skills in managing colour combinations and making sure the ends are tucked away neatly. We are now starting a collaborative project, weaving with CDs.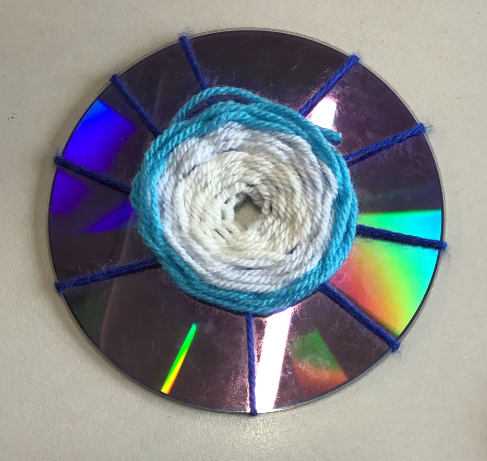 12th March 2021
We are all really proud of how well Year 6 have settled back to school after our period of home learning. Well done to all of you!
In Maths this week we have continued to work on perimeter, area and volume. We have used formulae to calculate the area of triangles and parallelograms and have made sure we have used the perpendicular height, not the side length, to help us with this. We have then moved on to learning about volume and have calculated the volume of cubes and cuboids. We had fun building different cuboids out of multi-link cubes to help us check our calculations.
In English this week we have written newspaper reports based on our class novel, Holes. We have travelled back in time to write a report on the brutal murder of the Sheriff of Green Lake by the teacher-turned-outlaw 'Kissin' Kate Barlow'. We have enjoyed writing these reports and have used them to revise how to include answering the 5Ws in our writing as well as how to edit and improve sections of our work effectively.
Our geography topic this term is 'Biomes'. This week we have discussed what a biome is and have found that there are five main types of biome; rainforest, desert, savannah, woodland, grassland and tundra. We have started to complete some research on our favourite type of biome and will continue this over the coming weeks. We have looked at the 'biome in a bag' creations by children that were in school last week. They are progressing well and have started to grow. This is a completely self-sufficient biome and will not even need watering. We have written some instructions for creating these.
Pupils of the week are AA and LT, both for their fantastic writing of a newspaper report.
5th March 2021
This week, year 6 enjoyed a screen-free day on Monday and took part in an afternoon of games and team building skills. In the morning, we drew maps of Camp Green Lake from the novel Holes and we also worked together to complete a maths puzzle.
Some of us added models to the map too.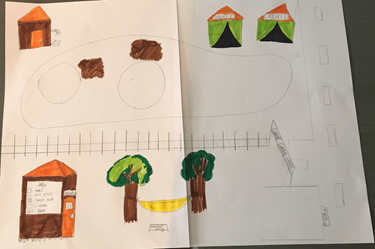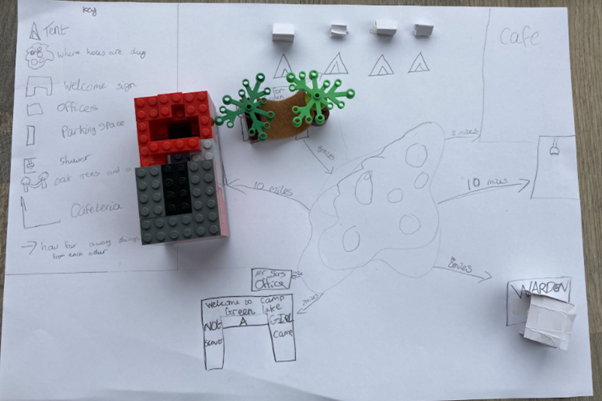 In maths this week, we have started to revise area and perimeter. When working out the area of rectilinear shapes and triangles, we have used our times tables skills again!
The teachers were very impressed with the maturity with which the children discussed the concept of heaven and what they understand by this as well as their understanding of what Christians believe. A great deal of respect was shown towards others in this lesson.
We all enjoyed World Book Day and we were really impressed with the costumes at home and at school. We spent the day looking at poems based on fairy tales (The Goldilocks Rap and Jack's Tale). Some children completed book marks and comic strips. We all started to learn one of the poems ready for a whole class performance when we are all back in school on Monday.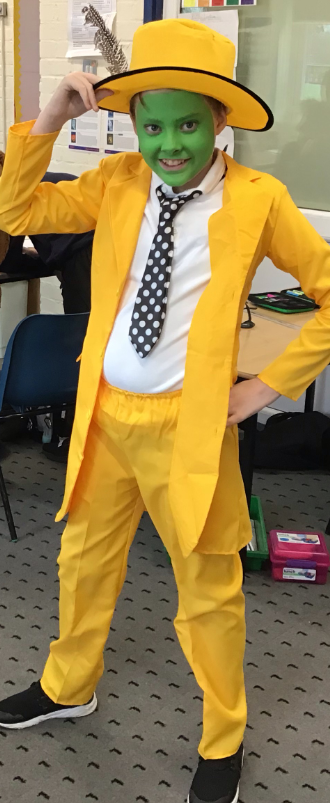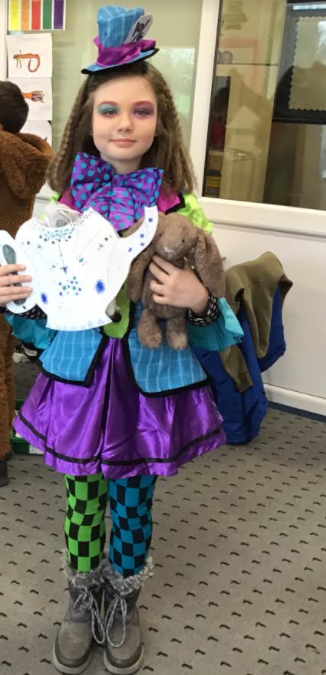 Pupils of the week are PsT for being helpful and kind to others in the class and EM for consistent excellence in her writing.
26th February 2021
This week we have continued to work on the book of Holes. In our reading of the book, we discovered that there was some important details left out of the story so we used this to our advantage to write our own missing chapters. We have called these 'Chapter 14a' and they have been a great way for us to show our creativity and to develop the characters in the story in our own ways. We have worked hard to include speech and action in our chapter; using the punctuation linked to speech accurately.
In maths this week we have worked on metric measures. We have been reminded what metric units of measure are used for measuring length, mass and capacity; have converted between these (g to kg, ml to l etc); have changed between miles and kilometres; and have worked with imperial measures - the calculations with these are much harder!
In computing this week we have stared to think about creating our own Podcast. We have listened to a number of Podcasts and have thought about what we like about these. We will now be choosing a topic of our own and completing an individual or group podcast throughout the rest of this term.
Science has been fun this week! In looking at how our body transports water and nutrients throughout our body, we were able to complete three experiments. The first involved soaking a jelly sweet in water to see what happens, the second longer experiment involves soaking an egg in vinegar followed by coloured water (we are still waiting to see what happens), and the third involved placing skittles in a circle and then pouring water onto the plate. The skittles have created some amazing patterns as you can see below.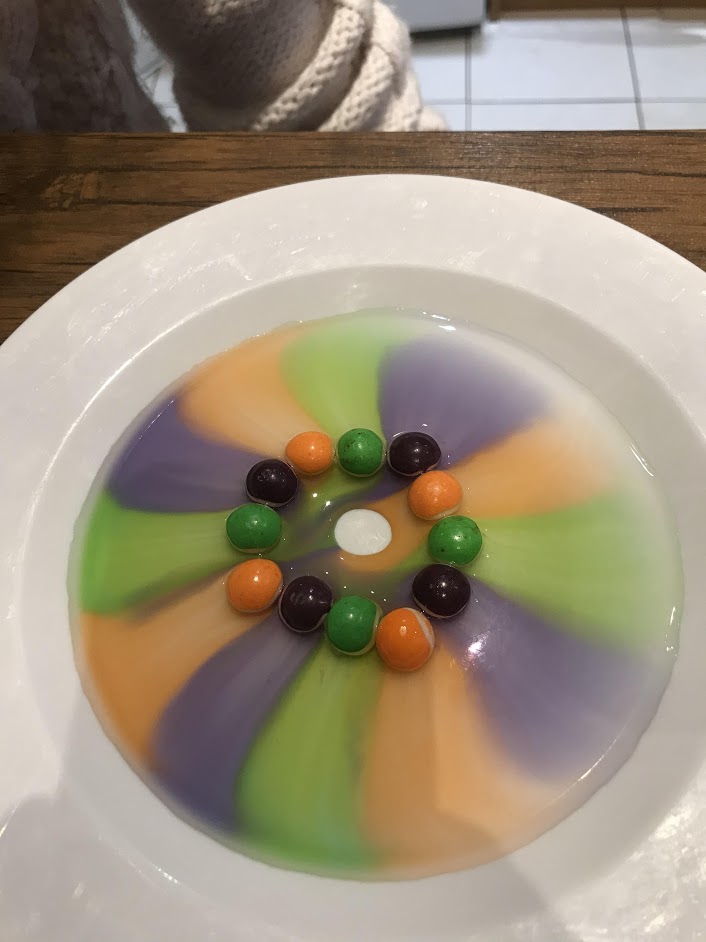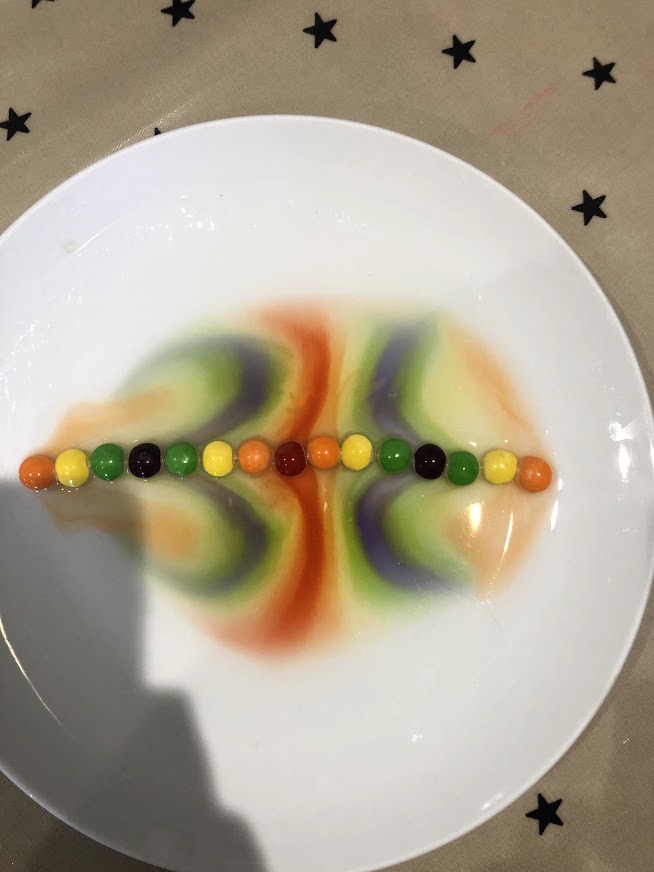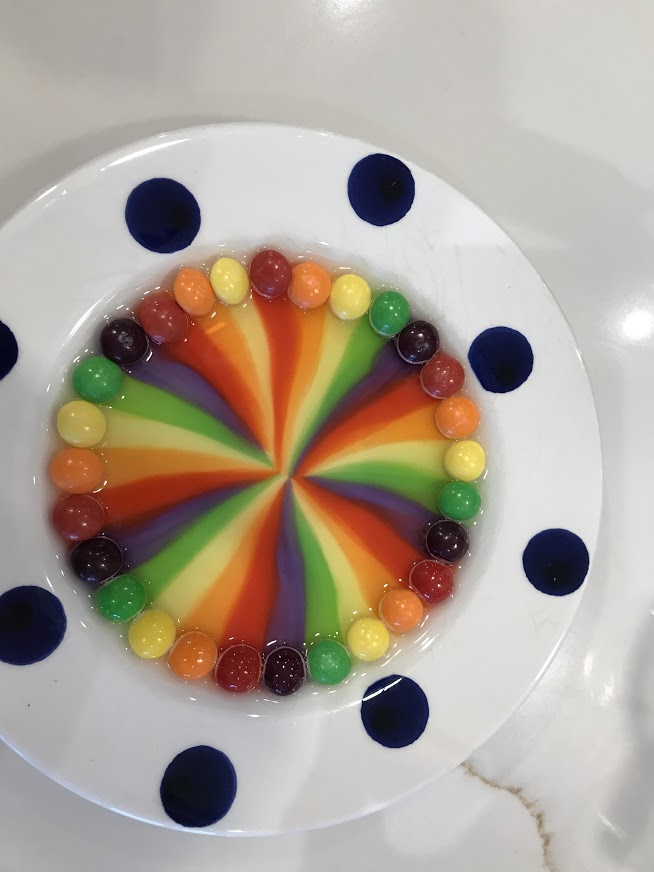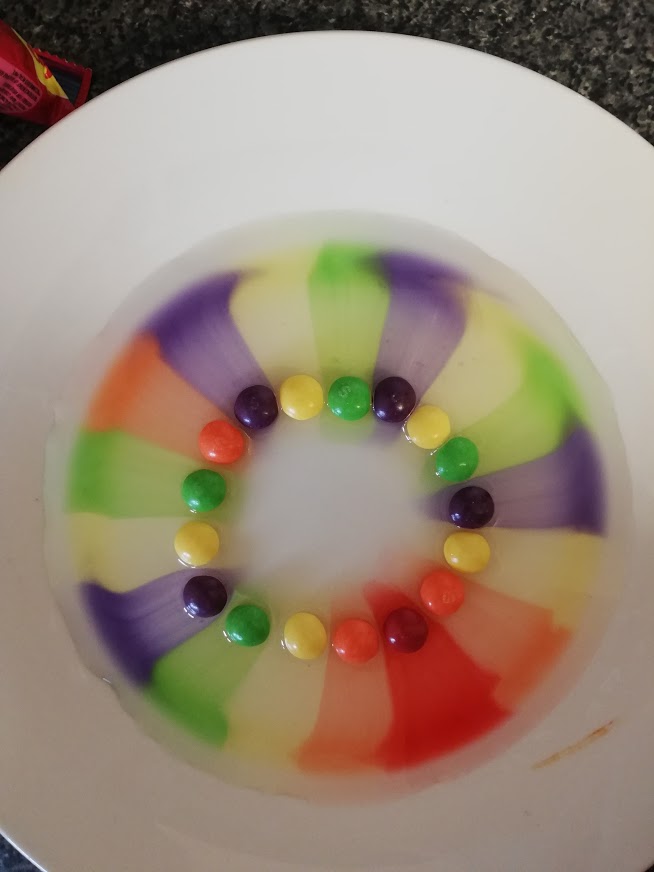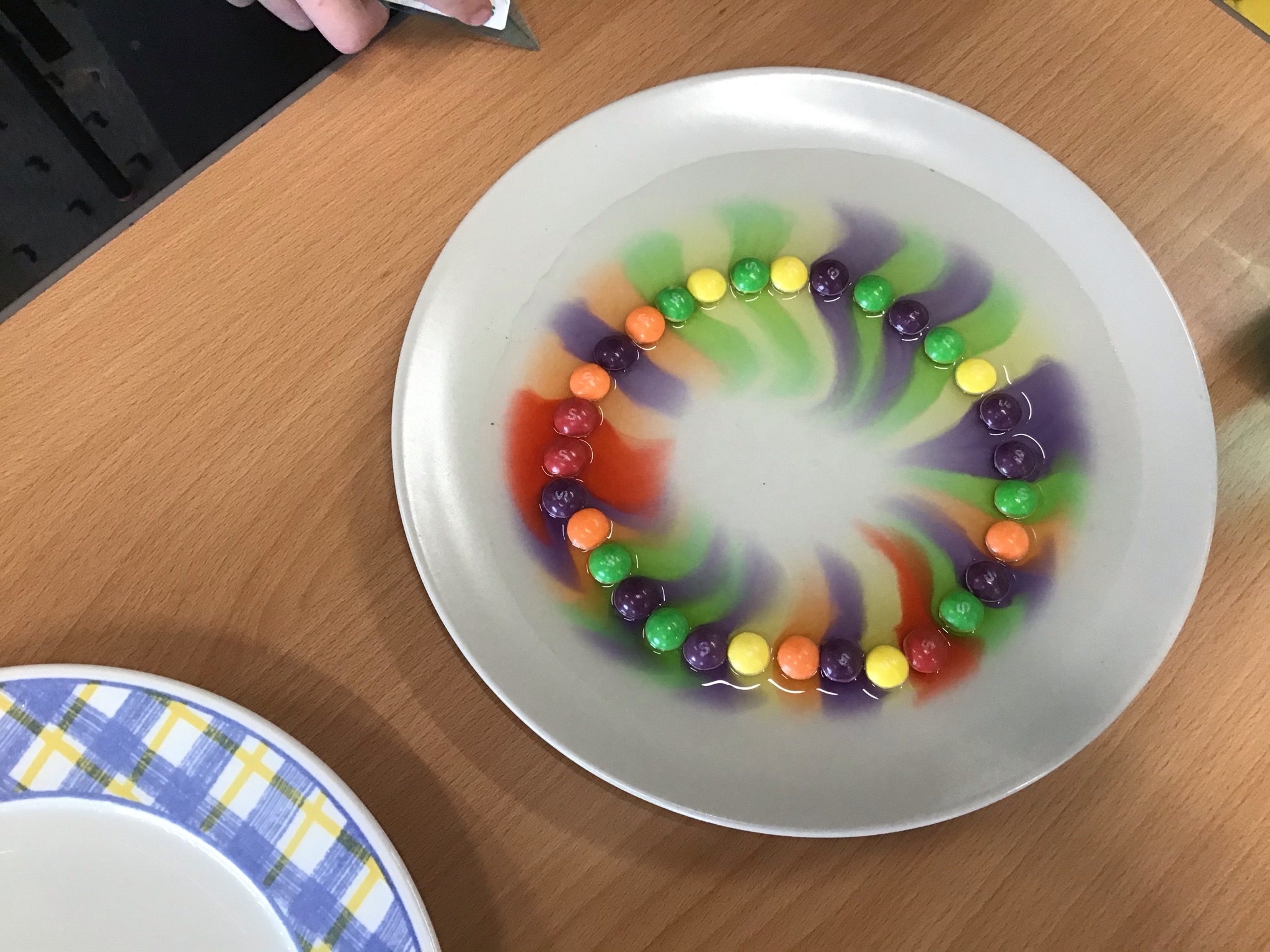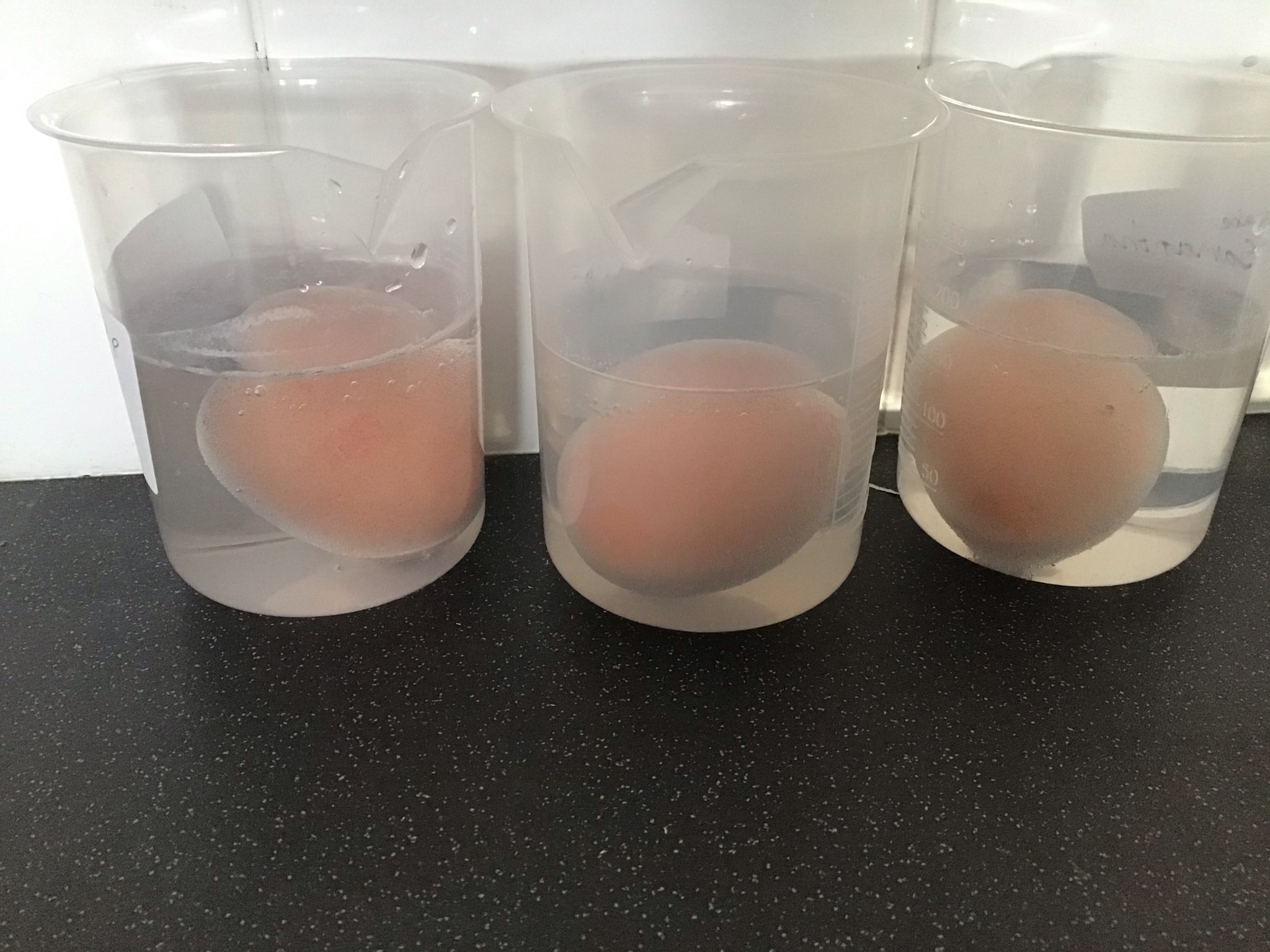 Pupils of the Week are SR for writing a great missing chapter for Holes and JFG for continued effort on her home learning.
12th February 2021
This week, we have had another good week of learning. In maths, we have been developing our skills in calculating with percentages, using 10% to find 5% and 20% etc. We have also found bar models helpful when solving these questions.
In English, we are continuing to read Holes by Louis Sachar and this week we have been thinking particularly about the deadly 'yellow-spotted lizards'. We have been collecting and researching information so that we can write our own fact file.
Our families helped us investigate pulse rates in Science and this week, we have gathered the results and written conclusions.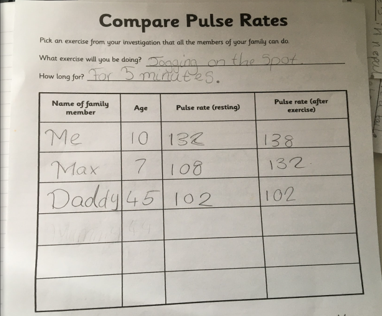 At home, Harry filmed himself completing the 'cup and peg' challenge so we all had a go at that in school too. We enjoyed timing each other and trying to improve when we repeated the exercise.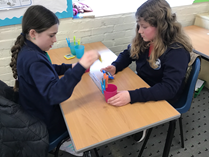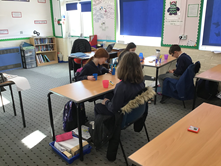 Pupils of the Week are AA for amazing participation during online lessons and LT for fantastic note taking in English.
5th February 2021
This week is Children's Mental Health Week. Year 6 have had enormous fun this week being creative both at home and in school and have created artwork, origami and sculpture based on different techniques. Here are a few pieces of our amazing work!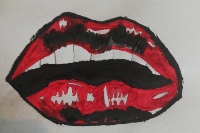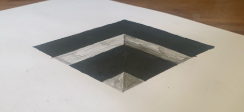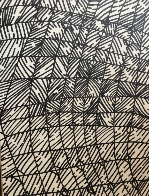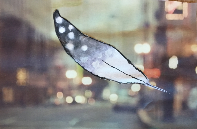 In English this week we have started our work based on the novel Holes by Louis Sacher. This story follows a boy, Stanley, who was sent to Camp Green Lake for stealing a pair of used sneakers. We have been introduced to the characters and the setting this week and have used this in our writing. We have produced a list of the strict rules at Camp Green Lake. These include:



In Maths this week we have begun to look at percentages. We know that percent means 'out of 100'. We have been using this knowledge to link percentages to both decimals and fractions and have found the equivalent percentage as a fraction and a decimal. We will next be moving on to find a percentage of an amount.
Pupils of the Week are JH for engagement and contributions in online lessons and NH-S for fantastic detailed written work this week in English.
29th January 2021
In English this week we have looked at another survivor story. We read the story of two men, Roger Chapman and Roger Mallinson, who were stranded at the bottom of the Atlantic Ocean in a submersible after a mechanical fault. We have used this amazing story to produce some fantastic poetry and story writing and have focussed on using dialogue to express the feelings of these brave men.
In Maths we have continued our work on decimals. We have used place value columns to help us to multiply and divide decimals by whole numbers. We have also looked at the relationship between fractions and decimals, allowing us to know the decimal value of common fractions.
In Science we have started our topic of The Circulatory System. This is an interesting topic and we have started it by looking at the role of our heart. We have labelled a diagram of the heart with its veins, arteries and chambers and have talked about the difference between oxygenated and deoxygenated blood (coloured red and blue on the diagram). We were able to watch a clip from 'Operation Ouch' to help explain the role of the heart within our bodies.
Pupils of the Week are PT for excellent focus and interaction and XC interesting and emotive writing.
22nd January 2021
This week we have spent a day producing work based on the piece of music 'Earth' by the composer Hans Zimmer. We have written letters to planet Earth and produced some music in the style of Hans Zimmer. We have also completed art work inspired by the music.
In English, we read a real -life story about a girl who survived a plane crash. We retold the story from different points of view and created 'Blackout poetry' where we selected vocabulary we liked from a page of the story.
Violent pitching continued for nearly ten minutes, throwing the aircraft out of the window, one of the engines glowing brightly. moments later plunged into darkness, went into a steep nosedive, couldn't see anything, suddenly everything went silent, rumbling over and over and over, plummeting towards ,jungle, momentarily glimpsed, trees spinning, like a patch of giant broccoli.
Violent pitching this way and that.
Gripping her mothers hand, plunged into darkness steep nosedive. Suddenly everything went silent. Tumbling over and over and over, rush of cold air plummeting down towards the jungle. Glimpsed trees spinning like a giant broccoli wedged firmly. Struck by lightening.
This week, we also carried out a science experiment, investigating the relationship between feet length and height. Scatter graphs showed us the patterns and also highlighted results where we may have made mistakes with our measuring.
Pupils of the Week are HJ for a great piece of rock & roll music and MP for fantastic art in response to music.