What are we Learning?
24th June 2022
This week we have continued working hard in all of our learning.
We have been reading 'The Naughty Bus' and we worked hard on our own stories to try and make our own naughty character. We worked on adding questions into stories.
In maths, we have been learning all about durations of time. We looked at how long things take to do including writing our name, having a drink and doing 20 star jumps. We thought about which is longer- an hour, minute, day, or second. We did some active challenges to gain a further understanding of how long a minute is.
In science, we pretended to be growing plants, acting out how they grow and writing a diary of a plant.
We have been studying Vincent Van Gogh in Art, looking at his style and how he created his sunflowers. We have learnt how to use watercolours to paint sunflowers and create a good background.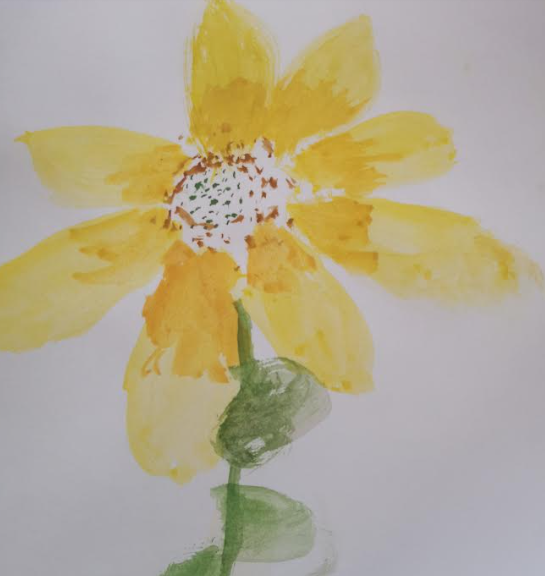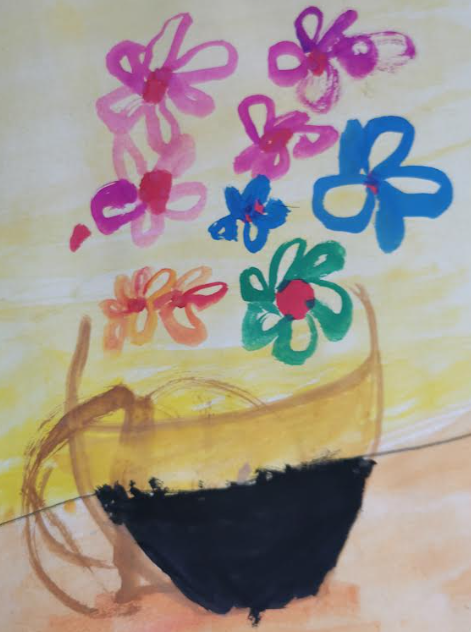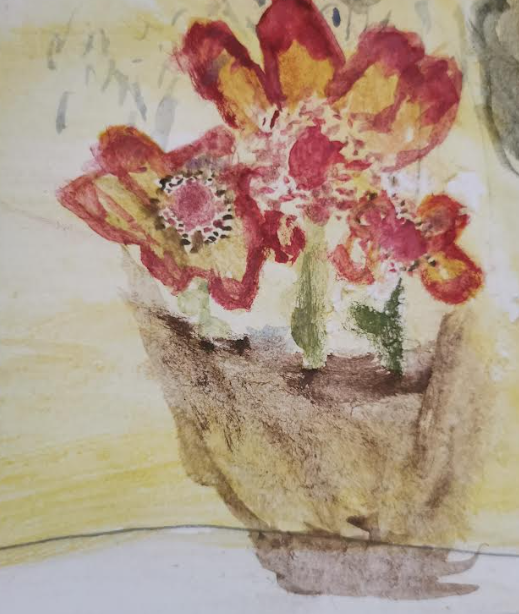 17th June
We have been enjoying some lovely sunshine this week, finally!
In maths, we have learnt all about clocks and time. We have been learning how to read an analogue clock and know how to identify o'clock and half past. We related this to our fractions work, ensuring the halfway line was at the 6. We also looked at how times change if it's one hour before or one hour after.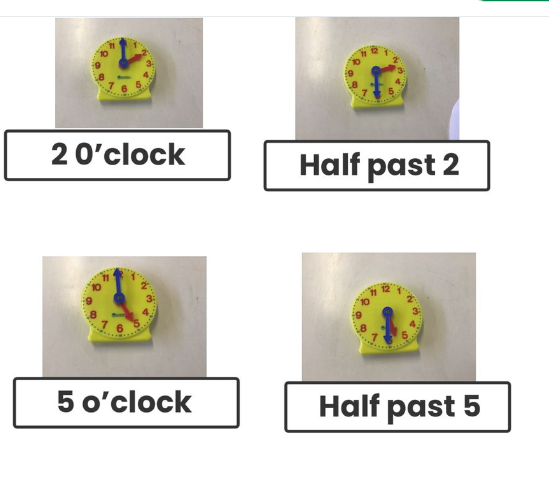 During English lessons we have been building up to writing an information text about how transport has changed. We have used some wonderful vocabulary and used the word 'but' to describe how transport has changed over the years. We also learnt how to organise our writing into sub-headings.
We enjoyed our science lesson this week- we have planted French beans and look forward to seeing how they grow over the next few weeks. We made some great predictions. Some of us think the roots will grow first whilst others think the stem will be first.
In history, we began to compare houses and homes in the past to present day. We looked at how we use different materials now to build houses that are stronger, warmer and let in more light.
10th June
The children (and adults) have settled back well into school.
This week in English, we read the poem 'From a Railway Carriage' by Robert Louis Stevenson. The children all recited and performed the poem with actions. We talked about the language and about how the poem is written from the point of view of somebody on a train. We wrote diary entries about what it is like to be on a train.
In maths, we have started to work on time. We have learnt the days of the week and months of the year, ordering them and using a calendar to investigate different dates.
In history, we investigated how transport has changed over time. We learnt about The Wright Brothers and the first flight in 1903!
During our science lesson, we identified different plants and flowers and sorted them into wild plants and garden plants.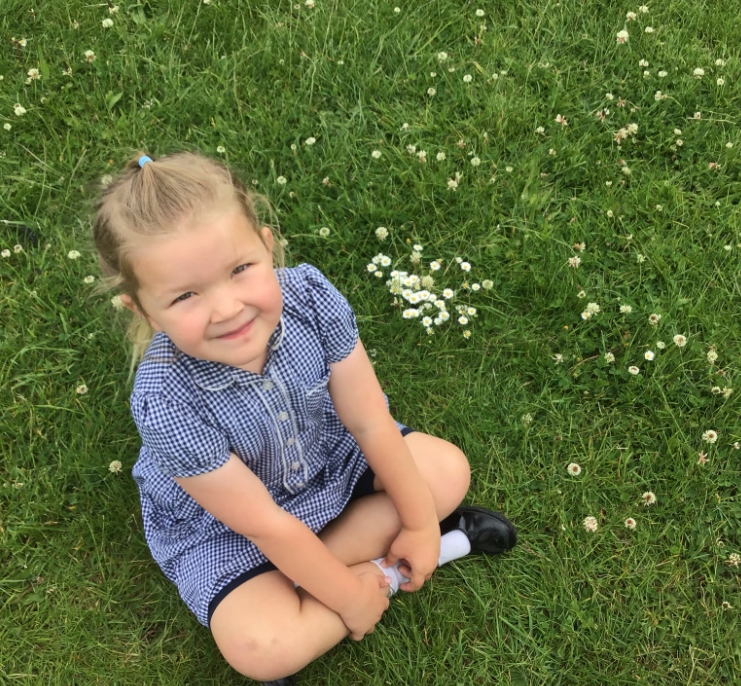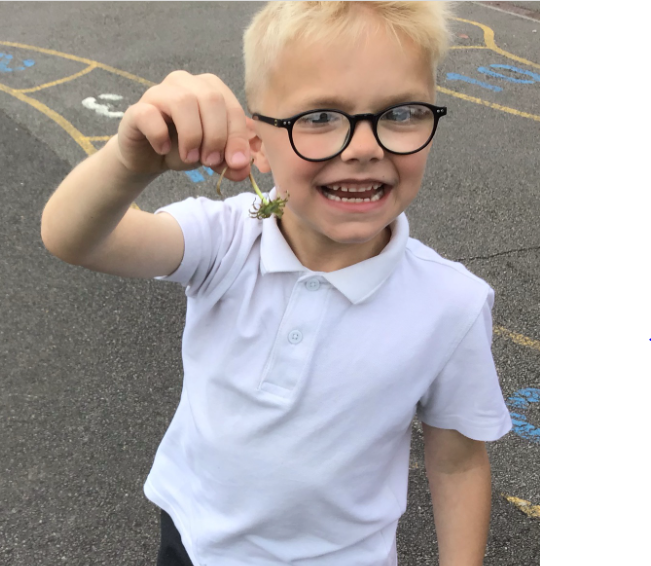 27th May
It's been a lovely week in Year 1. We have been focusing our learning around our RSE topic 'Ourselves, Growing and Changing'. We have explored how everybody is different, identified differences in ourselves and others and discussed how our bodies might change as we get older, including the different stages of a human life cycle. We also explored different families and how not all families are the same as ours.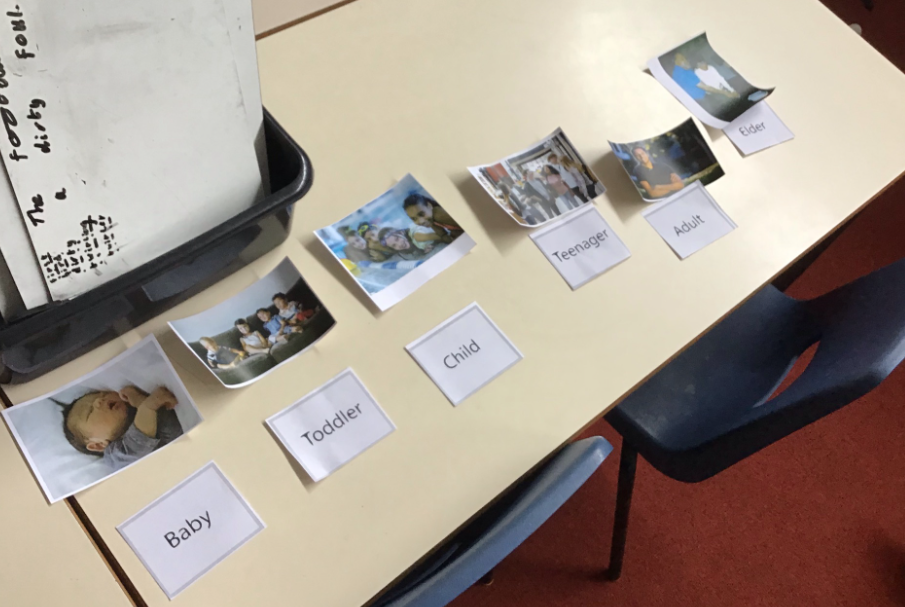 In maths, we have been revising arrays and multiplication. We have explored how to group numbers in lots of different ways and make arrays in different ways.
Our focus for the end of the week has been The Queen's Jubilee celebrations! We have enjoyed learning about The Queen, listening to music from 2000-2010 and creating portraits of The Queen using watercolour.
Finally, we have been learning how to sing the National Anthem ready for our celebration tomorrow.
20th May
This week, Year 1 have not been fazed by having Mrs Fern as their teacher whilst Miss Jacob has been at River Dart with the Year 6 students. Year 1 have continued to work really hard and have also had lots of fun whilst learning. The Year 1 staff are super proud of their students and are sure Miss Jacob will be too. In English we have been learning all about instructions and in Maths about directions. The highlight of the week was definitely Outdoor Learning. The children had so much fun making mud pies and potions.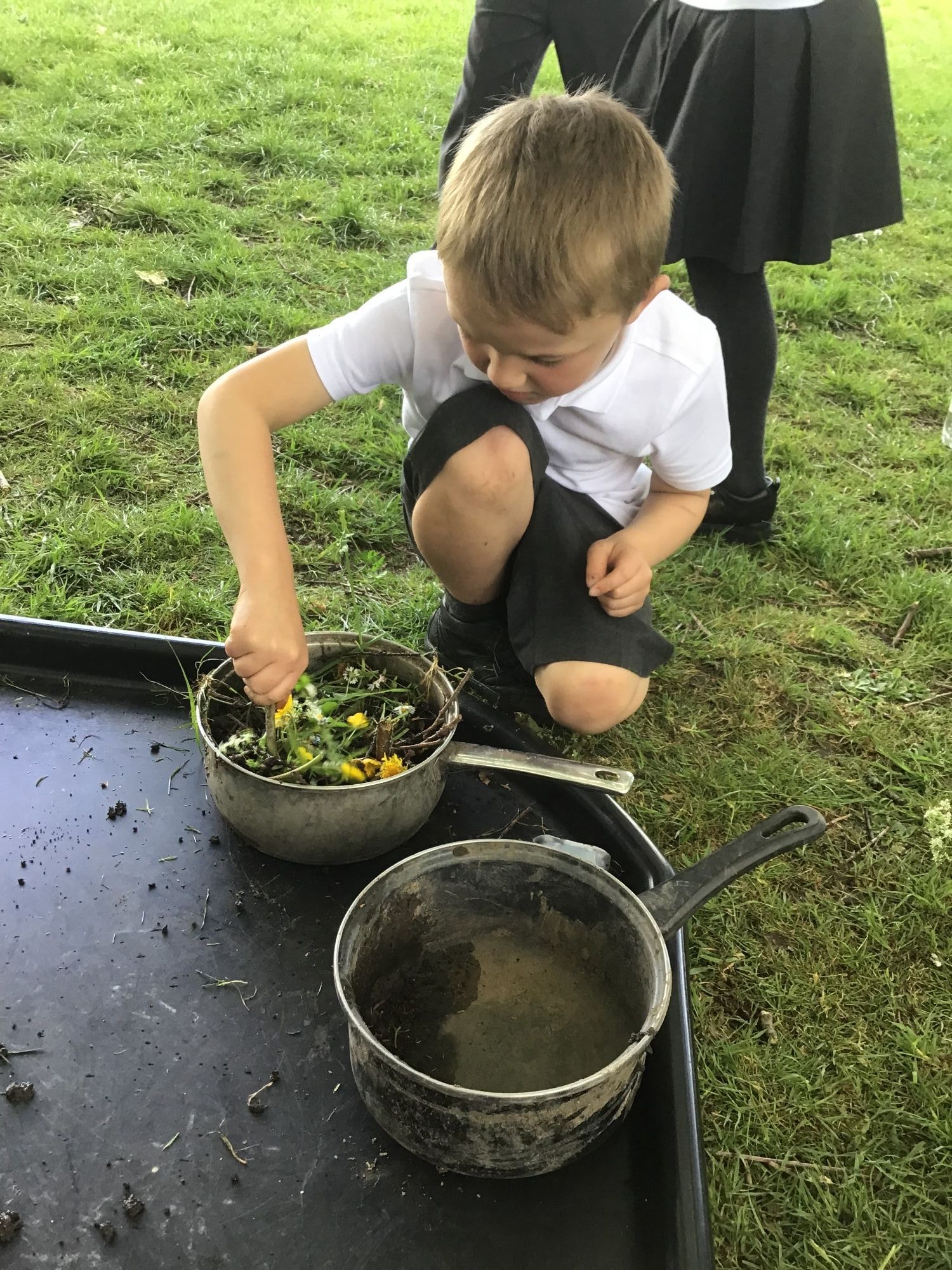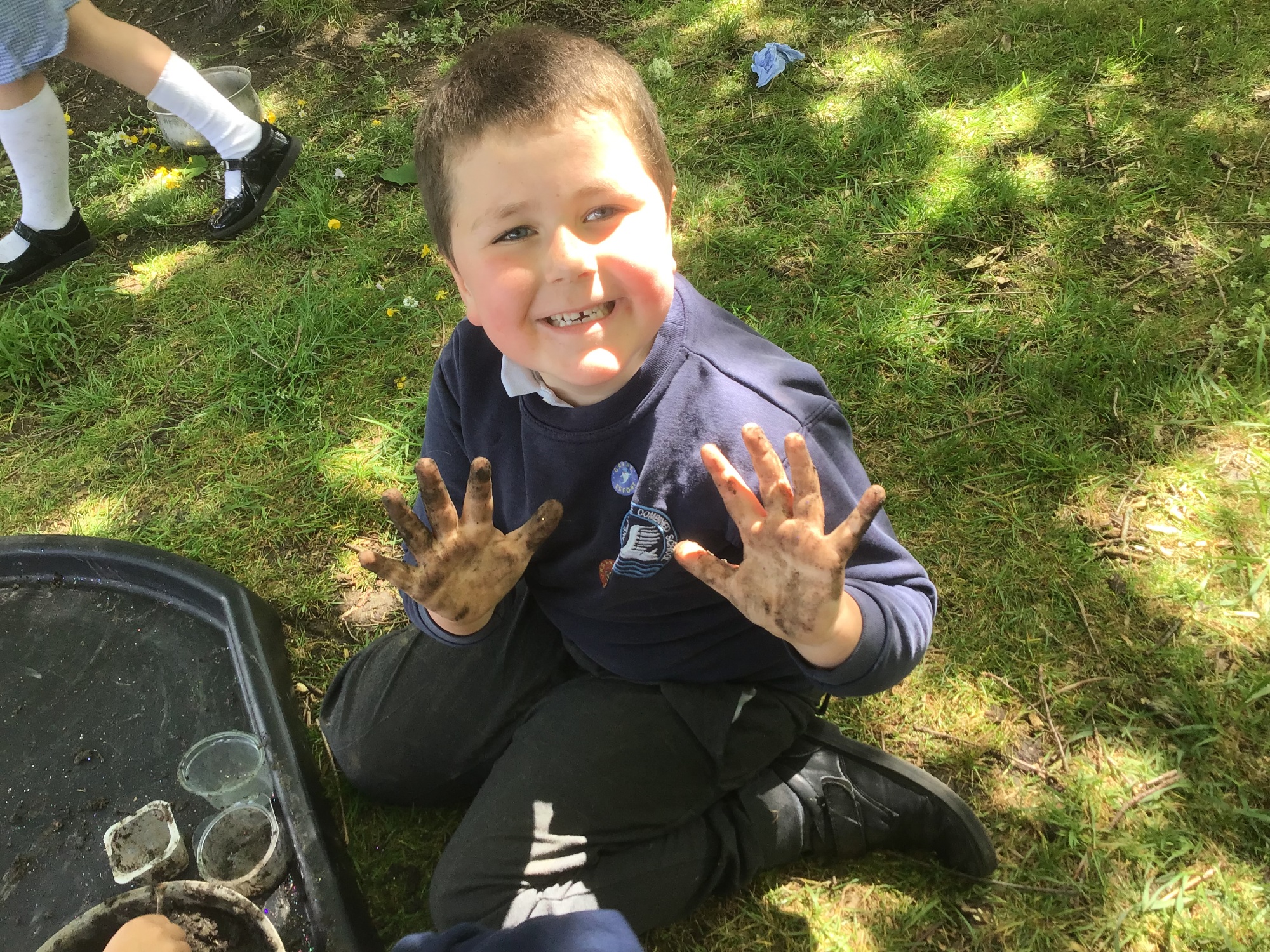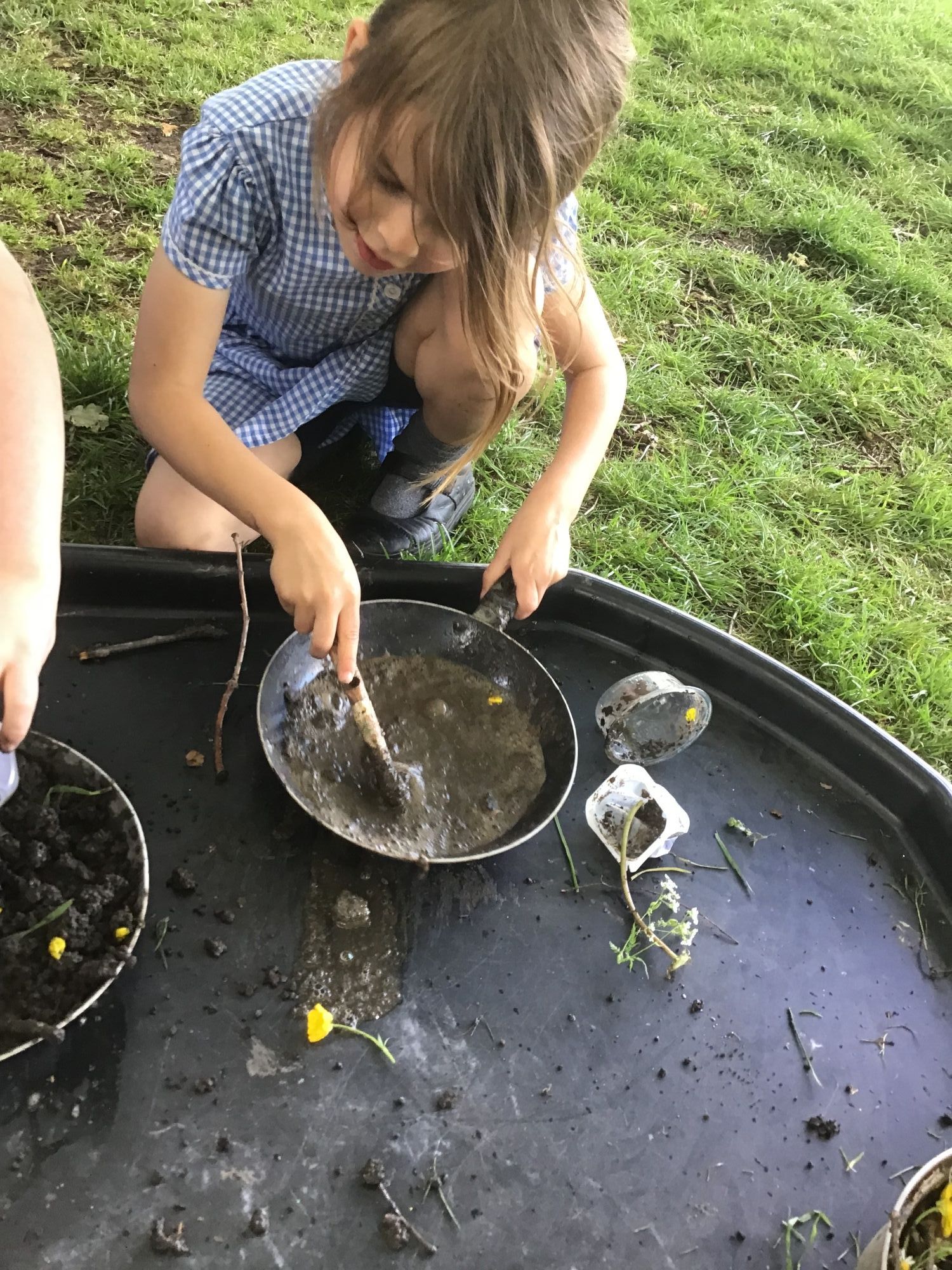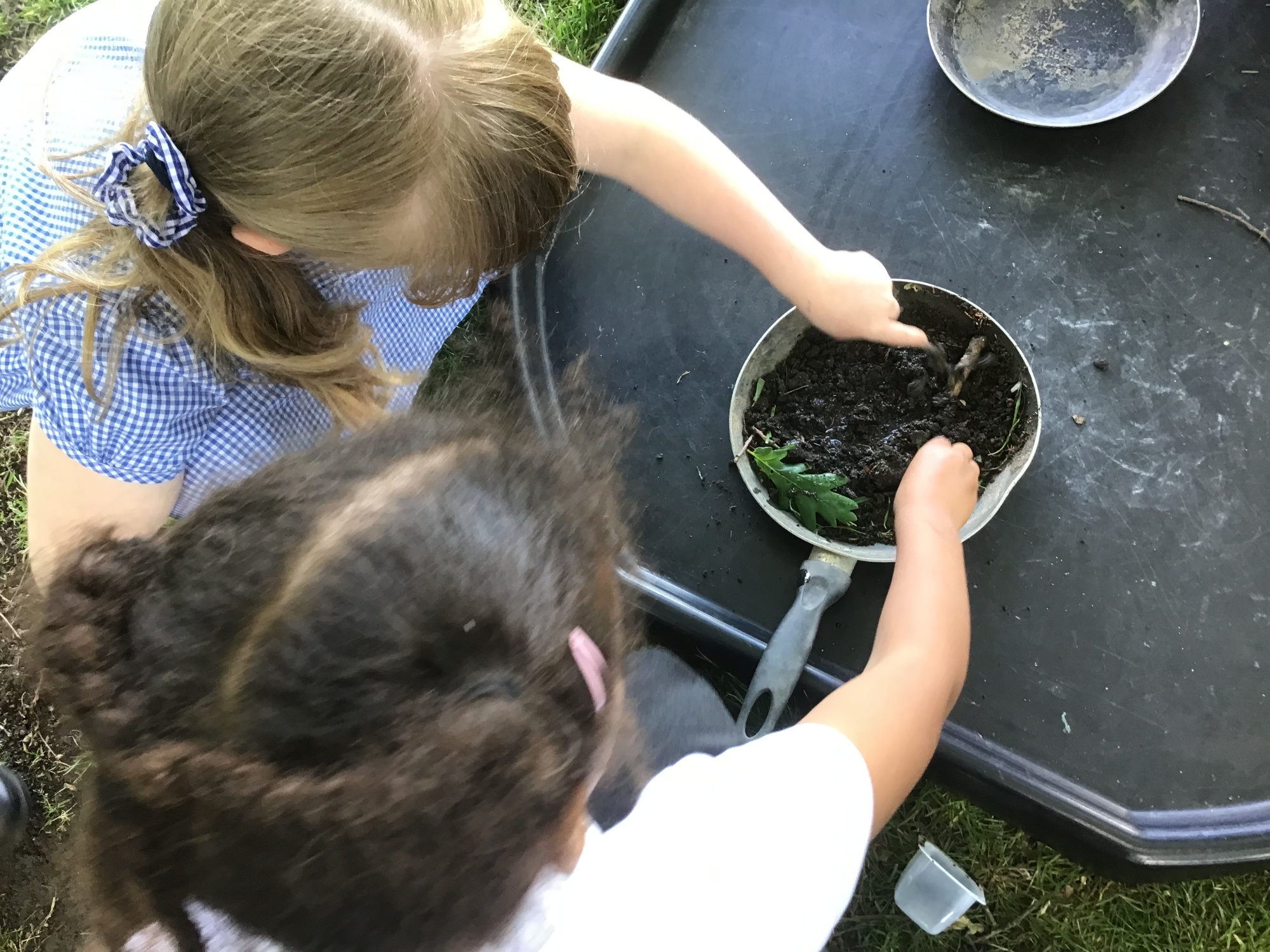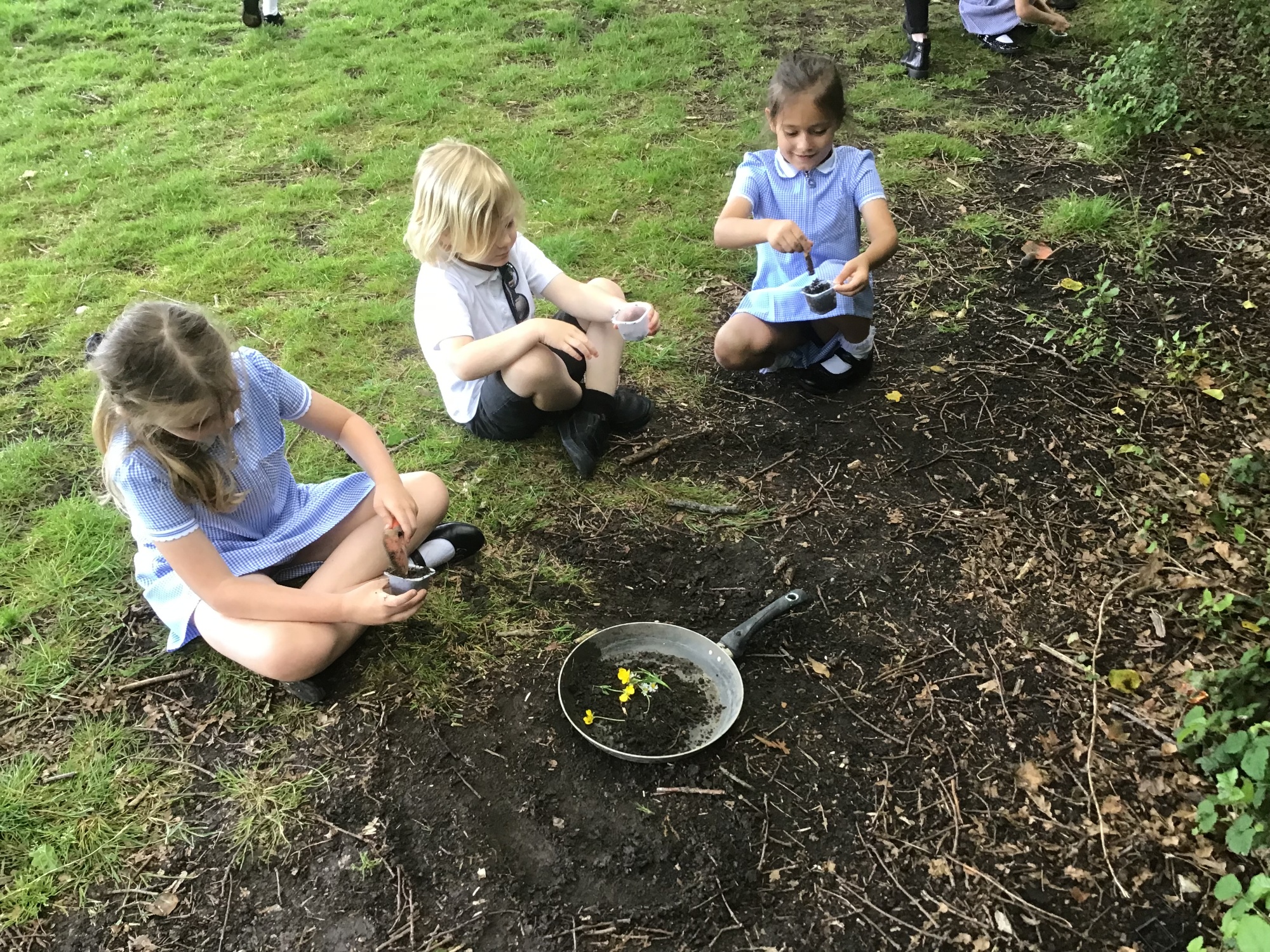 13th May
This week, we have been very enthusiastic about our history topic. We interviewed some older family members to find out about what toys they played with in the past. We then shared these in class and observed the differences between then and now.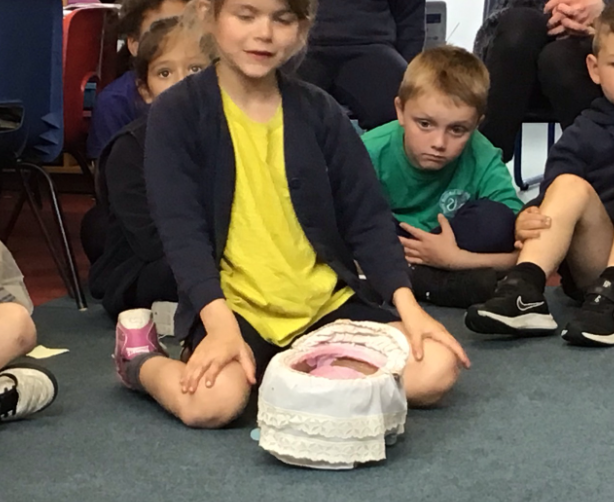 This is a wind up toy pram. When you wind it up, it plays music and rocks.
In English we have been planning and writing our own Old Bear story. We decided to write about a toy of our choice who was alone and needed to be rescued.
We have spent lots of time learning about money in maths. First, we identified different coins. We discussed different ways we could sort them: by colour, shape, size and value. We were then able to make different amounts using coins. Then we investigated the value of different notes.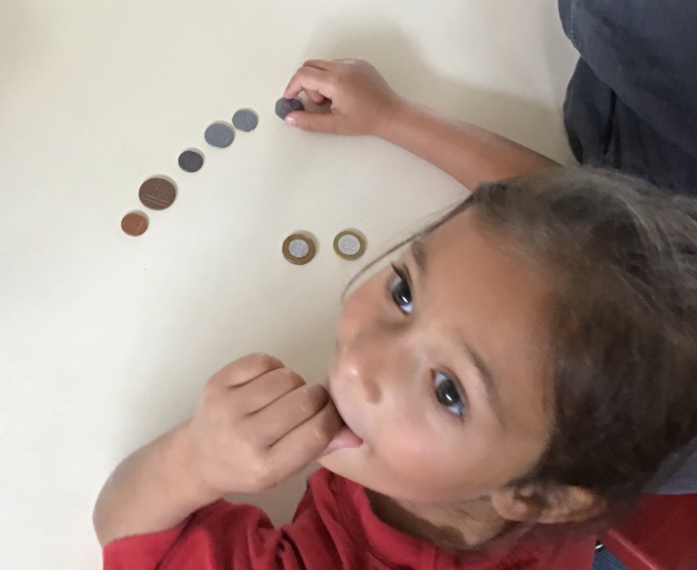 In science, we learnt about the parts of a flowering plant. Then we labelled them and made our own!
6th May
It's been another enjoyable week this week. Finally, we are starting to see some signs of summer arriving!
This week, we have continued reading 'Old Bear'. We planned and wrote recounts from Old Bear's point of view about how he felt trapped up in the loft. We are getting really good at using our senses to describe.
In maths, we have continued working on fractions. We learnt that quarters are four equal parts and we used arrays to find quarters of numbers.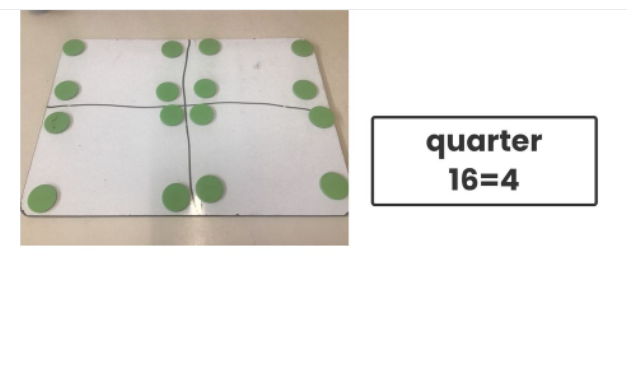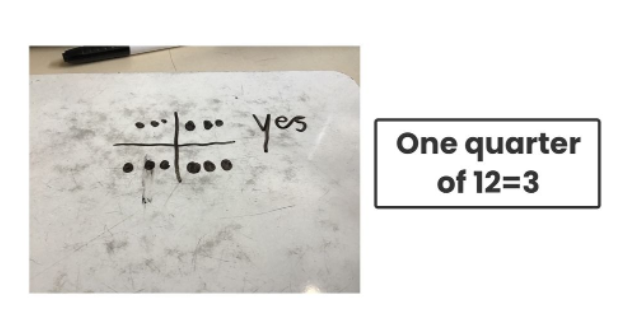 We were lucky enough to have Science Oxford visit the school this week who gave us a very exciting show. We looked at burning and melting, bouncing and waterproof materials.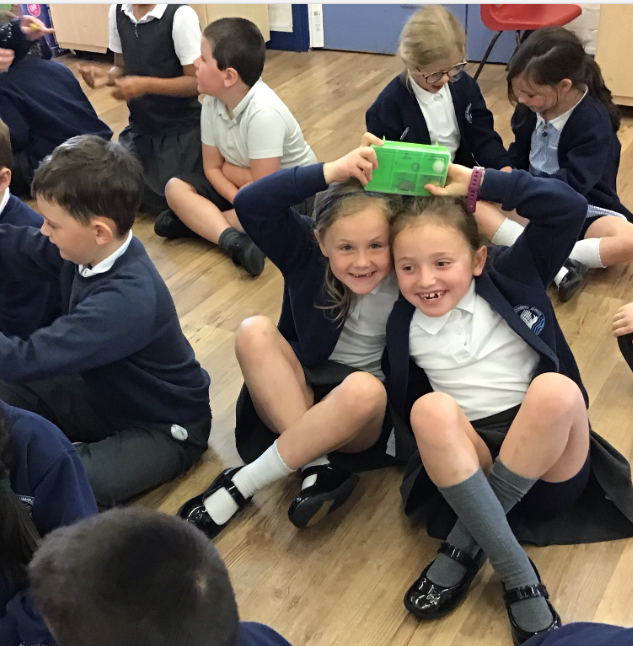 We also began our topic on plants. We looked at our outdoor area, seeing how many plants and trees we could name. We also explored other living things and shared some of our knowledge.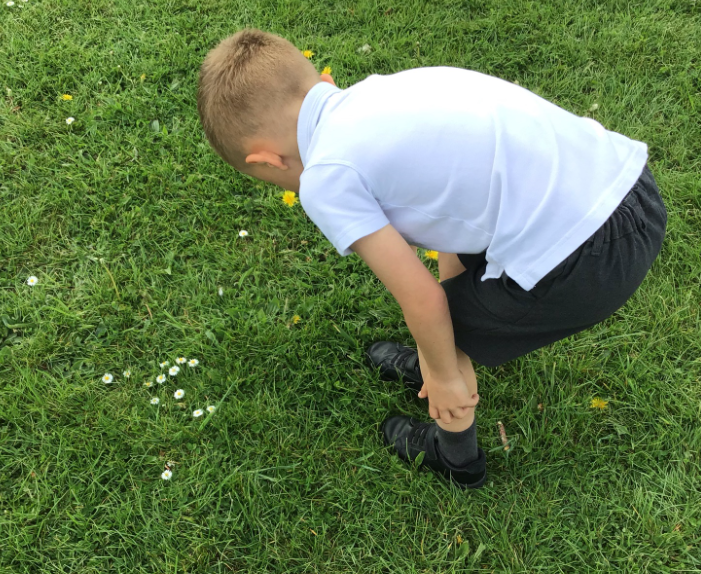 29th April
Welcome back! The children have settled well back into the school routine. We have got through lots of learning this week. Our new topic is 'Changes over Time' including looking at how toys, transport and homes have changed over time.
We have been reading the story 'Old Bear.' We discussed ideas about how to rescue Old Bear from the attic and made some good predictions. Then, we made our own aeroplane designs and explained how they worked. We used our imaginations really well!
In maths, we have started learning about fractions. We have learnt what a half is and how to split various shapes into equal halves. We also learnt how to half numbers and began investigating quarters.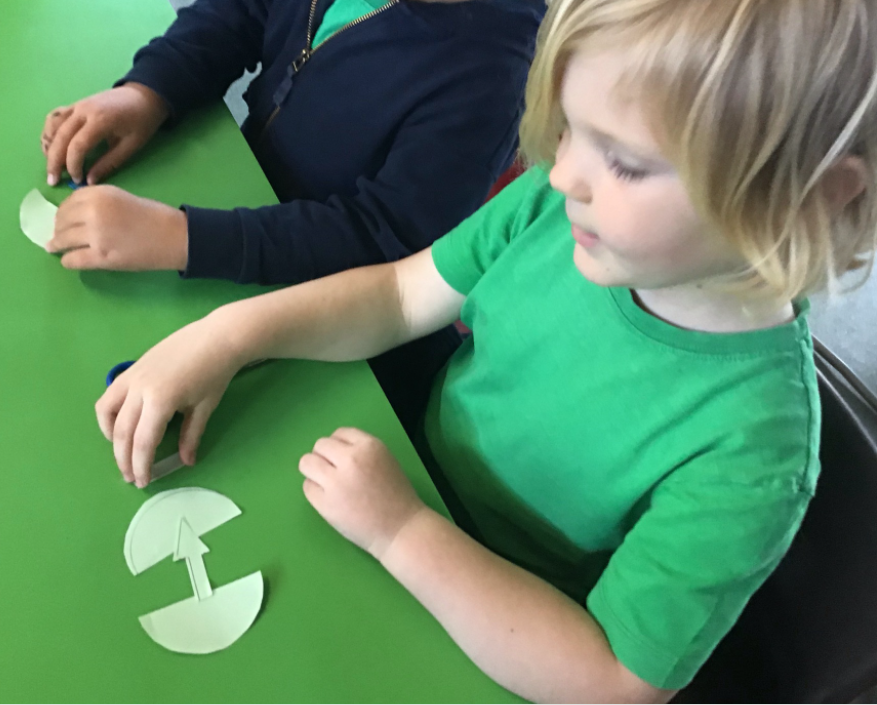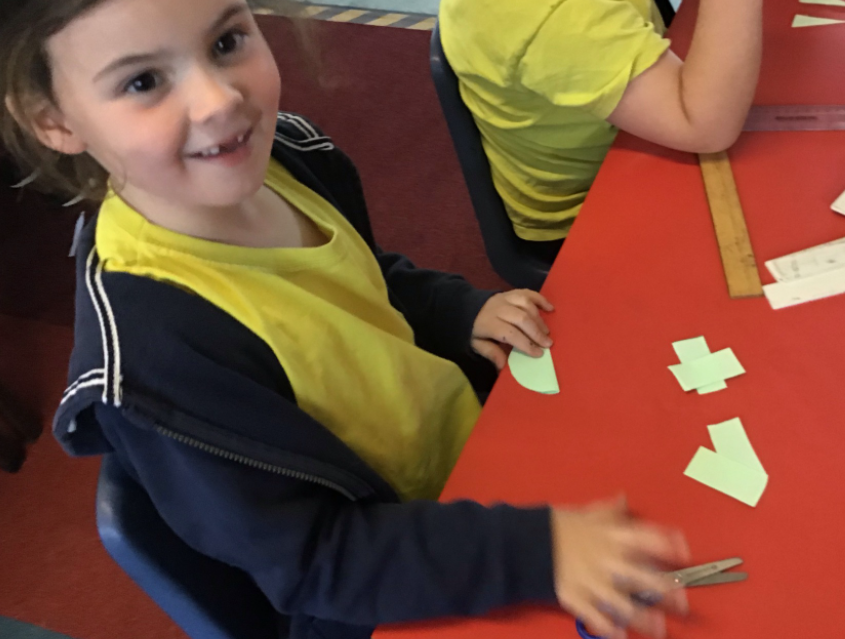 During our History lesson, we began to make observations about the past and present. We shared some thoughts on how we know that some photos or pictures are from the past. We also shared what we already know about toys, transport and homes from the past and asked some questions about what we wanted to learn (remembering to use a question mark!)
We were lucky enough this week to get to go on a visit outside school to the cricket festival in Wendover. The children all represented the school amazingly well and their behaviour was brilliant. We had a great time learning lots of different cricket skills.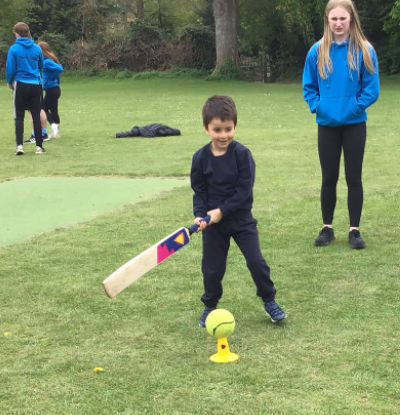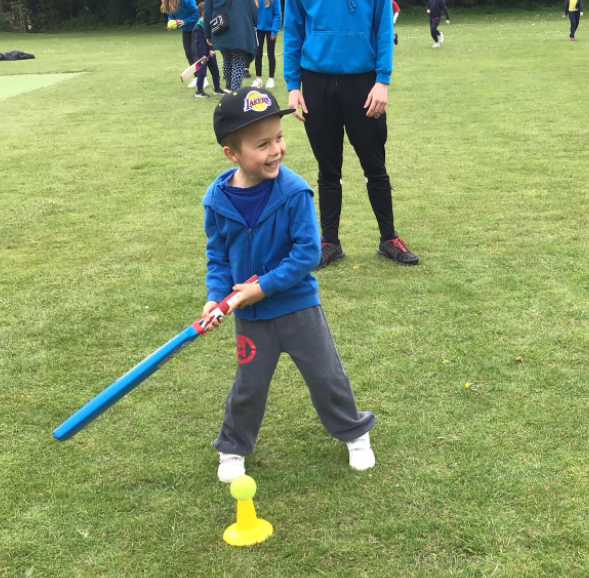 8th April
We have all packed a lot into this busy week but we have finally made it to the end of the term!
In English, we wrote our own stories based on a storm picture. The children's ideas were fantastic and the standard of their writing has been excellent. They have all tried to improve their writing using an editing pen.
In maths we have been continuing to work on arrays and sharing. For example, we know that we can't share an odd number between 2. We have also been working on our reasoning skills, using the word 'because.'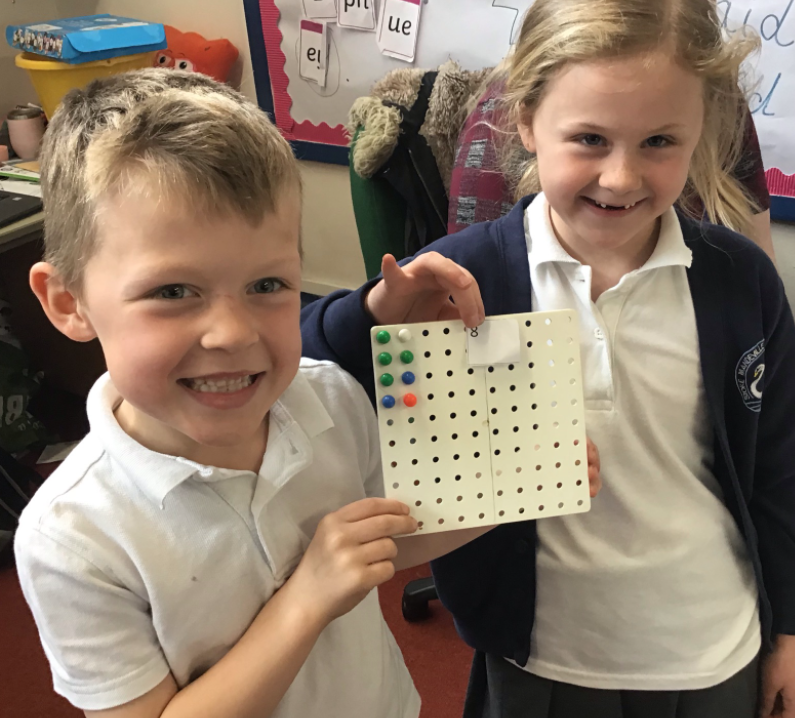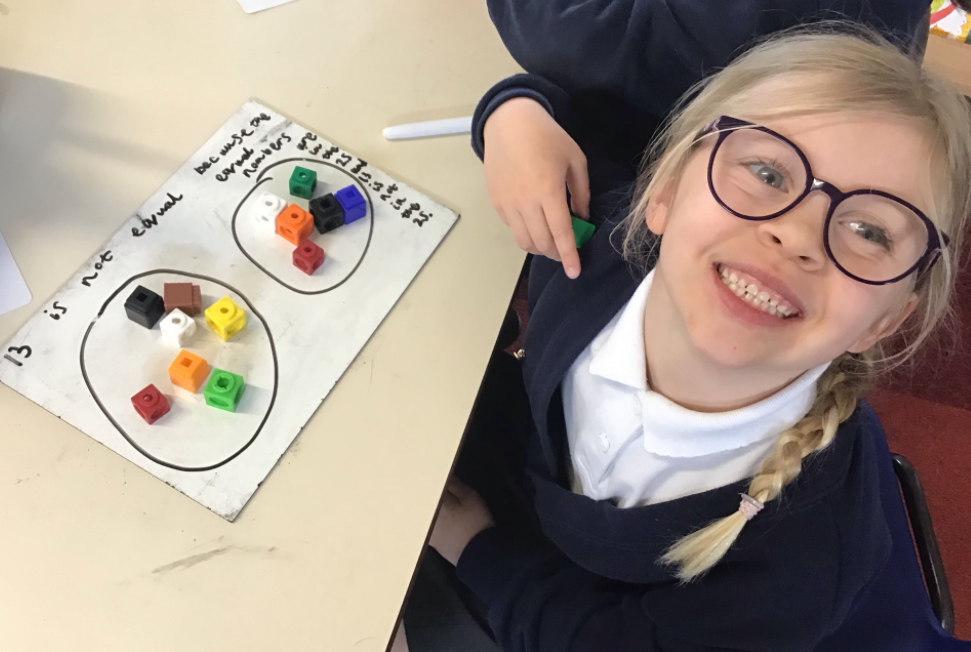 There was much excitement this week when the chicks came to visit our classroom! The children were all very sensible in handling them and caring for them. We talked about what happens to them in different stages of their life.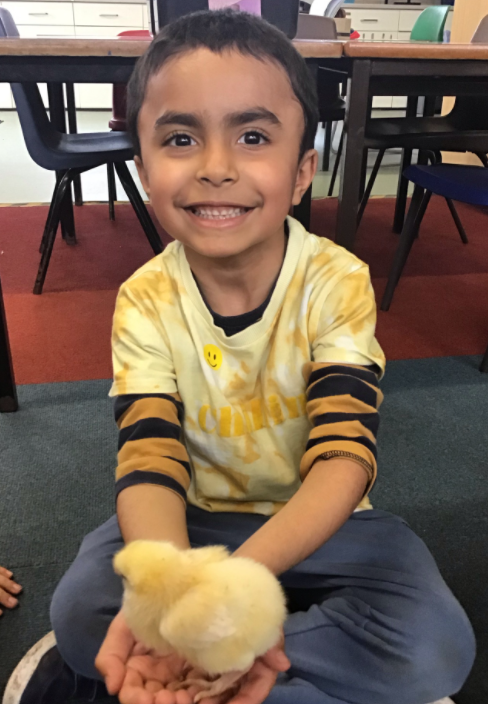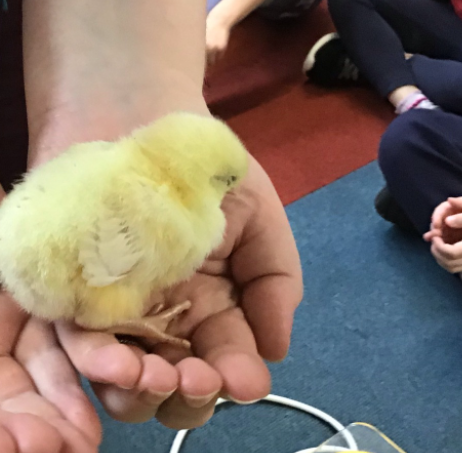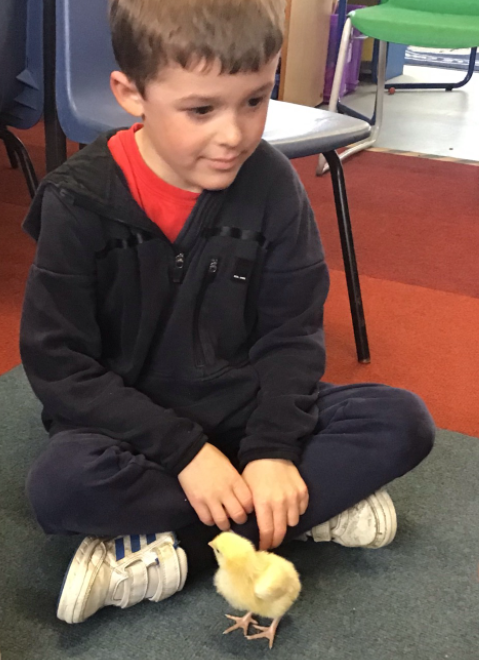 We also really enjoyed making fruit salads. We learnt how to chop fruit safely using a bridge hold and how to select fruits that go together. We also wrote our own instructions on how to make a fruit salad.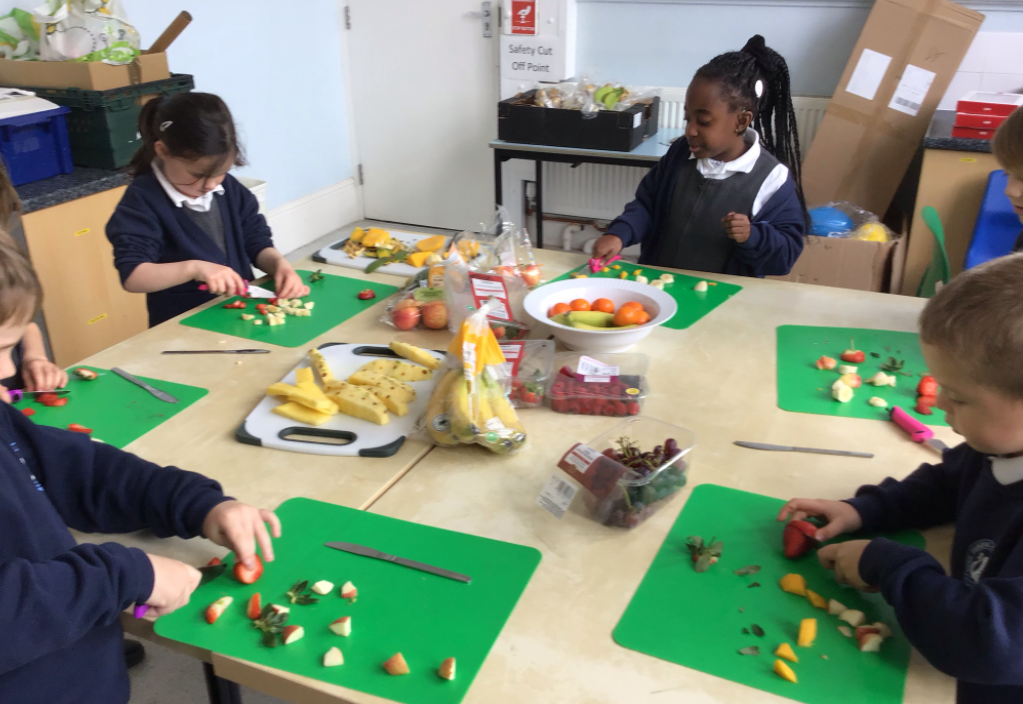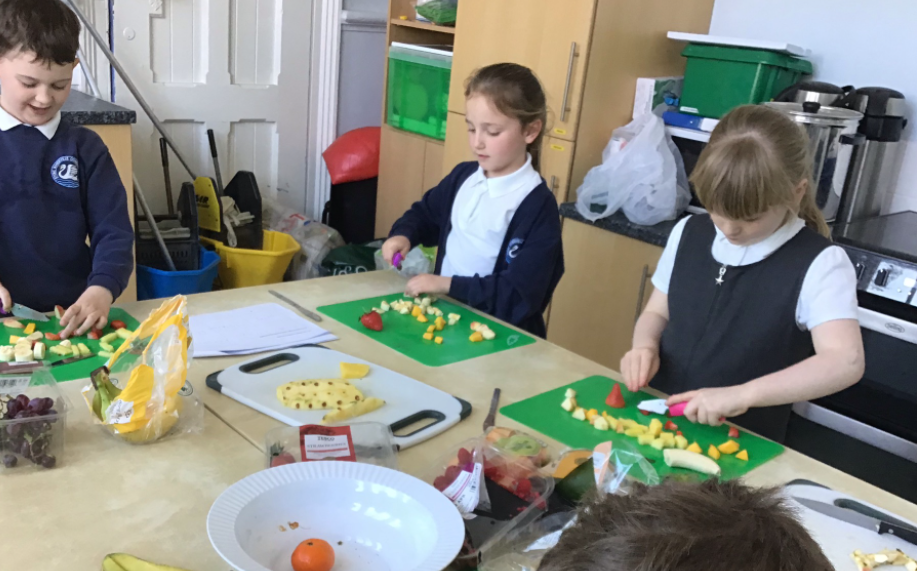 Well done to the children for their continuous hard work this term. We all hope that you have a lovely Easter break!
31st March
This week, we have done brilliantly with our special quizzes in class. We have been very grown up and responsible in trying our best and showing resilience. We have also learnt how to edit our writing using special pens.
In maths, we have learnt all about arrays. We have used equipment to show arrays as repeated addition or equal groups.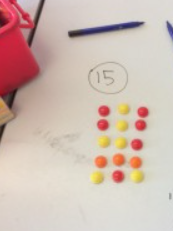 We also looked for arrays around the classroom, for example, the window panes.
In geography, we revised the continents of the world and placed them on our new maps.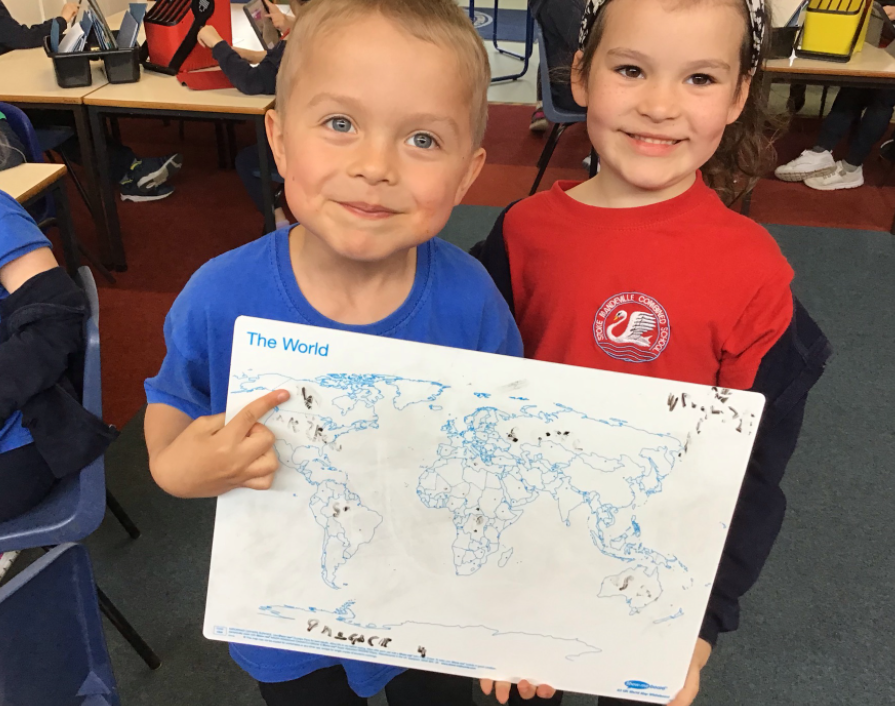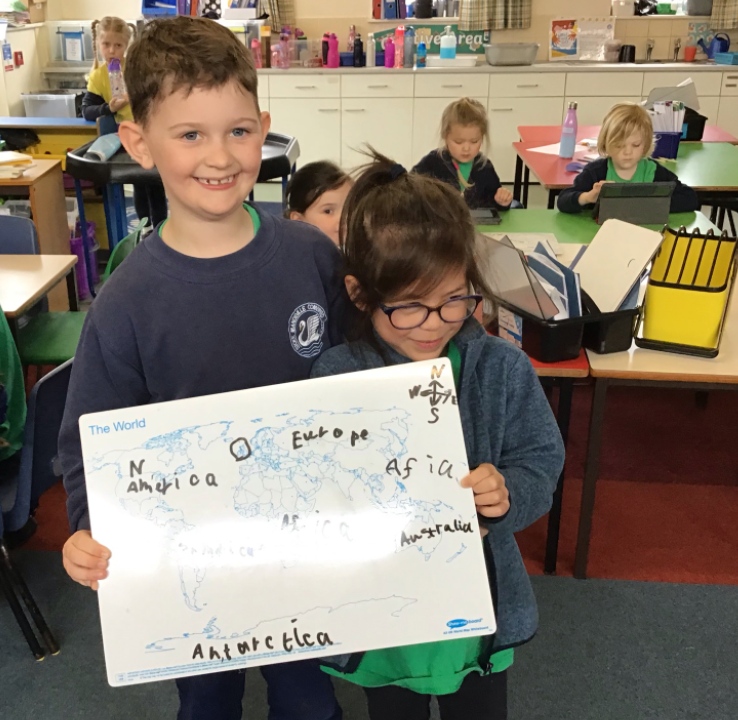 We have also produced some super work on Palm Sunday in RE with Mrs Ryan!
In music, we continued to learn how to play the glockenspiel.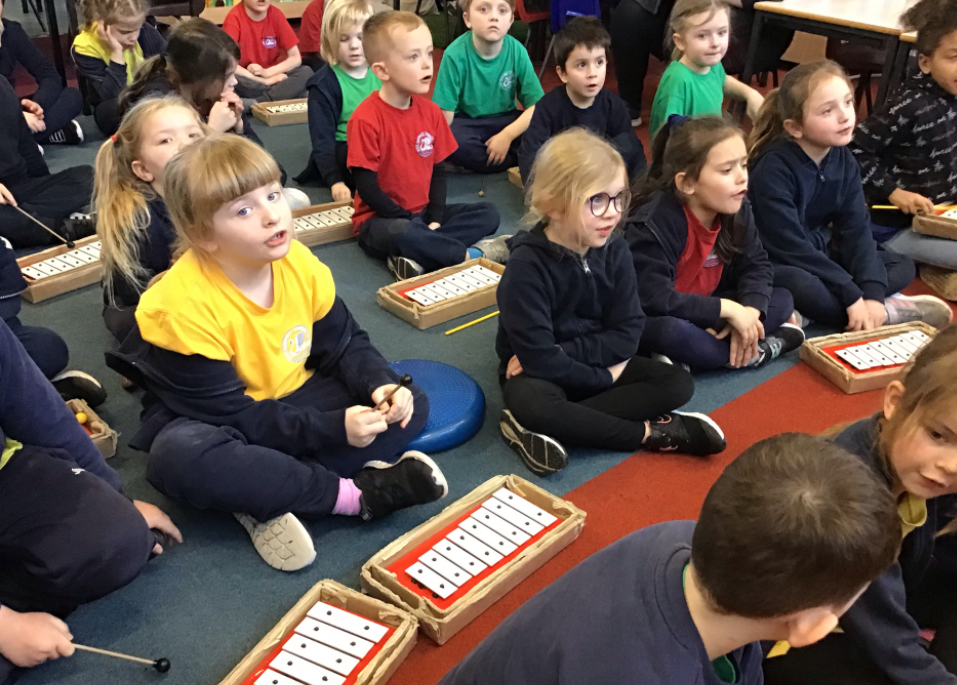 25th March
In English this week we have been planning a recount based on the book 'Emma Jane's Aeroplane'. In this book, Emma Jane visits lots of famous cities around the world. We have worked hard to describe the cities and write about the animals in each one.
In maths, we have looked at making equal groups and counting in 2s, 5s and 10s. We have focused on using equipment and drawings to show equal groups and we have compared equal and unequal.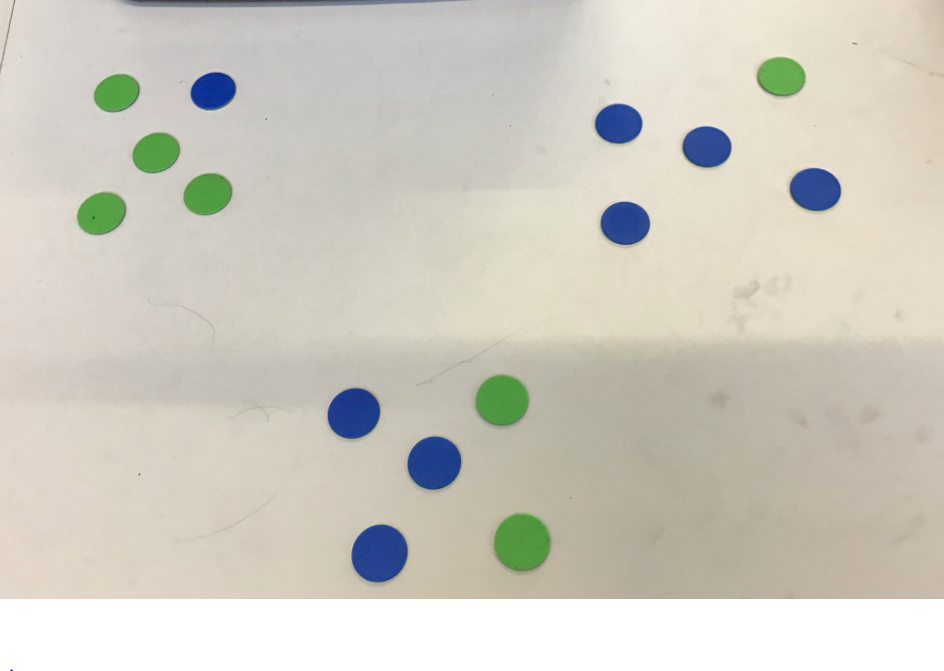 We also learnt more about Neil Armstrong and created a newspaper report for the moon landing.
Finally, it's been wonderful enjoying the sunshine and doing lots of outdoor learning!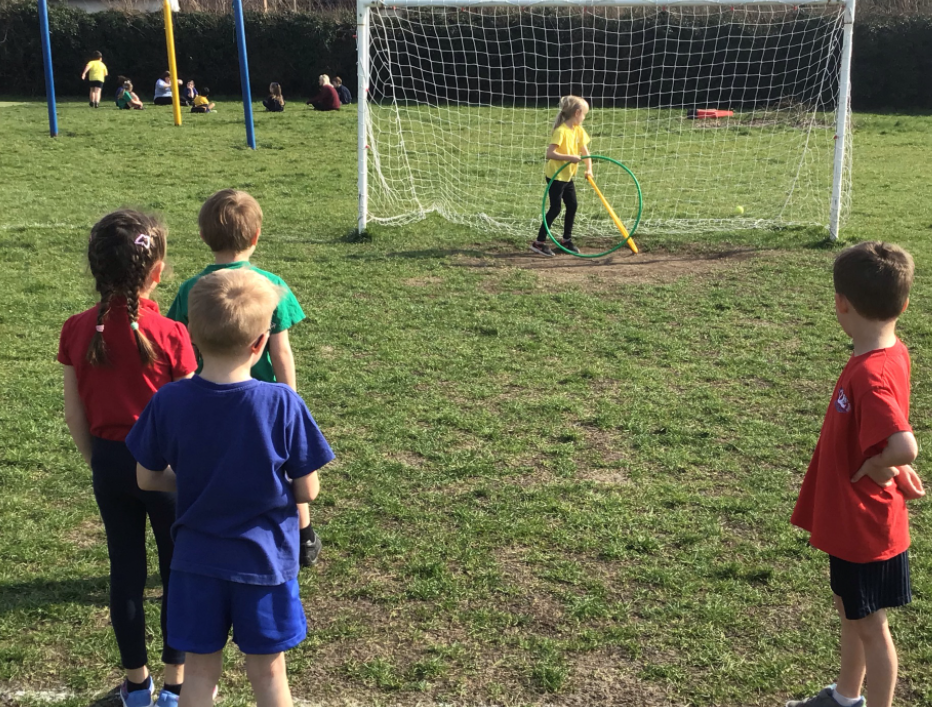 18th March
This week has been our school science week. We have had loads of fun investigating different things including: how to melt ice quickly, which eggs roll the furthest and melting different chocolate.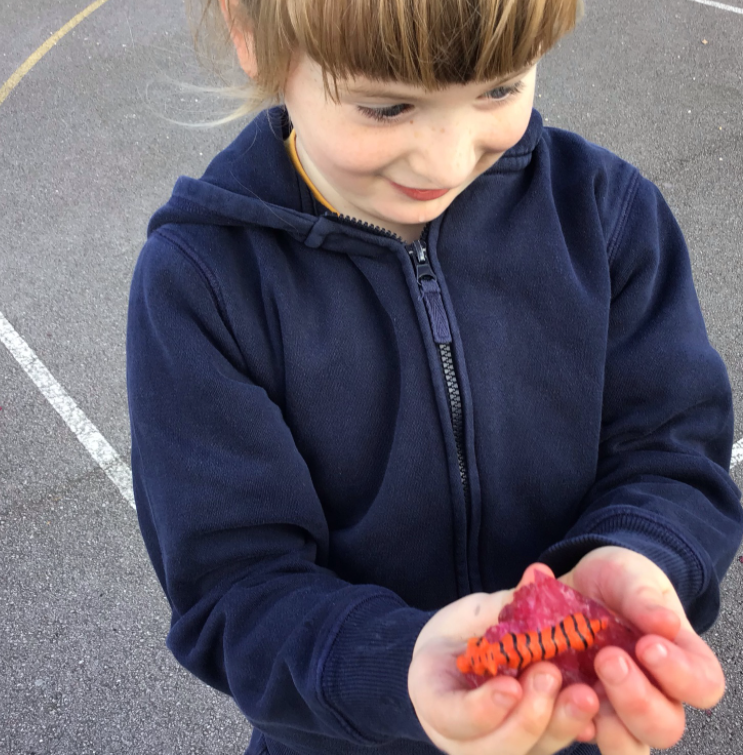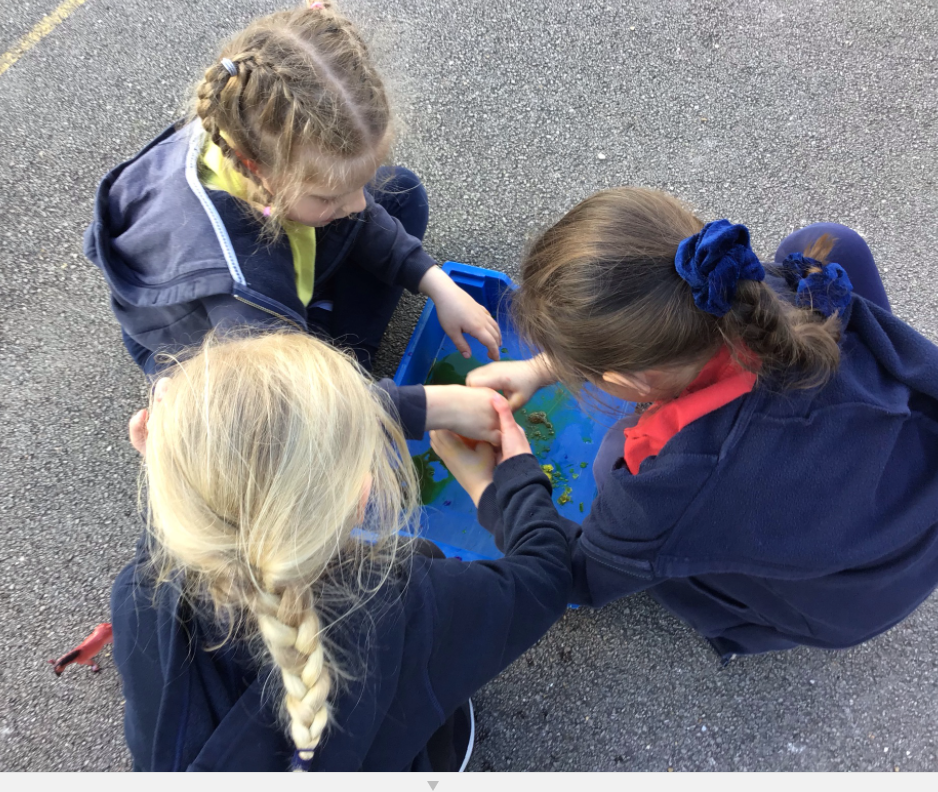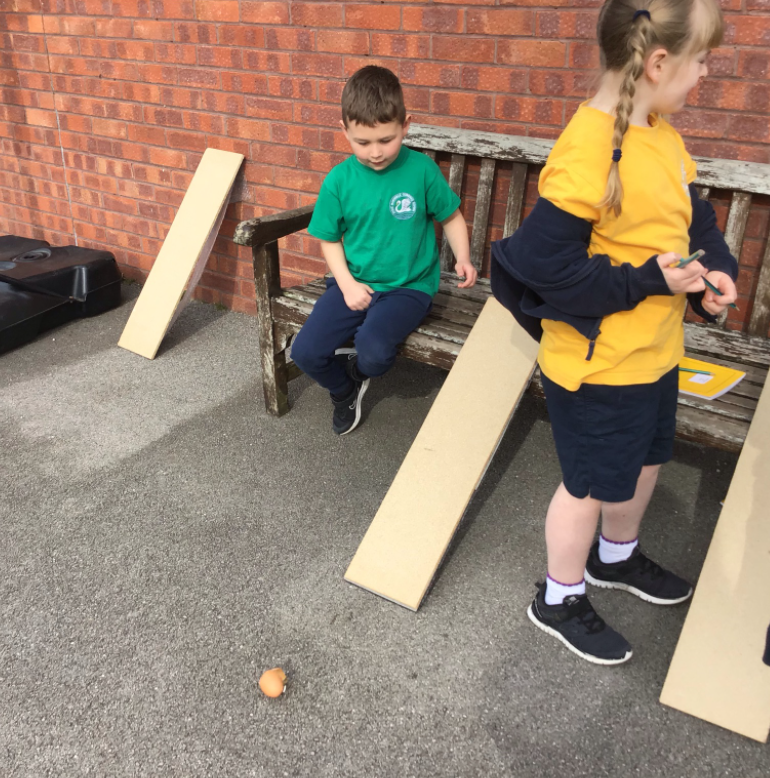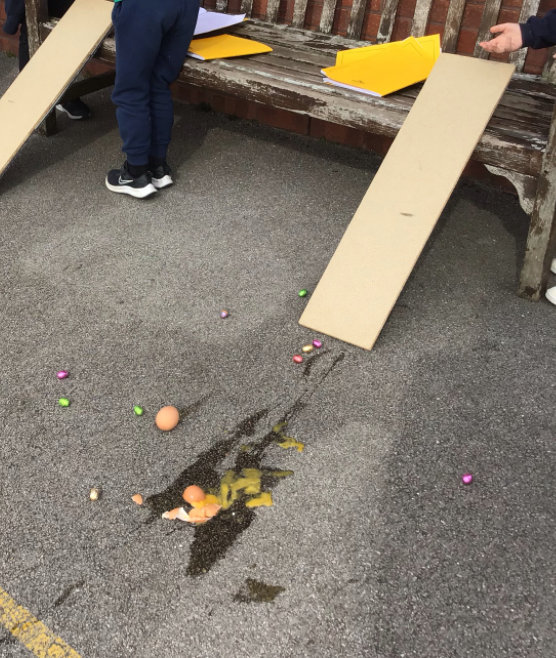 We also enjoyed an outdoor nature afternoon with the rest of Key Stage 1. We completed scavenger hunts, nest building and some art using natural resources.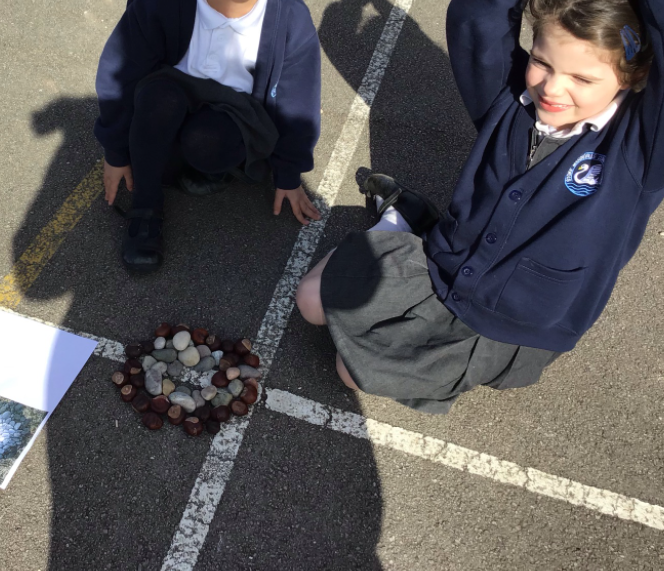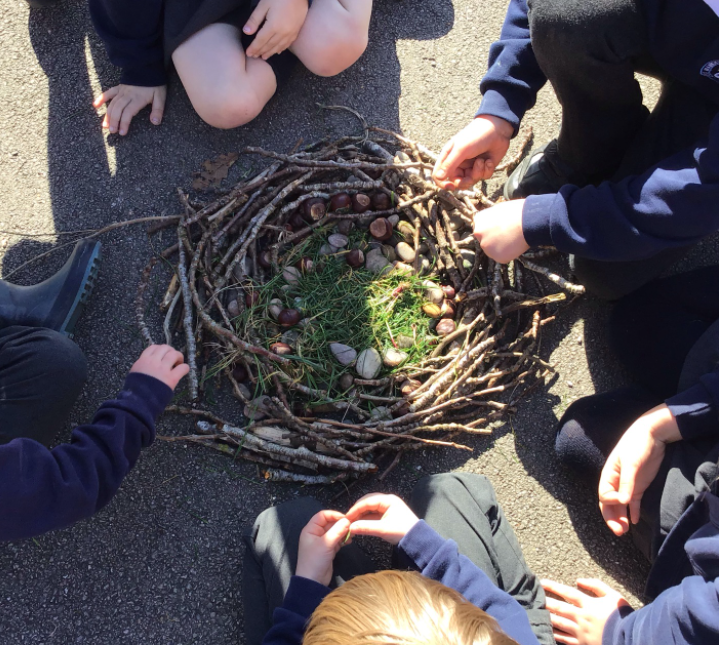 In English, we researched a famous scientist. We learnt all about Marie Curie and how she helped find cures for ill people.
11th March
This week, we have had an extra terrestrial experience in the school! A space rocket crash landed on the school playground and we wrote about what we thought happened. Mr Lack was an eye witness and said it was 'a nightmare.' We think there was an alien there too...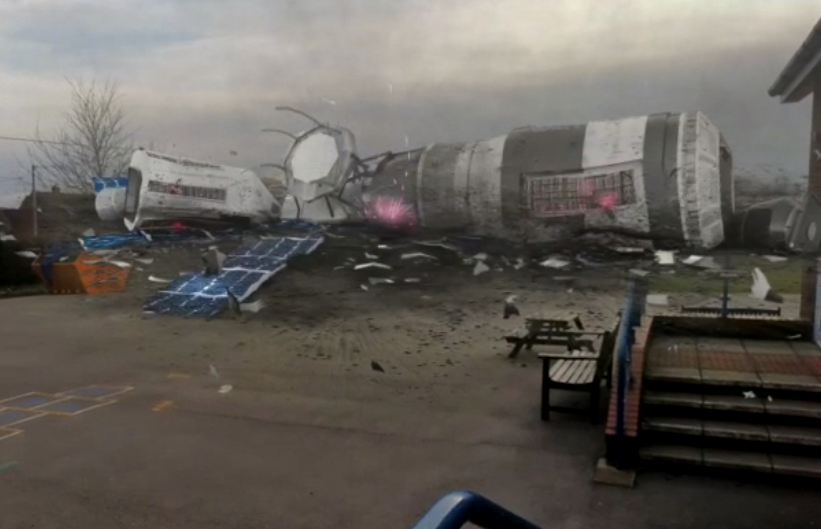 In maths we have been learning all about volume and capacity, building up our vocabulary and investigating lots of different containers.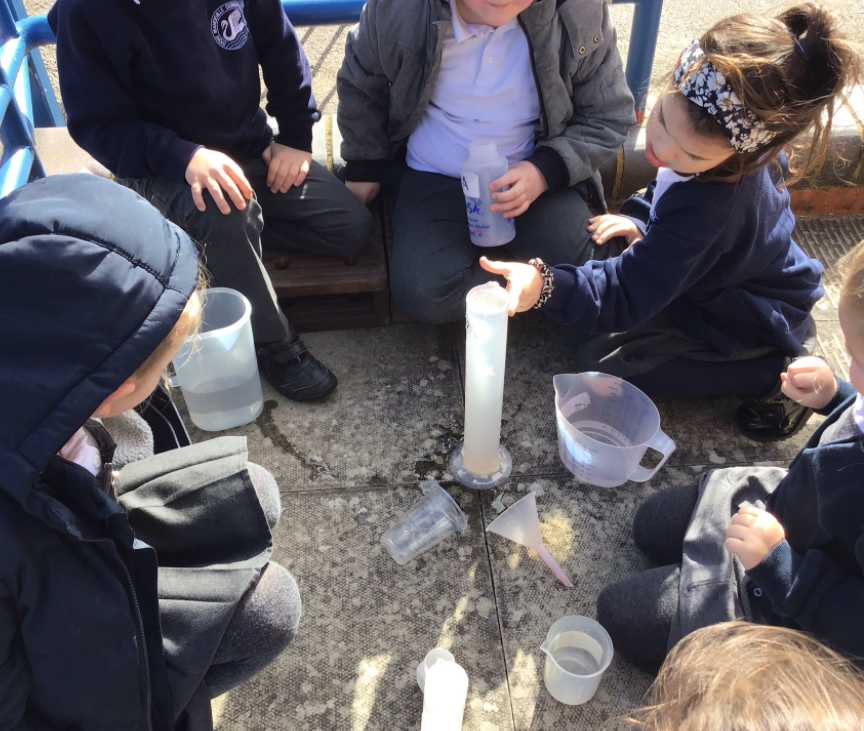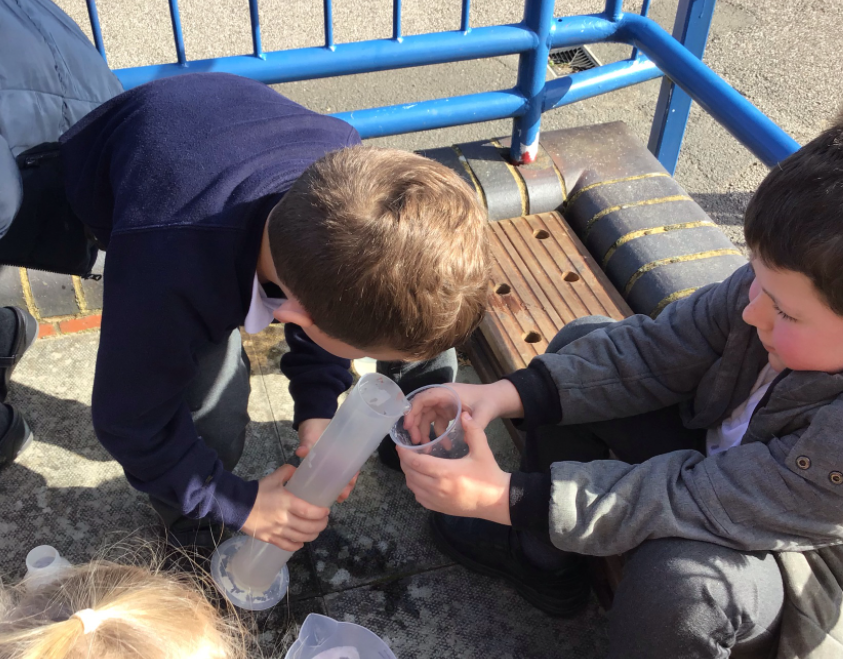 In science, we investigated some different materials for a purpose. We used our science knowledge to make umbrellas and hats that had to be waterproof. We tested them out too!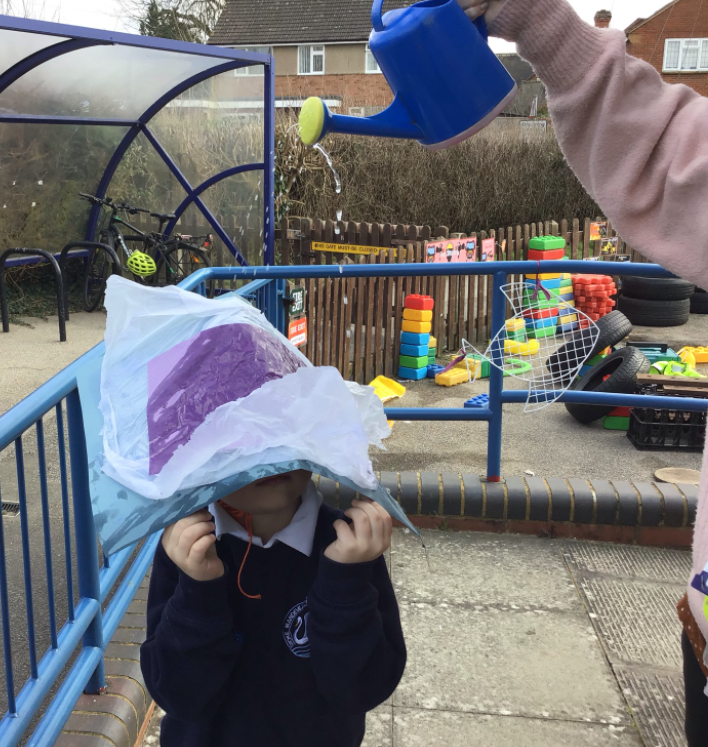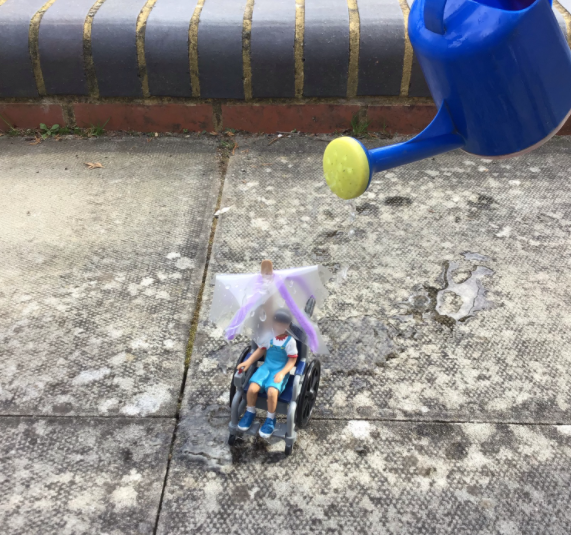 We also enjoyed a visit from the Wonderdome planetarium, where we learnt lots of facts and knowledge about space!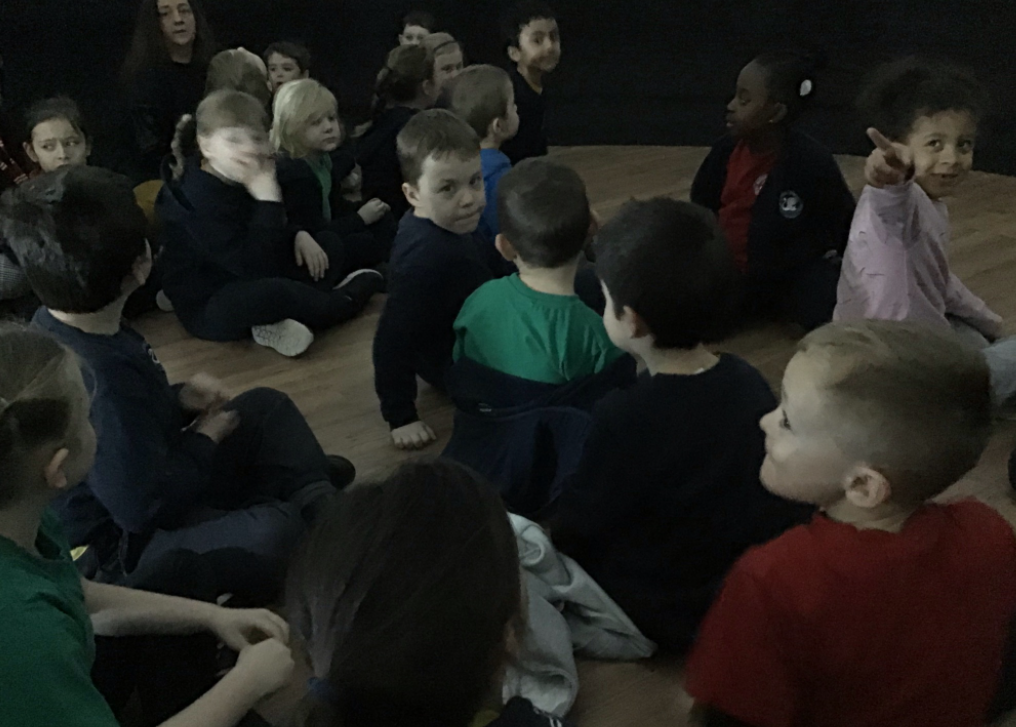 4th March
Welcome back! We have all enjoyed a wonderful World Book Day. Everyone's outfits looked amazing and we had such an array of book characters.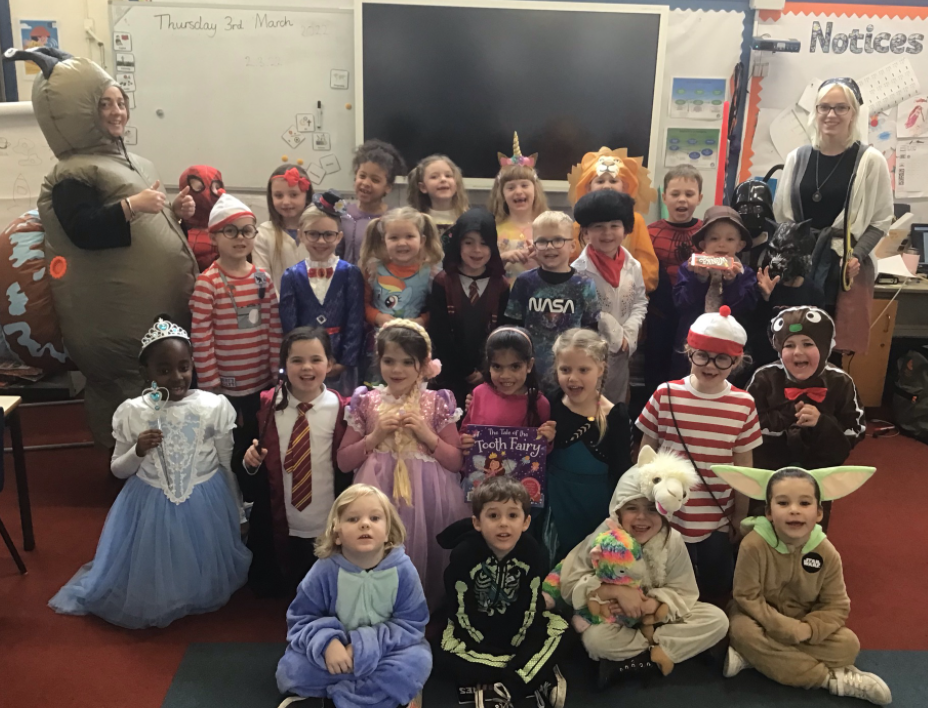 What a super effort! We focused our World Book Day around the book 'Man on the Moon' by Simon Bartram. We wrote a recount of a journey to the moon in English, imagining we were Bob, the man who cleans up after the secret aliens on the moon. We also created some wonderful art work of the moon and the Earth from space.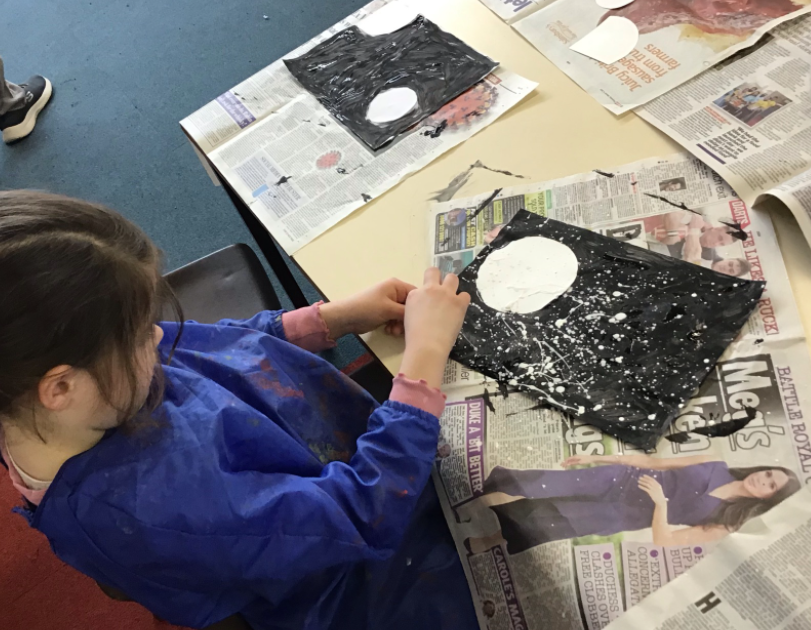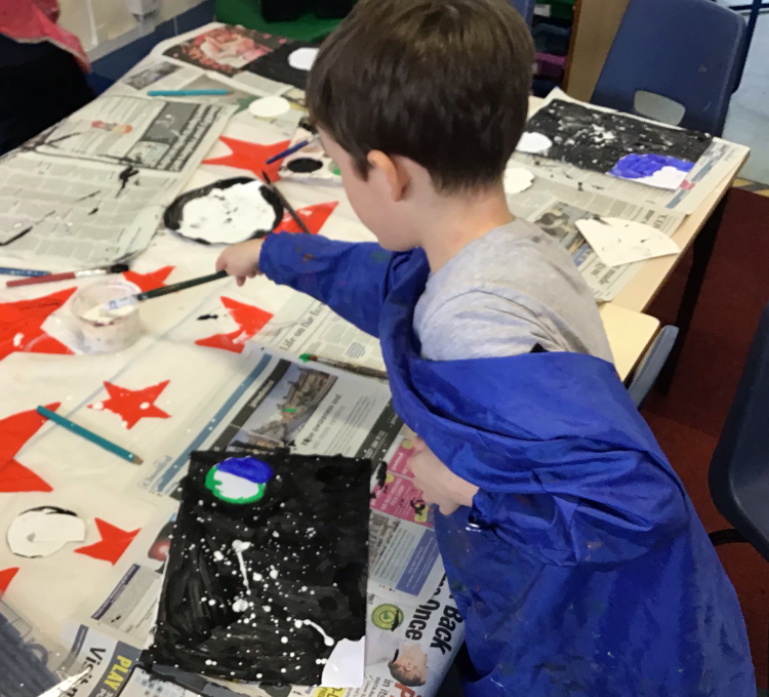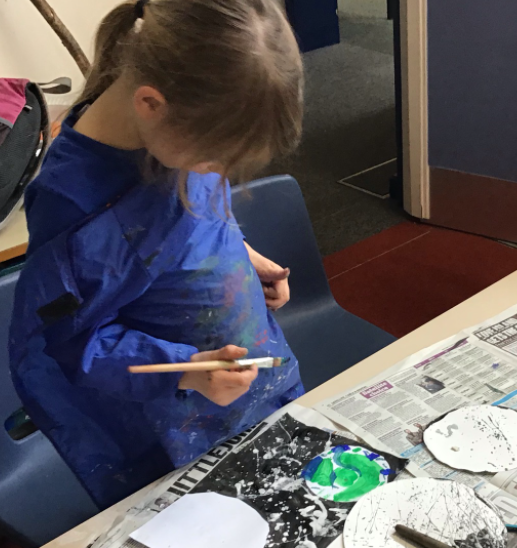 In maths we have been learning all about mass and weight. We have focused our learning on using non- standard units to measure weight and ordering and comparing objects according to their mass.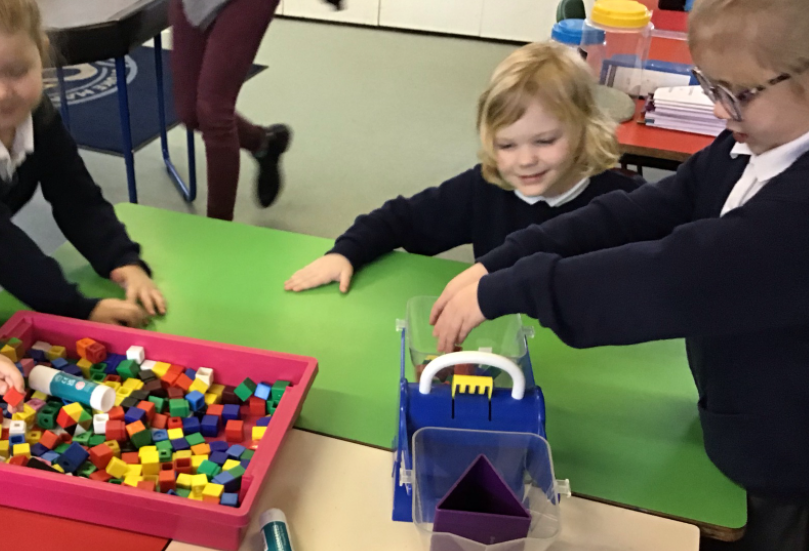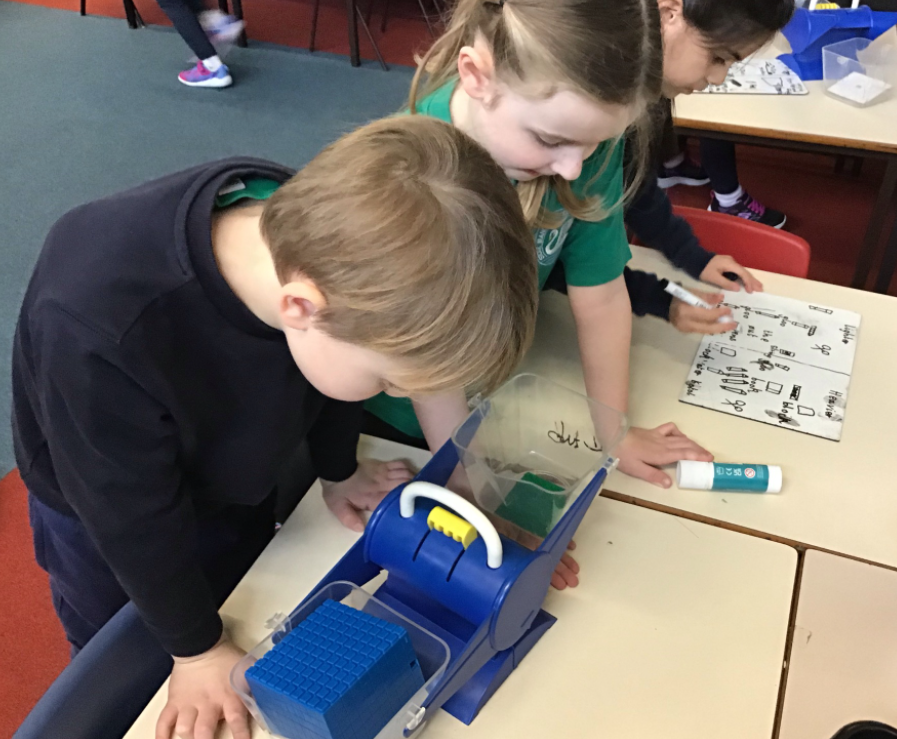 18th February
We have had another very busy week. In English, we have been learning about Amelia Earhart, the first woman to fly a plane across the Atlantic Ocean. We read the book 'I am Amelia Earhart' and used it for our research. We are now creating biographies about Amelia.
We also linked this to our learning in History and Geography. We located the Atlantic Ocean and discovered it was between Eurpope and America. We also mapped out Christopher Columbus's voyage across the Atlantic.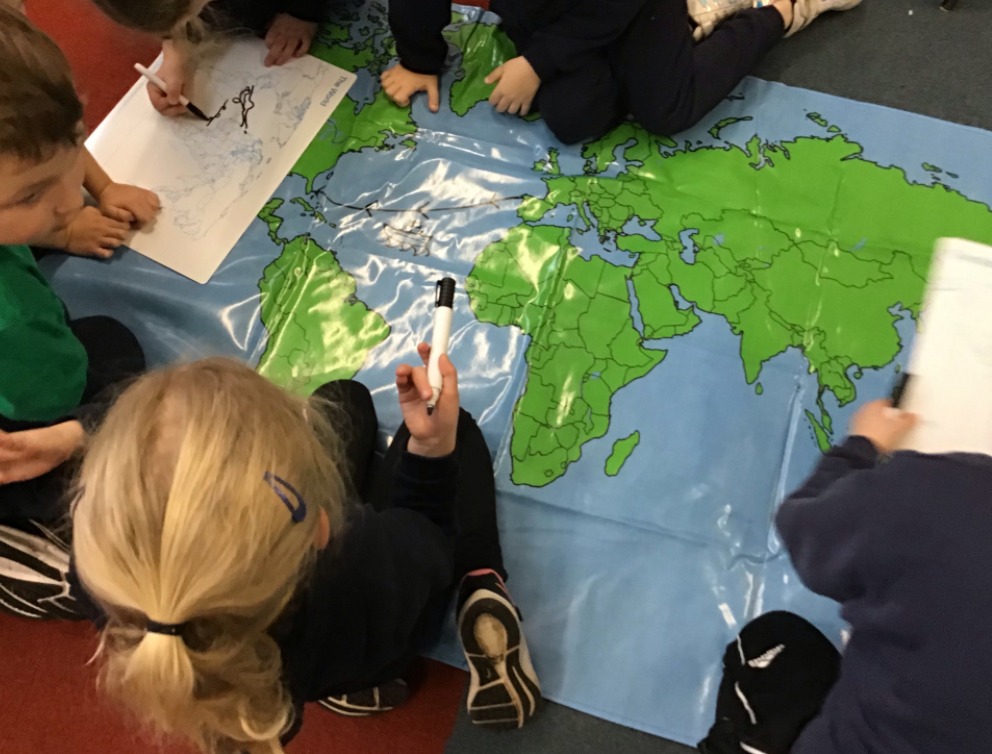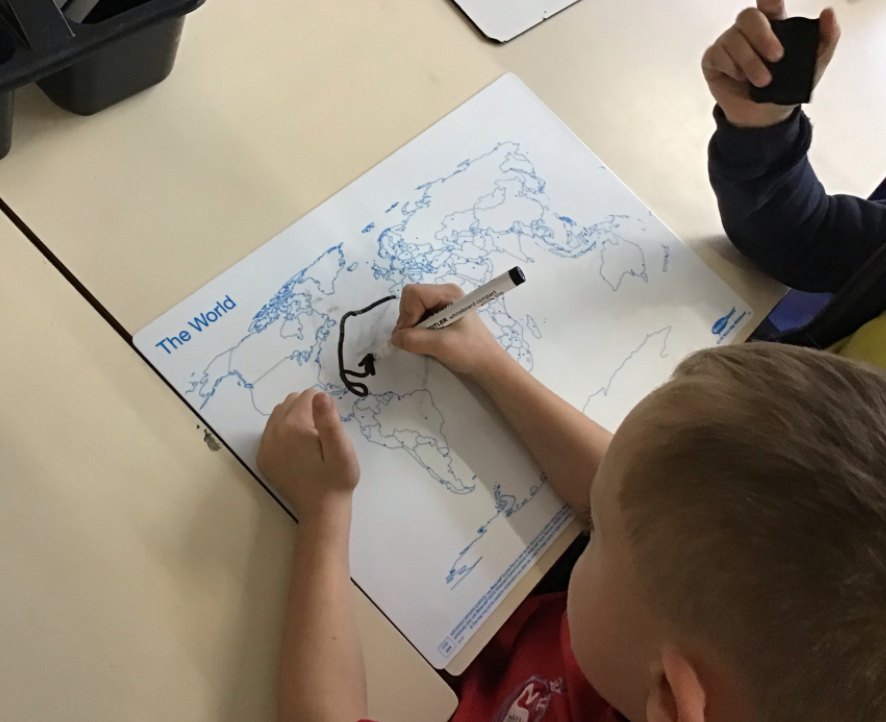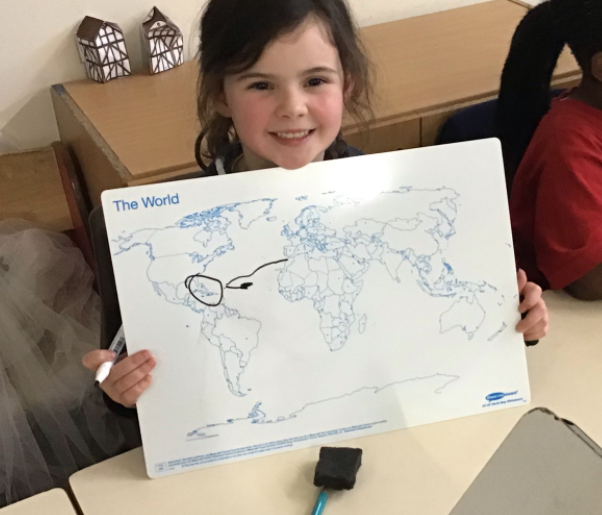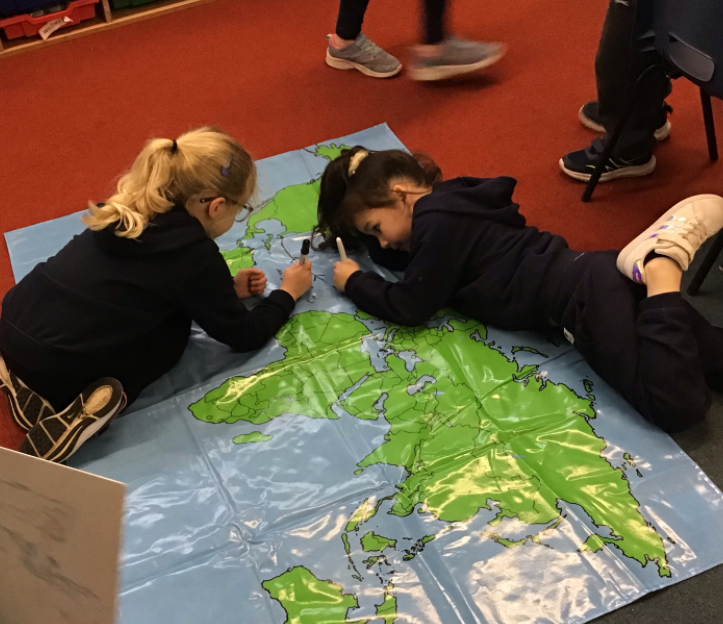 In maths, we have learnt how to measure with a ruler. We looked at what centimetres are and how to line up a ruler correctly to measure in centimetres. We compared lengths and solved problems using measurements.
We really enjoyed the skipping workshop on Thursday. We learnt lots of new skills.
​​​​​​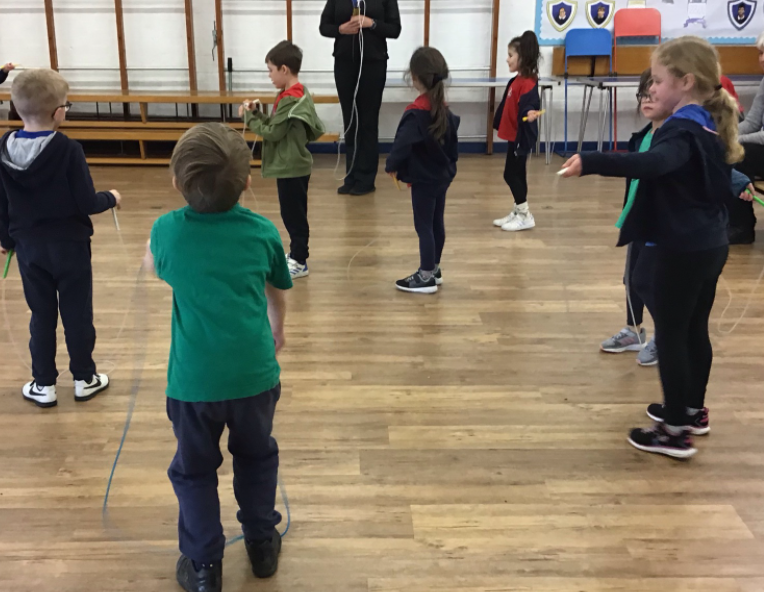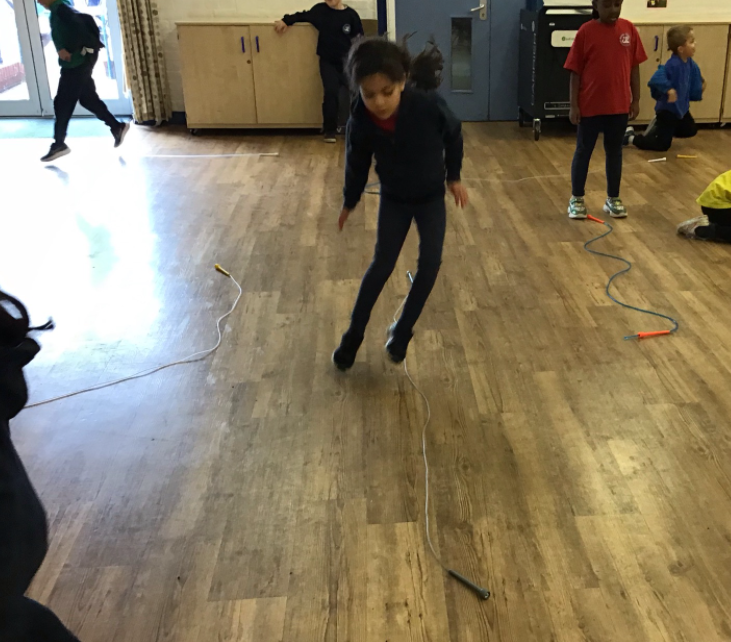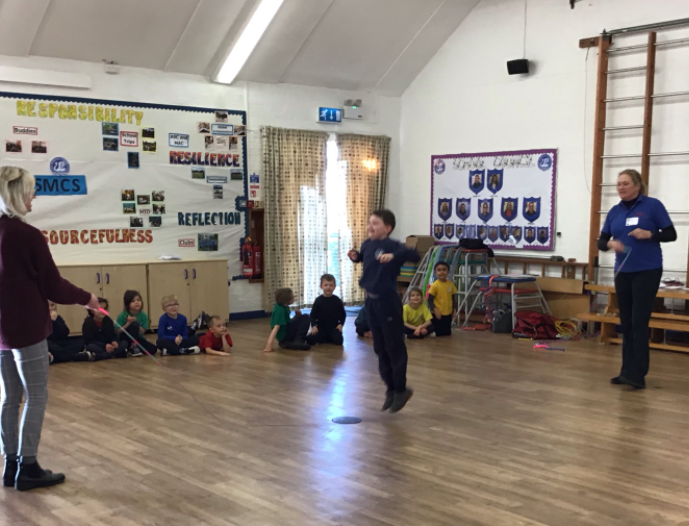 11th February
This week, the children have learnt some super new skills in English. We looked at what an exclamation mark is and how we use it to show anger, shock or excitement. The children came up with their very own sentences based on the book 'The Darkest Dark'. The characters all sounded very excited. We have also been describing what it would be like to be on the moon and creating super sentences using our five senses.
Our maths learning has also been very enjoyable. We have been learning about length and height. We have used lots of different objects to measure using non-standard units. We have compared our own heights with others and objects around the school.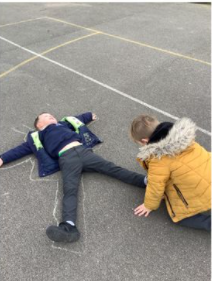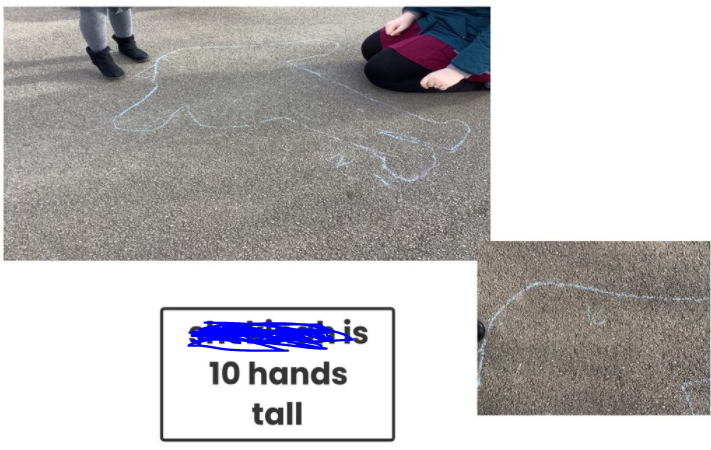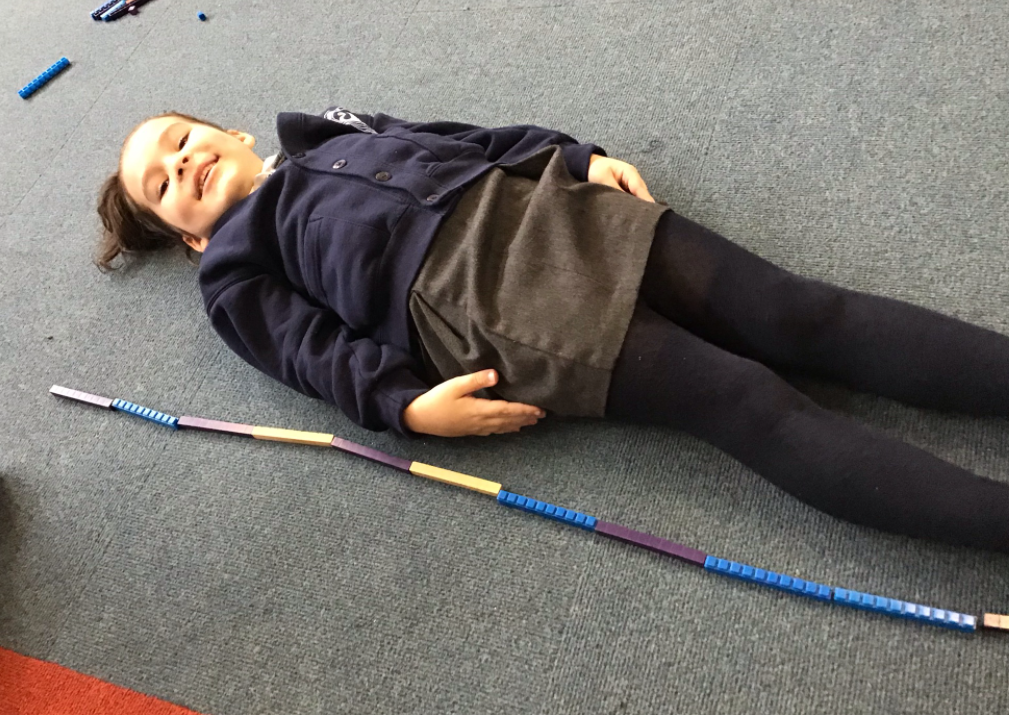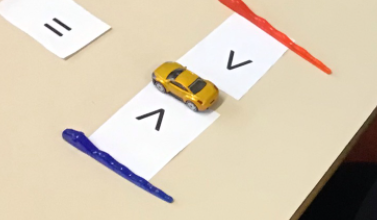 This week has also been Children's Mental Health Week. We have been focusing on our emotions and how we manage them. We focused on fear, anger and sadness. One of our favourite lessons was learning all about anger. We read a story which describes anger as being like a volcano. We discussed that this is a bit like what happens to our bodies when we get angry. Then, we were challenged to make a volcano erupt!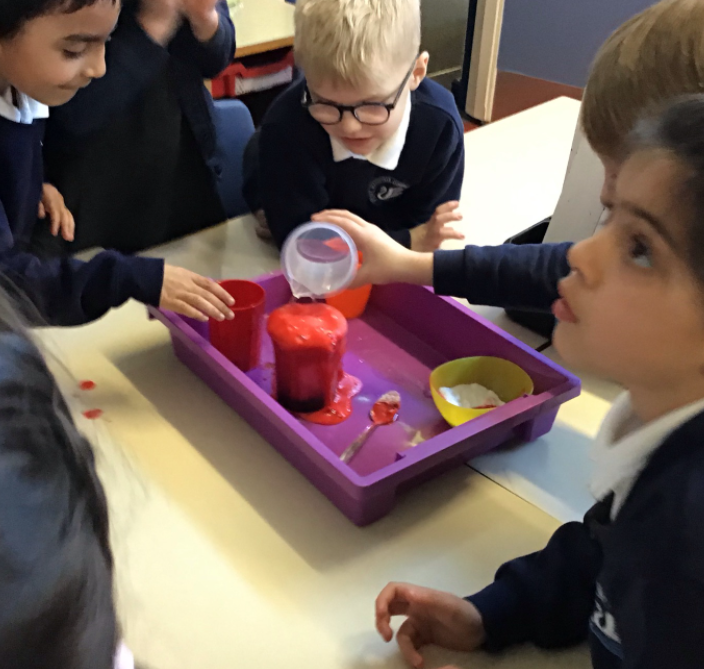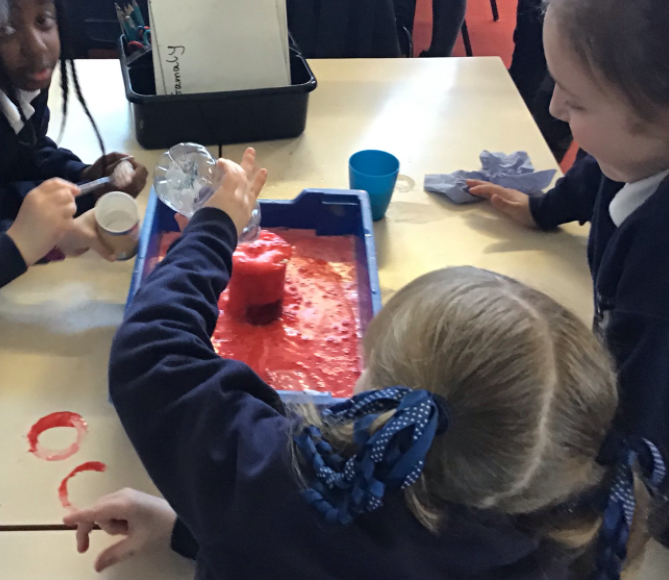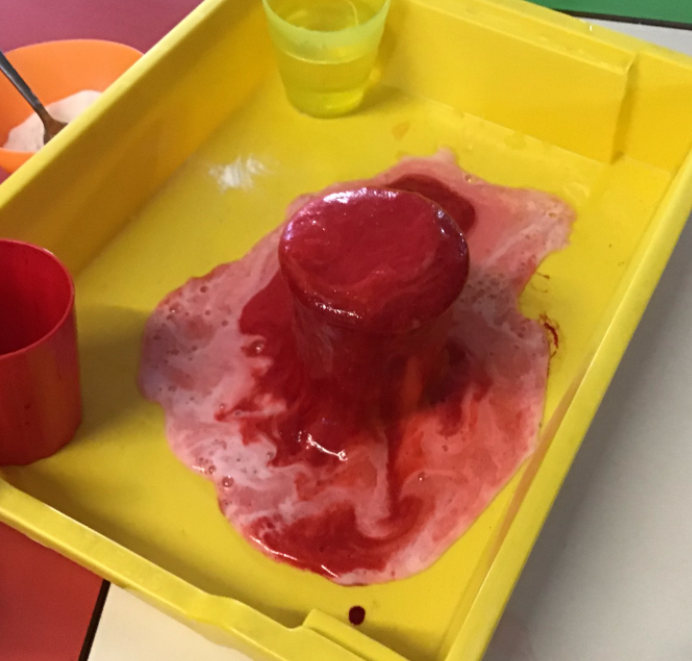 Finally, we have also really enjoyed doing our dancing in PE. We are creating a jungle dance!
4th February
This week, we've enjoyed reading our new book 'The Darkest Dark' by astronaut Chris Hadfield. We explored the story from Chris's point of view, identifying his feelings at different points in the story. We discussed that there are lots of different feeling words other than just 'happy' and 'sad'. We are writing a diary entry as Chris - the work is looking great already.
In maths, we have started to explore odd and even numbers, identifying methods to find out how we know if 2 digit numbers are odd or even. We have also practised counting in 2s and making numbers to 100.
Our history learning was super exciting! We became archaeologists for a day! We were finding out about Christopher Columbus. We found lots of clues and came up with some great ideas about whom we thought he was. We found potatoes, flags, wood, feathers, maps and some compasses. Some of us thought his favourite food was potatoes! Lots of us thought he was an artist, but some children guessed correctly that he was an explorer. We then learnt some facts about him and discovered that he went on a voyage, but he didn't discover America. We also talked about the fact that he wasn't a very nice person because he took some people home as prisoners. The children were so excited by what they found, and their enthusiasm was amazing.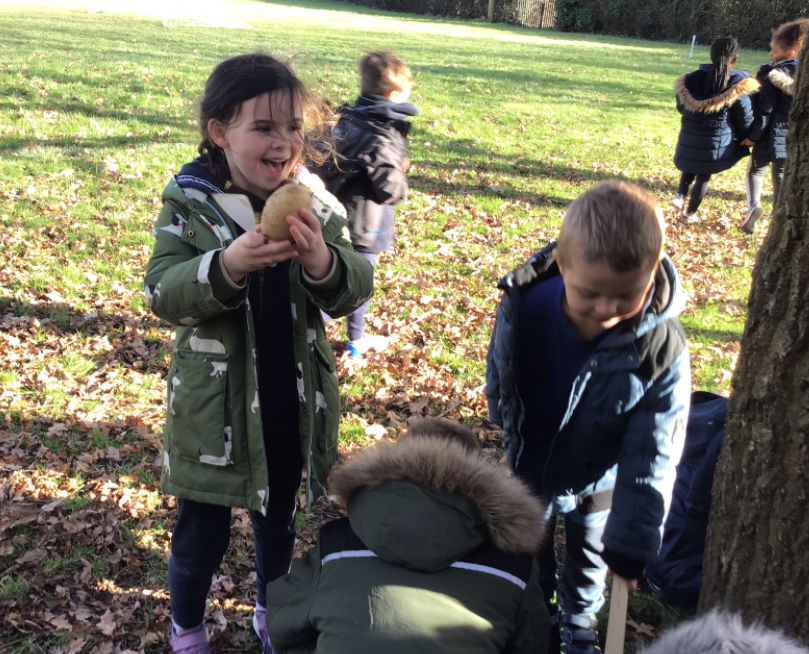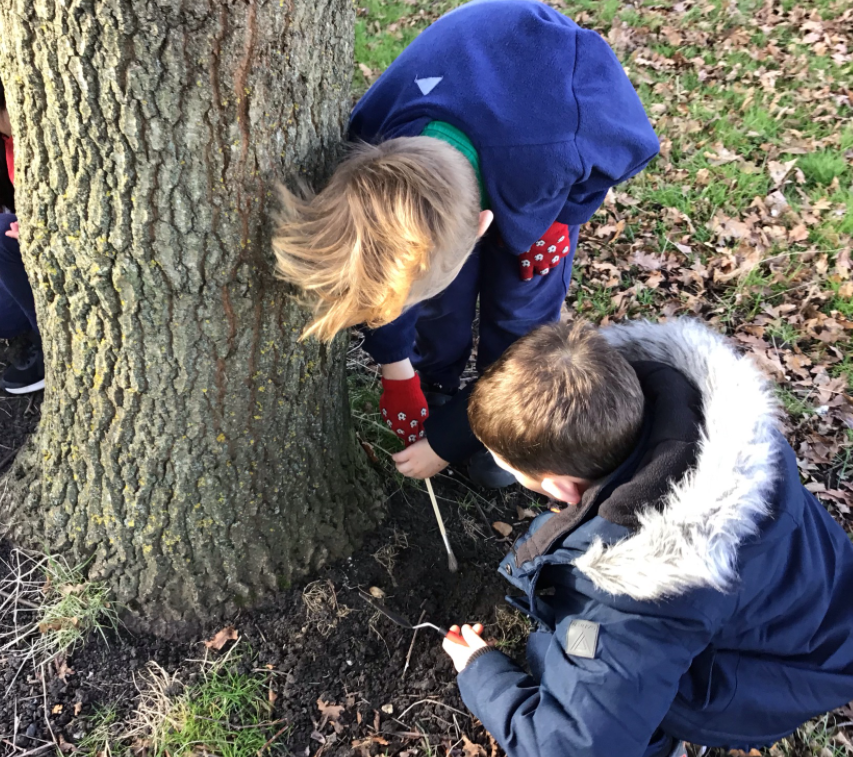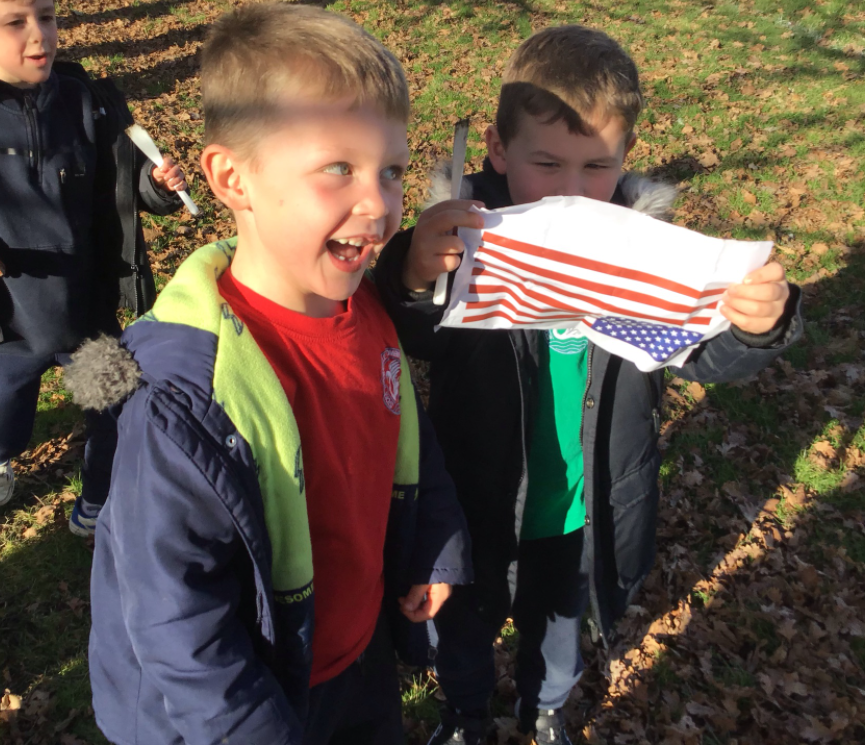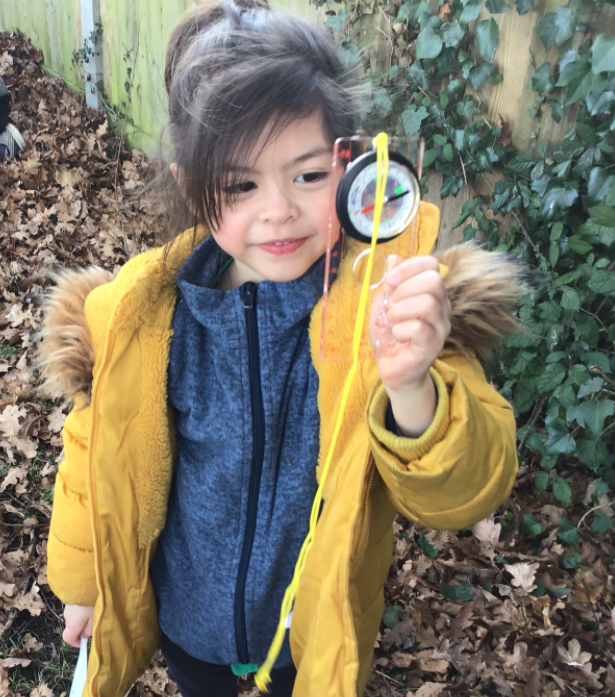 28th January
What a lovely week we've had!
We began the week working really hard on our English, telling the story 'The Night Pirates' from the moon's point of view. We have continued to work on our descriptive language and we learnt and performed parts of the story to help us to write.
We are really working on our reading and building up lots of practice in the classroom. Lots of us are becoming really confident readers!
In maths, we have been solving tricky problems involving subtraction. We have also been learning about fact families, which has been a challenge. For example, we know that 8 + 3 = 11 and 11-3=8.
We had an exciting geography lesson this week looking at compass directions. We learnt how to be a pirate and find north and then how to locate the four compass points on a treasure map! Then we gave each other directions to find different objects. We have also enjoyed singing the seven continents song and keep requesting to sing it in the classroom!
We had fun in our science lesson, experimenting and investigating how to make the best bridge with paper and card. We discovered that folding paper really helped create a strong bridge, and it was even better if it was weighted at both ends.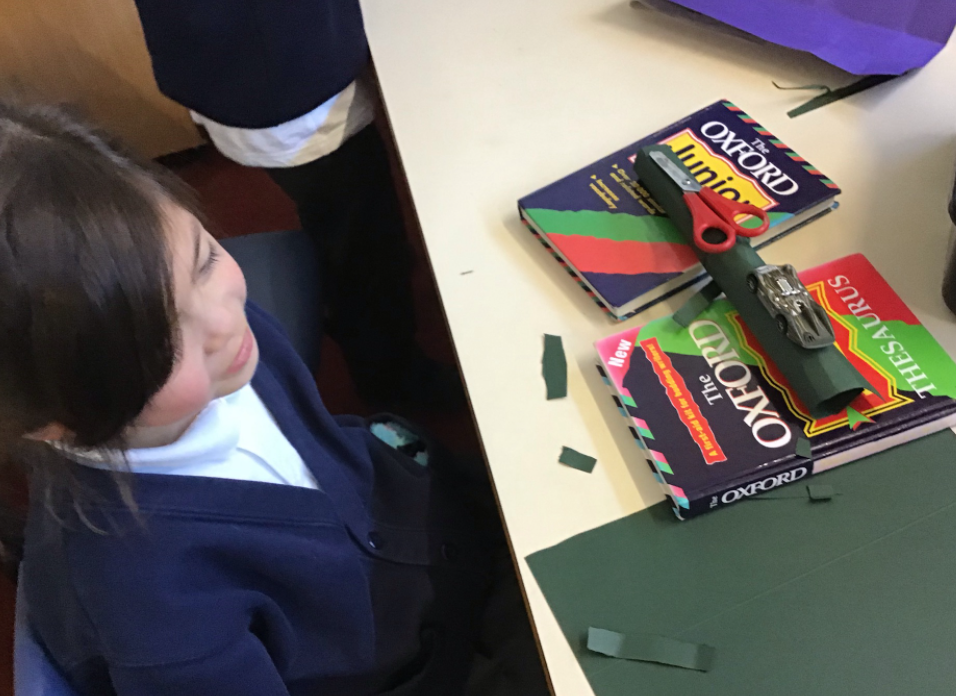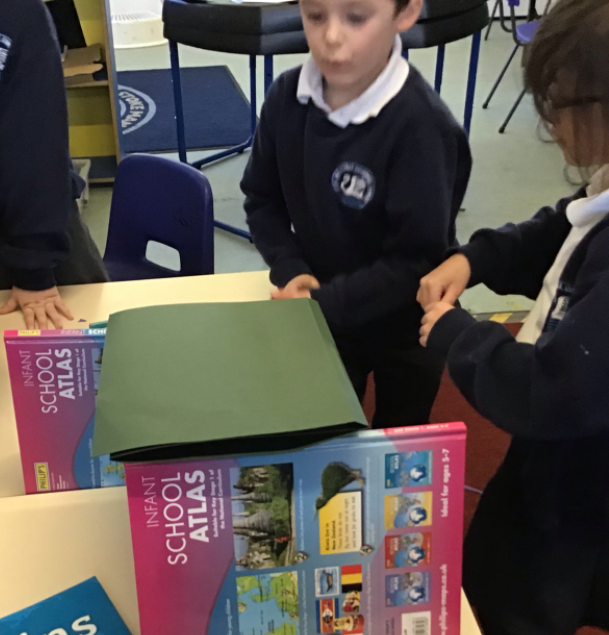 21st January 2022
In Year 1 this week, we have been very busy indeed.
We have enjoyed our story in English, 'The Night Pirates'- a story about girl pirates who steal the front of a house! We found it very funny and produced some fantastic pieces of writing re-telling the story. We have particularly been focusing on using full stops and capital letters in the right places.
In maths, we have been comparing number sentences, exploring how some number sentences can make the same amount as others. We have also continued counting in tens and fives.
We made the most of the cold weather this week and explored how the seasons change. We went outside and found many signs of winter, including ice and bare trees. We used the ipads to take photos and explain what we saw.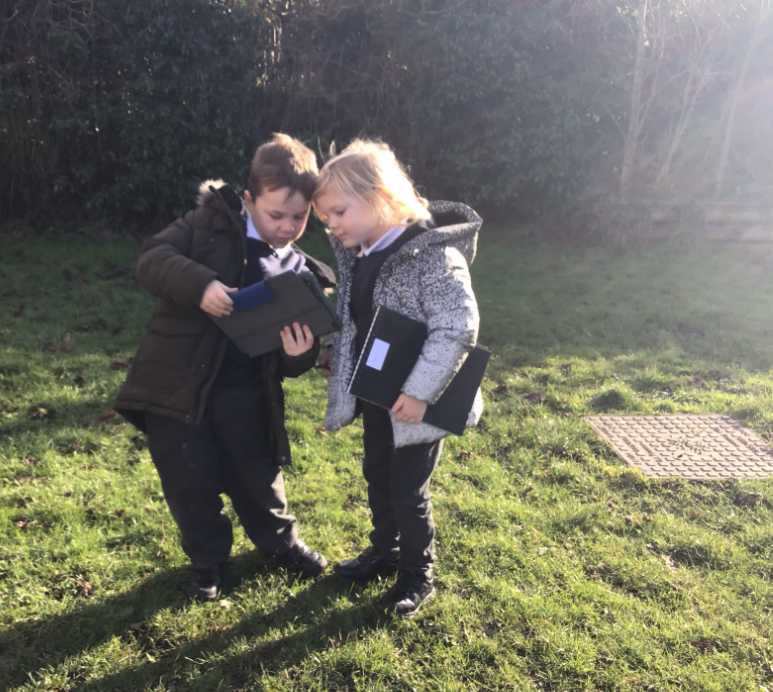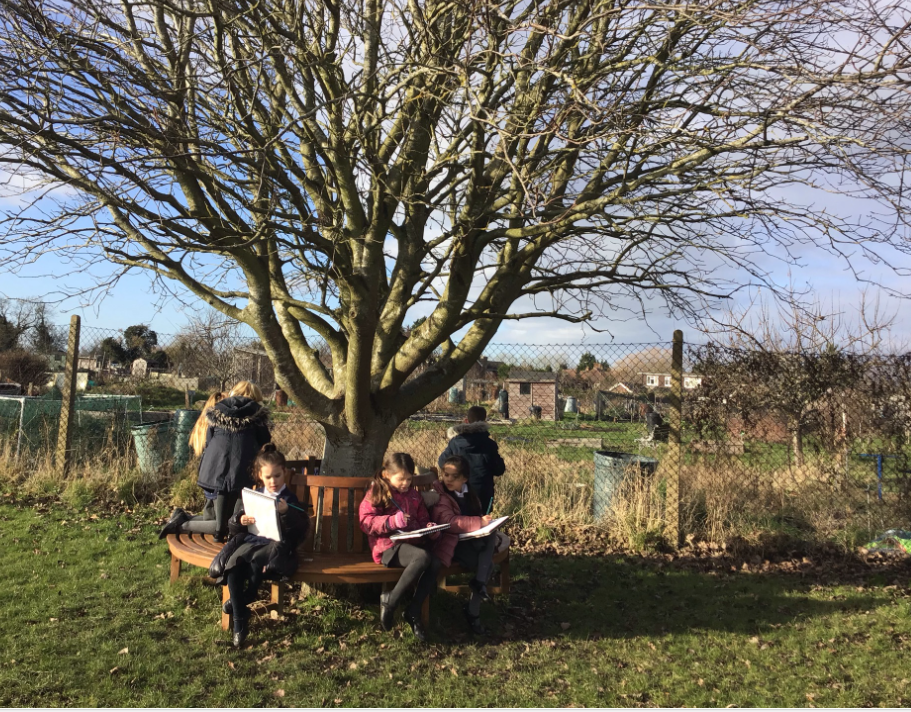 We had another fun-filled geography lesson this week too. We have enjoyed learning about the world and this week we found out about continents. We learnt a continents song and used atlases and globes to locate them.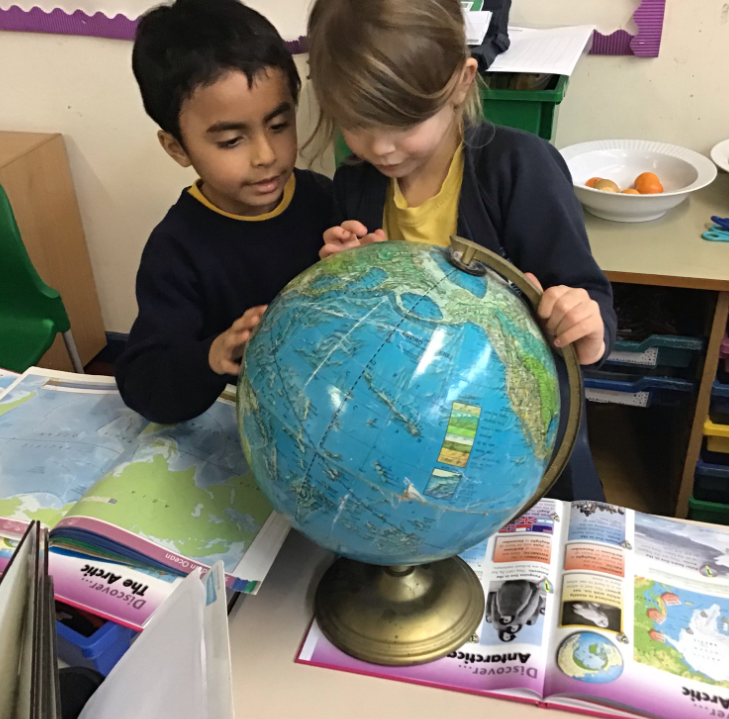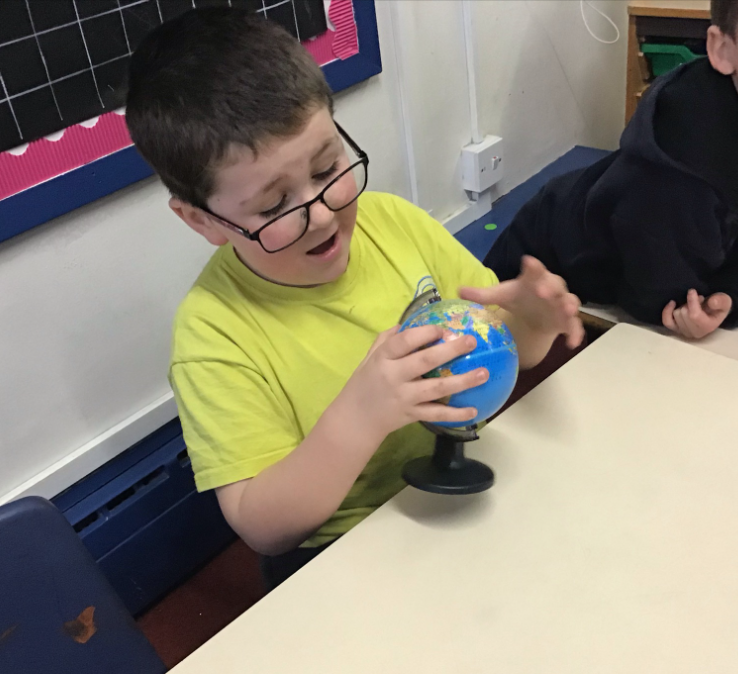 14th January 2022
This week, the children have continued working hard, with super new year's attitudes.
We continued our topic on pirates and explorers, reading 'Pirates Love Underpants' in English. We have started to plan and write our own pirate adventure stories. We have also introduced some joined up handwriting in our handwriting sessions and the children all feel very grown up practising this.
We have been exploring addition within 20 during maths, focusing on how we can use our number bonds to help us add. We have been practising our speed with our number bonds and adding crossing ten. For example, we identified that 9+5 is the same as 9+1+4.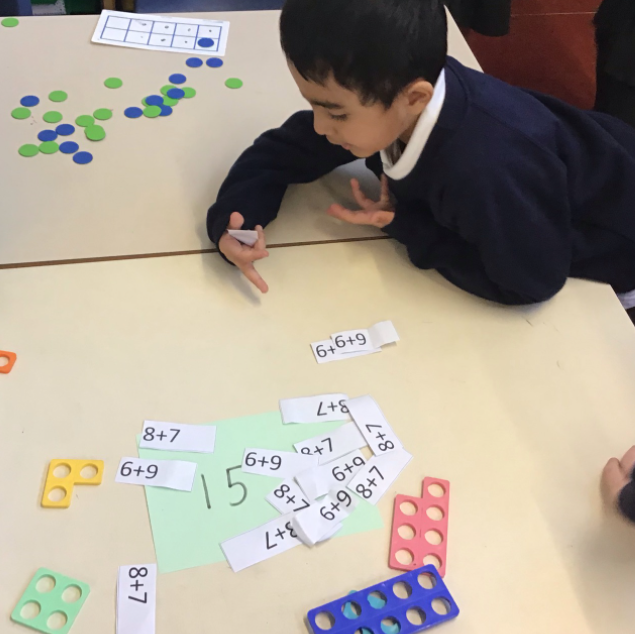 In science, we continued investigating materials. We sorted and identified properties of materials and learnt some exciting new words like 'transparent' and 'rigid'.
We became great geographers this week and explored different types of maps and atlases. We identified our own country and began to explore how the world is shown in maps and how we can look for different places. We really enjoyed this and were disappointed when the lesson ended, and it was time to go home!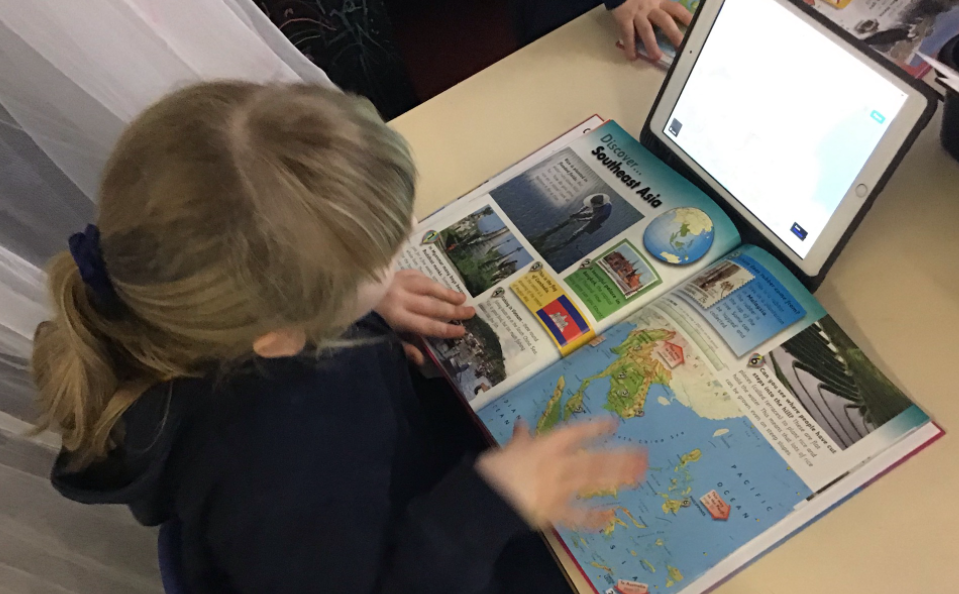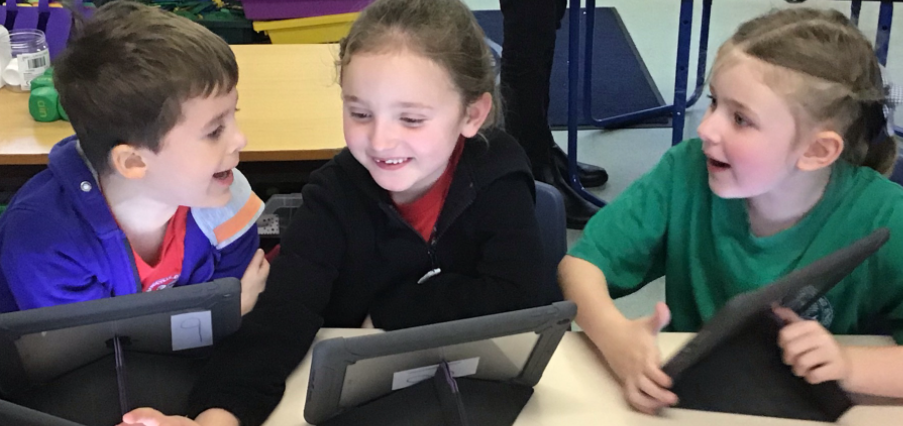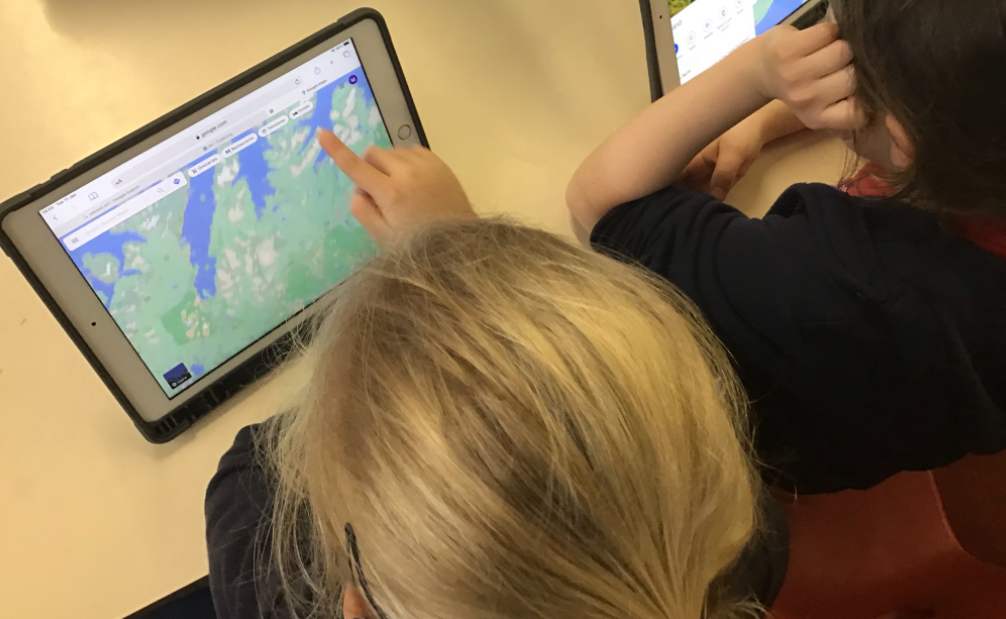 7th January 2022
Welcome back and Happy New Year! We hope that you all managed to have a lovely Christmas and make the most of the break.
This has been a very short week, but the children have demonstrated resilience at being back in school and have continued to work hard.
In English, we have introduced our new topic, 'Pirates and explorers'. We have read the book 'Pirates Love Underpants' which we all found very funny. We did some descriptive writing based on the book.
In maths, we have been focusing on using our number bonds to help us add. We used our new rekenreks to help with this.
We really enjoyed exploring our new topic in science: Materials. We named and sorted a range of every day materials and had a look at what lots of objects are made from.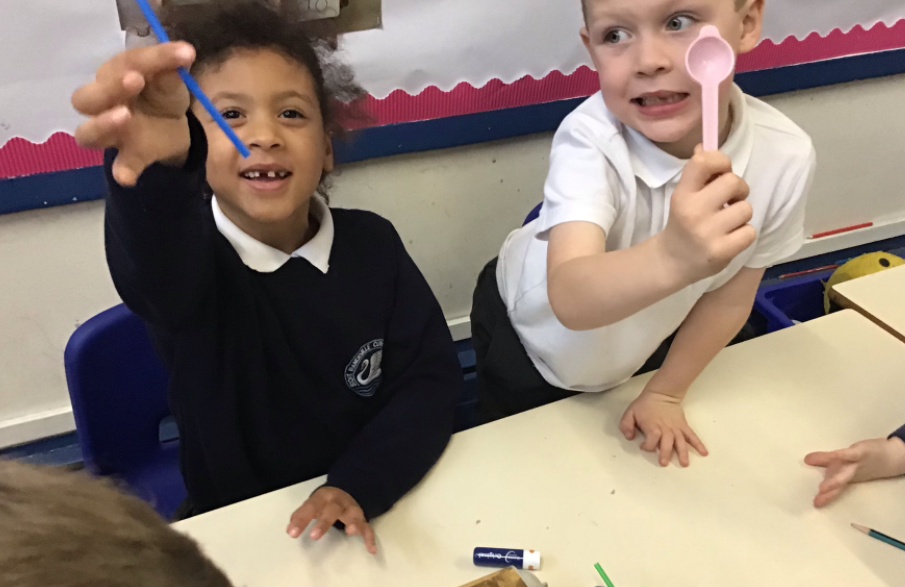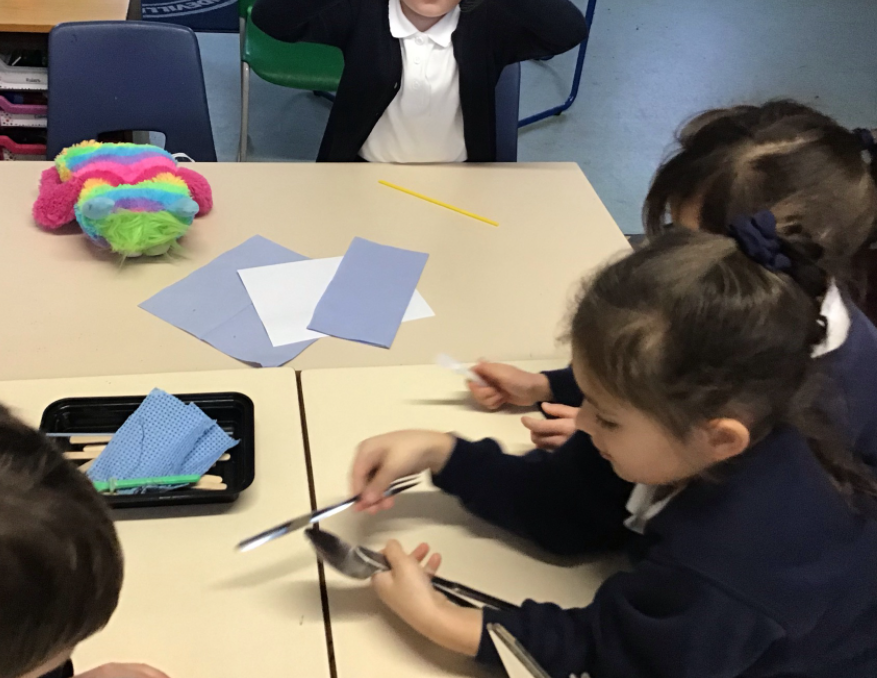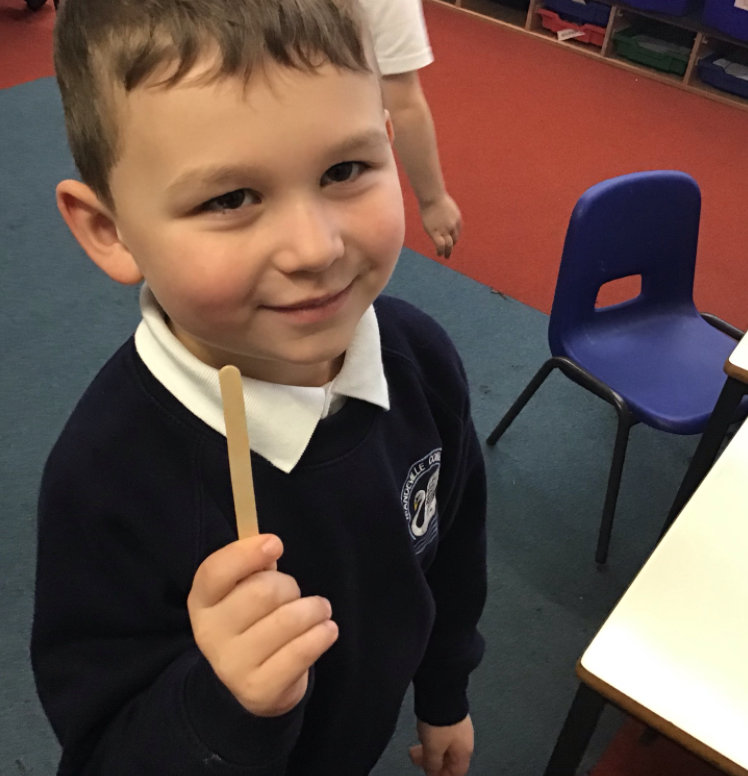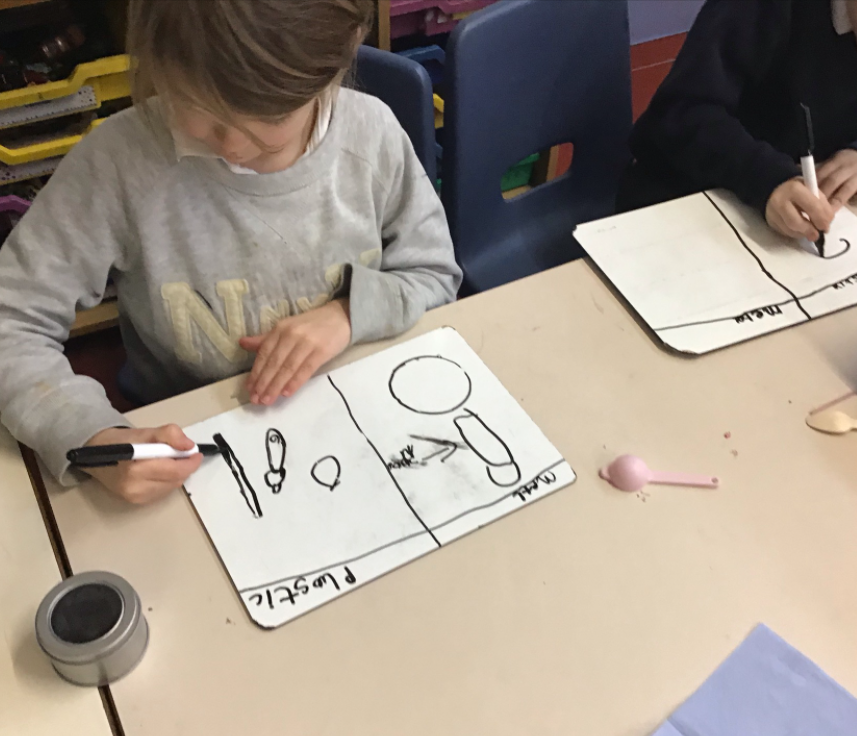 10th December
We have some very excited children now that Christmas is creeping closer. We have continued reading The Jolly Christmas Postman and we have written our own letters to characters from traditional tales. The children did brilliantly with these.
In maths, we have focused on greater than, less than and have begun counting in 2s and 5s, using our shoes, feet and hands to help us. We have also been excited to finally use the rekenreks that have been delivered into school. These will be helping us with our counting and fluency.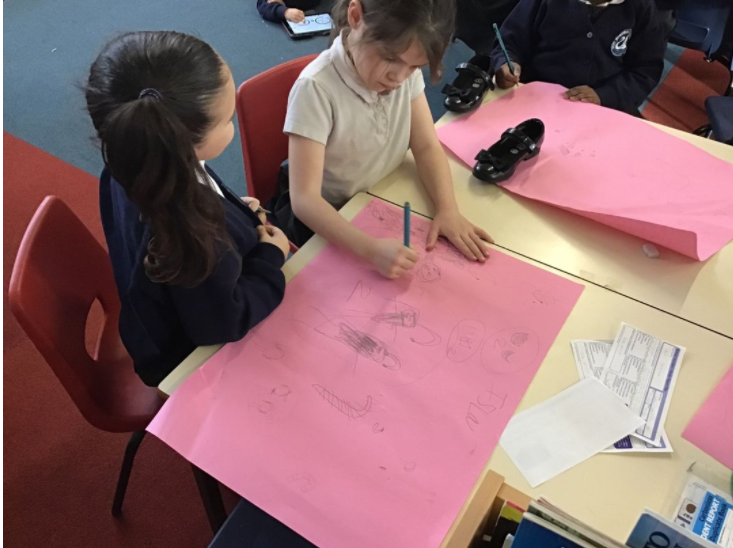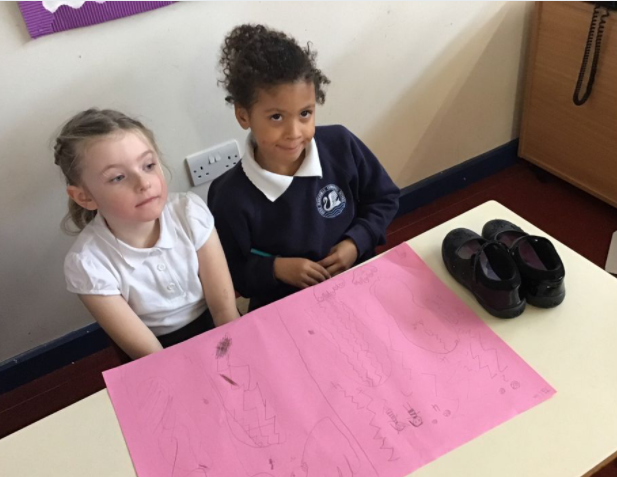 We have also been working very hard on our nativity and the play is coming together nicely! Well done to everyone who has been busy working on their lines and acting!
3rd December
The children have been very excited this week by the fact that it is now December. We have continued practising the nativity and I have been very impressed by the children's dedication to learning lines!
In English this week, we read the book 'The Jolly Christmas Postman' and identified lots of different characters from traditional tales, including Red Riding Hood, Goldilocks and Humpty Dumpty. We then wrote our own traditional tales with some well-known characters, for example, Red Riding Hood visited Tesco!
In maths we have been looking at place value to 50. We identified tens and ones in numbers to 50 and have learnt how to count in tens.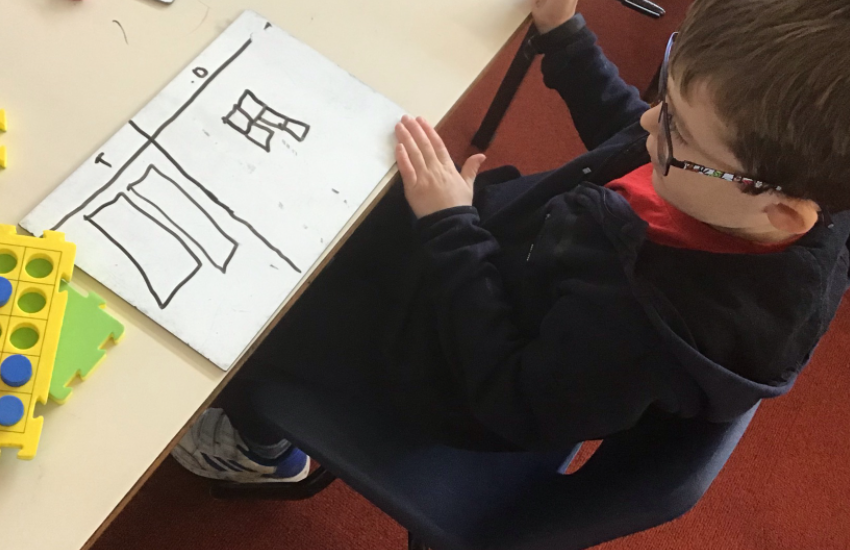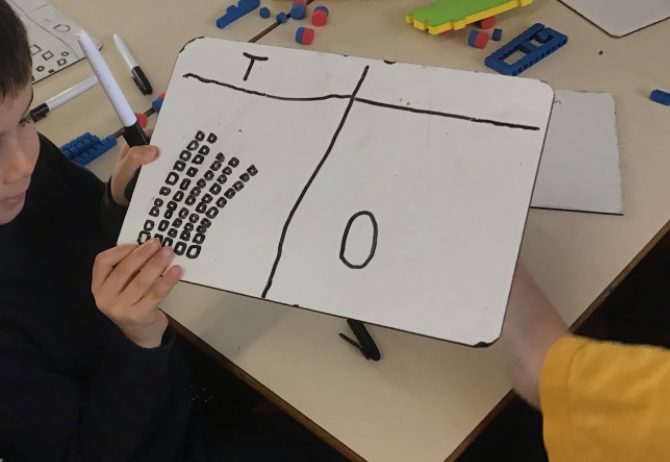 We were very excited to walk to the church for our Christingle service, although we had to be very careful when crossing the road. We were all very sensible and represented the school well.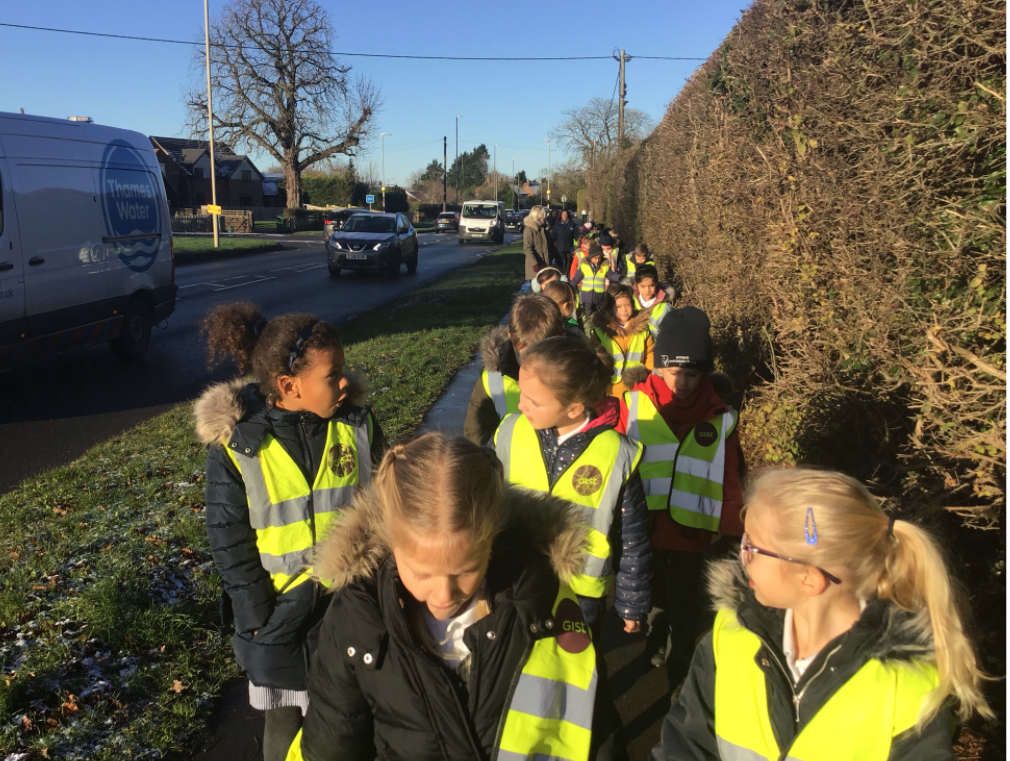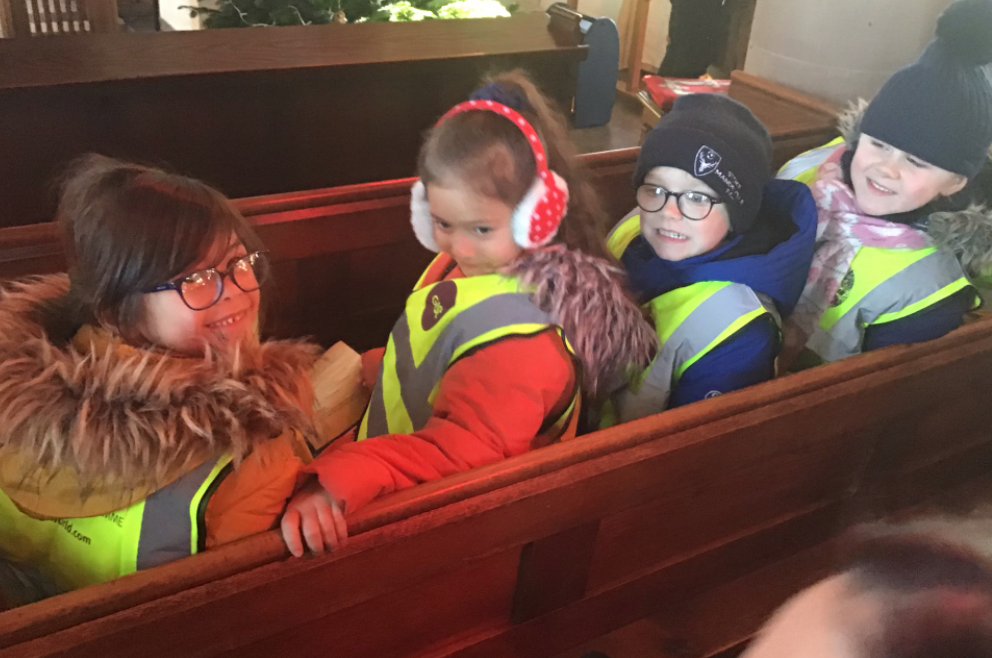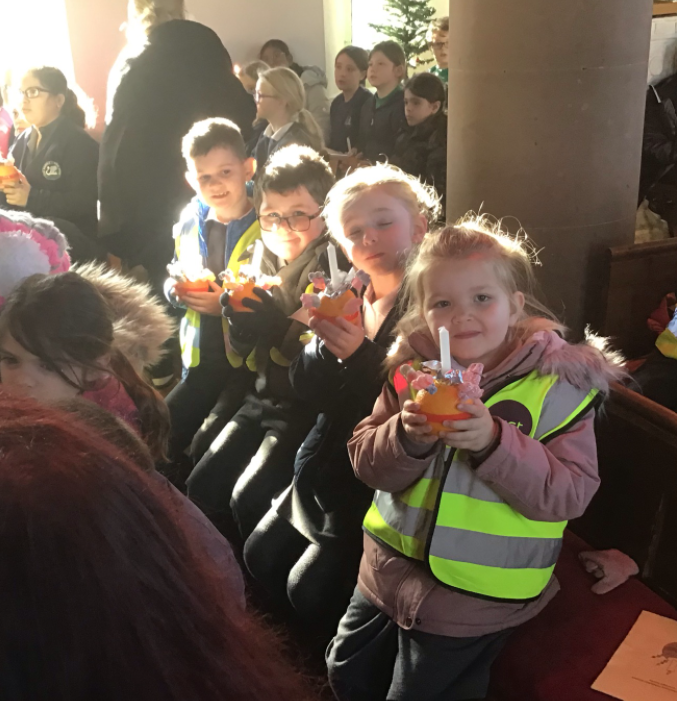 We're also looking forward to the Christmas Fair and selling our super decorations!
26th November
It's been another lovely week of learning in Year 1. In English, we continued reading The Hodgeheg. We found out lots of facts about hedgehogs from the book and other sources and have begun to write our own non-chronological reports.
In maths, we have focused our brains into problem solving and reasoning to do with numbers. We have looked at number patterns and sequences, looking carefully for a rule and we have also tackled some very tricky challenges! We were also very grown up and completed a special quiz which we really enjoyed.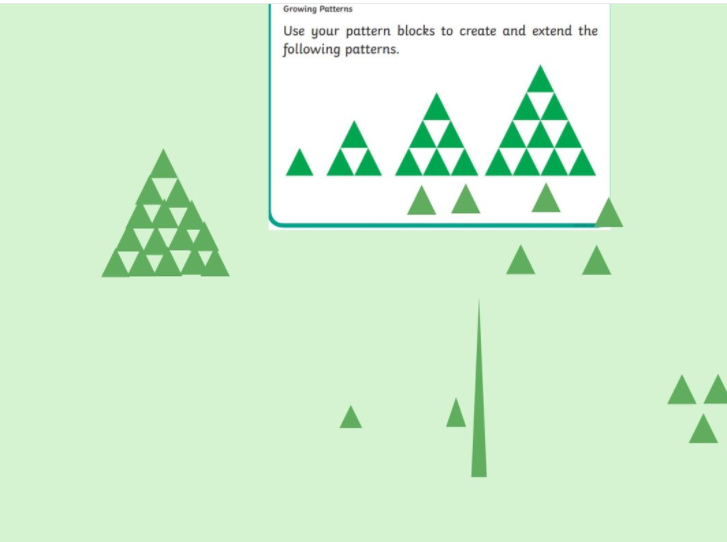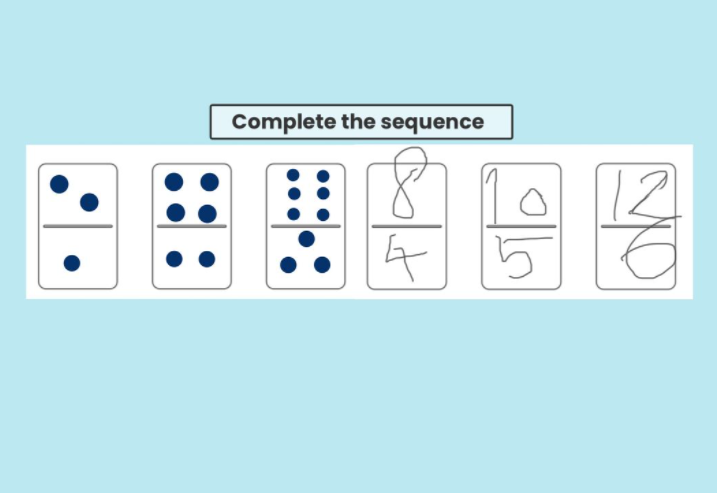 During our geography lesson, we learnt what a map is and how it helps us find our way around. We then created a map of our school and its grounds.
In science, we enjoyed learning all about carnivores, herbivores and omnivores and sorting animals into the correct categories based on what they eat.
We're really enjoying all of our nativity songs and lines too!
19th November
The children have continued working hard this week. We have started a new book, 'The Hodgeheg' by Dick King Smith. The book is all about a hedgehog called Max who wants to know how to cross the road safely. We found it very funny when he bumped his head and started mixing up all of his words!
We have created some excellent road safety information writing pieces, explaining to Max how to cross the road safely.
We have also been moving on really well with our phonics and reading. Lots of us are becoming really confident with our sounds!
In maths, we have focused on place value to 20. We looked at partitioning teen numbers into tens and ones and solving problems to do with place value.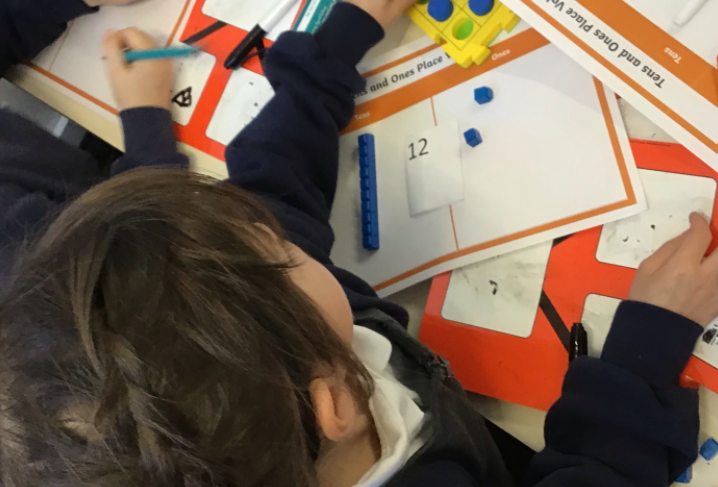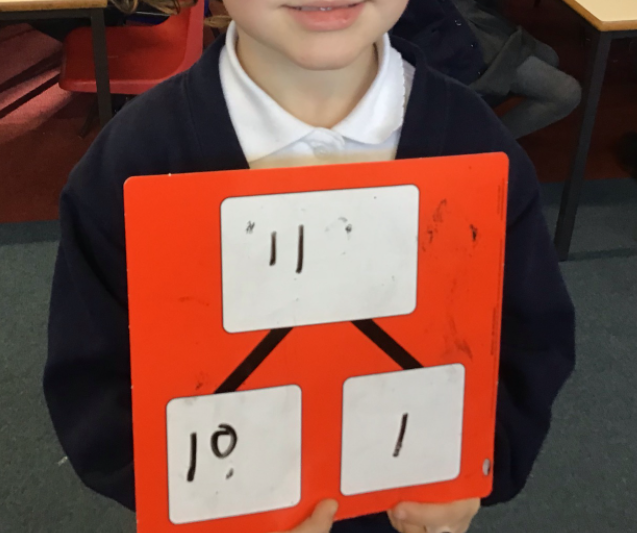 We have also spent this week focusing on anti-bullying week. We talked about the differences between hurtful behaviour or unkind behaviour and bullying. We sorted out some scenarios into bullying and not bullying and discussed the feelings involved with bullying. The children were all very sensible in sharing their thoughts and discussing the different stories.
12th November
We enjoyed taking part in maths week this week, focusing our investigations around shape. We explored questions such as 'How can we make other shapes using 2d shapes?' 'What 3d shapes can be made with cubes?' and ' How can we overlap squares to make other squares?'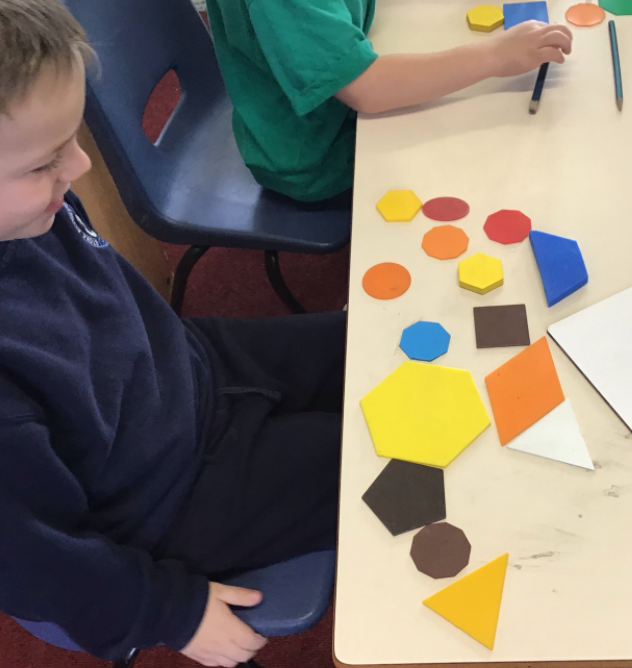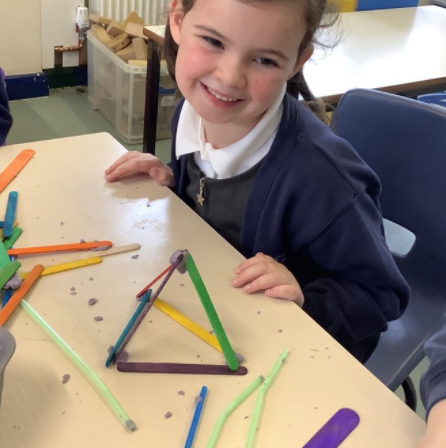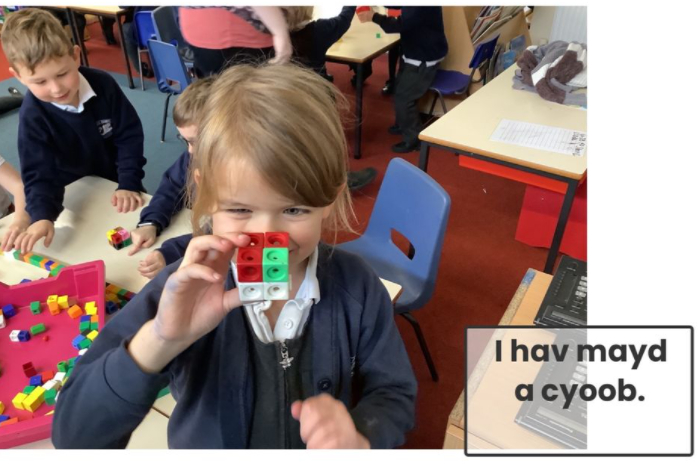 In English, we continued learning about Guy Fawkes adn the Gunpoder Plot.
We read a letter and wrote a reply, pretending to be King James I.
In science, we investigated different animal structures and made our own skeletons. We were very surprised to learn that most animals, including humans, don't have bones in their ears!
We have also started to learn our songs for the Christmas nativity- we're very excited about this!
5th November
This week has certainly been a busy one, with all the children keen and happy to return to school after a fun-packed half term.
In maths, our focus has continued to be addition and subtraction. We learnt what 'find the difference' means and explored lots of methods to count between and subtract. We have also been busy comparing number sentences.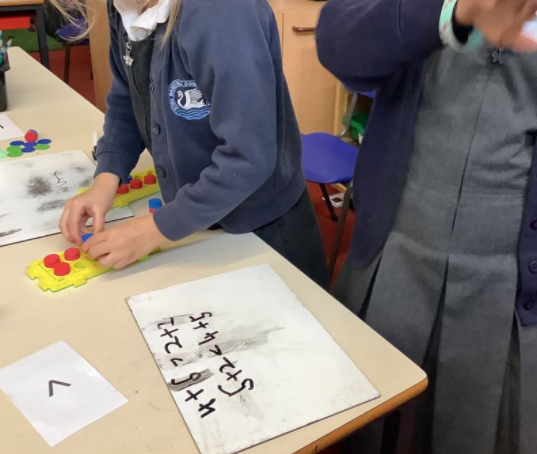 In English, we have explored what a noun is. We correctly identified nouns as a person, a place or a thing and we even discovered that proper nouns need capital letters. We focused on the book 'Mr Fawkes, The King and the Gunpowder Plot,' where we looked at the characters and the places and why they need a capital letter.
Four our 'Take learning outside' day, we became archaeologists. We did lots of digging to find artefacts all about Guy Fawkes. We found an old letter to the King and even some bones!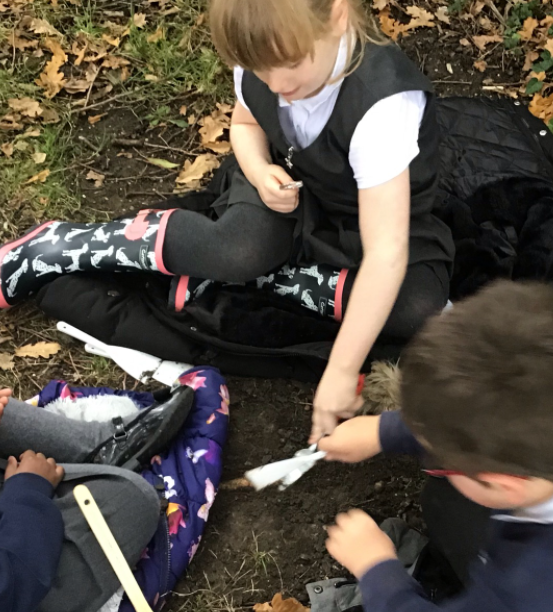 This week we have also had a focus on Black History. We learnt about Mae Jemison, the first back female astronaut to go to space. We read a story which inspired us to think about our dreams for the future and what we can achieve.
22nd October
What a busy week we've had in Year 1! We started off by celebrating our 'Be Bright, Be Seen' day with lots of us wearing very bright clothing.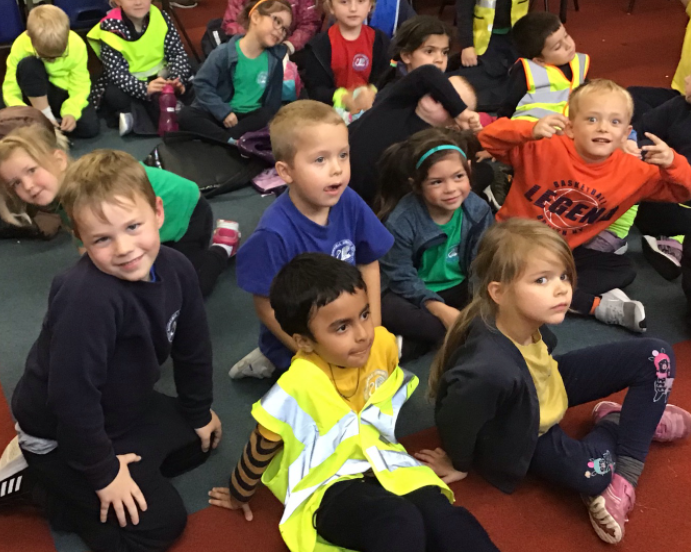 In English, we have continued to read the book 'Pumpkin Soup'.
We focused our learning around instruction writing. We learnt how to make a pumpkin soup and memorised the instructions using actions. We learnt new 'bossy' words like 'mix', 'pour', 'chop', 'blend' and 'serve'. We then wrote our own instructions for making pumpkin soup.
In maths we have learnt a new word- subtraction. We know that this means to make an amount smaller. We used equipment and drawings to subtract numbers and show it in different ways.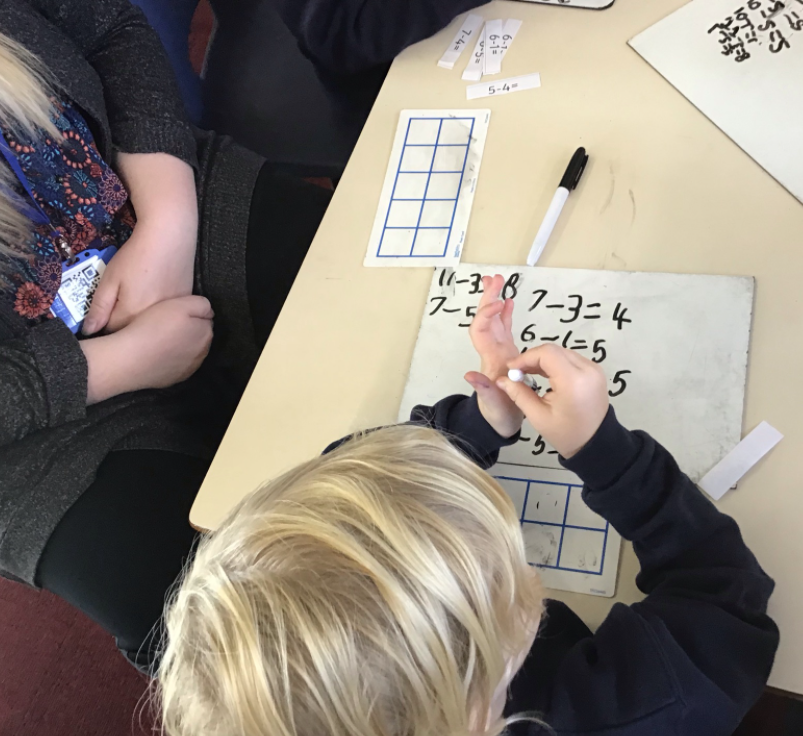 We have also been working on our problem solving and reasoning, using phrases like 'It is true because...'.
In science, we have focused on seasonal change. It is becoming very autumnal so we went on a walk around the school grounds and focused on a tree. We collected autumn leaves and talked about how the weather changes in autumn and what we need to wear.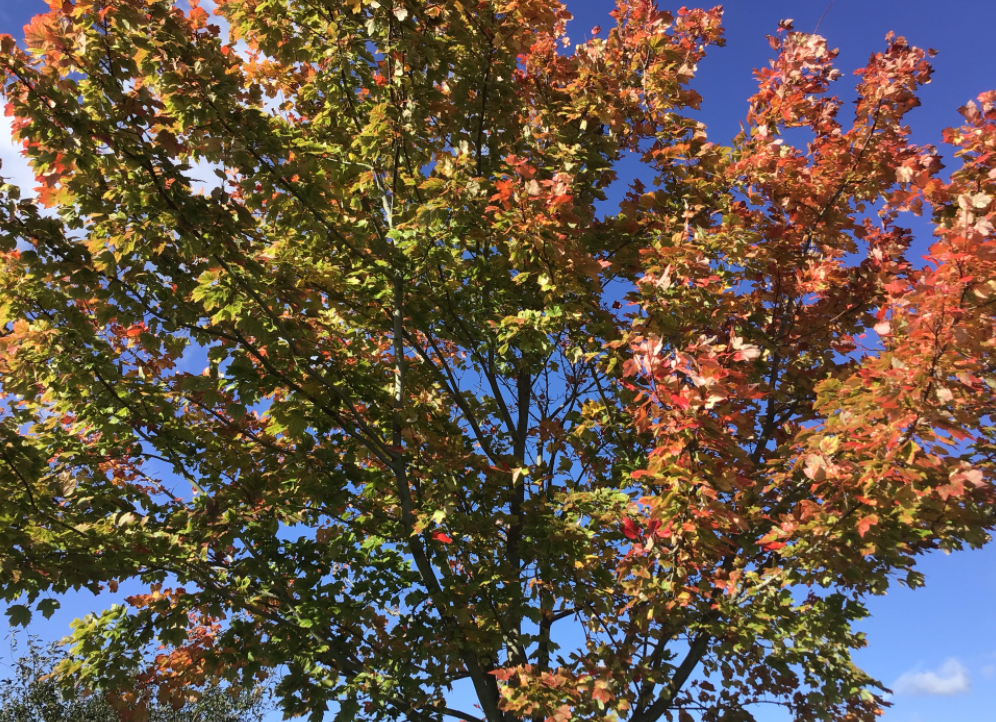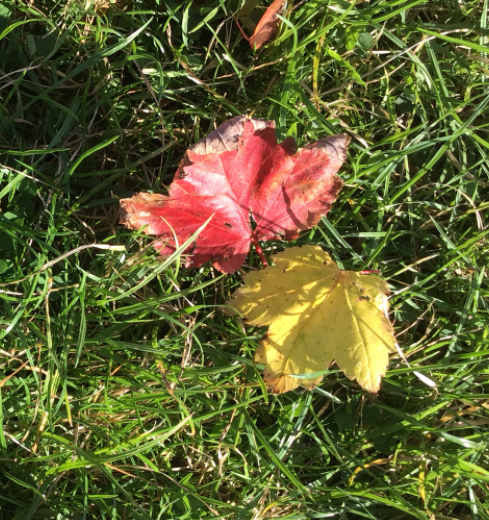 15th October
In Year 1 this week, we have started a new story called 'Pumpkin Soup' by Helen Cooper.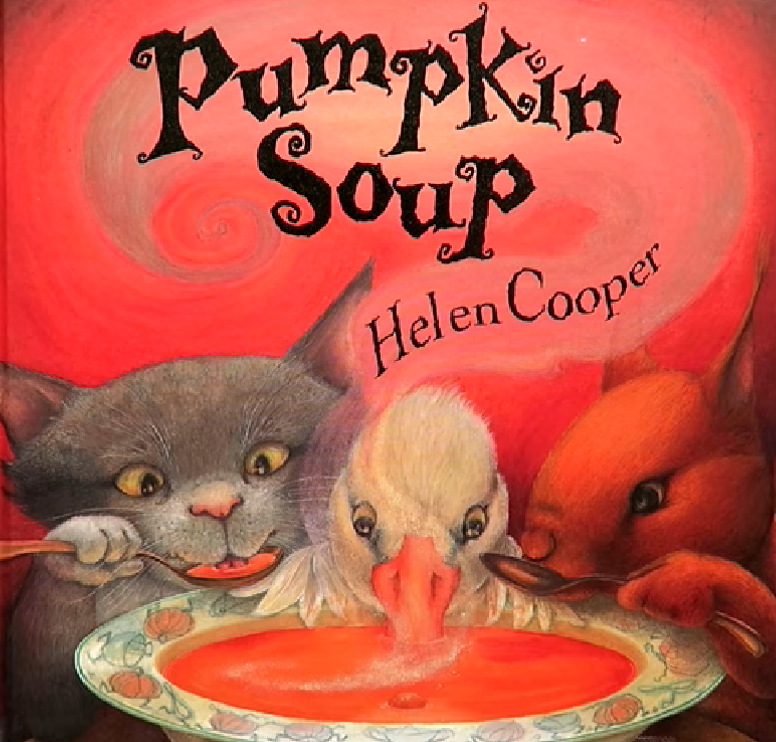 We looked at some of the language used like 'old, white cabin' and 'deep in the woods'. We talked about how this helped to paint a picture in our heads and we came up with some of our own phrases. We also learnt what a question mark is and how it is used. We pretended to be the characters so we could ask them questions.
In maths, we have continued to look at adding. We have now learnt how to add by counting on, realising we don't have to count the first number but we can hold it in our heads. We also have looked at how we add using a number line to help us.
We have been busy in our science lessons sorting and classifying groups of animals. We started by looking at how we could group them- the children came up with their own ideas, eg. 'Lives in a zoo' and 'does not live in a zoo' or 'has fur' and 'doesn't have fur'. We then learnt about how to put them into their proper scientific groups. We used some toy animals to group them into the right categories and then we had a go at sorting some of them out ourselves.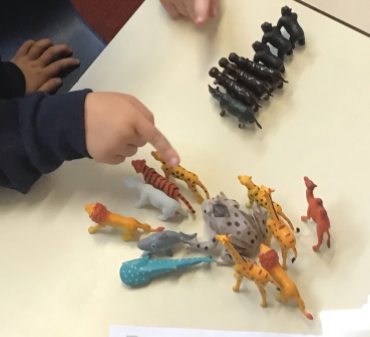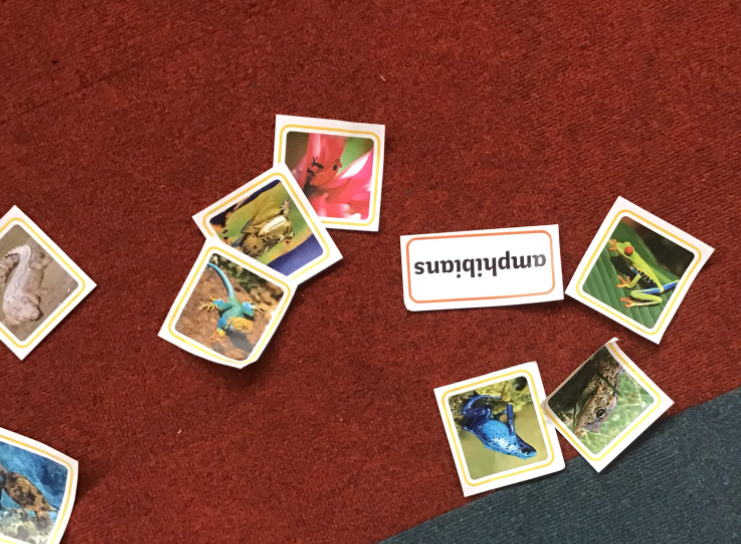 In History, we continued to look at how London has changed from 'the past' (1666). We looked at buildings and transport and we even had a look at a map. We decided that lots has changed since The Great Fire of London.
8th October
This week, Year 1 have been doing some excellent story-telling. They have made up their own versions of 'We're Going on a Bear Hunt', including 'We're Going on a Tiger Hunt', 'We're Going on a Shark Hunt' and 'We're Going on a Unicorn Hunt'. The children have made up actions to help them remember each sentence of their story and completed a story map to help them tell the story. They then wrote the stories using their best phonics, handwriting and punctuation.
In maths, we have been focusing on the composition of numbers 0-10 and using addition within 10, learning some of our number bonds.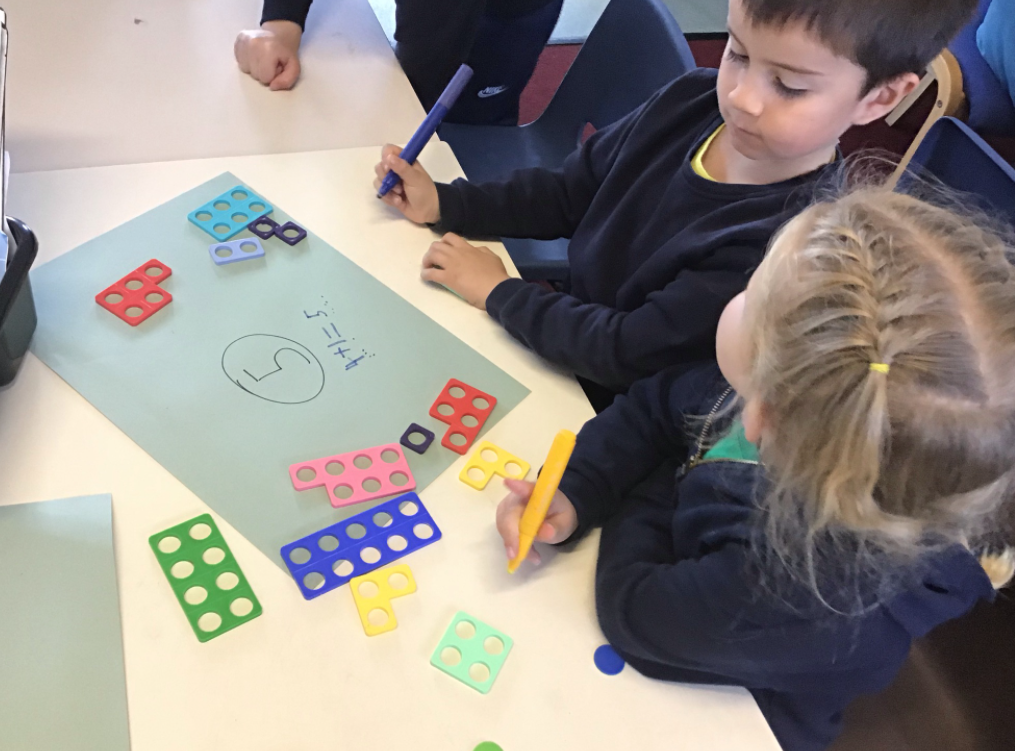 During our history lesson, we looked at 'past' and 'present' focusing on how things have changed over time. We looked at pictures of buildings in London during The Great Fire of London, and what they look like now. The children had some great discussions about how they had chosen to sort the pictures.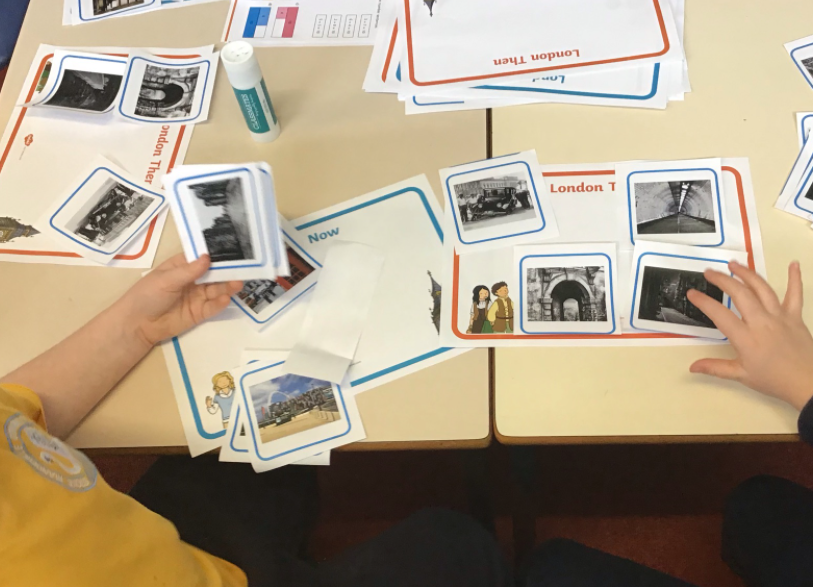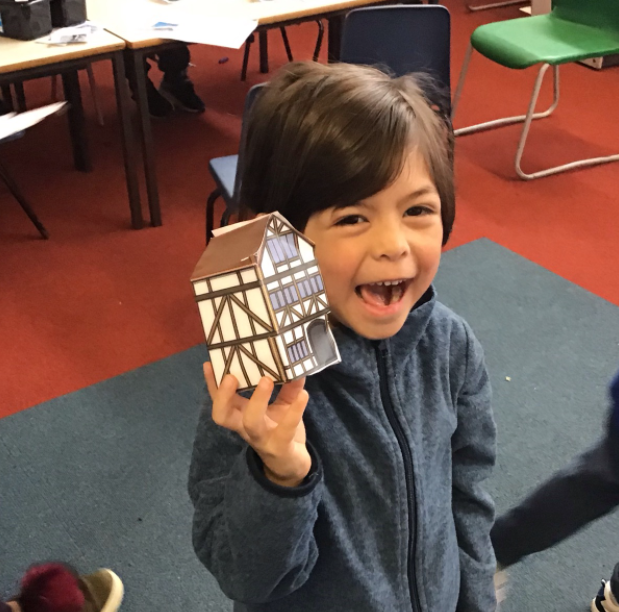 We also learnt that not all black and white photos are from a long time ago!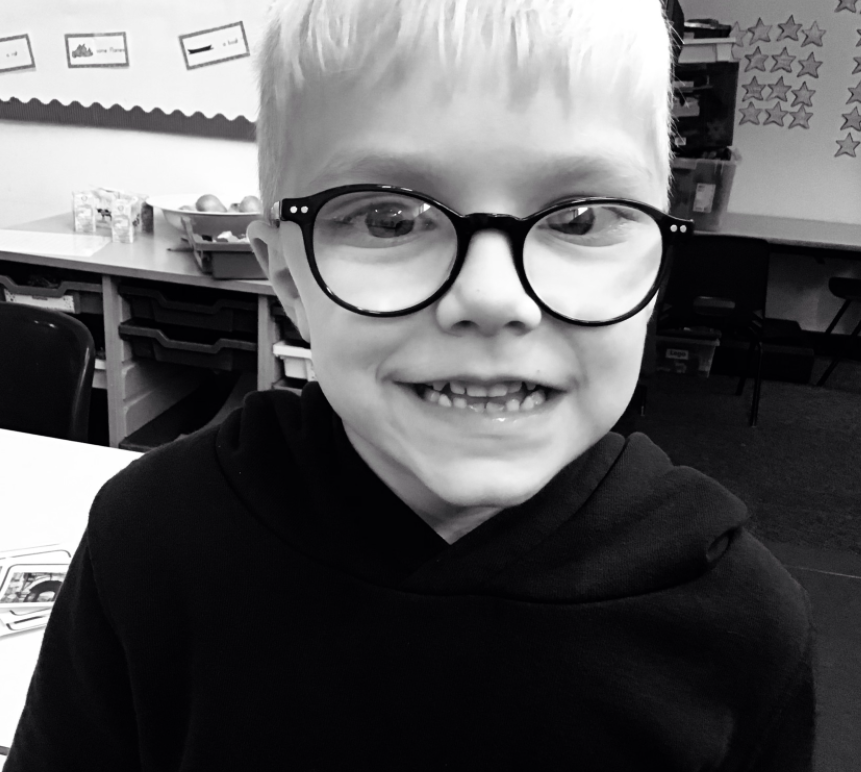 For science this week, we focused on sorting and classifying. We learnt some posh names for how scientists sort animals: reptiles, mammals, amphibians, birds and fish.
1st October
We have been learning a new story this week: 'We're Going on a Bear Hunt'. We learnt some actions and completed some picture prompts to help us recite the story including all of the obstacles. We have then been practising writing some of the repeating phrases.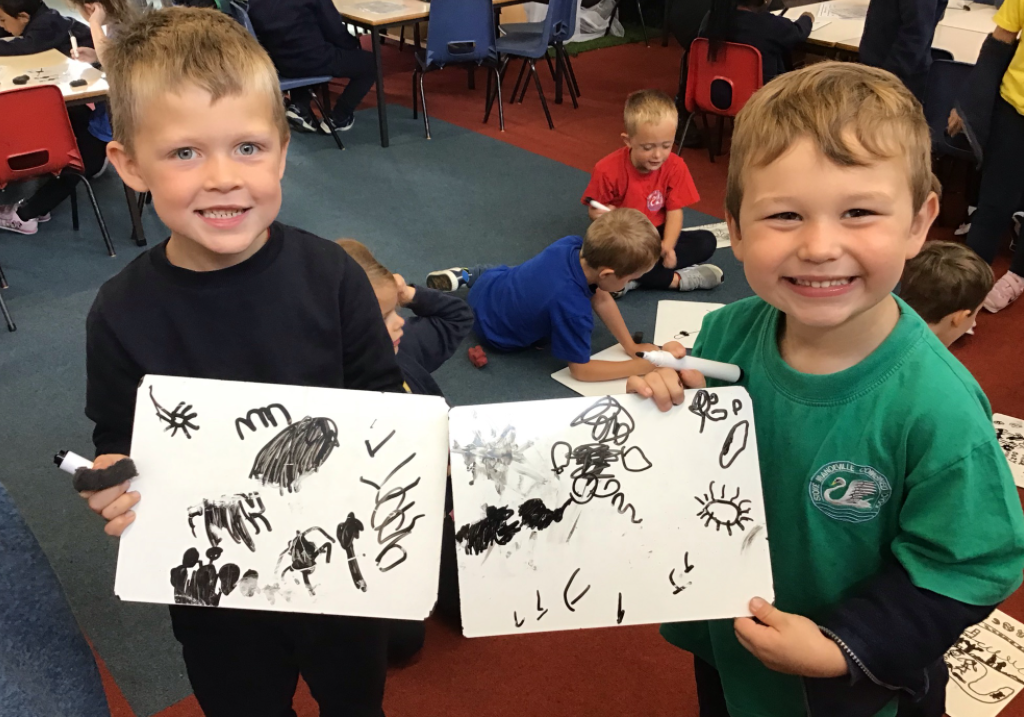 In maths, we have focused on using part-whole models to introduce the addition symbol. We have used different types of equipment to make part-whole models and shown different combinations of whole numbers.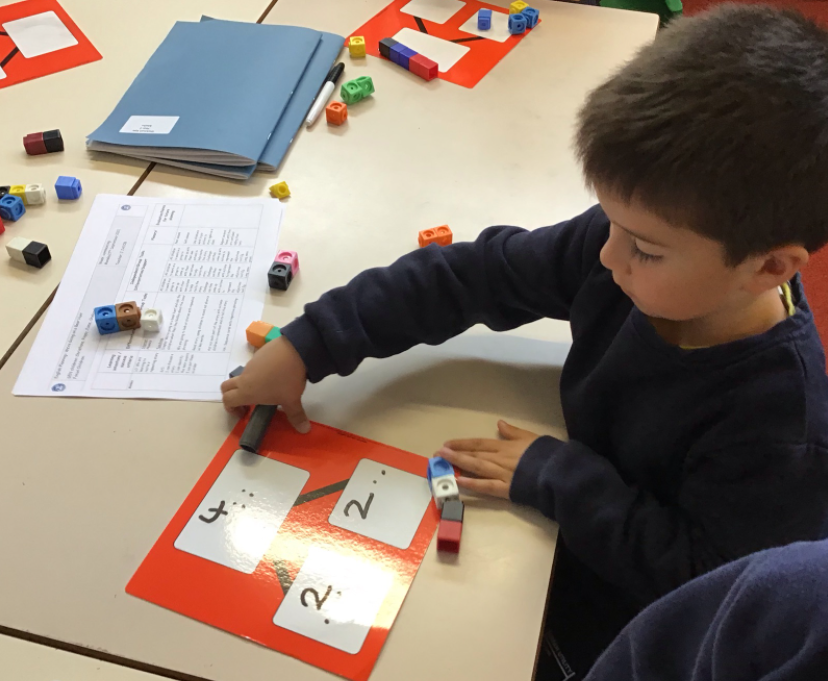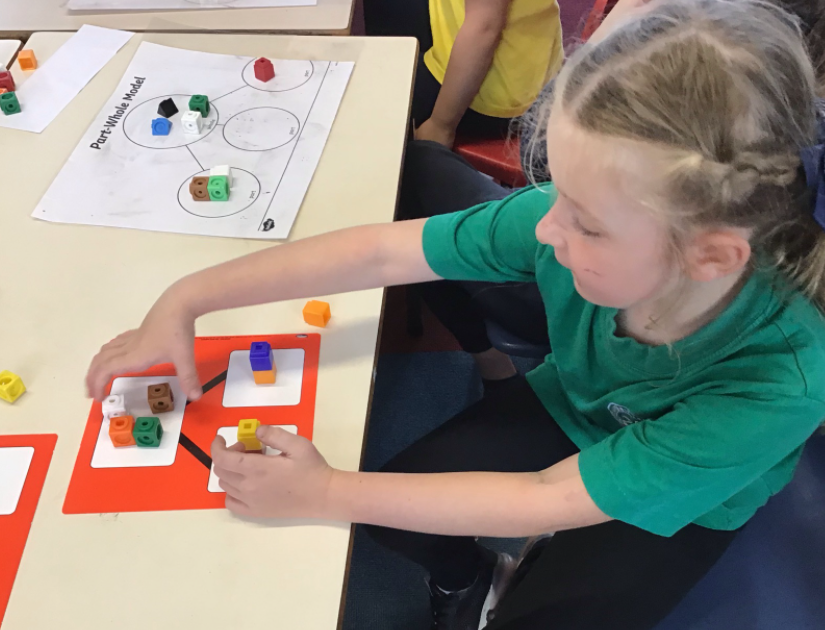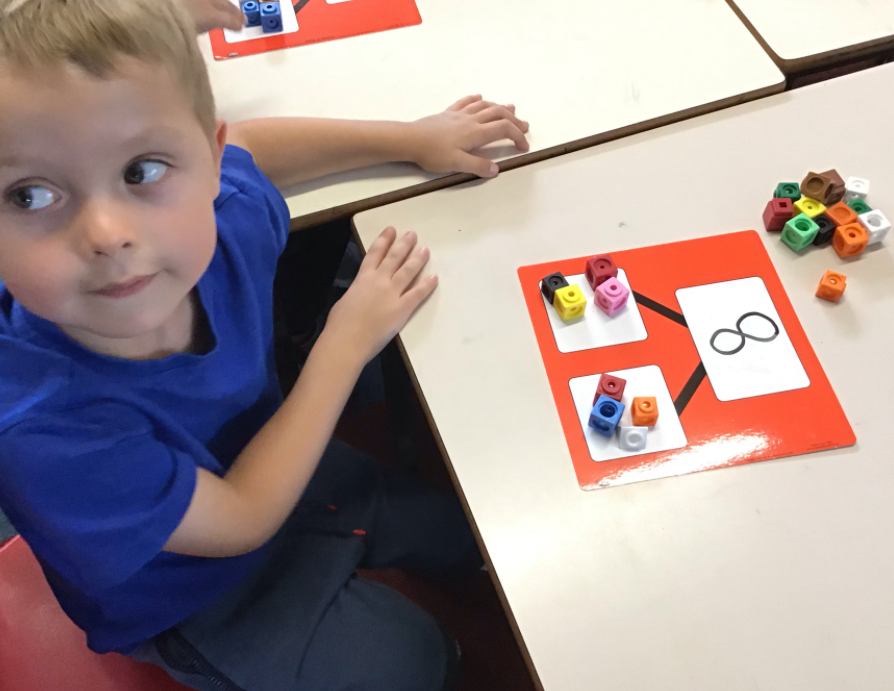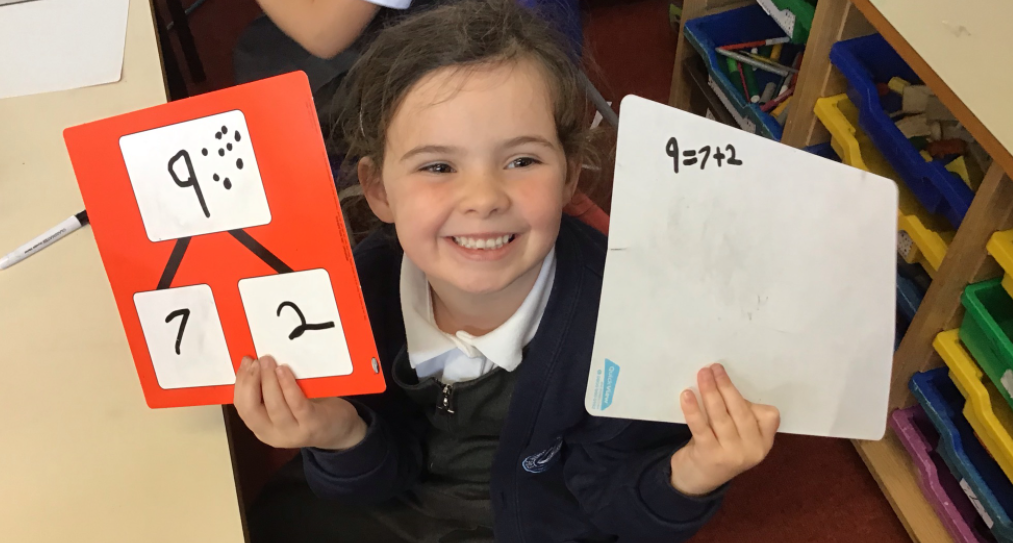 In history this week, we looked at the importance of putting things in time order using a timeline. We focused on The Great Fire of London events and put them onto a joint timeline.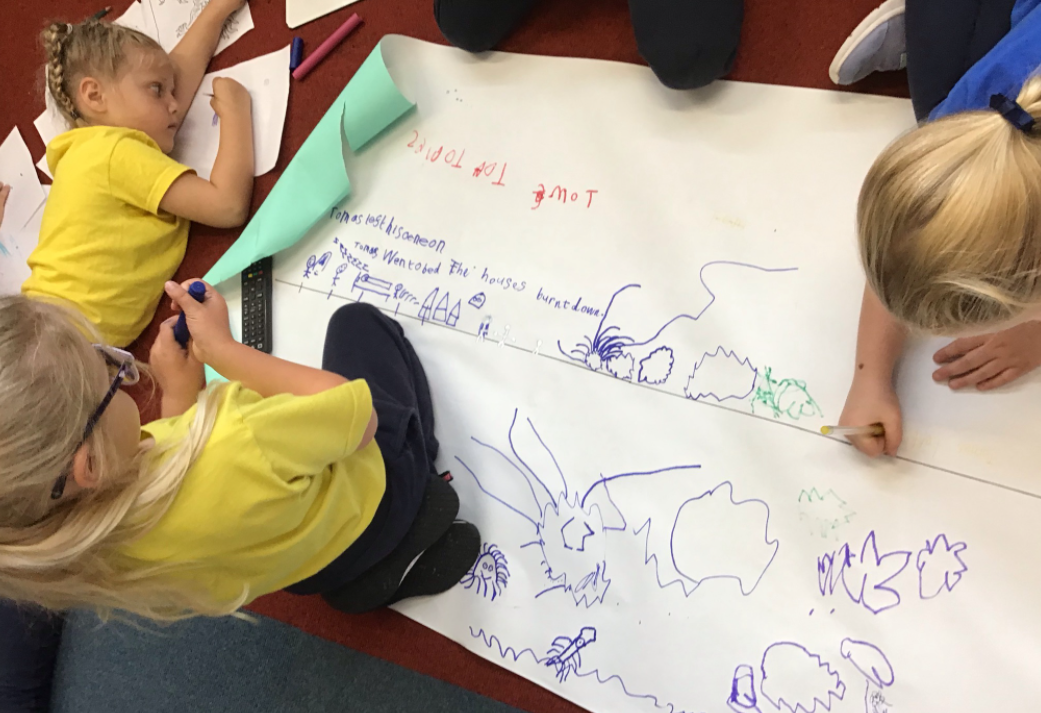 In Science, we continued working on our senses and went on a sensory walk around the outside area.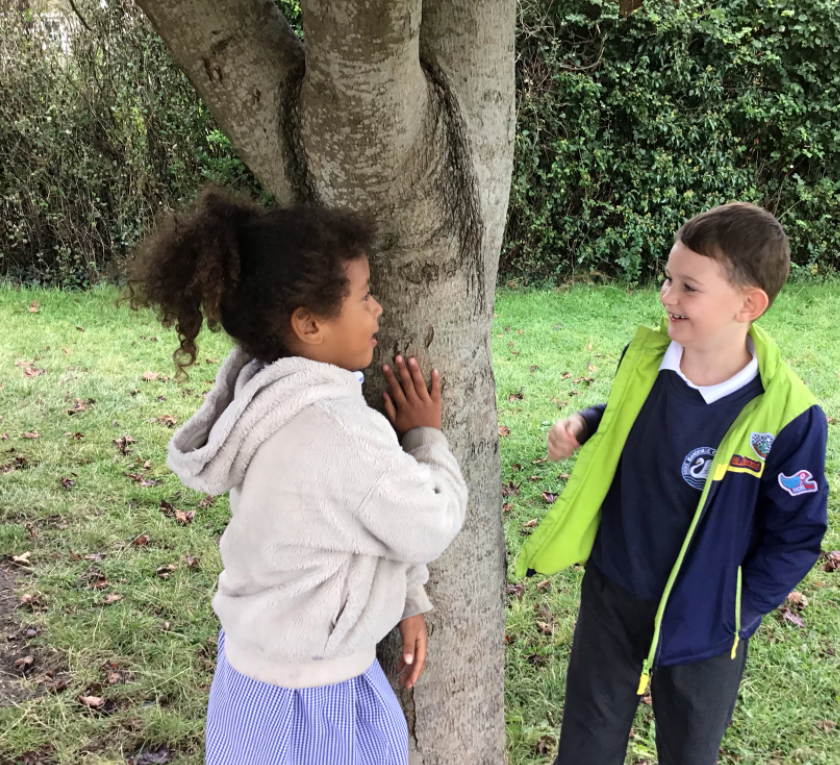 24th September
In Year 1 this week, we have seen some great learning. In maths, we have been continuing with our counting, ordering and comparing. We learnt how to use the symbols < > and = which mean greater than, less than and equal to. We practised using different equipment to make different combinations and choose the correct signs to use.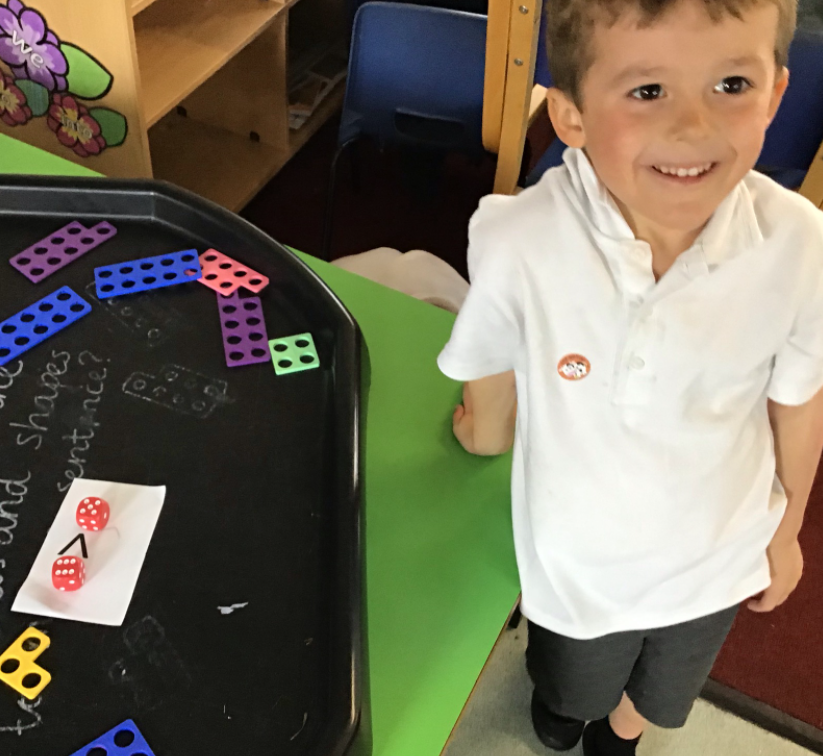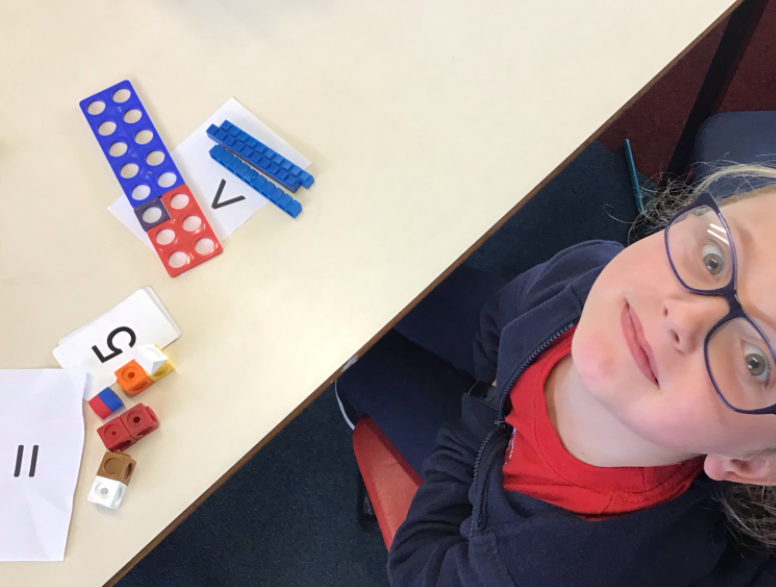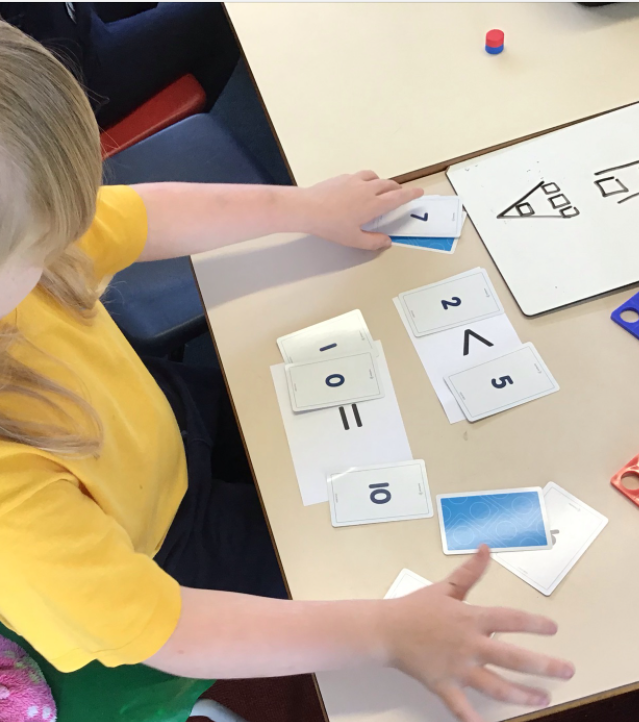 We also used vocabulary for ordinal numbers and had some races with cars to see who was first, second, third, fourth, fifth and sixth.
In English, we have continued reading Toby and the Great Fire of London. We have started to get really good at writing sentences, focusing on finger spacing and writing on the line. We have also started to tell our own stories about the fire by changing the character or an object within the story.
In History, we finally learnt all about how the great fire started! We found out that it happened in a bakery on Pudding Lane.
Some of us then chose to make our own bakeries and bake some special bread- we were very careful not to leave the oven on though!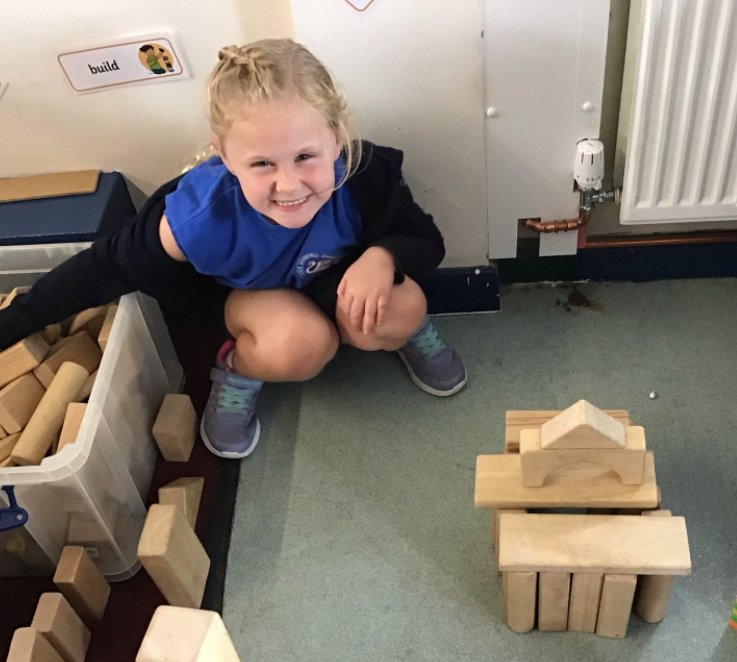 We began to identify our five senses in Science this week. We talked about how we need our eyes, ears, mouth, nose and hands to see, hear, taste smell and touch.
17th September
It has been another lovely week full of learning in Year 1.
In English, we have focused on sentence writing and we have written our first stories! We rehearsed some tricky language and then re-wrote the book 'Toby and the Great Fire of London'. I was very impressed with all of the fantastic writing and the progress the children are making already.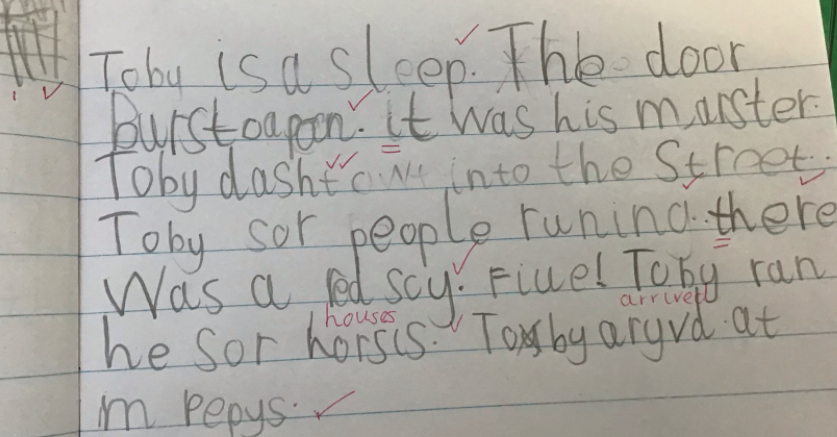 In maths, we have continued working on our numbers using the vocabulary more, less, greater than and less than. We have been using a range of equipment to explore different numbers and combinations.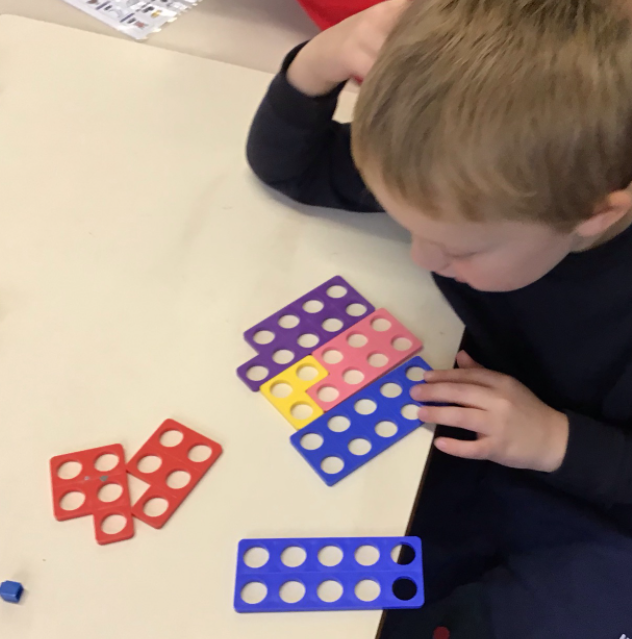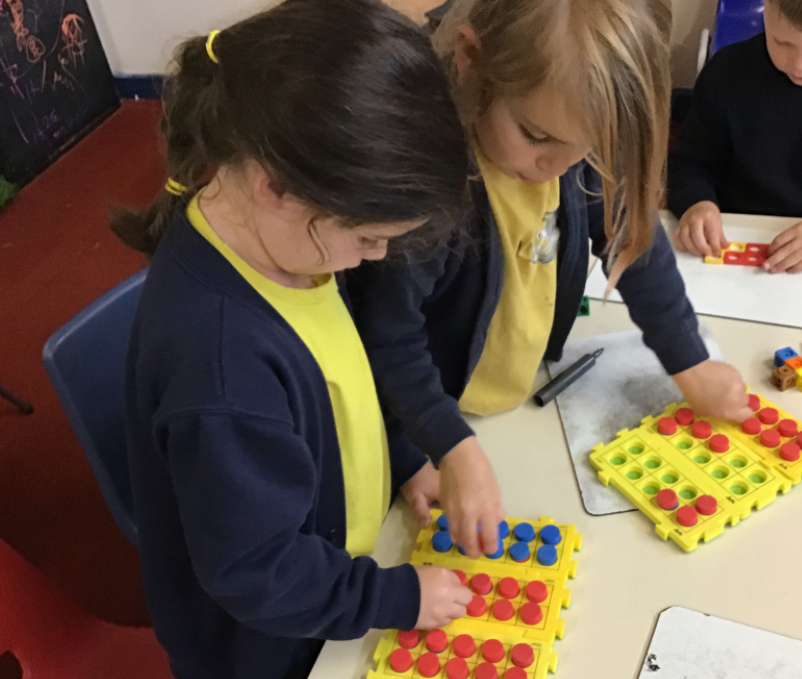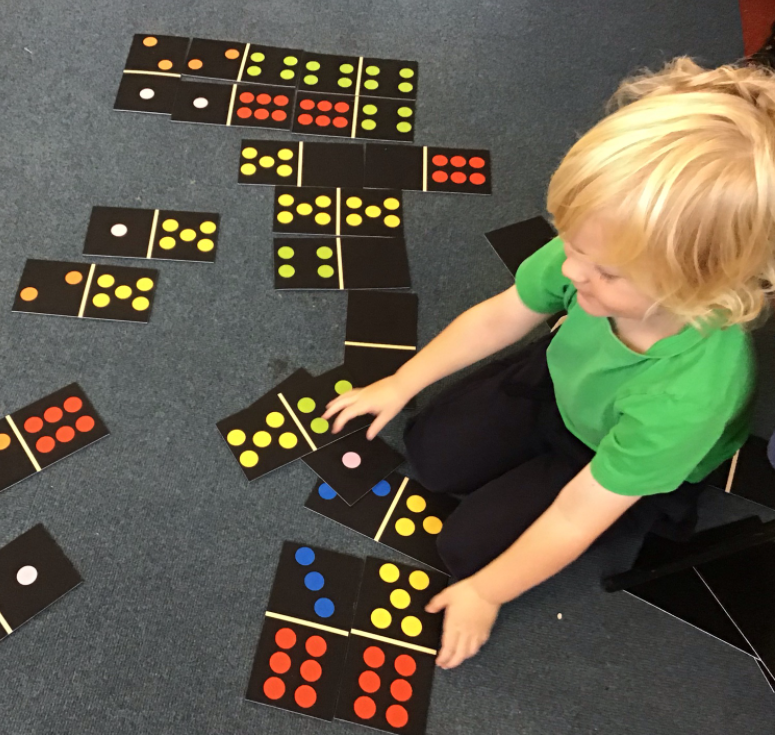 We enjoyed science this week, exploring our bodies and naming lots of body parts. We talked about how they grow.
We also had an extra PE session with a tennis coach. We learnt how to balance and hit a tennis ball with our rackets.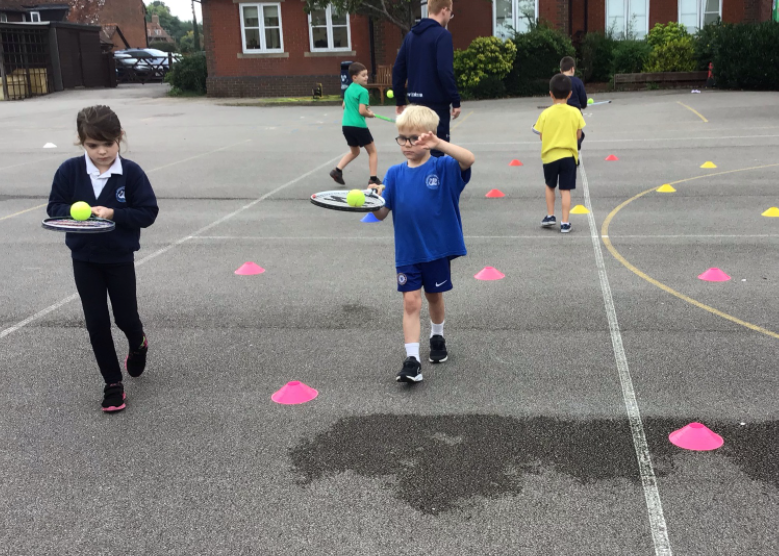 In History, we have been exploring the concept of the past. We talked about how lots of different things have happened in the past and some that were a very long time ago. We created our own timelines of our lives so far.
10th September 2021
It's been so lovely welcoming the children into Year 1 this week. They have settled really well and are getting to know their new classroom and learning environment.
We have enjoyed exploring our reading and writing areas.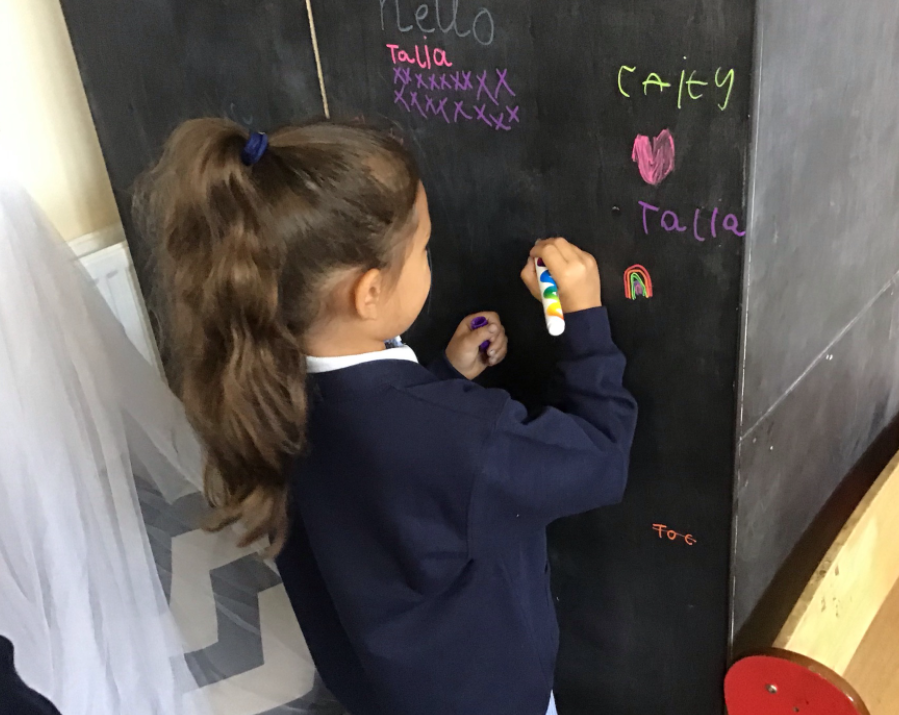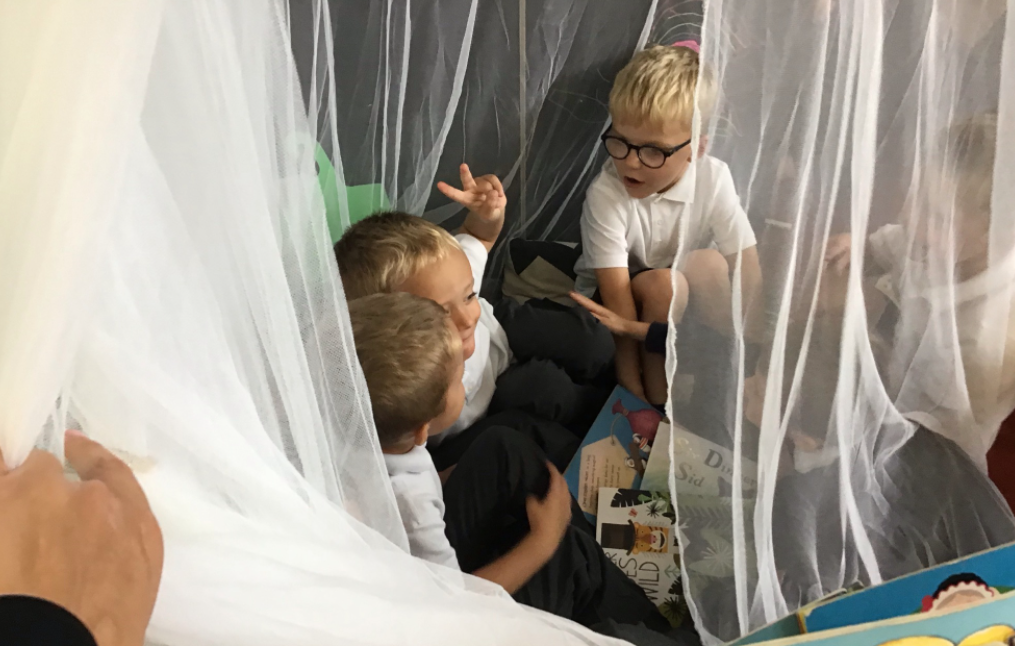 We have started reading about The Great Fire of London in English and have written some good predictions. We have also enjoyed the role play area.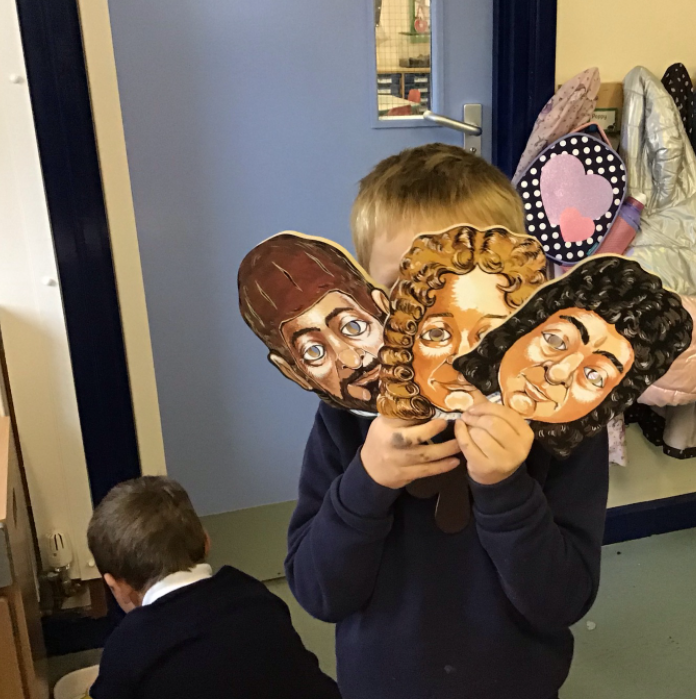 In maths, we have focused on numbers to 20, exploring how to make them in different ways and ordering them. We also remembered how to find less and more than a number.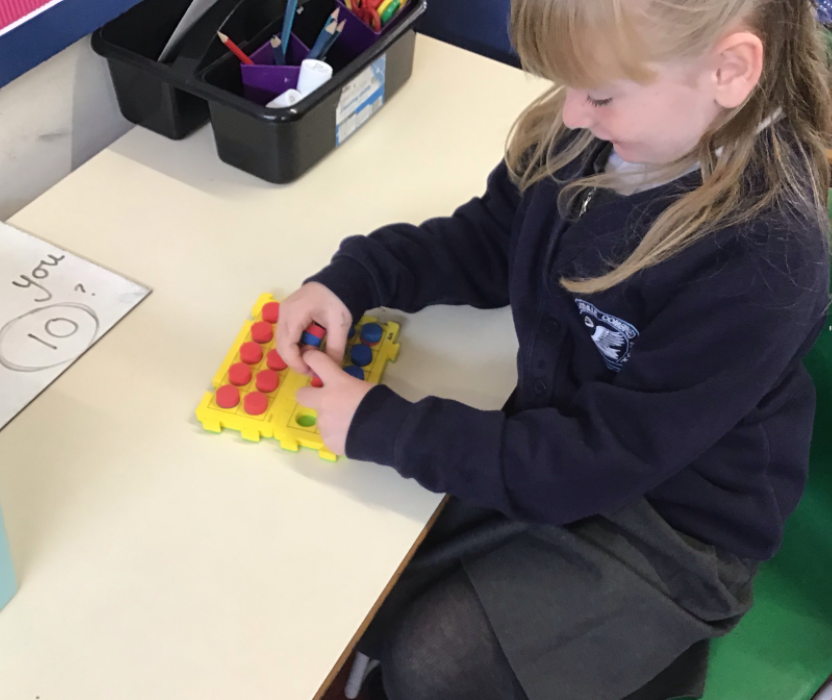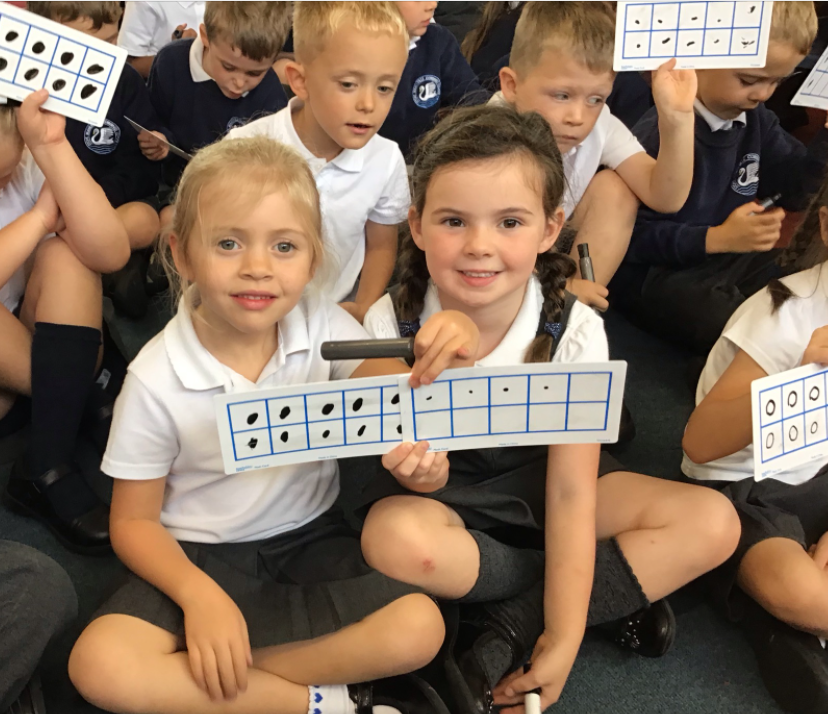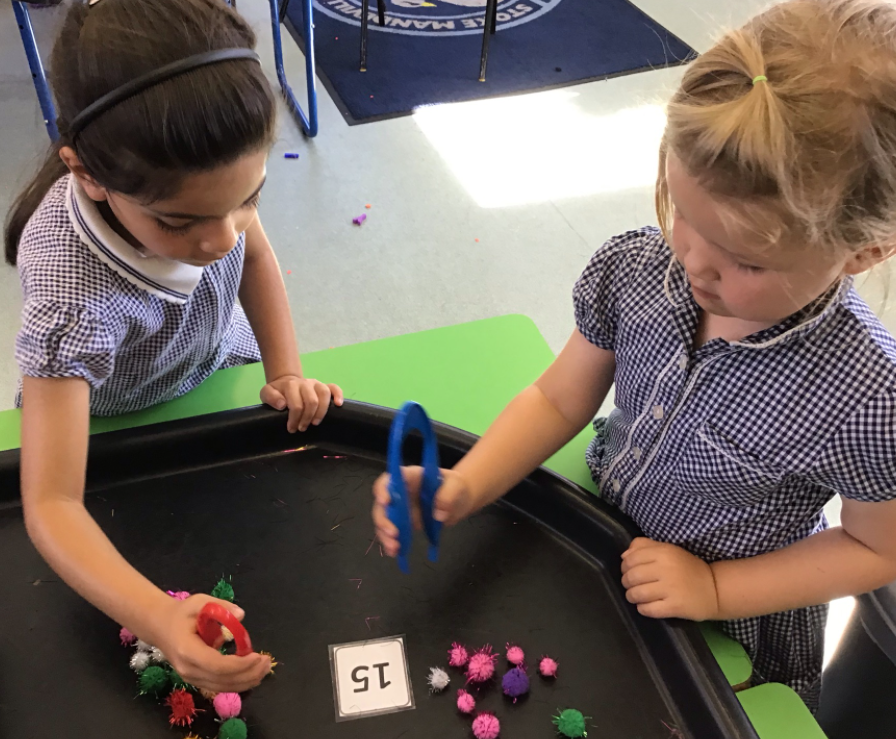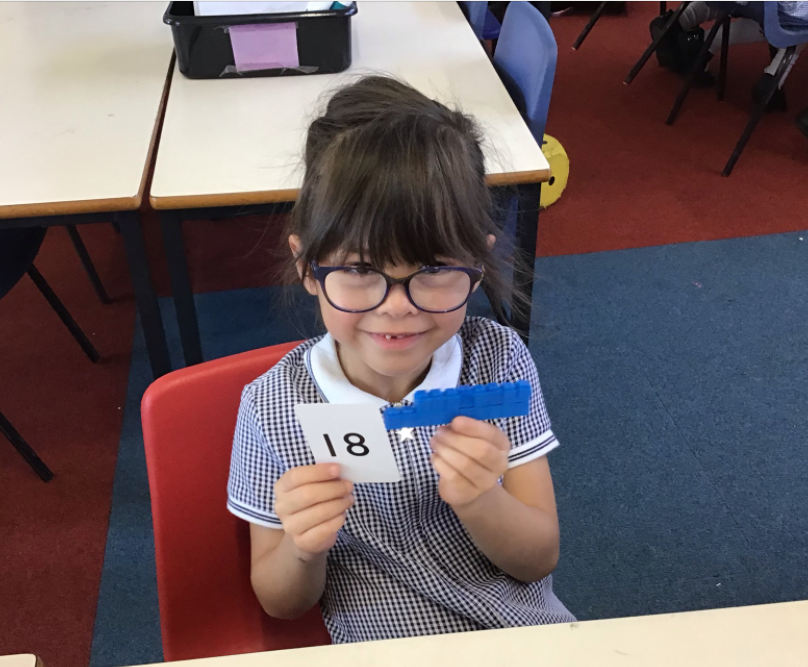 We showed some brilliant investigative skills exploring our science question: How can we make the biggest bubble?